By: Preston Yuen
February 17, 2012
Over decades of evolution, the growth and development of technology has exponentially increased, and with that, consumers obtain better technology than ever. When it comes down to computer products, we can see a similar pattern of technological growth. Generally speaking, with each new improvement to the product itself, performance seems to be one criterion that is rarely missed. Nowadays, while most companies do a fairly good job in keeping the heat down while increasing its performance, in some instances, this may not be enough. If you like to overclock, pushing your components to the limit may produce a little more heat than the manufacturer intended. At the same time, no one likes a computer that sounds like a jet taking off. With that in mind, since most computer components don't operate at 100% load at all times, what's there to stop those who want make their own decision on how fast their fan spins? For enthusiasts out there who want to keep performance and manual control over their fan speed, rest be assured, as NZXT has introduced a new product in their line -- the Sentry Mix. Like its predecessor, the NZXT Sentry Mesh reviewed by my colleague Jeremy, it features multiple channels to control your fans. But what's nice about it is not only a revamped appearance, but a whole 50W is fed to each of the six channels. Yes, you have read that correctly. 50W. I am not saying you should plug in your house fan, but want to see what's packed under the hood? Read on to find out!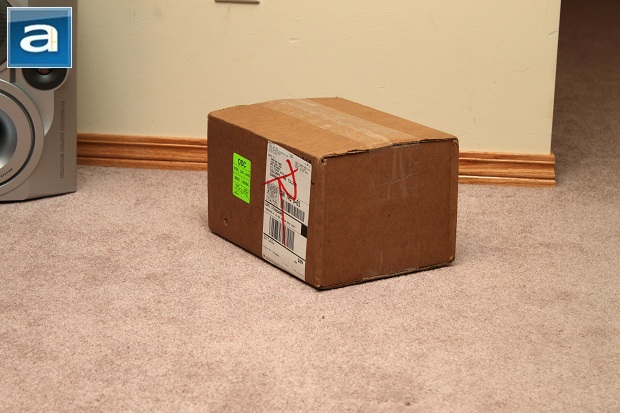 Our review unit of the NZXT Sentry Mix came in a medium sized corrugated cardboard box packed with many packaging peanuts for protection. With no other products inside the package, I found that this was rather a large packaging box for such a small unit, haha. As always, I really have nothing to complain about UPS Standard's delivery, as our unit came in pristine condition from California, USA to our Calgary, Alberta office.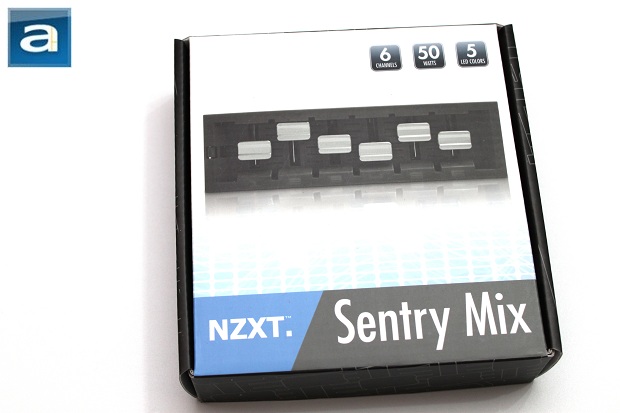 Unpacking the product from its packaging, you will notice that the NZXT Sentry Mix comes in a rather simplistic box, with the fan controller itself prominently displayed on the front against a white background. Its model is printed boldly across the bottom, so it is rather eye-catching for those passing by. As well, a few icons are stamped at the top right corner, specifying some of its features that it possesses. Speaking of which, let's briefly look at the features and specifications of the NZXT Sentry Mix, as obtained from the manufacturer's website:
Features
- Slider controls with matte rubber finish for a bold look
- 50W per channel power to your fans
- 6 channels for absolute airflow control
- Comes with 5 LED colors for you to choose and save
Specifications
- Installation: 5.25"
- Color: Black
- Material: Plastic & Rubber
- Panel: Slides
- Fan Channels: 6
- Connections: 3-Pin
- Wattage: 50W
- Manual: Min 40%
- Control: Voltage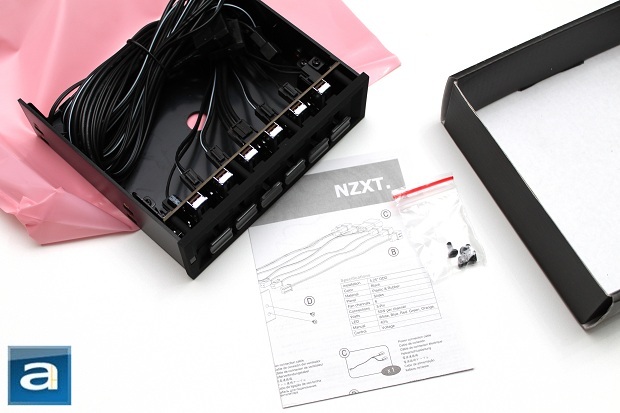 The retail box uses a conventional flap design to keep its contents where it belongs. Upon opening it, you will receive the NZXT Sentry Mix itself wrapped in a rather pink bag. As well, four mounting screws are provided alongside the manual. Other than that, there really isn't anything special here, so let's move on with this review without wasting too much of your valuable time.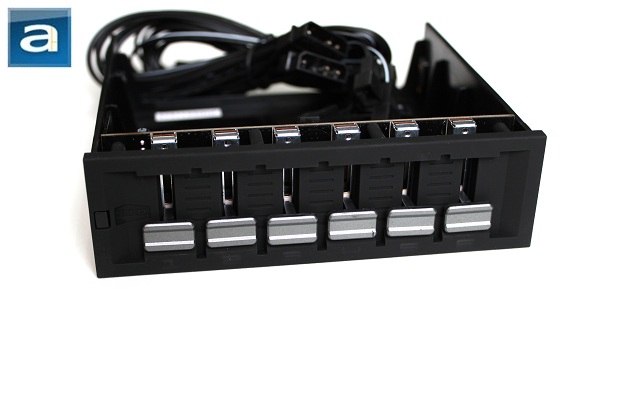 First, turning our attention to the front, this is obviously the area where we will be spending the most time working with. One thing I really like here (And many of you may agree) is that, unlike the Sentry Mesh, the cover is made out of a nice rubber coating. Although you may not be touching and looking at it all day long, it gives the NZXT Sentry Mix a very nice look and feel. As well, we are presented with six separate channels to control up to six independent fans. If we take a look back at the Sentry Mesh, NZXT only provides an effective 30W across all of its five channels, bringing it down to 6W per channel. What is new about the Sentry Mix is that each channel now has the capability of providing a whopping 50W for each channel. Yes, EACH channel. Unfortunately, I was unable to find the datasheets for its components to verify the specifications for this, but unless you plan to plug in a ceiling fan from your house, we will take their word for it.
With that aside, on the topic of the slider controls, there is a total of six, as shown in the photo above -- one for each channel; labeled 1 through 6 from left to right. These numbers light up in the dark, so if you ever decide to work on your computer when the light's out, this is a nice feature to have to show off to your geeky friends. Whatever your favorite color may be, you are limited to a choice of five in this particular case: Red, blue, green, purple, or white. If none of these suit your taste, you can always turn the backlight off via the small rectangular button on the left side, next to the well hidden NZXT logo. The button is also where you would be looking if you decide on changing the color to suit your preference. One thing to note here is that if you have your fans plugged in, they will always be running at a minimum of 40% load. For those quiet enthusiasts out there, you will have to deal with this. It would have been nice if NZXT provided an option to turn off your fans completely. Although that may not be always be a good idea, sometimes, you just aren't running a full load, so flicking them off completely will reduce the ambient noise.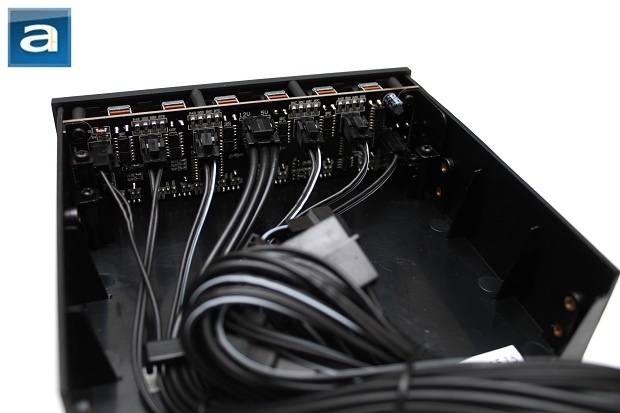 Unlike the other end, although you may not be looking at this side 99% of the time, NZXT has allotted quite a bit of space here, with the PCB colored black. Personally, I like boards colored black, as they look very slick, but in the long run, none of this really matters unless you are very picky with your personal preferences. After all, you can't really see it inside your computer anyway. As you can see here, all the connections are soldered on in a very neat and tidy fashion. All cables are neatly zip-tied and bundled together from the factory. If you are ever overwhelmed by the number of cables, rest assured, as all the necessary cables are numbered from one through six, respective to their individual sliders. Power is supplied by two Molex 4-pin connectors from your power supply, while lead-out cables are designed to work with 3-pin fans. If you happen to have fans that doesn't utilize the 3-pin header, you're just out of luck. The end that connects to the Sentry Mix's PCB is two pin, leaving out the RPM data cable. In other words, the Sentry Mix only adjusts the voltage to the fans, but it has no idea how fast they're moving.
Since this little sucker (According to NZXT's specs, anyway) can provide up to 50W per channel, you will notice that there are two Molex connectors provided that hooks up to your power supply. Although most could live with power fed through one, there is the odd occasion where your final build is hungry for six fans taking up all six channels... and boiling down 300W at 50W per channel. Okay, I am exaggerating a bit, because that is, quite literally, impossible. Not only does 50W case fans not exist -- your average fan is probably only 2W or so -- two Molex plugs simply cannot supply 300W, even if the lines were independent. Generally speaking, the electronic components in the Sentry Mix can probably support up to 50W per channel, but you can't put that to use.
With that in mind, you may be wondering how far the fans are spread apart -- if in fact, you do take up all six channels. Measuring out the length of the cables is always a good idea for cable management, and on the NZXT Sentry Mix, these measures to be approximately 22". This is a fairly decent length, and should be able to accommodate most situations. However, in my personal opinion, it would have been nice to provide a bit more length for those that need the extra reach and lack extra extension cables.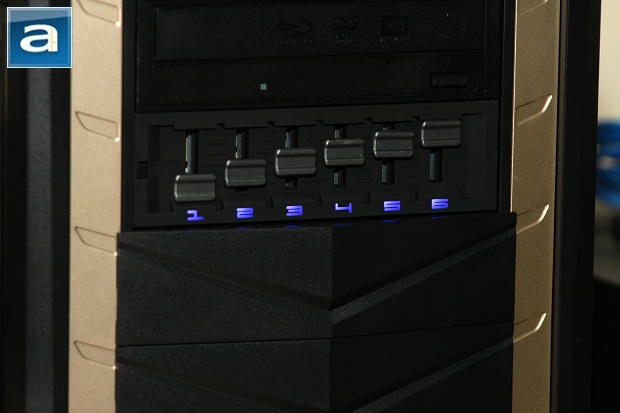 As far as installation is concerned, the overall process is rather straight-forward and simple. Most chassis nowadays implement tool-less mounting clips, which makes the installation easier than ever. However, if your chassis does not come with that, NZXT has provided four screws to manually mount your Sentry Mix. When it comes down to cabling, if you are more of a plug-and-play type of person, this will take you no more than a few minutes to complete the installation. On the other hand, if you are a cable enthusiast like yours truly, be prepared to spend some time in this area. After all cable connections are made, powering on your computer powers on the Sentry Mix and any fans connected to it as well. Just keep in mind that connected fans will run at a minimum of 40% fan speed load. To have your fans completely off means disconnecting them from the Sentry Mix, or simply disconnecting the Sentry Mix entirely. It would be nice if there was either a power option or a wider range of fan speed control available. This will give the end user more flexibility and control over their fans.
------------------------------------------
If you feel the urge to control and moderate your airflow with multiple fans, the NZXT Sentry Mix is a great addition to your system. Firstly, the 50W per channel specification will simply eliminate the possibility of overloading your controller, even though you will never need anything that high. It also features a simple design with its rubber coating accompanied by six LED fan indicators in various colors. Decently lengthened 22" cables are neatly zip-tied and labeled in a bundle, making it easy for those who are very organized amount us, not to mention its easy installation process. Hitting the market at approximately $25 USD at press time, I really don't have much to complain about the NZXT Sentry Mix. However, there were some minor flaws I personally would like to address. For the most part, I like to keep my computer relatively quiet, and having fans running at a minimum 40% simply does not cut it for me. It would be nice if NZXT had addressed this issue by featuring either a power button that can turn off the fans entirely, or have the minimum load lowered. This would definitely keep those silent PC enthusiasts happy. As well, I would definitely appreciate it if NZXT had provided Molex to 3-pin header adapters for end users with fans that do not utilize such connections (But then again, it's $25, so what can you expect?). In my personally opinion, its positives far outweigh its negatives, and I think NZXT has made a great product that combines simplicity and functionality for those who need it at a competitive price.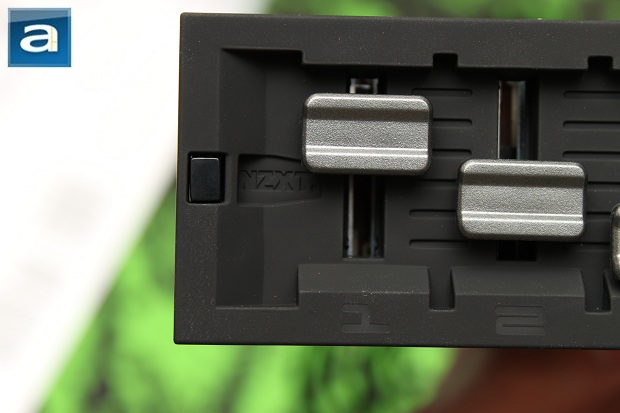 NZXT provided this product to APH Networks for the purpose of evaluation.
APH Review Focus Summary:
8/10 means Definitely a very good product with drawbacks that aren't likely going to matter to the end user.
7/10 means Great product with many advantages and certain insignificant drawbacks; but should be considered before purchasing.
-- Final APH Numeric Rating is 7.5/10
Please note that the APH Numeric Rating system is based off our proprietary guidelines in the Review Focus, and should not be compared to other sites.
For those who seek out more control of their computer's fan speed, the NZXT Sentry Mix is excellent for offering an abundant amount of controllers for the plethora of fans in their system.
Do you have any comments or questions about the NZXT Sentry Mix? Drop by our Forums. Registration is free, and it only takes a minute!