By: Aaron Lai
September 18, 2020
I was talking with my high school friends when they shared a post that was about gamers and how nerdy they can be. To be clear here, I think I am a nerdy gamer myself, so this was partly directed at me. The post said something like, "When my girlfriend tells me to turn on my mood lighting, I go and change my keyboard and mouse lighting to match". As hilarious as this may sound, there are probably a few readers right now nodding their head in agreement. My colleague Jonathan Kwan and I were recently talking with our friend about his dating endeavors, when this also came up in our conversation too. At this point, I referred to these people as "Really Geeky Boys", but this is obviously in jest. As silly as this may be, RGB is a reality in practically all of our products nowadays. It is probably more surprising when we review something that is not given the Joseph treatment of having a coat of many colors. The only thing that probably has not tasted the rainbow yet is the humble hard drive and the processor. This makes sense considering these products generally do not see the light of day when everything is assembled together. Memory, on the other hand, is a different story. Our product today, the Patriot Viper RGB DDR4-3600 2x16GB is another set of memory from Patriot that has been touched by the RGB angel. To me, I think giving memory lights is a pretty neat idea, as it illuminates an area that normally would not be lit. As always, it is important to ensure the functionality is not affected for the sake of aesthetics, because RAM still needs to function well as RAM. How does our kit of the Patriot Viper RGB DDR4-3600 perform in our tests today? Let us read on to find out!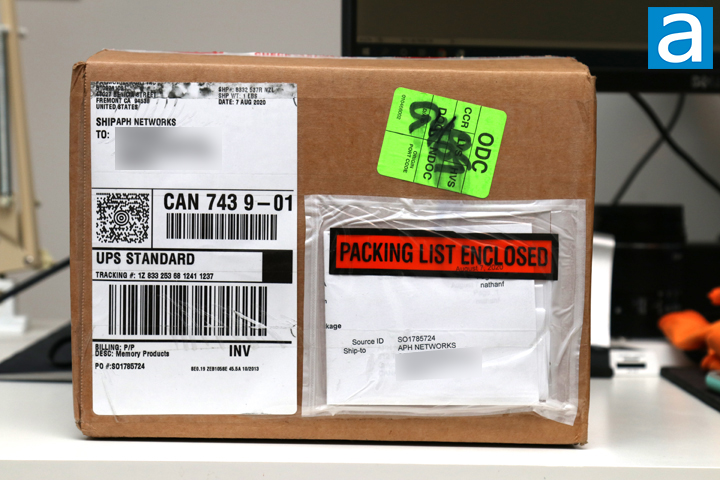 Today's review unit of the Patriot Viper RGB DDR4-3600 2x16GB arrived from Patriot's American offices in Fremont, California. Traveling with UPS and their Standard ground service, this package arrived in great condition with no real issues to speak of. This shipment came to our APH Networks offices in Calgary, Alberta. To protect the contents of this container, Patriot also packed quite a few bubbles of air to keep the contents cushioned throughout its journey. I grabbed a pair of scissors to open up this package and continue on.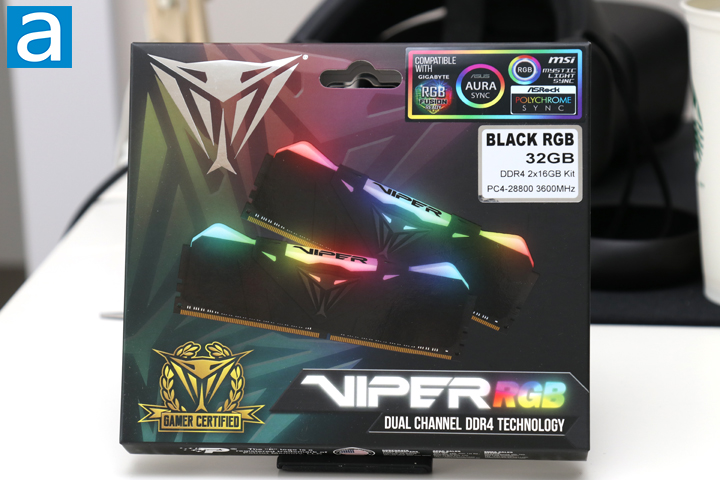 As part of following the RGB gamer vibes, the Patriot Viper RGB DDR4-3600 2x16GB is pretty much a gamers dream in terms of packaging design. The amount of bling on the Viper RGB box is quite high. On the top left, we have the Viper logo, with the "GAMER CERTIFIED" gold emblem underneath. The right side shows off all the RGB compatibility with major motherboard manufacturers like Gigabyte, ASUS, MSI, and ASRock. Underneath, we have a specification sticker that correctly identifies we have received a 32GB kit with two sticks of 16GB memory. As you can tell in the name, this is the Black RGB version, as Patriot does have a white variant of this set. It also shows this operates at 3600MHz. Underneath, we have the product name. In the middle of the front is a scaled down photo of the RAM.
Before we continue, I have grabbed the specifications from the manufacturer's website for your perusal:
Capacity: 32GB (2 x 16GB)
Base Frequency: PC4-17000 (2133MHz)
Base Timings: 15-15-15-36
Voltage: 1.2V
Tested Frequency: PC4-28800 (3600MHz)
Tested Timings: 17-19-19-39
Tested Voltage: 1.35V
Format: NON-ECC Unbuffered DIMM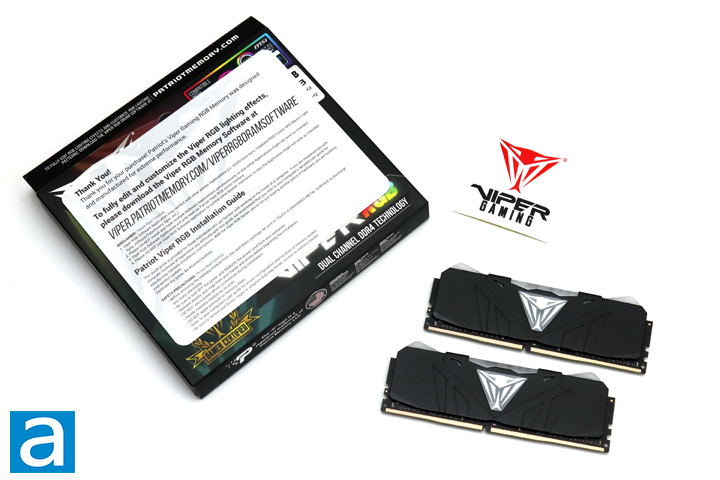 The box for the Patriot Viper RGB DDR4-3600 2x16GB opens from the top and the memory kit is held in a plastic shell. As expected from Patriot and their Viper brand, they also included a Viper Gaming sticker for extras. We have the black version of the Patriot Viper RGB DDR4-3600 2x16GB here. Otherwise, we have some small documentation regarding installation instructions. As for warranty, this memory has a limited lifetime warranty from Patriot, which is typical for memory.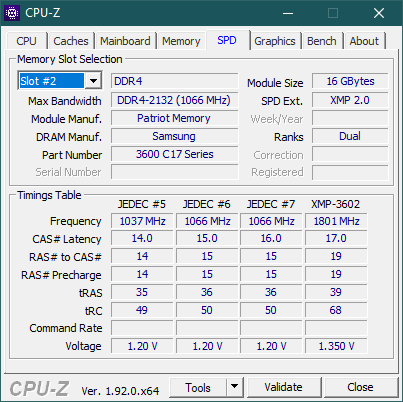 A screenshot of the memory tab in CPU-Z with the Patriot Viper RGB DDR4-3600 2x16GB installed. The SPD timings in CPU-Z reads standard JEDEC specifications programmed into the memory as well as Intel XMP data for running the memory at various speeds. Using the latest BIOS revision, our ASUS Prime X470-Pro had no issues detecting and working with the Viper RGB out of the box. It should be noted, you may need to enter your BIOS to ensure the XMP profiles are active. The Patriot Viper RGB DDR4-3600 2x16GB retails for approximately $160 USD at press time.
---
Page Index
1. Introduction, Packaging, Specifications
2.
A Closer Look, Test System
3.
Benchmark: AIDA64 CPU
4.
Benchmark: AIDA64 FPU
5.
Benchmark: AIDA64 Memory
6.
Benchmark: PCMark 10
7.
Benchmark: 3DMark
8.
Benchmark: PassMark PerformanceTest 10
9.
Benchmark: SuperPI 1M, Cinebench R20
10.
Overclocking and Conclusion