Page 8 - Conclusion
If it was not for all the years we spent reviewing QNAP network attached storage systems, I would not even know where to start on the software side. The TS-453A is the tenth system we have received from the company since 2008, and honestly -- look at how far we have come since 2008 compared to the TS-409 review. Even after unleashing the art of copy-pasta year after year, it is impressive how the company manages to cram so many features into each software update, that even appending to my past work in just describing the changes require so much effort. Simply put, QTS 4.2.1 is one of the best, if not the best, NAS operating systems in the market today, and along with the latest virtualization features, the company has managed to take it up yet another level. Besides traditional virtualization techniques, QTS 4.2.1 on the TS-453A has both LXC and Docker support, an industry first. Whether you are an advanced home user, power business user, or software developer, you have to come to realize the convenience and power of what QNAP is offering right now. The only issue I have with QTS is it is very slow to start up and shut down, but these systems are designed to run 24/7 anyway, so it is going to be no more than a minor inconvenience for most people. On the hardware side of things, the TS-453A has fast file transfer throughput and sufficient processing power to handle multi-user, medium workload environments, all while keeping the power consumption low. With four Gigabit LAN on board and advanced networking features, you have a lot of flexibility to boot, whether you are planning to you use your NAS for complex corporate networks or unleash its virtualization capabilities. QNAP has also paid attention to the multimedia side of things with dual HDMI out and 4K support, dual 6.3mm microphone input, decent Realtek HD audio codec, and an included IR remote control. I still do not see how the TS-453A could fit under my TV appearance-wise, but after all these years, I am pretty convinced they are not looking to change the way these boxes look, haha. On the practical side of things, I would really like to see HDMI 2.0 instead of HDMI 1.4, but this is more of an Intel SoC than QNAP limitation. Optical audio output would be nice. Also, I am not sure why they removed the locking drive bays, being marketed as a SMB NAS and all. Lastly, while QTS itself is quite memory efficient, with all the virtualization capabilities, the base model should come with 8GB of RAM. Our particular review unit is the 4GB model with 2x2GB modules, but stepping up to 8GB model will run you a whopping $150 extra at press time. An 8GB dual channel DDR3 SODIMM kit is only $40 or so right now. Making 8GB RAM standard will not cost the QNAP much more money; doing so can save an SKU to reduce manufacturing and distribution costs as well. For about $600 when writing this review, the QNAP TS-453A offers a lot of features for your money. However, all the really need is one model with 8GB of RAM, and I would gladly pay up to $630 for one without a second thought.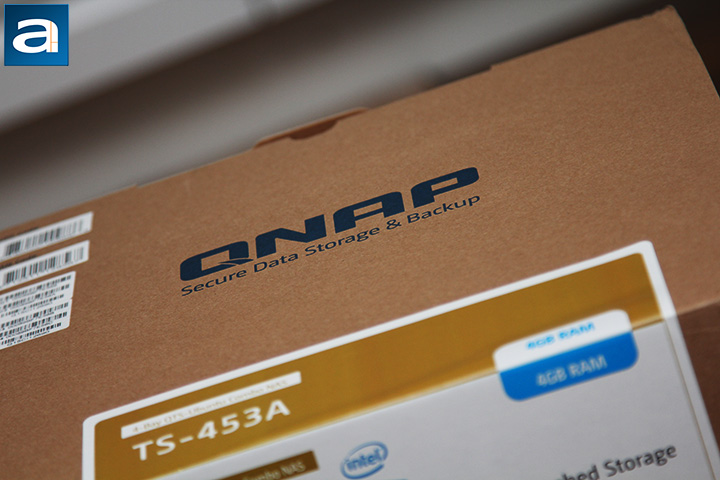 QNAP provided this product to APH Networks for the purpose of evaluation.

APH:Renewal Award | APH Review Focus Summary:
8/10 means Definitely a very good product with drawbacks that are not likely going to matter to the end user.
7/10 means Great product with many advantages and certain insignificant drawbacks; but should be considered before purchasing.
-- Final APH Numeric Rating is 7.7/10
Please note that the APH Numeric Rating system is based off our proprietary guidelines in the Review Focus, and should not be compared to other sites.
The QNAP TS-453A is a featured loaded network attached storage system with some serious virtualization capabilities for the advanced home user, power business user, or software developer.
Do you have any comments or questions about the QNAP TS-453A? Drop by our Forums. Registration is free, and it only takes a minute!
---
Page Index
1.
Introduction, Packaging, Specifications
2.
A Closer Look - Hardware (External)
3.
A Closer Look - Hardware (Internal)
4.
Configuration and User Interface, Part I
5.
Configuration and User Interface, Part II
6.
Configuration and User Interface, Part III
7.
Performance and Power Consumption
8. Conclusion