By: Jonathan Kwan
April 15, 2016
In the last ten years or so, I have personally owned four main laptops from three different manufacturers. If you ask me what my favorite one of all time is, it will have to be my current one that I bought last year. It runs Windows 10 Pro, and comes loaded with a powerful yet efficient Intel Core i5-5287U CPU, 16GB DDR3L-1866 RAM, 512GB PCIe based SSD, high resolution 2560x1600 13.3" IPS display, and about 10 hours battery life. Best of all, its all-aluminum construction makes it only 1.8cm thick, and tips the scale at a rather lightweight 3.48lbs. I could go on all day about how amazing my latest Windows laptop is, but I think you can just look up the rest yourself on the company's product page: It is called a MacBook Pro. Wait, what? Yes, my 2015 MacBook Pro is really the best Windows laptop I have ever owned. Now, you may think I may be missing the point of owning a MacBook Pro in the first place, but let us be honest here for a moment -- cutting edge hardware deserves a real operating system. Shots fired! Jokes aside, I think the best way to utilize our equipment is not to confine it to certain software, but rather, to unleash its potential by expanding the collection of programs it can run. To carry on with this thought, what do you call a system that has an Intel Celeron N3150 quad core processor, 4GB of RAM, a full array of connectors at the back, and runs your choice of a Linux distribution? As much as that sounds like a modest PC for casual internet users, what I am really talking about is the QNAP TS-453A network attached storage system. If I can run Windows on my MacBook Pro, how much can you do with a QNAP NAS that can also run a Linux distribution of your choice?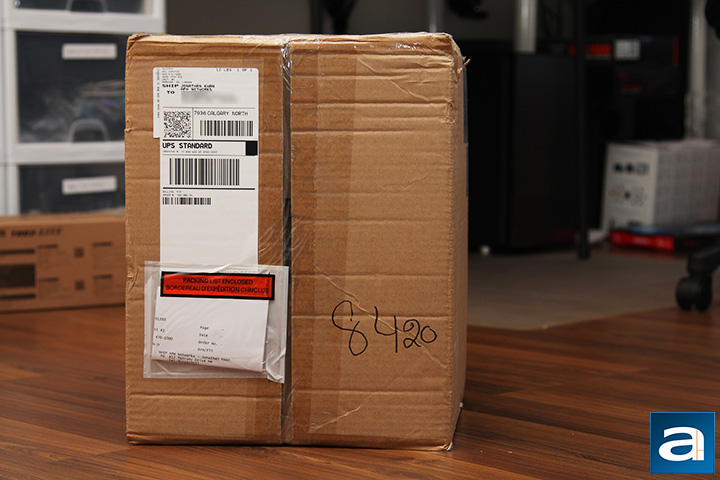 Our review unit of the QNAP TS-453A came in a relatively large, brown corrugated cardboard box from ASI Computer Technologies. ASI is a wholesale distributor of computer and technology equipment, and they handle QNAP's account here in Canada. If you recall, our TVS-463 was also sent to us by the same guys. The difference is this time, rather than coming from Vancouver, BC, it was shipped from the company's warehouses in Toronto, Ontario. Using UPS Standard, our network attached storage system arrived in excellent condition to us here in Calgary, Alberta for our review today.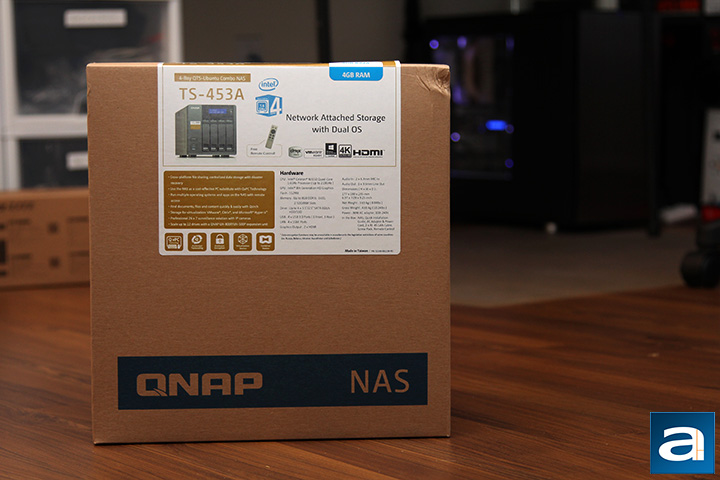 The latest iteration of QNAP's retail package design was not like anything we got from them in the past few years. QNAP typically uses a good amount of photographs, icons, diagrams, and text for their box art, but the latest iteration of their product line sent me thinking all the way back to 2010 and the TS-559 Pro+. Like the system we got from QNAP nearly six years ago, it is still a high quality corrugated cardboard box enclosed by a series of flaps for future reusability. However, what we have here is an extremely simple package with no fancy images -- just a QNAP logo and "Secure Data Storage & Backup" slogan printed in blue at the top. A mid-sized sticker hangs over the side signifying its TS-453A model name along with a small image of the system, amount of RAM it comes with (Our particular model is the 4GB version), bullet list of feature highlights, as well as the hardware specifications. You will also find its UPC code, EAN code, serial number, and MAC address stickers at the top, but there is not much beyond that. Since I doubt anyone purchasing a SOHO/business NAS would really go over everything in detail on the box instead of reading this review beforehand, less information is more information -- not to mention single color printing is a great cost savings measure. Upon opening the box, the user will find a welcome message on the inside flap.
Before we move on, let us take a look at the features and specifications of the QNAP TS-453A, as obtained from the manufacturer's website:
Ordering P/N: TS-453A-4G
CPU: 14 nm Intel® Celeron® N3150 1.6GHz quad-core processor (burst up to 2.08GHz)
Floating Point Unit: ✔
Hardware Encryption: ✔ (AES-NI)
GPU: 8th generation Intel HD Graphics
System memory: TS-453A-4G: 4GB (2 x 2GB)
Memory Expandable Up To: 8 GB
Total Memory Slots: 2, SODIMM DDR3L-1600 (*For dual-DIMM configurations, you must use a pair of identical DDR3L modules.)
Flash Memory: 512MB
Maximum Number of Hard Drive: 4
Hard Disk Drive: Hot-swappable 3.5" or 2.5" SATA 6Gb/s, SATA 3Gb/s hard drive or SSD
LAN Port: 4 x Gigabit RJ-45 Ethernet port
USB: 4 x USB 3.0 port (Front:1, Rear:3); Support USB printer, pen drive, and USB UPS etc.
Video Output: 2 x HDMI, up to 4K 2160P Ultra HD support
Audio Input: 2 x 6.3mm microphone jacks (dynamic microphones only)
Audio Output: Line Out Jack (for amplifier or headphone amplifier)
LED Indicators: Status, USB, HDD 1-4
LCD Panel: Mono-LCD display with backlight
Buttons: System: Power button, USB one-touch-backup button, Reset button
IR Receiver: ✔, Support QNAP RM-IR002, RM-IR003 and MCE-compatible Remote Control
Other Interface: Console port (system maintenance)
Alarm Buzzer: System warning
Form Factor: Tower
Dimensions: 177(H) x 180(W) x 235(D) mm; 6.97(H) x 7.09(W) x 9.25(D) inch
Weight: Net: 3.65 kg (8.04 lbs)
Gross: 4.65 kg (10.24 lbs)
Power Consumption (W): System sleep mode: 1.61W, HDD standby: 18.86W, In operation: 32.35W
Sound Level: Sound pressure (LpAm): 19.7 dB(A)
Temperature: 0-40˚C
Relative Humidity: 5~95% RH non-condensing, wet bulb: 27˚C
Power Supply: 96W AC adapter, 100-240V
Fan: 12cm quiet cooling fan (12V DC)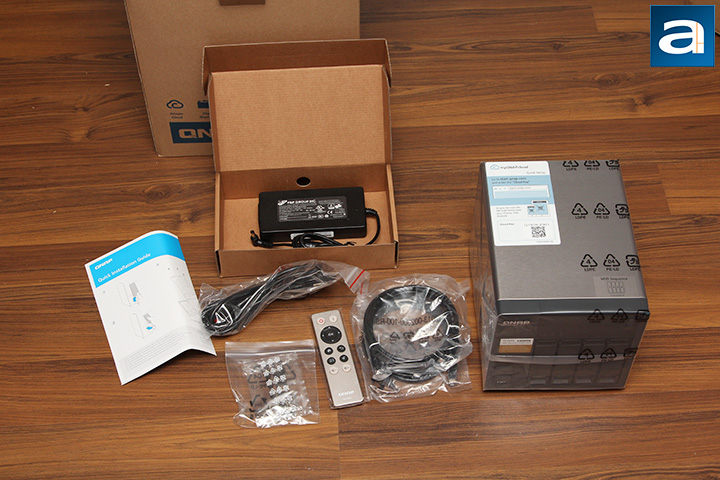 Opening the retail box reveals the QNAP TS-453A clipped between two large Styrofoam brackets, and wrapped in a large plastic bag to ensure no bumps and scratches occur during transport. A separate accessory box holds all your accessories in place, making it organized and easy to find. Overall, I found the packaging to be simple and effective, and I have never had any problems finding what I need out of the box.
The following items are included for the end user:
1x QNAP TS-453A
1x RM-IR002 remote control
2x Ethernet cables
12x Screws for 2.5" HDDs
16x Screws for 3.5" HDDs
1x SP-ADAPTOR-96W01 AC adapter
1x Power cable
2x Locking keys
1x Quick installation guide
---
Page Index
1. Introduction, Packaging, Specifications
2.
A Closer Look - Hardware (External)
3.
A Closer Look - Hardware (Internal)
4.
Configuration and User Interface, Part I
5.
Configuration and User Interface, Part II
6.
Configuration and User Interface, Part III
7.
Performance and Power Consumption
8.
Conclusion