By: Jonathan Kwan
May 8, 2015
What are the three basic needs of a human being? Back in the days, when I was in elementary school, I was taught it was food, clothing, and shelter. Recently, I was talking to one of my friends, who was born in the late 90's. Coming to her with the same question, she quickly responded without a second thought. "Food, electricity, and internet," she said. Apparently, a lot has changed since I was in elementary school. Now, as much as baby boomers like to pick on us millennials as a smartphone addicted, socially inept generation of people for statements like these, it is interesting to observe how internet, while not necessarily a basic need, has become a quintessential utility like gas, electricity, water, and sewage. Unlike the early 2000's, our dependency on the internet is not just for basic tasks like checking email or reading the news. The widespread availability of high speed connections has allowed us to easily access devices and its data from anywhere in the world, bringing about an era of connectivity like never before. In the last few years, NAS manufacturers like QNAP has been pushing the concept of a "personal cloud"; where instead of storing data on someone else's server, you do it on your own. The convenience of such is almost revolutionary. In fact, I slowly became so dependent on my network attached storage system in and out of my LAN, it has practically become a basic need. How? I use it to sync files between devices, store backup images, host music and videos for streaming, serve software installations around the house, and provide VPN access when I am away; the list goes on. Today, we will take a look at yet another one of these devices. The QNAP TVS-463 is part of the company's AMD based lineup, which has 4K output capabilities, and -- get this -- run as your regular PC if you plug in a keyboard and mouse. With all these features packed down, is there something it cannot do? Read on to find out!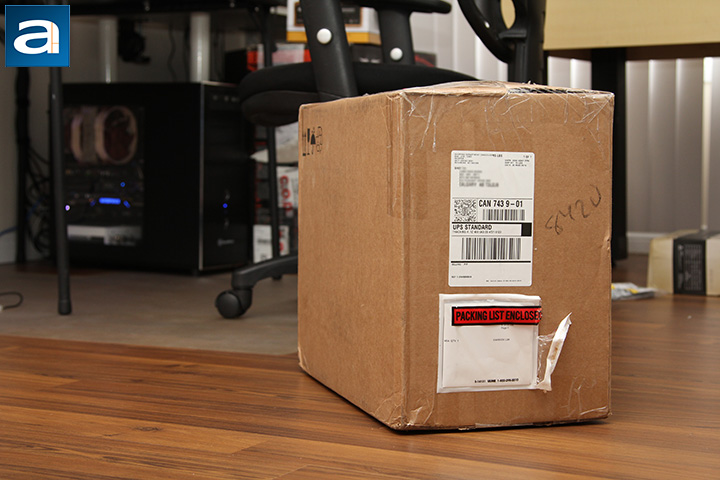 Our review unit of the QNAP TVS-463 came in a relatively large, brown corrugated cardboard box from ASI Computer Technologies in Vancouver, BC. ASI is a wholesale distributor of computer and technology equipment, and they handle QNAP's account here in Canada. Being located on Viking Way, a quick search on Google Maps shows it is right next to a popular Canadian online retailer, which, for those who has done much online shopping in this part of the world, should know exactly who I am talking about. Using UPS Standard, it traveled one province east over to us here in Calgary, Alberta, and arrived in excellent condition for our review today.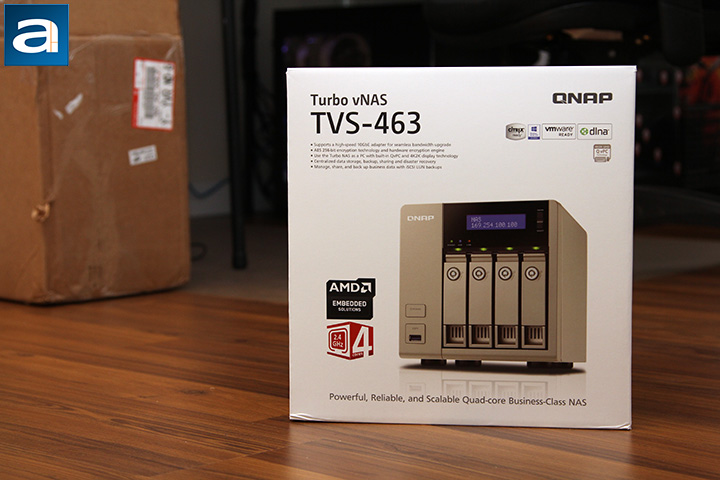 The latest iteration of QNAP's retail box design has not changed since we have last reviewed the QNAP TS-470 back in November 2013. The company continues to use a comparatively small text on a slick white background to create a clean, spacious design, along with graphics on the side in thematic resemblance with their graphical user interface style. To accentuate the new "Golden Cloud" theme, parts of the box is now colored gold, rather than the traditional baby blue. Occupying the top half of the profile view is a list of bullet points underneath the model name to highlight its software features. This is further reinforced by a series of icons on the right. Prominently displayed at the bottom is a photo of the NAS itself. Two pieces of graphics highlight its AMD processor, and the fact it has four cores operating at 2.4GHz. The rest of the box white in color; with more diagrams and tables covering its features and specifications in further detail. Upon opening the box, the user will find a "Thank You" message on the inside flap.
Before we move on, let us take a look at the features and specifications of the QNAP TVS-463, as obtained from the manufacturer's website:
CPU: AMD® 2.4GHz quad-core x86 processor with Radeon™ graphics
DRAM: TVS-463-4G: 4GB DDR3L-1600 x 1; TVS-463-8G: 8GB DDR3L-1600 x 1
Total memory slots: 2
Memory expandable up to: 16 GB (8GB x2)
Flash Memory: 512MB DOM
Hard Disk Drive: 4 x 3.5"or 2.5"SATA 6Gb/s, SATA 3Gb/s hard drive or SSD
Hard Drive Tray: 4 x Hot-swappable tray
LAN Port: 2 x Gigabit RJ-45 Ethernet port (Onboard:2, expandable to max 4 ports via PCI-E NIC)
PCIe Slot: 1 (PCIe Gen2 x 4)
LCD Panel: Mono-LCD display with backlight, Enter and Select buttons for configuration
LED Indicators: Power, Status, LAN, USB, HDD 1-4
USB: 5 x USB 3.0 port (Front: 1, Rear: 4); Support USB printer, pen drive, and USB UPS etc.
HDMI: 2 (Mirrored Display), 1.4a; Note: 4K video playback and transcoding are not supported
Buttons: Power/Status, USB One-Touch-Backup, reset
Alarm Buzzer: System warning
IR Receiver: QNAP RM-IR002 and MCE-compatible remotes
Form Factor: Tower
Dimensions: 177(H)x 180(W) x 235(D) mm; 6.97(H) x 7.09(W) x 9.25(D) inch
Weight: Net: 4.56 kg (10.05lbs)
Gross: 5.70 kg (12.57lbs)
Power Consumption(W): S3 sleep: 2.26W; HDD standby: 34.77W; In operation: 50.38W (with 4 x 2TB HDDs installed)
Temperature: 0-40˚C
Humidity: 5~95% RH non-condensing, wet bulb: 27˚C
Power Supply: ATX 250W, 110-240V AC, 50-60Hz, 5A
Secure Design: Kensington security slot for theft prevention
Fan: 1 x quiet cooling fan (12 cm, 12V DC)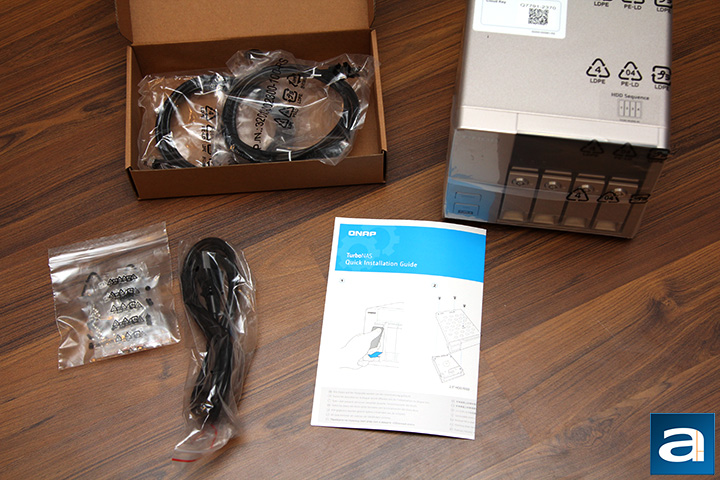 Opening the retail box reveals the QNAP TVS-463 clipped between two large Styrofoam brackets, and wrapped in a large plastic bag to ensure no bumps and scratches occur during transport. A separate accessory box holds all your accessories in place, making it organized and easy to find. Overall, I found the packaging to be simple and effective, and I have never had any problems finding what I need out of the box.
The following items are included for the end user:
1x QNAP TVS-463
2x Ethernet cables
12x Screws for 2.5" HDDs
16x Screws for 3.5" HDDs
1x Power cable
2x Locking keys
1x Quick installation guide
---
Page Index
1. Introduction, Packaging, Specifications
2.
A Closer Look - Hardware (External)
3.
A Closer Look - Hardware (Internal)
4.
Configuration and User Interface, Part I
5.
Configuration and User Interface, Part II
6.
Configuration and User Interface, Part III
7.
Performance and Power Consumption
8.
Conclusion