By: Jonathan Kwan
November 29, 2013
For most people, if I were to ask them who their most admired person is, chances are they will reply with a political leader of some sort. What makes a political or world leader great? Obviously, the skill and character of the person is crucial, but it is also a combination of the times and the people under him or her. For me, I have always been a fan of Sir Winston Churchill. His unfading determination, uncompromising character, ability to inspire enthusiasm, and having foresight in seeing the weight of the situation has made him a hero in the hearts of people around the world for generations. Now if he were to become the prime minister of the United Kingdom today, would he have made such an impact? Personally, I do not think so. On the flip side, let's look at Mayor Rob Ford of Toronto. By now, you should be quite familiar with this guy. Is Rob Ford a great political leader? If you look from the perspective where he balanced the city budget without increasing taxes or decreasing services, then yes, he is. But if you look at how he drinks and drives, smokes illegal drugs, and makes inappropriate comments on live television, then you will understand why he has been an international joke for the last month or so. Clearly, being great is not just about what you do, but it is also about who you are. At the end of the day, while there is no particular formula to being great, there are factors of a great leader. The same goes in the computer world. What makes a product great? Is it its performance? Or is it the design? Again, while there are no formulas, there are factors that make a product great. Today, we will take a look at QNAP's latest network attached storage system, the TS-470. After so many years of making NAS boxes, does it still have what it takes to be at the forefront of technology? Let's dig into the details, and find out more!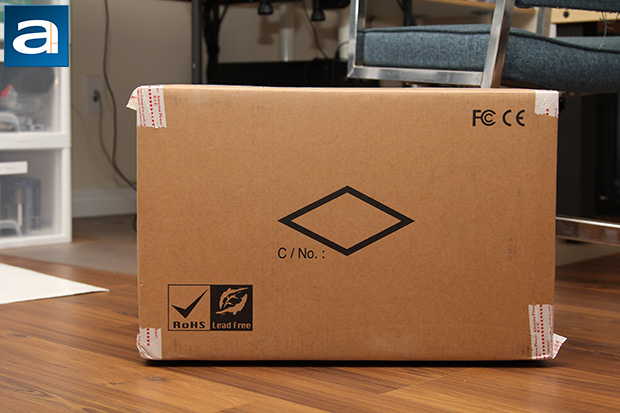 Just like last time, our review unit of the QNAP TS-470 came in a large, brown corrugated cardboard box from the company's American offices in California, USA. Using UPS Standard, everything was handled very well as it made its way across the border. I remember when the TS-559 Pro II was shipped to us, it came all the way from Taiwan. I would really hate to know how much shipping cost for that, haha. Anyway, after being dropped off here at our doorstep in Calgary, Alberta, Canada, we opened the package, and got down to business. I actually had the TS-470 running for nearly two weeks already, but this review is really complicated to write, so I had to take some extra time. Needless to say, we got a lot of meat coming up for you. You have been warned.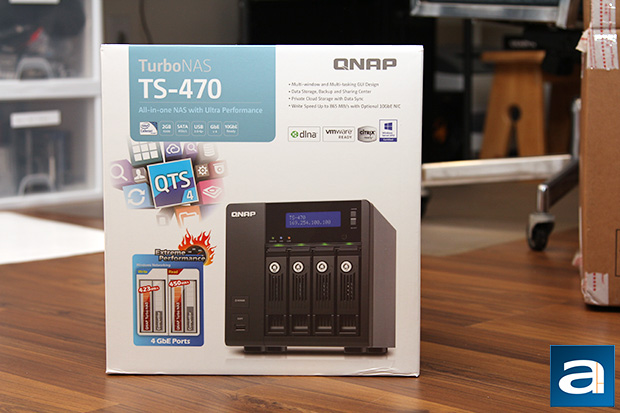 The latest iteration of QNAP's retail box design is an evolutionary step up from what we have seen two years ago. The company continues to use a comparatively small text on a slick white background to create a clean, spacious design, but now with more graphics on the side in thematic resemblance with their latest graphical user interface style. Occupying the top half of the profile view is an array of icons underneath its model name in a baby blue background to highlight its hardware features; next to it on the right is a list of bullet points and more icons to highlight its software features. Prominently displayed at the bottom is a photo of the NAS itself. Two patches of graphics highlights its QTS 4.0 software (Which is a big deal -- trust me), along with some graphs indicating its epic performance (Which is not a lie -- again, trust me). The rest of the box white in color; with more diagrams and tables covering its features and specifications in further detail. Upon opening the box, the user will find a welcome message on the inside flap. With that in mind, we have much more exciting stuff to talk about in this review, so let's not waste anymore time.
Before we move on, let's take a look at the features and specifications of the QNAP TS-470, as obtained from the manufacturer's website:
CPU: Intel® 2.6GHz Dual-core Processor
DRAM: 2GB SO-DIMM RAM
Flash Memory: 512MB DOM
Hard Disk Drive: 4 x 3.5" or 2.5" SATA 6Gb/s, SATA 3Gb/s hard drive or SSD
Hard Disk Tray: 4 x Hot-swappable tray with key lock
LAN Port: 4 x Gigabit RJ-45 Ethernet port (2 ports are provided by the included PCI-E NIC); Optional dual-port 10 GbE NIC support by replacing the dual-port GbE PCI-E NIC
LED Indicators: Status, USB, LAN, HDD 1 - 4
USB: 2 x USB 3.0 port (rear)
3 x USB 2.0 port (front: 1, rear:2)
Support USB printer, pen drive, USB hub (front), and USB UPS etc.
eSATA: 2 x eSATA port (rear)
HDMI: HDMI x 1
Audio Out: 1 (Supported application: Music Station, HD Station)
Audio In: 1 (reserved)
Buttons: Power, Reset, USB One Touch Backup
Alarm Buzzer: System warning
LCD Panel: Mono-LCD display with backlight, Enter and Select buttons for configuration
Secure Design: K-lock security slot for theft prevention
Fan: 1 x quiet cooling fan (9 cm, 12V DC)
PCI-E Slot: 1, with dual-port GbE NIC pre-installed (for optional 10GbE network expansion)
Form Factor: Tower
Dimensions: 177 (H) x 180 (W) x 235 (D) mm; 6.97 (H) x7.09 (W) x 9.25 (D) inch
Weight: Net weight:4.56 kg (10.05 lbs)
Gross weight: 5.7 kg (12.57 lbs)
Power Consumption (W): Sleep mode: 23.9W; In Operation: 38.4W; Power-off (in WOL mode): 1W (with 4 x 500GB HDD installed)
Temperature: 0-35˚C
Humidity: 5~95% RH, wet bulb:23C
Power Supply: Input: 100-240V AC, 50/60Hz, Output: 250W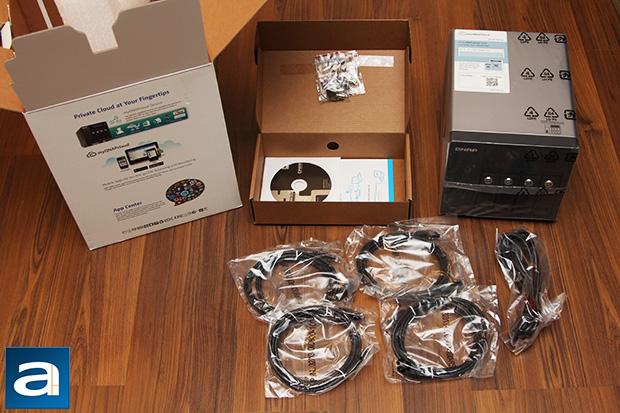 Opening the retail box reveals the QNAP TS-470 clipped between two large Styrofoam brackets, and wrapped in a large plastic bag to ensure no bumps and scratches occurs during transport. A separate accessory box holds all your accessories in place, making it organized and easy to find. Overall, I found the packaging to be simple and effective, and I have never had any problems finding what I need out of the box.
The following items are included for the end user:
1x QNAP TS-470
1x Setup CD-ROM
4x Ethernet cables
1x Quick installation guide
12x Screws for 2.5" HDDs
16x Screws for 3.5" HDDs
1x Power cable
2x Locking keys
---
Page Index
1. Introduction and Specifications
2.
A Closer Look - Hardware (External)
3.
A Closer Look - Hardware (Internal)
4.
Configuration and User Interface, Part I
5.
Configuration and User Interface, Part II
6.
Configuration and User Interface, Part III
7.
Performance and Power Consumption
8.
Final Thoughts and Conclusion