Page 3 - A Closer Look - Hardware (Internal)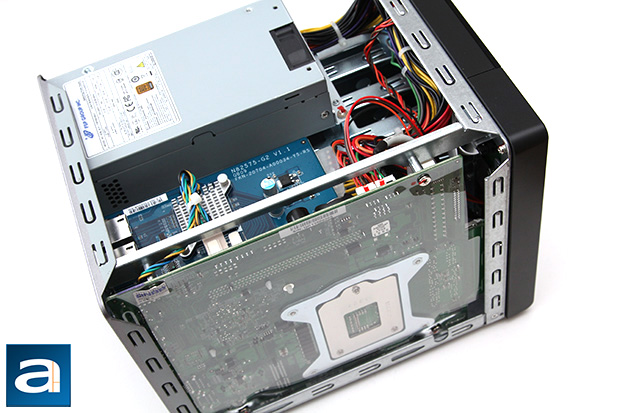 There is no wasted room inside the QNAP TS-470 network attached storage. If you have seen our past QNAP reviews before, you will notice it is pretty much the same thing since 2009. We can see the LCD controller module at the front, its four 3.5" drive bays occupying majority of the area, as well as the power supply located right above the drive bays. A few centimeters of clearance room can be seen between the rear 92mm YS Tech FD129225LB dual ball bearing fan and the four hard drive bays. This allows some space between components to reduce heat congestion. Its well placed rear exhaust fan can then easily take out the warm air, and allow cooler air to flow over the mounted hard drives with minimal turbulence noise. A tower heatsink with heatpipes connected to the CPU is placed between the fan and the hard drive bays to cool the processor. The motherboard is mounted with its components facing inwards to take advantage of the airflow generated by the sole rear fan as well. Generally speaking, it is pretty packed inside the QNAP TS-470, but everything is neatly placed and cabled to maximize cooling efficiency.
The power supply is a FSP Group FSP-250-50LC 1U Mini-ITX power supply rated at 250W maximum. Sustained power output is set as 250W when all three rails are active -- distributed as 12A on +3.3V, 14.0A on +5V, 18.0A on +12V. The maximum combined output for the +3.3V and +5V rails is 80W. The FSP-250-50LC is an 80 Plus Bronze certified power supply.
Two of the four Gigabit LAN adapters on the QNAP TS-470 are not integrated. Instead, it connects to the motherboard via a PCI Express link. The pre-installed dual port adapter card shown in our photo above can be removed, and replaced with an optional high performance 10GbE adapter for those who crave maximum performance. The default card is labeled Q82575-G2, which is a QNAP part originally designed for the TS-879 Pro and TS-1079 Pro. Since a heatsink is placed over the main integrated circuit chip, I cannot see what is on there. However, judging by the model number, my best guess is it is an Intel 82575 controller. The card itself is sold separately for a whopping $230 on QNAP's website.
The entire back of the motherboard covered by a piece of clear plastic, just in case anything makes contact with the shell and short circuits. Meanwhile, the "missing" warranty seal as aforementioned is actually located upper left corner of the motherboard mount. So while you can upgrade the PCI Express network adapter by gaining access to your TS-470's internal hardware, QNAP made sure you cannot do much beyond that without voiding your warranty... which is exactly what we will do in just a moment.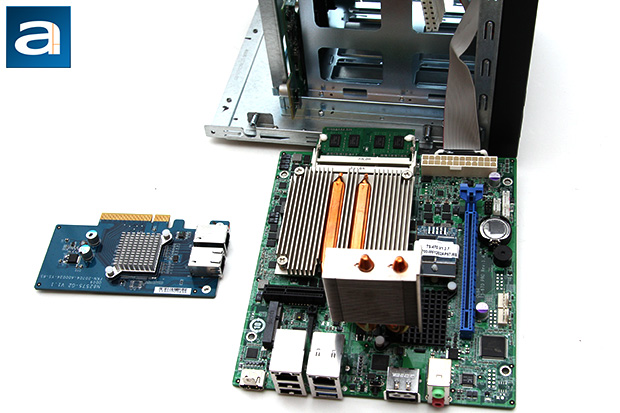 Unless you are someone determined to void your warranty and persistent enough to rip your new $1000+ file server apart, it is actually quite a challenge to dig into the further details on this product. I bet the guy who designed the chassis was probably thinking to himself, "No one is going to take this product apart, but if someone tries, I will make their life as hard as possible." Even the shell was quite a challenge to remove -- I had to take out my nylon pry bars I use for taking my car interior panels apart to get started. As we move into the product, QNAP has 'conveniently' made everything interlocking -- for example, the motherboard cannot be removed unless you release the SATA backplane, which cannot be taken out by itself, since one of the many screws are blocked off by the chassis frame. But if you are as inclined as I have, then a bit of persistence and a couple hours of time will prove to be quite rewarding. After disengaging the chassis back panel, remove all the screws you can on the SATA backplane. You will notice one screw cannot be touched unless you relocate an interfering metal frame piece. This can be done by taking out another two screws that locks that part in place on an adjacent piece. With the SATA backplane loosened, be careful not to break the big capacitor that prevents you from taking the whole thing out. However, the small bit of wiggle room will allow you to remove the motherboard without resorting to even more disassembly. With all the cables disconnected, we can finally really take a closer look at the hardware under the hood.
QNAP's TS-470 Turbo NAS features an Intel Celeron G550 dual core processor, along with 2GB of DDR3 SODIMM memory featuring eight Hynix H5TQ2G83CFR ICs. There is no HyperThreading, but this is an LGA1155 processor rather than an integrated chip. Does this mean you can install a Core i7-3770K or something in there? Well, sort of, but I don't recommend it. Either way, QNAP's embedded Linux based operating system is installed on a 512MB flash memory chip on a module. There is a large heatsink near the center of the motherboard with two heatpipes connected to a tower fin array in order to cool down the Intel Celeron G550 processor and H61 chipset. Interestingly, the motherboard is labeled "TS-670 PRO" on the silkscreen. This is probably done to save cost between units; using a common motherboard across the product line is certainly a smart solution.
As you can see in our photo above, the user upgradeable memory slot can be seen near the front edge. You don't even need to remove the external shell to perform this upgrade, which is quite convenient in my opinion. The stock RAM is glued down, but you can still remove it. The second memory slot is free for users to add RAM. From my experience, I never needed any more RAM than my QNAP NAS already came with, but user upgradeable memory is always a good thing.
Intel's H61 chipset provides native support to its USB 2.0 ports, as well as the two rear eSATA ports -- leaving an external Marvell 88SE9235 6Gb/s controller to feed its four main drive bays. An Etron Tech EJ188G controller supplies the two USB 3.0 ports in the system; where the front USB 3.0 port is connected internally by a Type A external plug glued on. Intel's 82574L Gigabit LAN controller powers its two Gigabit Ethernet ports at the back. An ASMedia ASM1442 level shifting IC converts the signal for HDMI output, and a Realtek ALC662 codec handles the 3.5mm audio jacks at the back. All of these mentioned ports are soldered directly to the motherboard.
As always, QNAP uses excellent hardware for their network attached storage system. But we must understand the sum of the system is not limited to just the hardware, but also the software. Over the years, QNAP products have evolved from relatively simple file servers to fully fledged network appliances with more features than I can keep track of. As such, we will take a look at the latest operating system update from the company, QTS 4.0. After putting everything back together, and praying that my TS-470 still starts, we hit the power button to fire it up.
---
Page Index
1.
Introduction and Specifications
2.
A Closer Look - Hardware (External)
3. A Closer Look - Hardware (Internal)
4.
Configuration and User Interface, Part I
5.
Configuration and User Interface, Part II
6.
Configuration and User Interface, Part III
7.
Performance and Power Consumption
8.
Final Thoughts and Conclusion