Page 5 - Configuration and User Interface, Part II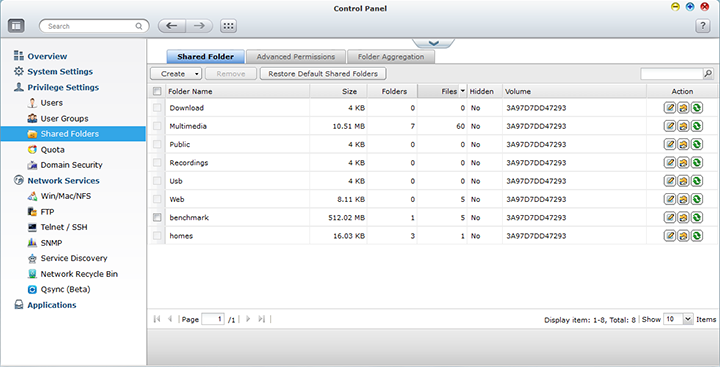 Continuing in the Control Panel, under the Privilege folder tree are five options: Users, User Groups, Share Folders, Quota, and Domain Security. The Domain Security section provides different authentication options, including local user, active directory, and LDAP authentication. In the Users screen, a table lists all users in the system, as well as their respective independent disk quota and account options. You will also have the option to search, create, multiple create, and delete accounts here. Four icons represent four different account functions; of which they are Change Password, Edit Account, User Groups, and Private Network Share. In the Share Folders screen, it lists an array of folders on the system, similar to the table displayed for the Users screen as shown above. It also shows each folder's size, folders within, number of files, and if it is hidden in their respective column. Again, there are three management options for each folder: Properties, Access Permissions, and Refresh. Pulling up the Properties menu gives you the option to set the folder's path (If you have multiple single disks installed, you can also set which drive it belongs to), hide or show the folder, as well as locking the file. You can also enable write-only accesses over FTP. The Quota screen allows you to configure universal disk quotas. Individual disk quotas can be set in the Users section.
Next up on QNAP's TS-470 web configuration menu tree in Control Panel is Network Services. This includes Win/Mac/NFS, FTP, Telnet/SSH, SNMP, Service Discovery, Network Recycle Bin, and Qsync. Other than Qsync (Another pseudo menu item that actually opens a new window, which we will talk about later), each item should be self explanatory -- most of them are just enable or disable the service, and configure a couple settings such as default port number. Particulars that are more interesting under Microsoft Networking, which you can configure it to be a standalone server, Microsoft AD Domain member, or LDAP Domain Authentication. Here you can configure its server description, workgroup, AD server name, domain name, domain username, and password. You can also enable WINS server, use specified WINS server, and enable it as a domain master. In the Web Server screen, you can enable or disable its HTTP server, set its default public port, enable/disable WebDAV, and turn on php.ini maintenance. In the Service Discovery function, there are two tabs: Enable/disable UPnP discovery service, and broadcasting services through Bonjour. These services include NAS Web, SAMBA, AFP, SSH, FTP, HTTPS, DLNA, and Apple device applications.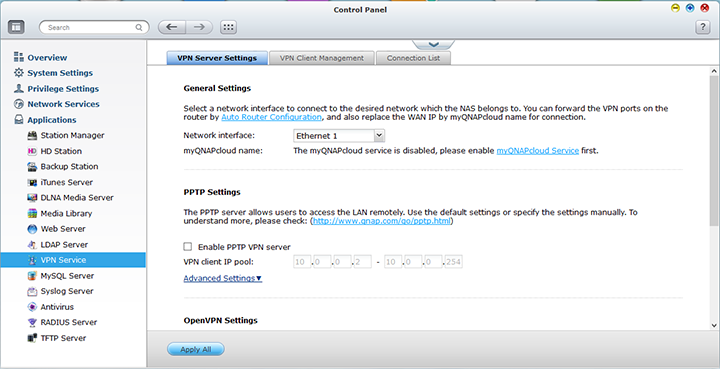 Lastly, the Applications submenu shown above is quite straightforward as well. Most of the listed sections, as you can see in our image above, are simply used to enable or disable their respective services. Features such as Station Manager lets you enable or disable Photo, Music, Multimedia, File, Download, and Surveillance stations. Download Station allows you torrent things through the QNAP TS-470, and Surveillance Station works in conjunction with compatible camera models. One to note in particular is the MySQL server -- the QNAP TS-470 has built in PHP and MySQL support, as well as an option to install phpMyAdmin using the App Center, in which we will talk about later.
Other applications of interest include Syslog, RADIUS, and TFTP servers; along with a built in antivirus for an extra touch on security. The RADIUS server is an integrated version of the open source FreeRADIUS software; while its antivirus feature runs off ClamAV. Our screenshot above shows the VPN service configuration screen on our NAS. The Media Library application allows you to transcode videos on your QNAP TS-470, but you are probably better off doing it on your desktop with more processing horsepower.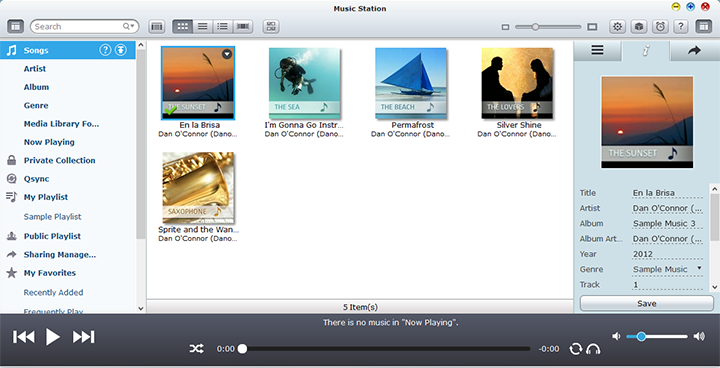 Earlier on in this review, I have conveniently skipped over the Photo Station, Music Station, and Video Station. With Web Server and application stream enabled under the Bonjour tab in Network Service Discovery on your NAS, you can now stream media directly from your file server to your Apple iOS based device through QNAP's QMusic app (Available for free in the App Store). The app is available for Android as well in Google Play. QMusic works over WiFi and data, so as long as your network attached storage is web accessible, you can access your music, photos, and videos from anywhere with internet access. Where data coverage may be unavailable, you may also cache songs onto your mobile device ahead of time. Other available applications include Qfile, Qmanager, Qmobile, Qremote, and VMobile. Using the right program, you can upload images, manage files, and view surveillance footage using your favorite mobile device.
The Music Station is almost the same thing as Multimedia Station, except it does the job a lot better. Multimedia Station is more or less a QNAP legacy Flash based web application that allows you to view and play media files located inside your TS-470's Multimedia folder on any computer with internet access. It is still available with QTS 4.0, except it is fairly well hidden. With full fledged library functions, and a much cleaner user interface, Music Station is significantly more powerful than the jack-of-all-trades Multimedia Station. Our screenshot above demonstrates this functionality; it is almost like running a desktop media player straight from your computer. Music Station supports streaming from other UPnP devices on your network, as well as internet radio support. You can play music on the NAS directly through USB speakers or its 3.5mm jack. Still not enough? Feel free to share some music with your friends; just watch out for the copyright police.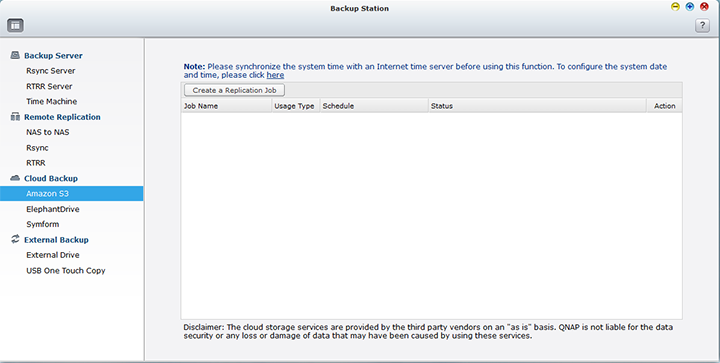 The Backups window has four subsections. These include Backup Server, Remote Replication. Cloud Backup, and External Backup. NAS to NAS lets you configure your QNAP TS-470 to copy data to a remote server of the same NAS series, and backup from remote server to the local server as well. You can also set its port number, and allow/disallow remote Rsync server to back up data to the local system. RTRR can be enabled, as its name suggests, for Real Time Remote Replication. Cloud Backup provides support for Amazon S3, ElephantDrive, and Symform, where you can upload data from your NAS to the respective services, and vice versa.
The TS-470 also has Apple Time Machine with Mac OS X support. Once enabled, you can use the NAS as one of the Mac OS X Time Machine backup destinations. At press time, it seems to me some users are having issues with Mac OS X Mavericks, so do keep that in mind. In the External Drive screen, you can back up select data on your NAS to an external drive connected via USB or eSATA. (Now when you've thought your NAS is used for backups, you can even backup your NAS!) Last, but not least, is USB One Touch Copy, which configures the function of the front one touch copy button. You can use it to copy data from an external drive to a specific directory on the NAS, copy data from a specific directory on your NAS to the external drive, or disable it completely.
---
Page Index
1.
Introduction and Specifications
2.
A Closer Look - Hardware (External)
3.
A Closer Look - Hardware (Internal)
4.
Configuration and User Interface, Part I
5. Configuration and User Interface, Part II
6.
Configuration and User Interface, Part III
7.
Performance and Power Consumption
8.
Final Thoughts and Conclusion