Page 6 - Configuration and User Interface, Part III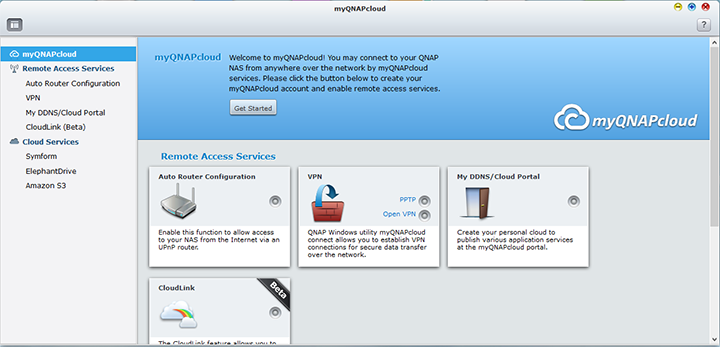 Given the popularity of cloud services nowadays, QNAP took it one step further, and unleashes your NAS from the confinements of your local area network. The implementation of QNAP's myQNAPcloud service is nothing too mysterious, however -- combining a built-in dynamic DNS service, and a wizard that lets you easily get desired services online, it makes it quite a breeze to configure the TS-470 for access anywhere in the world with internet. You can now set up a QNAP account to manage all your devices, so you can control what devices are associated to you. When myQNAPcloud first came out, no user account is available, so all associated devices were just made in thin air. This is definitely an excellent improvement, and a welcomed addition.
For users with UPnP routers, port forwarding setup is no more than a couple of clicks away. Personally, I did not find web administration to be that useful, but if you need your files at hand all the time, the web file manager will be an absolutely invaluable asset. Additionally, since Music Station -- and an increasing amount of features -- is a part of the myQNAPcloud program, you can now stream music to any computer with a web browser that supports Flash (Or even your smartphone with the QMusic app installed). I found the VPN feature particularly useful, actually. It is extremely easy to set up, and once it is enabled, you can access all your local network resource like printers and mapped network drives over the internet. With QTS 4.0, VPN is no longer a business only feature.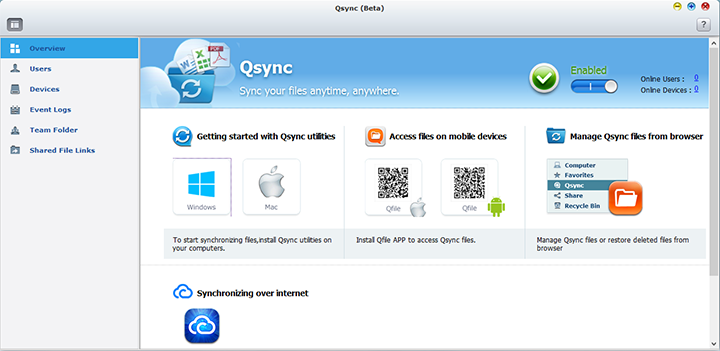 Qsync is a new feature available on QNAP devices to allow you to synchronize files across multiple systems, with a folder on your NAS as the center point to all connected devices. There are three file synchronization modes. Full Sync can be set, so all connected devices will have identical copies of the data. Smart Sync allows you to delete files on one connected device without affecting others on the network. Finally, Advanced Selective Sync allows you synchronize limited folders within the Qsync folder, which can be useful for devices that do not necessarily need everything. You will need to install a program on the client device to use this function. Our screenshot above shows the server side of the configuration screen. This is very useful feature to include, as many people now have multiple computers plus a tablet or something, and keeping the information synchronized between them is very convenient.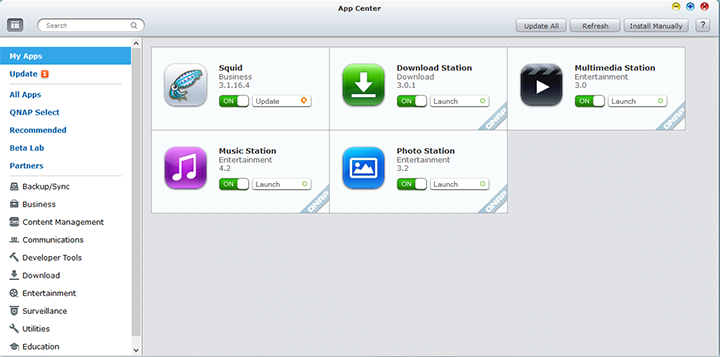 The App Center allows you to install applications premodified by QNAP or designed to be installed on your NAS. The concept is exactly the same as any app store for your favorite smartphone and tablet. Simply select a program you want, hit install, and the rest is history. Available apps include a few worthwhile mentions such as phpMyAdmin as aforementioned, as well as WordPress and Joomla. Heck, there's even Dropbox and Google Drive Sync. You can even get stuff like PS3 Media Server and Twonkymedia to handle all your media streaming needs. It was always possible to install custom applications on your QNAP NAS, but making a full on app store really streamlined this feature in QTS 4.0. Props to QNAP for making everything simple for the end user.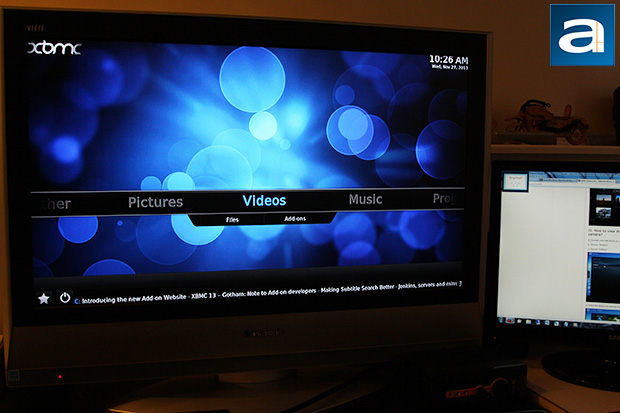 One application you can install from the App center is XBMC. Since the QNAP TS-470 features an HDMI port, once XBMC is installed, your NAS will become a fully featured media center PC. I am sure that adds a lot of value to the device -- just hook it up to your TV and go. If you would like to surf the web on your system, Google Chrome can be installed as well. XBMC and Google Chrome can be controlled by a USB keyboard directly. You can also opt to use QNAP's Qremote app, which utilizes your smartphone to control your box over WiFi, or an MCE remote via the onboard IR receiver. I am not going into specific detail about XBMC, but if you have used it before, you will know exactly what to expect, haha.
All in all, the web configuration interface on QNAP's TS-470 is absolutely brilliant as always, and I know have said this countless times before. But it is so good, I just can't stop raving about it. Judging from past experience, the Linux-based backend should also provide simply matchless reliability and stability over time -- all of my previous QNAP NAS systems, with the TS-470 being my sixth -- has only been down due to power failures. Other than that, the only complaint is that I found the startup and shutdown time to be quite slow. Booting the QNAP TS-470 takes longer than any of PC I have in the house, even if they are not equipped with SSDs. But since it remains on for as long as possible anyway, it should not be a significant problem in the long run. QNAP has undoubtedly gone seriously above and beyond what an average user expects from a network attached storage device. The amount of features available on the QNAP TS-470, thanks to QTS 4.0, simply destroys the competition when it comes to both home and business needs.
---
Page Index
1.
Introduction and Specifications
2.
A Closer Look - Hardware (External)
3.
A Closer Look - Hardware (Internal)
4.
Configuration and User Interface, Part I
5.
Configuration and User Interface, Part II
6. Configuration and User Interface, Part III
7.
Performance and Power Consumption
8.
Final Thoughts and Conclusion