By: Jadon Lee
December 20, 2019
It is the season of grinding for most university students, me included, as we endeavor to try and memorize our notes and ace our finals. Fortunately, Calgary has not been as cold this year as to prior years as the snow has finally begun to fall. As much as people dislike the snow, I am personally quite fond of it. I find watching the snow fall to be very relaxing and beautiful as it gently falls onto the ground. Unpopular opinion, but I believe that cold weather is better than warm weather. In hotter weathers, it is much harder to find solutions to stay cool compare to in cold weather. Of course, air conditioning is very reliable in these circumstances, but when you have an Asian family, air conditioning simply does not exist so your solutions are either you turn on a fan and sit in front of it or to manually fan yourself, which will generate more heat. When considering cold weather, there are several ways to keep warm like putting on more clothes or having a nice warm drink. One of my favorite ways is to simply sit beside a fire and make some smores or drink some hot chocolate. I am not saying I hate heat, but I would prefer cold weather than warm days. Considering this, keeping cool is incredibly important to us as we do not want to have a heat stroke, it is also very important for your CPU. Having proper cooling will prolong your computer's lifespan as well as help push your components to their limits. Given that people want to have lower temperatures, they also want their computers to remain as quiet as possible. Nobody likes the sound of a loud computer. In this review, I will be looking at the Reeven Justice II RC-1207. Will this CPU cooler satisfy the demands of performance and noise levels? Let us find out.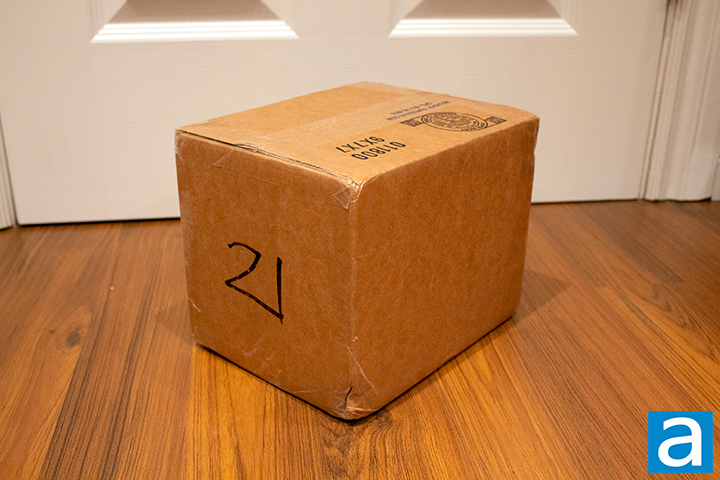 Today's review unit was shipped to us here in Calgary, Alberta, Canada via Canada Post transferred from US Postal Service from Ontario, California, USA. The shipping box was in a decently good condition with a small dent in the corner of the box. Even though the shipping box had some small dents, the retail box maintained little marks on it. I was not too concerned about the shipping due to the almost perfect condition of the retail box.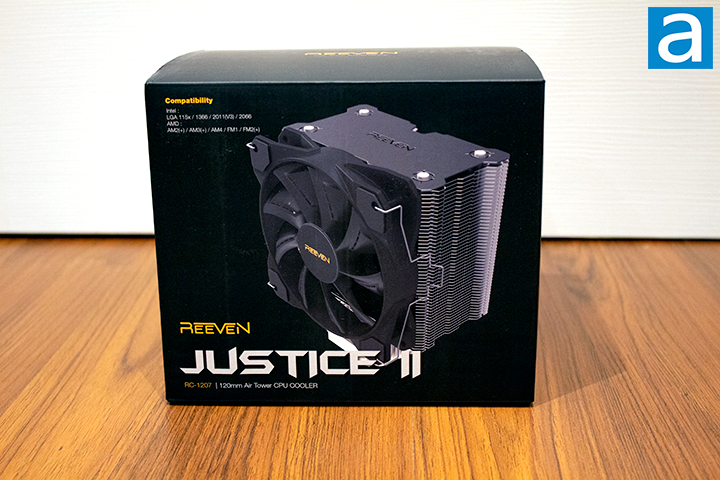 The retail box design is simple and well done; using a black, white, and yellow color scheme. The front of the box proudly displays the Reeven Justice II's name and the product itself as well as some information about the compatibility with Intel and AMD CPUs, so you will receive the necessary installation kits for both manufacturers. The product is displayed with both the heatsink and the fan, unlike the original Reeven Justice RC-1204, where it only showed the heatsink. The top of the box shows Reeven's logo as well as the words "The True Experience". The left side of the box displays the product name again, and that it is a 120mm Air Tower CPU Cooler. The right side of the box talks about the asymmetrical design, included Zephyros II fan, premium mounting system, and compact overall design of the Justice II RC-1207. The back of the box displays the product design, dimensions of the heatsink, and the fan itself. Specifications are also listed on the bottom side of the back of the box. Overall, the retail package design of the Justice II RC-1207 is good and pleasing to the eyes. Customers will be able to find useful information about this cooler without any issues.
Before we continue, here are the specifications for the Reeven Justice II RC-1207, as posted on the manufacturer's site:
Model Number: RC-1207
Socket: INTEL: LGA 115X / 1366 / 2011-V3 / 2066; AMD: AM2(+) / AM3(+) / FM1 / FM2(+) / AM4
Overall Dimension: (W)125 x (H)155 x (D)100mm
Fan Dimension: 120 x 120 x 25mm
Heatpipe: Ø6mm x 6
Fan Speed: 300 ~ 1200RPM
Air Flow: 12.73 ~ 50.93CFM
Static Pressure: 0.065 ~ 1.033inchH2O
Noise Level: 5.83 ~ 25.1dBA
Weight (with Fan): 920g (with fan)
UPC Code: 840636100206
EAN Code: 4717011050202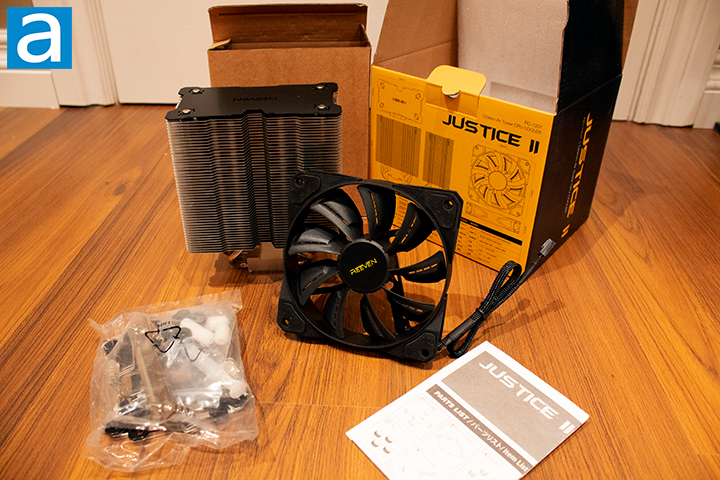 Upon opening the retail box, you will be greeted by another box holding the mounting kits for both Intel and AMD sockets, installation guide, wire clips, and a tube of thermal paste. After removing the first box, you will find the Zephyros II fan sitting on top of some foam. Finally, you will find the heatsink surrounded by foam, keeping it safe during transport. The fan does not come pre-installed this time around and I will explain why later. The Reeven Justice II RC-1207 can take two fans but includes only one just like its predecessor. Any additional fan will need to be purchased separately, but there are enough clips included to mount a second fan. The unboxing experience was good, and I did not worry anything would be damaged due to how securely packaged everything was.
---
Page Index
1. Introduction, Packaging, Specifications
2.
Physical Look - Hardware, Installation
3.
Test Results
4.
Conclusion