By: Hai Wang
March 15, 2019
I remember about five years ago, when people were talking about artificial intelligence or AI, nobody believed a computer could actually beat a human in a competition. Some said AI was overrated, since it had been developed for decades, yet we had yet to see robots running on the streets. However, things changed dramatically after AI Go, the AlphaGo Master, beat the world's number one professional Go player in 2017. It was a milestone for AI and now a computer can play Go better than anyone in the world. People have spent thousands years on perfecting the game of Go and its techniques. However, the AlphaGo project started in 2014, three years before its victory. Now, some people are worried. On one hand, AI is a fancy tool that can bring our lives to a new level. On the other hand, many jobs could be lost due to AI replacement of humans. Maybe in the future, professional Go players will lose their jobs, and we have to watch AlphaGo fighting BetaGo. However, for me, I do not believe it is a problem. It has been always like this -- machines are developed by humans to outperform humans, and consequently, we have better lives thanks to the more capable machines. The same for Go playing, AlphaGo can be used to train humans so humans can player better Go. Since computers, with or without AI, are so important to us, it is beneficial to make sure our computer system works efficiently. In order to do that, a good CPU cooling system is required. To evaluate if a CPU cooling system is good or not, I will look from three perspectives. First, it should delivery good cooling performance. Second, it has to be quiet. Third, it would be nice if it looked good too. For today's review unit, the Reeven Okeanos RC-1402, it is a dual fan CPU cooler with the capability of taking up to three 140mm fans if you so desire. Is it a good CPU cooler? Keep on reading the review!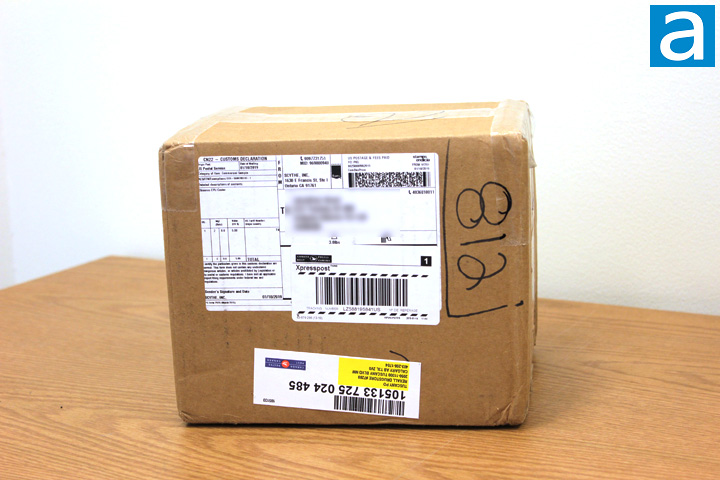 Today's review unit was shipped to us here in Calgary, Alberta, Canada via United States Postal Service then transferred to Canada Post. This package arrived from Reeven North America's office in Ontario, California, USA. The shipping box was mostly in good condition. Even though you may see small dents by the corners of the parcel, there were no signs of unacceptable damage on the shipping box itself. If you keep looking downward, you will see the corners of the actual retail box are beaten up a little bit. It may have been damaged during shipping, but I was not too concerned.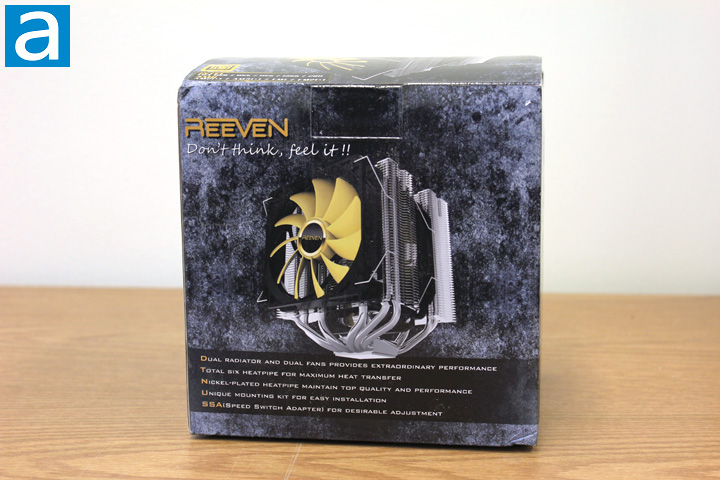 On a well-designed retail package, you can always find a nice photo of the product. The box of the Reeven Okeanos RC-1402 is no exception. The picture of the CPU cooler is located on the front of the container with a dark background. From the picture, you can roughly know what you will get from Reeven -- a CPU heatsink and two fans. Of course, you will also get the installation kits for various Intel and AMD sockets. They are just not shown in the front cover of the retail box. Reeven's company logo is printed at the top left corner, while the product's name, Okeanos, is not printed in the front, but instead located on top of the box. Below the product's photo, the features of the product are provided. It is worth mentioning this time we get a dual fan system from Reeven rather than the single fan solutions we have seen before. If you turn to the side panels of the retail package, more information about the product is presented, such as the dimensions and weight of this product. Overall speaking, the retail package design of the Reeven Okeanos RC-1402 is good. Customers will be able to find the useful information about this product without any trouble.
For you to know the Reeven Okeanos RC-1402 a little bit more, the specifications of the cooler from the official website are listed below:
Model Number: RC-1402
Socket: INTEL: LGA 1150 / 1151 / 1155 / 1156 / 1366 / 2011 / 2011-V3; AMD: AM2(+) / AM3(+) / FM1 / FM2(+) / AM4 (Upgrade Kit required!)
Overall Dimension: (W)140 x (H)163 x (D)135mm
Fan Dimension: 14cm: 140 x 140 x 25mm; 12cm: 120 x 120 x 25mm
Heatpipe: Ø6mmx4 + Ø8mmx2
Fan Speed: 14cm: 300~1700(*300~1100)RPM; 12cm: 300~1800(*300~1200)RPM
Air Flow: 14cm: 16.3~92.4(*16.3~59.8)CFM; 12cm: 16.6~92.5(*16.6~63.8)CFM
Static Pressure: 14cm: 0.002~0.091(*0.002~0.034)inch H2O; 12cm: 0.003~0.098(*0.003~0.042)inch H2O
Noise Level: 14cm: 5.8~36.4(*5.8~21.3)dBA; 12cm: 4.0~33.4(*4.0~23.6)dBA
Weight (with Fan): 1145g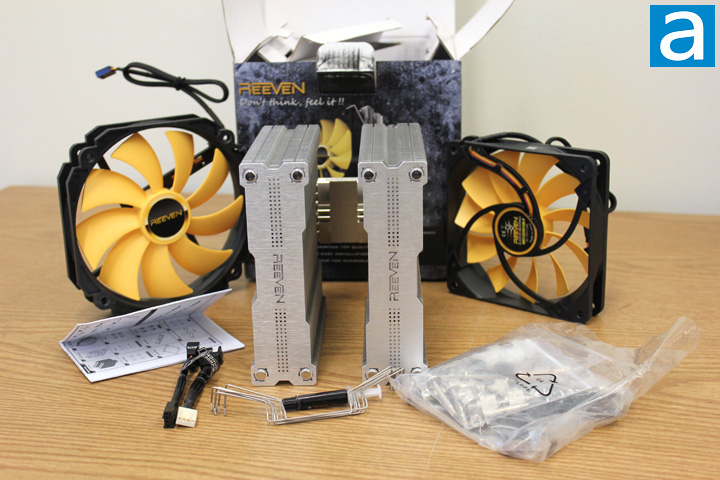 Upon opening the retail box, you will see the bulky heatsink is actually divided into two modules. You can also find three cardboard boxes. One box is in between the two heatsink modules, while the other two boxes are on both sides of the heatsink. Thanks to the three smaller boxes, the fins are well protected. I did not find any damage on the fins, meaning the packing design is a win. Aside from the heatsink, a Reeven Coldwing 14 fan and a specially tuned Reeven Coldwing 12 fan are two another major components you can find in the retail box. The Reeven Okeanos RC-1402 can take three fans, but only two are included. If you want three fans on your heatsink, you will have to buy your own. As for smaller accessories, they are all contained in a white cardboard box. A bunch of wire clips, tube of thermal paste, installation guide, small wrench, and mounting kits for both Intel and AMD sockets are found in this cardboard box. The small wrench is a thoughtful addition from Reeven as it is a useful tool when installing the CPU cooler.
---
Page Index
1. Introduction, Packaging, Specifications
2.
Physical Look - Hardware; Installation
3.
Test Results
4.
Conclusion