By: Jonah Chow
March 24, 2022
How can you tell one pair of skis from another? It seems hard since they all look the same to the untrained eye -- just long sticks that you put your feet on and use to go down mountains at high speeds. However, mountains can have a variety of terrain, which different types of skis are built for. Short skis will get you down the mountain quickly at a fast speed, along with getting around moguls much easier than your conventional skis. Thick and wide skis will plow through powder and small bumps with ease, making it so you are less prone to getting tripped up by these environmental terrains. Is there a pair of skis that are just good for everything though? While there is no essential one pair of skis that will be good for any and all environments, there are plenty that will do the trick for most runs you might go down. Similarly, there are different types of gaming mice out there, and for people who are new to gaming, it might be tricky to figure out the difference between many of these. Every now and then, there is a mouse that stands out, whether it is for a large number of buttons, superior performance, or just visually with RGB LED lighting that is becoming ubiquitous nowadays. Today, we have a mouse that could potentially meet everything I listed, that being the ROCCAT Kone XP. Does the ROCCAT Kone XP stand out from the regular gaming mice crowd for all the right reasons? Let us read on to find out!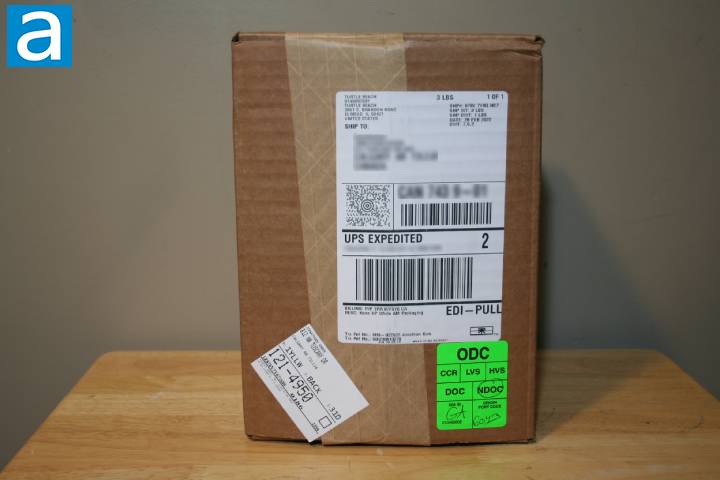 Our review unit of the ROCCAT Kone XP arrived here in Calgary, Alberta, Canada from the company's American shipping fulfillment center in Elwood, Illinois, USA using UPS Expedited. The shipping box was in decent condition with a few marks and scuffs alongside the corners. Generally, I had nothing to worry about as the marks were not severe enough to damage the retail box. With the shipping box protecting it so well, the retail box arrived in perfect condition. I had no complaints about the shipping.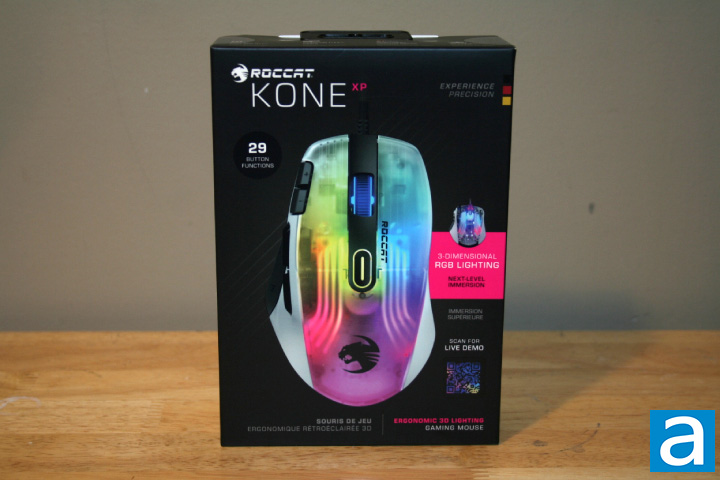 Our ROCCAT Kone XP arrived in retail packaging. Taking a look at the box, it is quite clean and does a good job of displaying the mouse along with its prominent features. The ROCCAT and product name is located at the top left corner, likewise to many other products sold by the company. A photo of the ROCCAT Kone XP is displayed front and center, showing off the general design of the mouse with the RGB LED goodness shining through the translucent shell of the mouse. The text "3-Dimensional RGB Lighting" can be seen on the right side with the text "Next-Level Immersion" below. A QR code is located near the bottom right side, which takes you to a video of a live demo of the mouse. The back of the box contains some of the specifications, and the sides have some more ROCCAT branding.
Before we move on, here are some specifications from the manufacturer's website and product sheet:
Sensor
ROCCAT® Owl-Eye 19K optical sensor (Based on PAW3370)
Adjustable lift-off distance
50g acceleration
Minimum/Maximum DPI: 50/19,000
General
ROCCAT® Titan Switch Optical
100 million click life cycle
On-board memory
Game genre: All
Number of buttons: 15
Number of programmable buttons: 29
Number of thumb buttons: 5
Mouse grip style: All
Grip Width: 59mm
1.8m flexible cable
Dimensions
Length: 126mm
Height: 40mm
Width: 76mm
Weight: 104g
Package Contains
ROCCAT® Kone XP (Ash Black) / (Arctic White)
Quick-start guide
1x Extra set of mouse feet
Compatibility
Windows® 7, 8, 10 & 11 (software support)
USB 2.0 (or higher)
Internet connection (for driver software)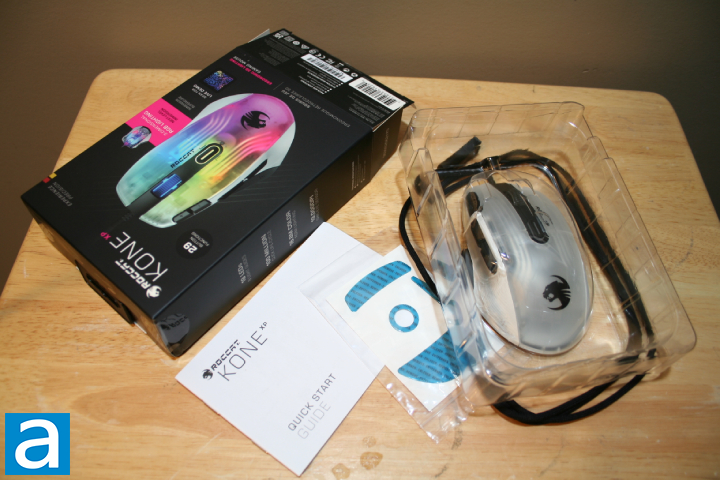 Right out of the box, the first thing you will see is the mouse itself. The mouse alongside its USB cable is bundled in some plastic wrap. The user manual and warranty guide were also found inside of the box, as one would expect. The warranty, per the specifications, is two years, which is common for peripherals. The package also comes with an extra set of PTFE feet, which is a nice addition.
---
Page Index
1. Introduction, Packaging, Specifications
2.
A Closer Look - Hardware and Software
3.
Subjective Performance Tests
4.
Conclusion