By: Jonathan Kwan
February 15, 2019
"I have a problem with my computer," a professor in the Department of Electrical and Computer Engineering asked me as he pulled me aside. "There is no sound coming out of it. Do you have any idea why?" It did not take me long before I found the problem. "Do you have any speakers?" I asked. The professor paused and began to rub his chin thoughtfully. "I think that could be the reason." Now, if you are wondering how someone with a PhD in electrical engineering could end up wondering why no sound is coming from their computer when they did not have speakers -- after all, they should have been the one who invented this stuff -- I do not believe it has anything to do with intelligence. In fact, after spending so many years in graduate studies, I would gladly inform everyone I meet that getting a doctorate in a particular subject simply means I am only an expert on a very narrow topic, and by no means do know everything as some people would think. From what I could gather, the professor's confusion probably stemmed from perception, thinking his computer had a built-in speaker when it really did not. Of course, there are several ways someone could get sound from their computer, and increasingly, more and more people are choosing headsets over speakers so they can listen to their heart's content without distracting people around them, whether they are roommates in the same house or neighbors in an apartment block. This is not to mention headsets are simply better for gaming. With the popularity of gaming headsets, today, we will take a look at ROCCAT's latest model, the Renga Boost. The Renga Boost promises to be a "studio-grade over-ear stereo gaming headset" with "multi-platform support and 50mm drivers for deep bass, its rich sound is perfect for gaming, music, movies and more". Are these big promises fulfilled? Read on to find out!
Our review unit of the ROCCAT Renga Boost came in a medium sized, brown corrugated cardboard box from the company's American headquarters in Cerritos, California, USA. Cerritos is Spanish for "little hills" and is an affluent suburban city in Los Angeles County. With average temperatures between 8 to 20 degrees Celsius in February, it is heck a lot warmer than the -25 degrees Celsius we are experiencing here in Calgary, Alberta, Canada right now. Well, now that it has come to us here in Canada via FedEx Ground, let us not waste any time and crack open the box to see what is inside.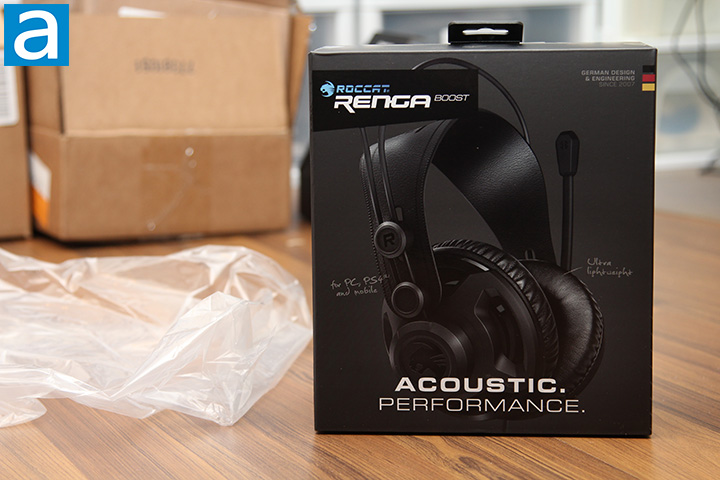 The ROCCAT Renga Boost's retail package should be a familiar sight to those who own other products from the company. White text stands out from its predominantly black gradient background; where the slogan "Acoustic Performance" is boldly displayed across the bottom of the box, as shown in our photo above. ROCCAT's logo and Renga Boost product name can be seen at the top, and the statement "German design and engineering since 2007" is printed next to a German flag on the right. A photo of the Renga Boost headset in three-quarters view is placed boldly across the front. Scribbled descriptions indicating its universal compatibility and ultra lightweight design points to the headset. Meanwhile, features, specifications, and product highlights of the Renga Boost can be found on the remaining sides of the package.
Before we move on, let us take a look at the specifications of the ROCCAT Renga Boost, as obtained from the manufacturer's website:
Measured Frequency response: 20~20000Hz
Impedance: 32Ω
Height: 20.0 cm
Width: 21.0 cm
Length: 10.0 cm
Weight: 210 g
System requirements: 1 x 3.5mm jack (sound), 1 x 3.5mm jack (mic)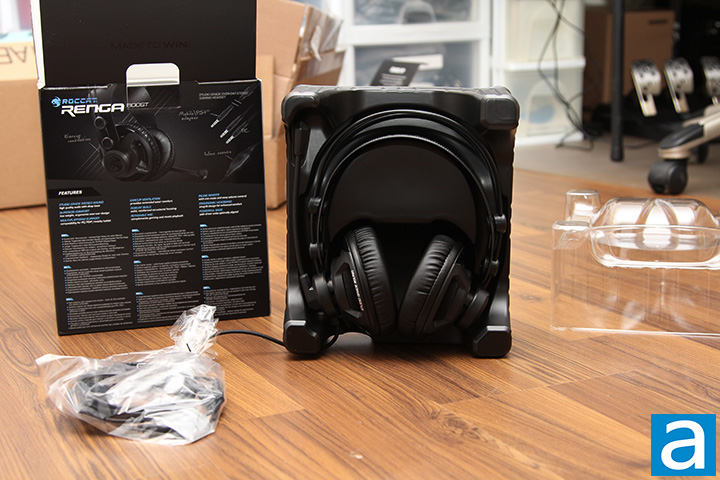 Inside the flap-top box is the ROCCAT Renga Boost clipped between a black plastic shell at the bottom and a clear plastic shell on top. The permanently attached cable is wrapped inside a clear plastic bag and comes with a dual 3.5mm jack for the microphone and headphone to a single 3.5mm combined jack adapter. This is all that is included out of the box -- nothing more and nothing less.
---
Page Index
1. Introduction, Packaging, Specifications
2.
Physical Look - Hardware
3.
Subjective Audio Analysis
4.
Conclusion