By: Aaron Lai
September 10, 2021
Earlier in August of this year, my friends invited me to go camping out in Dinosaur Provincial Park, Alberta. If you know me personally, you will know I was born and raised in a suburban area where I have always appreciated the comforts of modern day living. This is true for practically all of my family, though I would say my sister is probably the most adventurous compared to the rest of us. As such, I had never gone camping before until this year. After spending one of the hotter weekends out in the badlands of Alberta, I have to say there were several things I did enjoy about camping. For one, it was sort of fun to "rough it" by cooking for each other and being outdoors. I also appreciated spending time with my friends and hanging out, even if it meant sitting and reading while my friends took a nap in their chairs during the afternoon heat. On the other hand, after camping I much prefer living like I am in the twenty-first century. This includes modern conveniences like running water and a soft bed to sleep in. I also like not needing to swat at bugs ever so often or being afraid of my shelter caving in during the middle of the night, which is a story for another time. When ROCCAT announced they would release a streamer microphone, I was honestly quite excited and intrigued. While I have a microphone setup at home, it utilizes a standard XLR microphone on a floor stand and an audio interface. However, today's ROCCAT Torch is a simpler setup with a USB microphone that plugs directly into your computer. What are some conveniences we can have with this sort of setup and how will it perform? Let us read on to find out!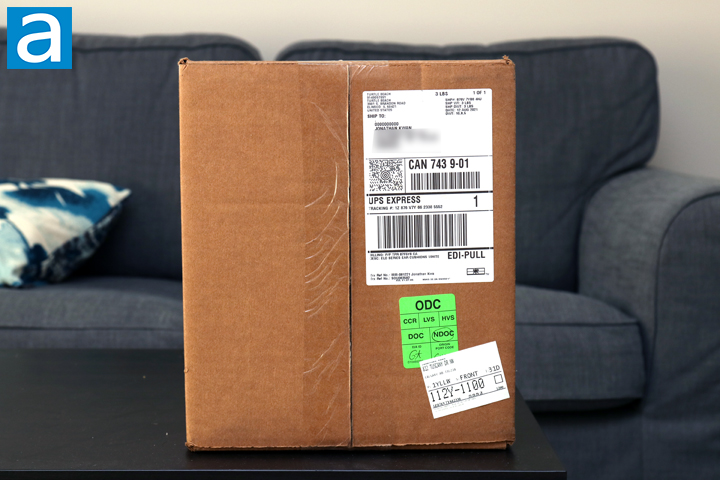 Today's ROCCAT Torch arrived from Turtle Beach's warehouses in Elwood, Illinois. Like every recent ROCCAT and Turtle Beach product we have received recently, this shipped with UPS and their Worldwide Express service. This corrugated cardboard box arrived in excellent condition with no dents or bruises to be concerned about. In addition, ROCCAT packaged the microphone in a plastic bag and surrounded it with packing paper to ensure the retail container remained unscathed during shipping. Thankfully, all these protective measures seemed to work quite well.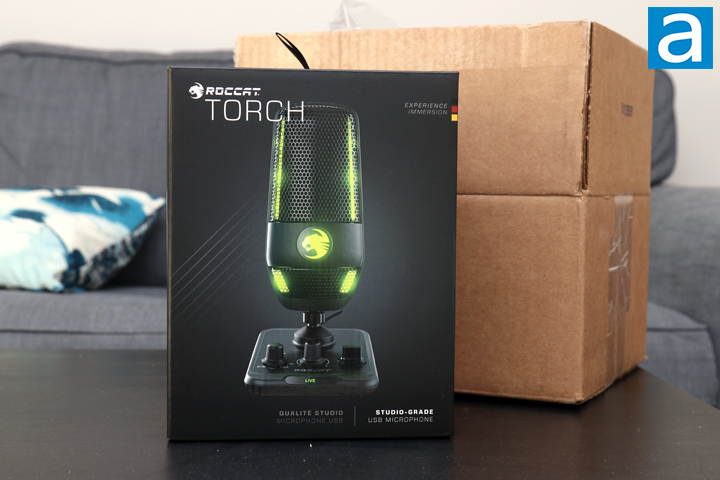 Out of the cardboard box, we have a pretty spiffy looking retail container for the ROCCAT Torch. Much like other ROCCAT products we have received, the Torch box shows off the product front and center over a dark background. The company and product names can be found on the top left corner, with the product description of "Studio-Grade USB Microphone" on the bottom right. Honestly, I was really surprised with how large of a box we had, because I thought the microphone was smaller in size. Otherwise, around the container are some highlighted features for the USB microphone.
If you are intrigued about the product, I have grabbed the specifications from the manufacturer's website for your reference:
General
Sample/Bit Rate: 48kHz
24-bit with optional selection for 44.1kHz
Capsules: 2 × ROCCAT Proprietary ∅14 × 6.5mm condenser capsules
Pickup Patterns: Cardioid, Stereo, Whisper (ROCCAT Proprietary)
Frequency Response: 20Hz – 20kHz
Max SPL: 110dB
Zero-latency 3.5mm, 4-Pole headphone socket
Dimensions
Dimensions (Desktop fully assembled): 138mm × 95mm × 208mm
Weight (microphone and stand): 500g
Weight (microphone only): 290g
Compatibility
Windows® 7, 8.1 or 10
USB 1.1/2.0/3.0
Package Contains
ROCCAT® Torch ‒ Studio-Grade USB Microphone Module
Base with recording studio style controls, and Microphone Angle Adjuster
2 × Microphone to Base Connection Cable (15cm / 200cm)
USB-C to USB-A PC Connection Cable (200cm)
Quick-start guide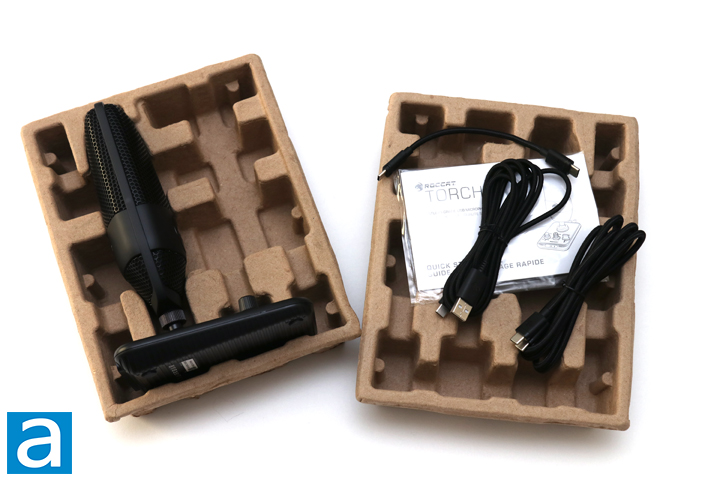 Out of the box, we have a pretty typical set of items all held tightly in a thick cardboard shell. This does an excellent job of protecting items while still being made up of recyclable material. The microphone is situated on one side with three bunches of cables next to it. This includes two USB Type-C to Type-C cables, which are used to connect the microphone to the base unit. The reason there are two is because one shorter 15cm one can be used while the microphone is attached to the base unit, while a longer 200cm is to be used when the Torch and its base are detached. Finally, we have another 200cm USB Type-C to Type-A cable to connect the base unit to your PC. Otherwise, we also have a thin book that goes over the setup instructions to get you up and working with the ROCCAT Torch. Otherwise, there is not much else to speak of, so let us take a closer look at the microphone itself.
---
Page Index
1. Introduction, Packaging, Specifications
2.
A Closer Look - Hardware and Software
3.
Recording Performance Tests
4.
Conclusion