By: Aaron Lai
June 8, 2018
At the beginning of last month, I went through a roller coaster of changes. The first thing on my list was to take possession of my own place. To be honest, there was a lot of steps that worked up to it, which taught me a lot of things. The search itself actually started last year in the fall season, when I looked at various neighborhoods in the northwest. I wanted a new place, but Calgary is very much a sprawling city and so my search was limited to the edges. After some turmoil with work and the situation, I actually thought I would stay put, but after a bit more settling down and finding a place I really liked, I pulled the trigger. The following events happened quickly, as I had to find and meet with a lawyer, meet with the bank, and make several phone calls to different places. There were also a lot of timing things I had to work out to ensure I would take possession on the expected date. I was pretty happy to learn all of these things at this time in my life, but it was also was pretty overwhelming at times. Thankfully, everything turned out okay and I have since been living at my own pad. Obviously, I still have a lot to learn about maintaining my house. In addition, I was telling some my family and friends how, even though all my things are in my new residence, I do not feel at home. However, when I go back to my parents' house, I feel at home even though I do not have any of my things. I guess this move will take a bit longer than a month to get used to. Today's review comes from Sennheiser, who is more than a veteran in the audio industry. However, we have a gaming headset, something we have not seen from them yet. With how "at home" they are in this space though, I fully expect to see some greatness from the Sennheiser GSP 500 today, so let us hope they do not let me down!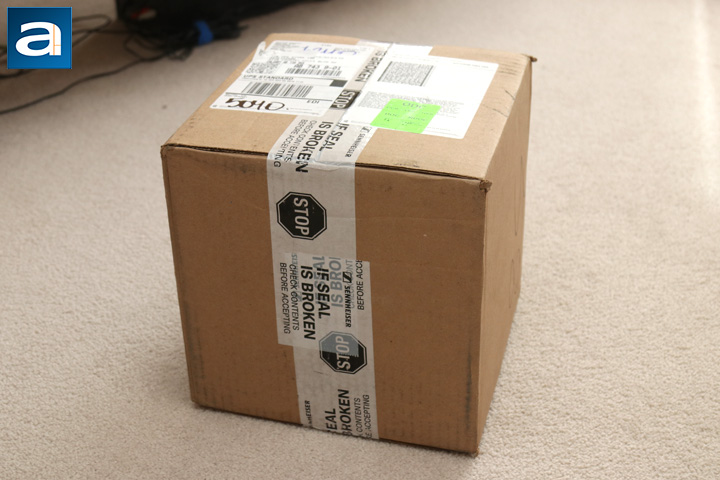 Today's review unit of the Sennheiser GSP 500 arrived via UPS and their Standard ground service from the Sennheiser American offices in Old Lyme, Connecticut. As always, this box arrived with very few things to worry about and only some dirty edges. There are no holes or scratches to talk about as the box is in good condition. A Sennheiser branded seal can be found on both sides of the box to prevent curious hands from getting in. Inside the cardboard corrugated box is the GSP 500 with loads of plastic bubbles to prevent any damage to the product inside. I grabbed my pair of scissors and tore this box open to get to the headset.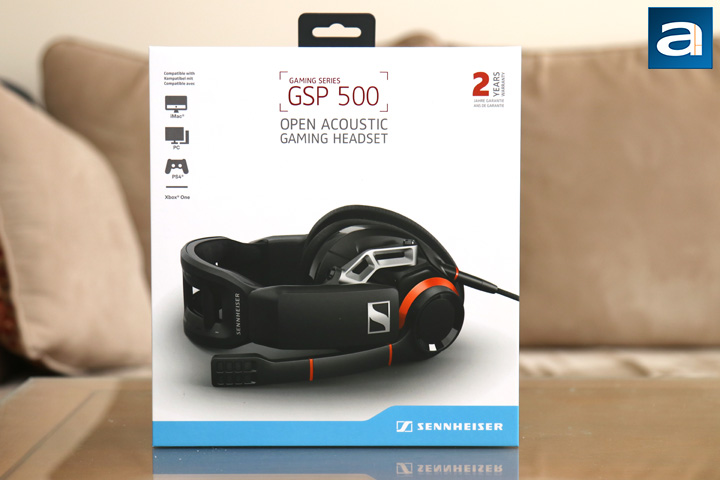 I have always liked Sennheiser packaging and the GSP 500 is no different. The gaming headset is shown on a clean white background with the name and description of the product printed at the top center of the front panel. As you can see, Sennheiser describes this headset as an "Open Acoustic Gaming Headset", which refers to the open back style. We will see what this means and how it affects the audio performance later on in our review. I should mention Sennheiser also has a GSP 600, which is a similarly designed headset with a closed back design, if you so desire. The left side shows some compatibility options with the GSP 500, which includes practically every gaming platform. The top right also shows off the two-year warranty, which is standard on all of Sennheiser's gaming headsets. Finally, the standard blue and white company logo can be found at the bottom of the front. Around the box, we have some other shots from different angles around the headset, as well a list of specifications and features for the GSP 500.
Before we move on, if you are interested, we have grabbed the specifications from the manufacturer's website for your perusal:
Technical Data
Color: black
Wearing style: Headband
Impedance: 28 Ω
Connector: 2 x 3.5 mm (3-pole connectors) 1 x 3.5 mm (4-pole connectors)
Frequency response (Microphone): 10–18,000 Hz
Frequency response (Headphones): 10–30,000 Hz
Sound pressure level (SPL): 107 dB SPL @ 1 kHz, 1V RMS
Ear coupling: Over-Ear
Cable length: 2.5 m PC cable / 1.5 m Console cable
Transducer principle: Dynamic, open
Weight: 358 g
Pick-up pattern: Bi-directional ECM
Microphone sensitivity: -47 dBV/PA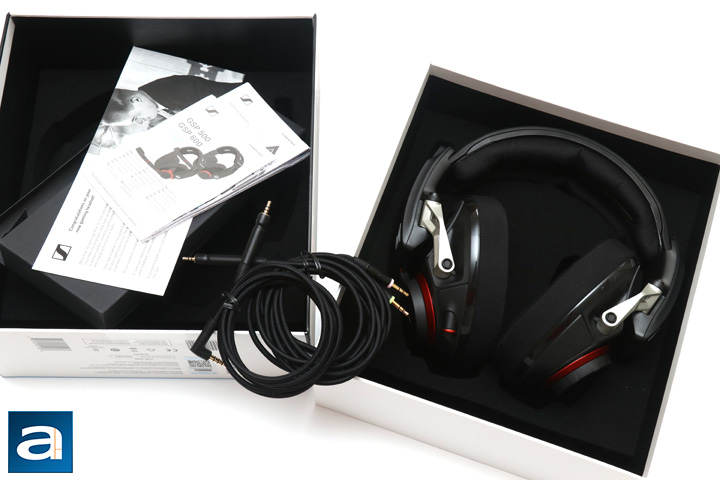 The unboxing experience of the Sennheiser GSP 500 is superb. The headset is held in a nice foam bracket with a cutout to slot the headset right in. Underneath the headset, a thin black cardboard box holds two long cables for connecting the headset as well as some documentation. These two cables measure 2.5m in length for the split audio and microphone cable and 1.5m for the single four-pole console/mobile cable. The documentation includes some quick start guides and warranty information about the GSP 500. As we already mentioned, Sennheiser includes a two-year warranty with this headset. On a random note, the box also slightly smells of bananas, especially the foam. Hopefully, there is no monkey business going forward.
---
Page Index
1. Introduction, Packaging, Specifications
2.
Physical Look - Hardware
3.
Subjective Audio Analysis
4.
Conclusion