By: Aaron Lai
April 17, 2020
It has been four weeks since Animal Crossing: New Horizons was released and I have enjoyed every minute of it. Leading up to that moment, I was a bit skeptical about buying the game, especially since I had not played any previous Animal Crossing games before. However, I have enjoyed these sort of simulation games in the past, so I decided to give it a go. The game starts with you taking an opportunity to live on a getaway island. There are some starting quests including plotting your land for your home as well as placing the homes for other inhabitants around the island. As the game progresses, you have more things to accomplish as the island representative, all with the goal of getting more inhabitants and making the place more attractive. On the other hand, you could just forgo this all and randomly plant fruit trees, plant flowers, fish, hunt for bugs, visit other islands, and more. After sinking more than fifty hours into this game, I had to step back and ask, "Why is this a fun game?" It might just be the fact that I have been in isolation since the game release, so it is just me living vicariously through a video game. The other reason might just be because it is a relaxing and chill game to play. It does not have a lot of set rules and gives you freedom to do whatever you want. This sort of flexibility is something many users look for in their computer cases as well, especially with the variety of parts that can be installed into computers nowadays. In addition, a case should also let the parts that sit inside "chill" out internally without getting too hot. Is the SilverStone SETA A1, the case we are looking at today, able to share in these advantages? Or will we see some limitations with the SETA A1? Let us read on to find out!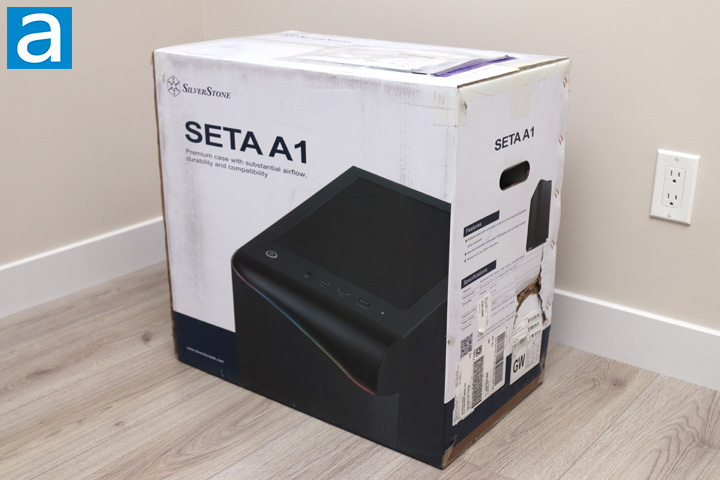 As we have expected, SilverStone sent their SETA A1 with its retail container doubling as the shipping container. While this is pretty understandable, it seems like our SETA A1 ran into a notable blunt object, as we have a pretty sizable hole on the side. Unfortunately, the people from FedEx did not protect this box as much as they could have. Traveling to our APH Networks offices in Calgary, Alberta, this box arrived from Chino, California. Otherwise, the box's retail container is a departure from a standard brown corrugated box, as we have panels with full color. From the one side, you can see SilverStone's logo at the top left corner with a large print of the product name underneath. It has a tagline of "Premium case with substantial airflow, durability and compatibility". Otherwise, the black SETA A1 is printed on the front, even though we do not have the black version, as we will see shortly. On the side, we have a few features printed out, as well as a specifications list. Otherwise, I took a pair of scissors and opened up this box.
Before we carry on, I have grabbed the specifications from the manufacturer's website for your perusal:
Material: Aluminum front bezel, steel chassis, tempered glass
Motherboard: ATX (12" x 11"), Micro-ATX (9.6" x 9.6"), Mini-ITX (6.7" x 6.7")
Drive bay: External - N/A, Internal - 3.5" x 2, 2.5" x 4
Cooling system: Front - 200mm x 2 / 140mm x 2 / 120mm x 3 (200mm fan x 2 included), Rear - 120mm x 1 (120mm fan x 1 included), Side - N/A, Top - 140mm x 2 / 120mm x 2, Bottom - N/A, Internal - N/A
Fan specifications: Speed - 800 RPM ±10%, Airflow - 61 CFM, Noise - 24 dBA, Bearing - Sleeve Bearing
Radiator support: Front - 360mm / 280mm / 240mm / 140mm / 120mm, Rear - 120mm, Top - 240mm / 120mm, Bottom - N/A
Expansion slot: 7 + 2
Front I/O port: USB 3.0 x 2, USB 3.1 Gen 2 Type-C x 1, Combo audio x 1
Power supply: Standard PS2(ATX)
Limitation of VGA card: 350mm
Limitation of CPU cooler: 175mm
Limitation of PSU: 180mm with removable 3.5" cage installed
Net weight: 8.48 kg
Dimension: 225mm (W) x 470mm (H) x 432mm (D), 45.7 Liters, 8.86" (W) x 18.5" (H) x 17.01" (D), 45.7 Liters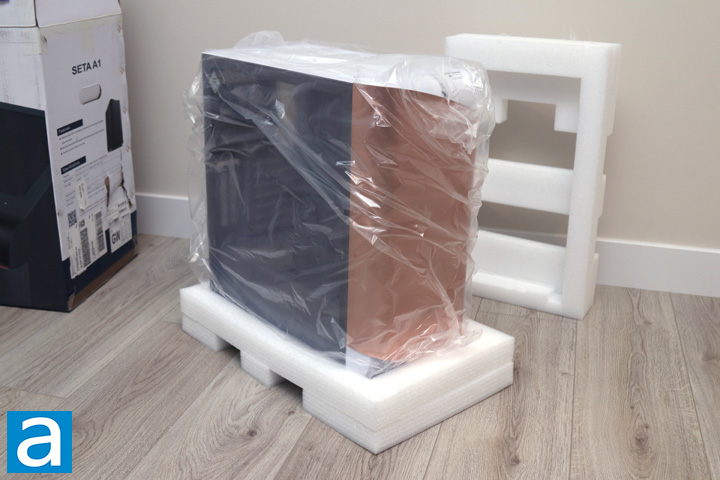 Despite the box damage, I can report everything inside the container was well-protected. For one, SilverStone put two substantial foam brackets on the top and bottom of the SETA A1 to protect the case from heavy damage. Furthermore, the SETA A1 can be found in a large clear plastic bag to prevent surface damage. There is plastic tape on the glass panel inside for even more protection. As you can tell by looking through the bag, we have the rose gold on white edition of the SETA A1, but SilverStone also offers black and silver-black versions of the SETA A1. All of the documentation and included accessories can be found inside the case, including a small addressable RGB lighting controller. I am really glad to see this addition to support older computers that do not have the addressable header.
---
Page Index
1. Introduction, Packaging, Specifications
2.
Physical Look - Outside
3.
Physical Look - Inside
4.
Installation and Conclusion