By: Jonah Chow
August 19, 2022
I have been hooked on the show, Better Call Saul, for most of the summer. For those who do not know, Better Call Saul is a spin-off prequel to Breaking Bad, which I am sure most people have heard of. A common question asked is, which one is better? It is an interesting question, but also one that is not easy to answer, as the two shows are so different. Breaking Bad is a crime drama that centered around a high-school chemistry teacher who started cooking crystal meth to pay for his cancer treatments. Better Call Saul is a legal drama that follows a struggling lawyer and his personal relationships with those around him. Breaking Bad is filled with heart-racing action and shocking moments, while Better Call Saul is much more about the characters and their personal drama. Despite being a slower show, Better Call Saul still manages to be just as effective in the way it is presented to the audience and even surpasses Breaking Bad in some ways. I like both shows the same for those different reasons, and while I think it is fair to compare the shows, it is also a comparison that is not so easy given how different the two are in nature. Similarly, it is hard to compare silent cases to cases with tempered glass and ARGB LED lighting effects, as the two are reaching out to different users. Earlier this year, I took a look at the SilverStone SETA Q1, a silent performance chassis that traded all flashiness for practical noise suppression. Today, we have another SilverStone SETA case, this one being the SETA H1. Unlike the SETA Q1, this one has a tempered glass side panel and built-in ARGB LED lighting effects. Does the SilverStone SETA H1 prove to be just as effective while also being flashy? Let us read on to find out!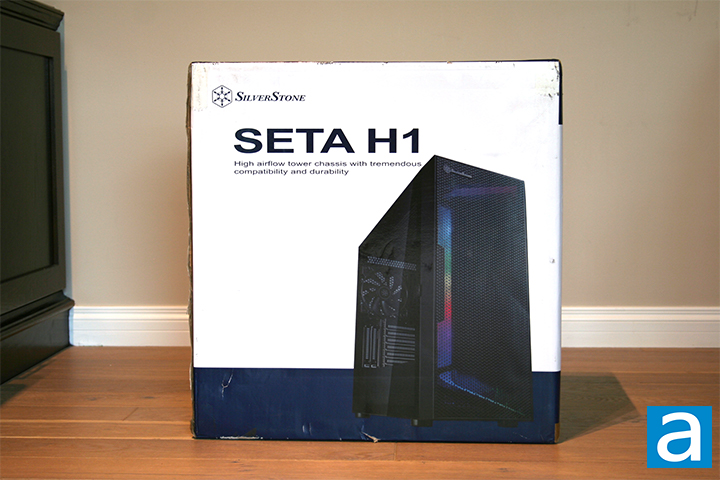 The SilverStone SETA H1 arrived via FedEx Ground from SilverStone's offices in California. This box served its purpose of being both the shipping and retail package. While the box itself was not in terrible condition, it was not exactly clean either. Some bruises and scrapes can be seen along the side of the box. None of these are major or have cause for concern though. Overall, FedEx did a fine enough job with this shipment. Unlike other PC chassis packages, the shipping box for the SilverStone SETA H1 comes branded with the recognizable SilverStone white and dark blue colors. The front of the box contains an image of the case, showing the left and front sides along with the front panel ARGB LED lighting. The SilverStone logo is printed at the top left corner, while the SETA H1 branding can be seen just below. The text, "High airflow tower chassis with tremendous compatibility and durability" (Did Donald Trump write this? - Editor), is located just below the SETA H1 branding. Specifications can be found on the side and back for retail customers to view before purchasing.
Before we move on, here are the specifications of the SETA H1 from SilverStone's website:
Model No: SST-SEH1B-G
Material: Steel, plastic, tempered glass
Motherboard: SSI-EEB, SSI-CEB, E-ATX, ATX, Micro-ATX, Mini-ITX
Drive bay
- External: N/A
- Internal: 3.5" x 2, 2.5" x 2
Cooling system
- Front: 120mm x 3 / 140mm x 3 / 160mm x 2 (160mm black fan x 2 included)
- Rear: 120mm x 1 / 140mm x 1 (140mm black fan x 1 included)
- Side: N/A
- Top: 120mm x 3 / 140mm x 2
- Bottom: N/A
- Internal: N/A
Radiator support
- Front: 120mm / 140mm / 240mm / 280mm / 360mm
- Rear: 120mm / 140mm
- Side: --
- Top: 120mm / 140mm / 240mm / 280mm / 360mm
- Bottom: N/A
- Internal: --
Expansion slot: 7 + 2
Front I/O port: USB Type-C x 1, USB 3.0 x 2, Combo audio x 1
Power supply: Standard PS2(ATX)
Limitation of VGA card
- Length: 394mm (with front fans installed)
- Width: 188mm
Limitation of CPU cooler: 182mm
Limitation of PSU: 250mm
Net weight: 9.67 kg
Dimension: 232mm (W) x 494mm (H) x 480mm (D), 55.01 liters, 9.13" (W) x 19.45" (H) x 18.9" (D), 55.01 liters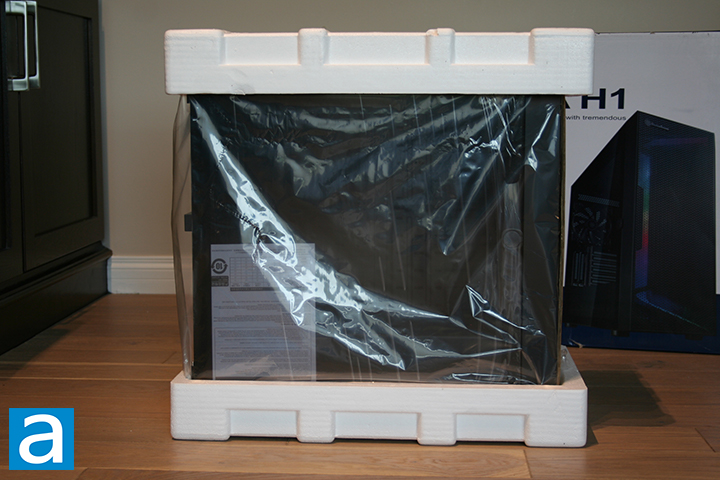 Two Styrofoam blocks are used to pad the case inside the packaging, which I think is always very good practice. Along with the Styrofoam blocks, the case itself is wrapped in plastic to prevent it from experiencing any scratches during shipment. The SilverStone SETA H1 arrived in very good condition when I eventually unwrapped it, showing no signs of physical damage anywhere. A brown cardboard box can be found inside the case with documentation and mounting hardware.
---
Page Index
1. Introduction, Packaging, Specifications
2.
Physical Look - Outside
3.
Physical Look - Inside
4.
Installation and Conclusion