By: Kenneth Kwok
August 2, 2013
In Japanese literature and pop culture, there has been a certain character trait or type known as the "tsundere". Not only is it only used in Japanese writings and animation, it is also becoming more prevalent in Western culture as well. The word "tsundere" comes from two separate Japanese words; these are "tsun tsun" and "dere dere". This combination of "tsun tsun", which literally means something along the lines of to turn away or reject, and "dere dere", which means to be "lovey dovey" with someone, turns into a combined word that shares both meanings. In essence, a "tsundere" is a person that acts cold and even possibly mean on the outside, but is really hiding a much softer and nicer inside. This term can easily be used to describe some of my friends, and possibly even some people I'm not so friendly with; you never know when they may turn "dere". Anyway, we can even take products and look at them in such a sense; there are products out there that may have a rough exterior, but bring out really good performance. There are also some that falls closer to the rough side. This week, we have a product from SilverStone, well known for their computer chassis and power supplies. As of late, their cooling products have been getting some attention as well. Let's dive right into today's review of the SilverStone Air Penetrator SST-AP123, and see if the product is closer to the "tsun" or the "dere" side of the scale.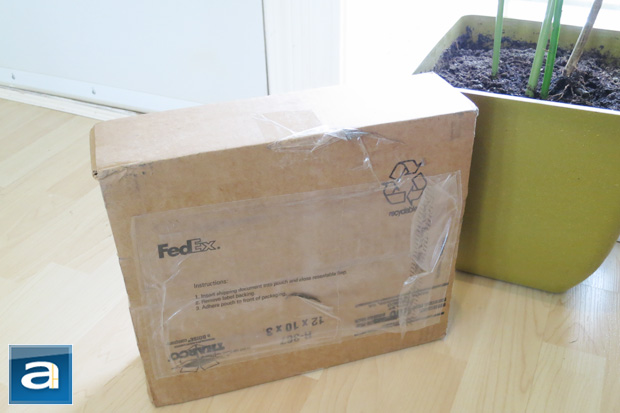 Our sample unit of the SilverStone Air Penetrator SST-AP123 came in a brown rectangular corrugated cardboard box from SilverStone's American offices located in California, USA. FedEx Express was used to ship the package, which arrived quite quickly, and in good condition as always. Aside from some small scruffs on the box, the product was shipped to us in near perfect condition. Inside, we could find three SilverStone Air Penetrator SST-AP123 fans in retail packaging surrounded by a large amount of packing peanuts that filled the box to the brim. This assured the products did not move around inside, and things were kept from any possible damage.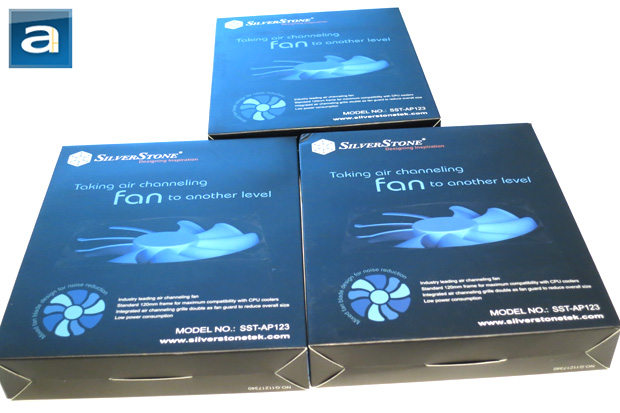 Our review units came in retail packaging, which is mainly made of a thick paper material. The fan cannot be seen at all from the front, and there is no plastic found on the packaging at all. However, this doesn't mean the box isn't nice -- it is quite in fact the opposite. Using standard SilverStone packaging colors of white and blue contrasting the black background, the design looks pretty clean and catches the eye easily. The SilverStone logo can be found on the top left with the slogan "Taking air channeling fan to another level" underneath in bold blue letters. Slightly below is an image of the SilverStone Air Penetrator SST-AP123 itself. Finally, the base has some features listed, and a small picture of the blade geometry. When it comes to packaging, SilverStone has done an admirable job of creating something that looks great and is environmentally friendly due to the sole use of paper material.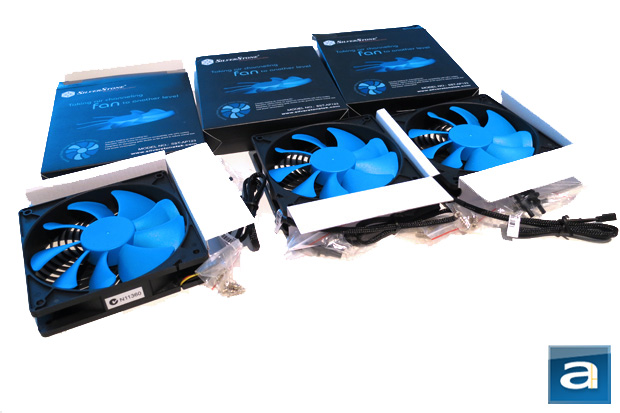 Taking everything out from the retail packaging, we are left with just a few items. These items include four metal screws, four rubber mounts, and the SilverStone Air Penetrator SST-AP123 fan itself. All of this is held together by a small piece of thick paper that separates the fan from the rest of the items. I was quite surprised to see there were no fan resistor cables that can reduce the voltage such as the one found in the SilverStone Air Penetrator AP121, which we have reviewed in the past.
Before we move on any further, let's take a look at the specifications and features, as obtained from SilverStone's website:
Features
- Industry leading air channeling fan
- Mixed fan blade design for noise reduction
- Standard 120mm frame for maximum compatibility with CPU coolers
- Integrated air channeling grille double as fan guard to reduce overall size
- Low power consumption
Specifications
- Model No.: SST-AP123
- Color: Blue UV fan blades, black frame
- Bearing: Fluid dynamic bearing
- Rated Voltage: 12V DC
- Start Voltage: 5V DC
- Rated Current: Max 0.33A (Actual) 0.13A
- Rated Power: Max 3.96W (Actual)1.56W
- Speed: 1500 rpm
- Airflow: 31.4CFM
- Effective Airflow Range: 1.2 Meter
- Static Pressure: 1.21mmH2O
- Diameter: 120mm
- Noise Level: 31.4dBA
- Air Speed: 2.1m/s
- Life Time: 50000Hr
- Dimension: 120mm (L) x 120mm (W) x 25mm (H)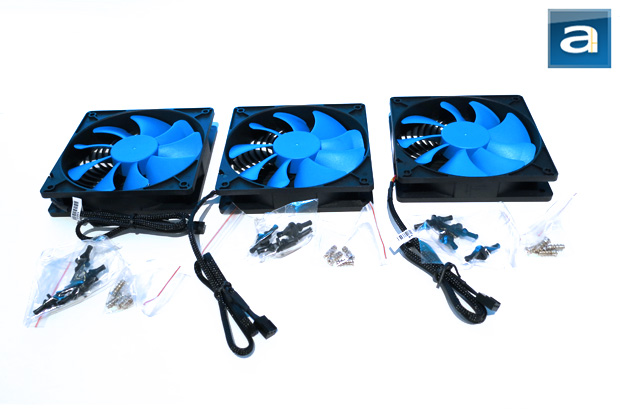 As seen in the photo above, SilverStone provided us with three identical Air Penetrator SST-AP123 fans. This is to assure that we can actually use them fully in a test environment, since not many builds require only one fan -- if at all. At first glance, the fans aren't particularly out of the ordinary, and feels like a standard case fan. However, the first thing that jumps out at you is the blue color. The blue color contrasts really well with the black frame, and I personally think the fans are very aesthetically pleasing, but it is something totally subjective. Even if one doesn't like the look of the fans, we won't exactly be staring at the fan all day, so it really isn't a big deal in the end. As with a lot of other modern fans, the cables are sleeved, and look pretty tidy, since the cables aren't exposed.
Unlike the Antec TrueQuiet 120mm LED fan I have reviewed a couple of weeks ago, the SilverStone Air Penetrator SST-AP123 doesn't sport a very unique design in terms of the frame. One thing they have in common is they are both made out of mostly plastic, except for the cables and some of the internal parts of the fan. When it comes to build quality, the fan is top notch, and doesn't have any problems. The accessories included with the fan also are not particularly interesting either, as it just uses the standard screws or rubber pins for installation. I am just rather disappointed the AP123 is not a PWM fan, which is much better for speed control, and is always backwards compatible with voltage based controllers with an adapter cable.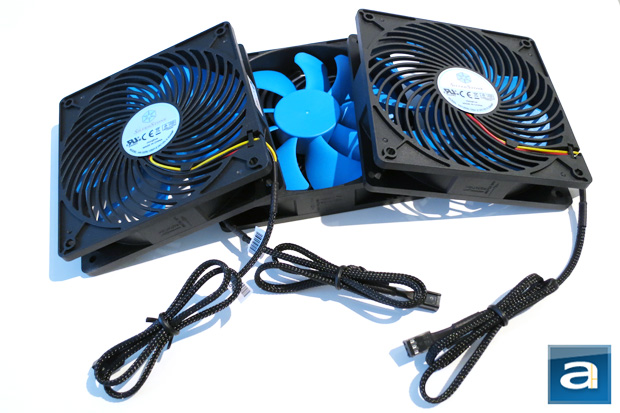 One of the biggest challenges to a noise optimized product is to provide a high level of airflow to noise ratio, and even both of these cannot be objectively measured at all times. The most common unit of objective measurement is CFM (Cubic feet per minute) of air for airflow, and dB noise, respectively. We will go over how application and CFM is related with regards to its standard measurements, but let's discuss perceived noise first, as written by our Editor in Chief Jonathan Kwan.
dB (Decibels) is a logarithmic unit of sound intensity. While it provides what appears to be an objective measurement for the most part, it should be noted that perceived noise levels to the human ear, and actual sound intensity, could result in very different things. Human ears are more sensitive to particular frequencies, and when those particular frequencies are emitted from its source, it may appear louder than its numbers suggest. That same can be said vice-versa -- frequencies that human ears are less sensitive to can actually have louder dB measurements from a sound meter, yet the human ears does not perceive it to be as loud as the numbers suggest. Other factors such as turbulence noise are often not measured correctly, therefore, while it usually provides a good reference, it does not necessarily reflect real life performance.
With regards to the application and CFM, it is generally optimal to have a fan to have a high air volume flow rate -- but as aforementioned, pure CFM values are limited to an extent with regards to its indication on fan performance. It is not completely about how much air in can move per minute quantitatively, but equally as important is how it is executed in reality. Airflow to noise ratio is an essential factor as mentioned earlier. Static pressure is also very important depending on application. High resistance applications such as dense fins on a large heatsink require high static pressure, while case fans needs less static pressure and faster airflow. Its differences in application is like a large truck that has a diesel engine with lots of low end torque for towing, compared to a sports car with a high revving gasoline engine with lots of power to beat around the track -- they are simply designed for different purposes, so choose one appropriate to your needs.
On paper, the SilverStone Air Penetrator SST-AP123 is rated at 31.4 CFM, 31.4 dBA, and 1.21 mmH2O at 1500 RPM. Relatively speaking, at least on paper, the airflow is a bit on the low side, even compared to the SilverStone Air Penetrator SST-AP121-L which ran at 35.36 CFM, 22.4 dBA, and 1.71 mmH2O at the same RPM. The question here is how this improves on an older product when it has less airflow, less static pressure, and a higher sound intensity rating than the predecessor. Luckily, we will be getting straight into this question shortly.
When it comes to design and blade geometry, the SilverStone Air Penetrator SST-AP123 is quite interesting, even if it doesn't look as such at first. One thing that isn't one hundred percent clear from the picture is the fact that there are three different type of fins on the fan. One is a wide fin, which is close to parallel with the fan itself, similar to petals found on flowers. The other two fin types are also very similar, but are of smaller sizes, except these fins also have a small bend near the edges of the fins to provide more focused air circulation and to avoid turbulence. Included as well is the fan grille from the SilverStone Air Penetrator SST-AP121-L, which helps focus air into a cone shaped vortex. This design creates a higher sound intensity rating as stated before, but under certain conditions, SilverStone claims it actually lowers the sound profile of the fan. SilverStone claims by having it installed in a case with a fan grille will lower the noise, due to the blade design. Looking at it under this light provides us some useful information going into our tests section.
-----------------------------------------
The Tests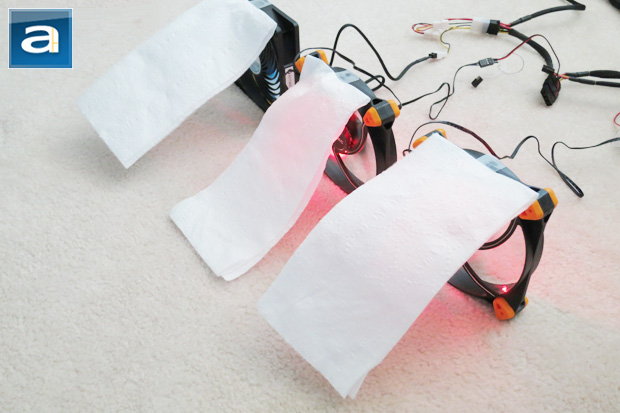 Using our tried-and-true APH proprietary 'scientific' method for measuring fan performance we devised back in 2007, it is no surprise that we're using it for this review as well -- we have used it in every fan review since then. While it is not exactly the most objective method you can use (No kidding haha), there are a few attributes of fan performance that we can obtain clearly from our observations: Airflow, airflow consistency, and amount of static pressure generated. It visually portrays characteristics of each fan.
Looking at our test setup from left to right, we see our SilverStone Air Penetrator SST-AP123, and two Antec TrueQuiet 120mm LED fans set up with our usual testing method. The Antec in the middle is set on the low setting and runs at 600 RPM, while our second Antec fan on the right runs on the high setting of 1000 RPM. From this angle, we can tell that the fan on the right, which is the Antec TrueQuiet 120mm LED running at 1000 RPM, and the SilverStone Air Penetrator SST-AP123 on the left manages to lift the paper the highest, which means there is more airflow and higher static pressure. The middle Antec TrueQuiet 120mm LED running at 600 RPM was barely able to lift the paper, while the Antec TrueQuiet 120mm LED running at 1000 RPM did a more admirable job. However, it is clear the SilverStone Air Penetrator SST-AP123 by far performed the best out of the two fans in terms of raw airflow and static pressure. Interestingly, the Antec TrueQuiet 120mm LED is rated higher in terms of airflow, but it still gets outperformed easily. This has a lot to do with the focused vortex of airflow created by the SilverStone Air Penetrator SST-AP123, as seen with the previous generation of SilverStone Air Penetrator fans.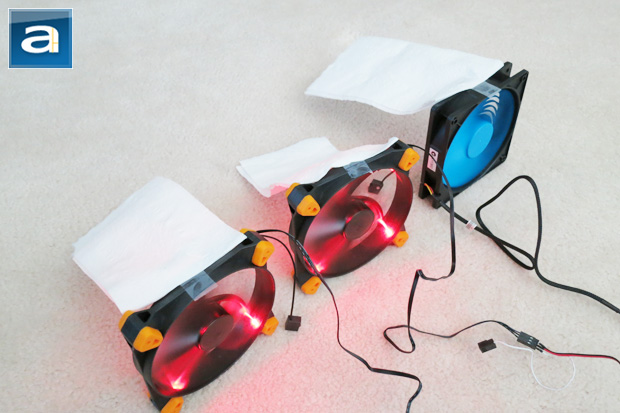 Perceived sound is another very important aspect, as we have mentioned earlier with regards to perceived noise versus decibel measurements. However, limitations of this test involves subjective measurement of the reviewer; while one reviewer will tell you it is very quiet, it is entirely plausible that another will claim it is very loud. Throughout the last few years, we have developed our own perceived sound scale to make some objectiveness out of this matter here at APH Networks -- the same measurements are been applied to products ranging from power supplies to video cards. To ensure accuracy, I have several reference devices to make sure my ears are in line at all times. All APH Networks reviewers work on the same scale, so the numbers you see in our reviews are definitely comparable.
Each fan was tested independently in a quiet room, with the power supply isolated, to ensure accuracy. On a scale from 0-10, where 0 is silent and 10 is the loudest, I would rate the SilverStone Air Penetrator SST-AP123 to be at around 3.0/10 at 1500 RPM. One thing that we changed slightly for this test was that we also installed the fan installed into our NZXT H2 chassis due to the fundamental design of the fan itself. As previously mentioned, SilverStone states by using this unique design allows for a lower sound envelope when used with a fan grille. With the SilverStone Air Penetrator SST-AP123 installed within our chassis, I did find the noise level was reduced significantly, and I would rate the SilverStone Air Penetrator SST-AP123 to be at around 2.0/10 in this situation. (This may sound a bit unbelievable, but SilverStone claims it can reduce noise frequency by up to 66%, and that proves pretty true in our tests.) This is mostly attested to the unique design choice that reduces turbulence noise caused by the fan grille, fan blades, and other similar components in a real life usage scenario. While other fans usually have an increase of noise due to the fan grille, the SilverStone Air Penetrator SST-AP123 manages to reduce it slightly instead.
-----------------------------------------
All in all, after testing the SilverStone Air Penetrator SST-AP123, I can definitely say it makes for a great case fan. If we use our "tsundere" example, I would say it is a lot closer to our "dere" than to the "tsun" side of things. Starting with the great looks with the blue fan, all the way down to the unique design, there isn't too much to complain about. The build quality is top notch, and the performance is what we expect from something coming from the SilverStone Air Penetrator line of products. There are places where this fan excels due to the unique fan blade design, and these would include placing the fan in places with a fan grille such as the front or back of a chassis, or even the fan on the side panel found in most computer cases. The sound profile is also pretty impressive when used with a fan grille in a used case scenario. This does not mean the product is perfect, as the airflow may be a bit lacking when it comes to using it for purposes outside of a case fan. This is for sure a specialized fan for certain uses as mentioned before, and doesn't perform as well under conditions where it is just running alone without a fan grille, as it is pretty loud by itself -- and doesn't have the highest amount of airflow or static pressure. There is no question though, the SilverStone Air Penetrator SST-AP123 is truly innovative and makes for a great fan when used in the right place.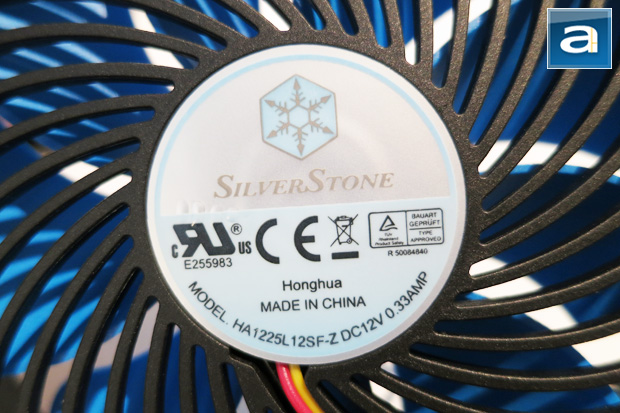 SilverStone provided this product to APH Networks for the purpose of evaluation.

APH:Renewal Award | APH Review Focus Summary:
7/10 means Great product with many advantages and certain insignificant drawbacks; but should be considered before purchasing.
8/10 means Definitely a very good product with drawbacks that aren't likely going to matter to the end user.
-- Final APH Numeric Rating is 7.8/10
Please note that the APH Numeric Rating system is based off our proprietary guidelines in the Review Focus, and should not be compared to other sites.
If you are looking for a quiet and unique case fan that performs well behind a fan grille inside your case, the SilverStone Air Penetrator SST-AP123 is one of the best choices on the market today.
Do you have any comments or questions about the SilverStone Air Penetrator SST-AP123? Drop by our Forums. Registration is free, and it only takes a minute!