By: Preston Yuen
September 9, 2011
Back in the day when computers were first introduced to me, I was quite intrigued at the fact that such a thing can store so much data with so many files (Even though the term "gigabyte" is still quite foreign at the time, haha). And being the unfortunate person that I am, I was always stuck with the same old computer for the longest time in the world. I could not care any less about what or how many computers I could have laying around the house, or the fact that the school computer lab had about twenty to thirty times in both quantity and quality of computers. This was about to change approximately ten years down the road. With the rapidly growing amount of storage space that I use, I soon found out that keeping up with syncing data between multiple computers simply by backing up to a single hard drive is an impractical solution. Of course, there were better ways around that, and such solutions included using a network attached storage. The problem is that I did not have the drive to get my hands on any sort of NAS until... well, now. Some say owning any NAS is a good start to accessing data on the network. Others say they are all for high end technology to save money in the long run. All we know is our review today is a NAS sold by SilverStone -- specifically, the SilverStone DC01. The SilverStone DC01 we have here today is a very lightweight and compact system designed to save space, and provide basic NAS features for the typical home user. Powering it on with a few adjustments here and there, and having everything set up and nicely displayed, I'm sure many of you will appreciate a more convenient way to access your data. The best part of it all? Well, SilverStone says it is "Mac inspired". Hmm. Read on to see what it is like!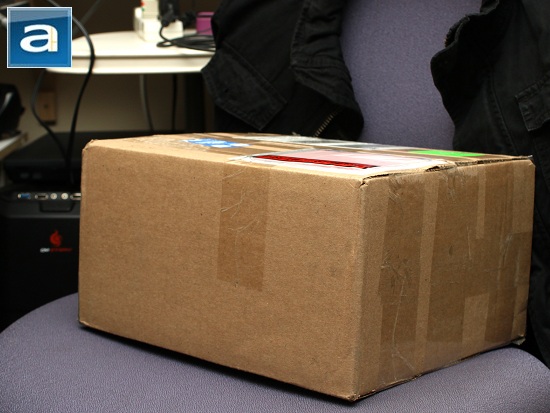 Our SilverStone DC01 came in a rather large brown corrugated box from the company's offices in California, USA, via FedEx Ground to our offices here in Calgary, Alberta, Canada. Thankfully, there were next to no damage on the box; in addition, there were more than enough packaging to protect its contents. With this product being the first NAS on my personal network, and intrigued to see what the company has in store for us as far as a "Mac inspired" product is concerned, I opened up the box to see for myself.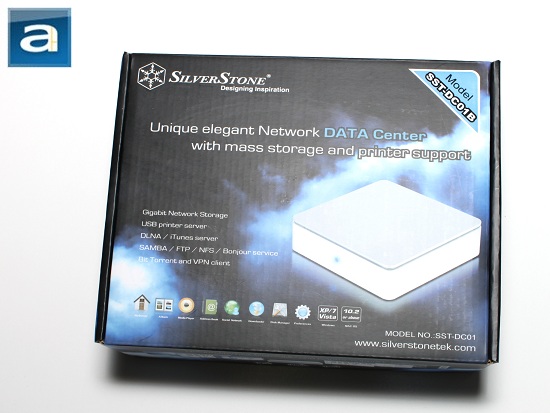 Taking a quick look at the product packing, some could easily identify where SilverStone got their inspiration from as aforementioned. We can see the DC01 prominently displayed on the right side on a black background. This is contrasted by a couple white clouds to hint out one of the many features of this NAS -- a network appliance easily accessible for media and storage. A couple of features are printed in white font on the left side, with menu icons displayed on the bottom side to further advertise what this NAS has to offer. Before we move on, let's take a closer look at these features, as obtained from the manufacturer's website: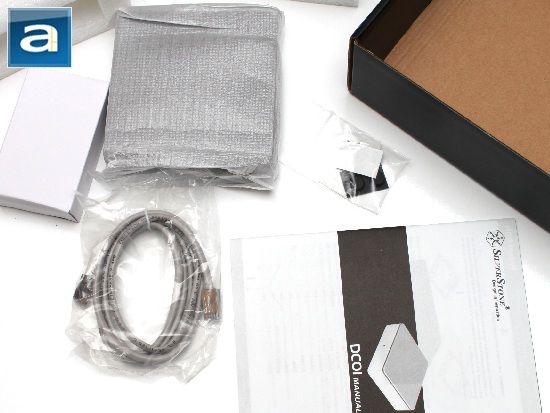 Opening the box, you will find your SilverStone DC01 clipped between two Styrofoam clips, four rubber feet and some screws in a small bag, power adapter in a smaller white box, straight-through network cable, and the manual. Other than the provided, SilverStone provides you with sufficient resources to get your NAS well on your way. So let's waste no time, and take a closer look at the hardware continued on the next page.
---
Page Index
1. Introduction and Specifications
2.
A Closer Look - Hardware
3.
Configuration and User Interface
4.
Performance and Power Consumption
5.
Final Thoughts and Conclusion