By: Jeremy To
November 18, 2011
In 1992, one of the world's greatest events in automotive history was achieved with the production of the world's fastest production road car, the McLaren F1. Such an achievement was described as the "finest driving machine" to "may possibly be the fastest production road car the world will ever see". And to this day -- almost two decades later -- the car is still praised and respected by car enthusiasts around the globe. Now, as an avid fan of the automotive industry, I am not about to describe to you the engineering spectacles behind McLaren Automotive's McLaren F1. However, I will tell you that the machine was built for the sole purpose of reaching ridiculous speeds on the road. How did they do this? Well, one way was to use extremely expensive materials like building the car with a carbon-fiber monocoque chassis -- the very first production car to have done this. Another way was to design a gearbox that could withstand the power and torque from the car's engine. Heck, the F1 could also have been described as to have been stripped completely bare from the usually ordinary "comforts" in most cars like ABS and traction control. Today, from SilverStone, we may just have such a device on our hands -- the Raven RVS02 2.5" HDD enclosure. To my knowledge, not many enclosures incorporate a carbon fiber-like design. And much like the McLaren F1, it seems the Raven RVS02 also has been stripped from the usual comforts, making it extremely simple. However, one large question still remains. Does the Raven RVS02 outperform other USB 3.0 enclosures in speed? Read on to find out!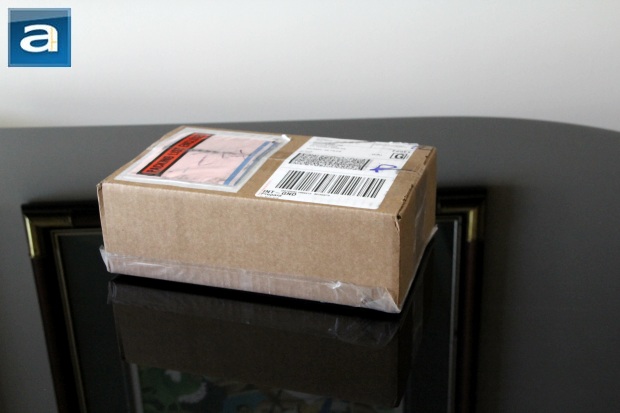 Our review unit today came to us in a small brown corrugated box. The package made its way across the border from SilverStone's American office down in California, USA. Sustaining little to almost no damage at all, FedEx Ground made sure the item arrived at our doorstep in Calgary, Alberta in pristine condition. With just a bit of shaking, I knew the unit was packaged with a good amount of Styrofoam noodles, yum.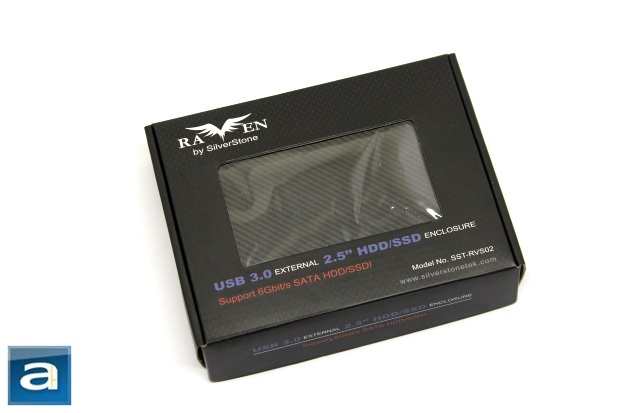 Cracking open the brown corrugated box, I was able to take out the retail box of the SilverStone Raven RVS02. The relatively small retail box came to us in a nice layer of shrink wrap to protect the actual box and product from moisture. Of course, since this is a "Raven" product from SilverStone, a black-colored design theme is nothing out of the ordinary. Smack dab in the middle of the box is a large display window, where the product itself can be viewed. Around the rest of the box are an abundance of text that tells us the products key features and specifications.
Speaking of the features and specifications, let us take a quick look at these two lists, taken from the manufacturer's website and the retail box:
Features
- Elegant design with in mold decoration plastic
- Support 2.5" SATA I/SATA II / SATA III hard drive and SSD
- Plug and play with hot-swappable connection
- Maximum 5Gbit/s data transfer speed via USB 3.0 interface
- Maximum compatibility with USB2.0 (480Mbits)
Specifications
- Model No.: SST-RVS02
- Enclosure material: In mold decoration Plastic
- Color: black with carbon fiber styling
- Power requirement: 5Vdc from USB port
- Operating system support: Windows 2000, XP, Vista, Mac OS and Linux.
- HDD size support: 9.5mm thickness 2.5" hard drive or SSD (compatible with 6Gbit/s)
- HDD interface support: Serial ATA
- Minimum System Requirements: Windows XP, Vista and 7; Mac OS 9.x (Apple USB support 1.3.5 and greater) and Mac OS 10.x; Linux; Computer with USB 3.0 or USB 2.0/1.1 interface
- Enclosure interface: USB 3.0 (Max. 5Gbit/s) interface. Compatible with USB 2.0 and 1.1.
- Net Weight: 62 g
- Dimension: 127.9mm (D) x 75.1mm (W) x 18.5mm (H)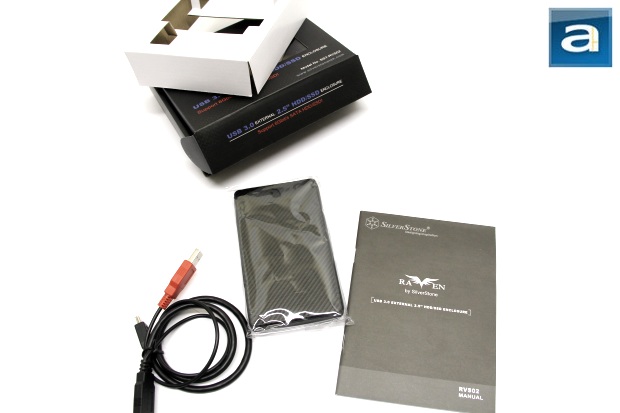 The retail box follows a standard build layout that incorporates a flap opening design from the side to the front of the box. Inside reveals one cardboard tray that holds the unit on top; storing all other accessories below. Found with the Raven RVS02 would be the unit itself, USB 3.0 cord, and the user's manual.
As I have said before describing the retail box design, all products found in SilverStone's Raven brand are black with the exception of some special editions, and the Raven RVS02 is no different. What is most intriguing about this enclosure though, is that it is designed to look like carbon-fiber. In terms of looks, the Raven RVS02 is definitely sleek and trendy using the KISS principle (Keep it simple, stupid) to create a unique enclosure that is the first of its kind.
---
Page Index
1. Introduction, Packaging, Specifications
2.
A Closer Look, Installation
3.
Test System, Benchmark Results
4.
Conclusion