Page 3 - Test system, Benchmark Results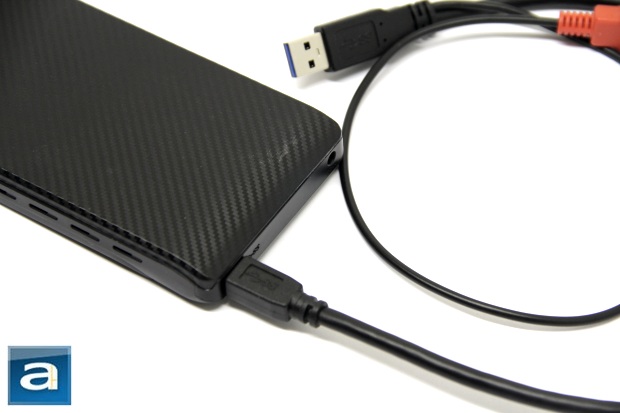 Unlike the Zalman ZM-VE200 I have reviewed quite a while back, the SilverStone Raven RVS02 does nothing else other than for the sole purpose of converting an internal drive into an external drive. In other words, the SilverStone Raven RVS02 is just a normal enclosure, and as a reviewer, I am actually quite relieved. Everything works well out of the box, so without further adieu, let us look at the benchmark results.
Our benchmark results today were obtained using a test system with the following hardware configuration:
CPU: Intel Core i5-2500K @ 4.50GHz (Overclocked, Turbo Boost disabled)
CPU Cooling: Thermaltake Jing
Motherboard: Gigabyte GA-P67A-UD5-B3
Graphics: Gigabyte Radeon HD 6850 1GB OC
Memory: OCZ Platinum XTE PC3-16000 4x2GB
Chassis: Xigmatek Elysium
Power: OCZ ZX Series 850W
Sound: Integrated (Motherboard)
Optical Drive: LiteOn iHAS224-06 24X DVD Writer
Storage: OCZ Vertex 2 60GB; 2 x Western Digital Caviar SE 320GB AAKS RAID1
Operating System: Microsoft Windows 7 Ultimate x64
In testing the SilverStone Raven RVS02, we will be using a 2.5" Kingston HyperX 120GB SATA 6Gb/s solid state drive for both the USB 3.0 and USB 2.0 interface benchmarks. This is to ensure the drive will not be a bottleneck to the enclosure's maximum performance.
The benchmarks today will not get into tests regarding multiple file writes and reads as previously done on regular storage reviews. The reason behind this is because this specific analysis is limited to the Kingston HyperX 120GB SSD's performance itself, and not the controller on the Raven RVS02 -- and we do not intend to review the solid state drive itself in this review (Unless the drive controller performance on the SilverStone Raven RVS02 is deemed to have horrible performance).
The USB 2.0 ports in our system are controlled by the Intel ICH10R Southbridge, while the USB 3.0 ports in our system are provided by the Renesas D720200 controller.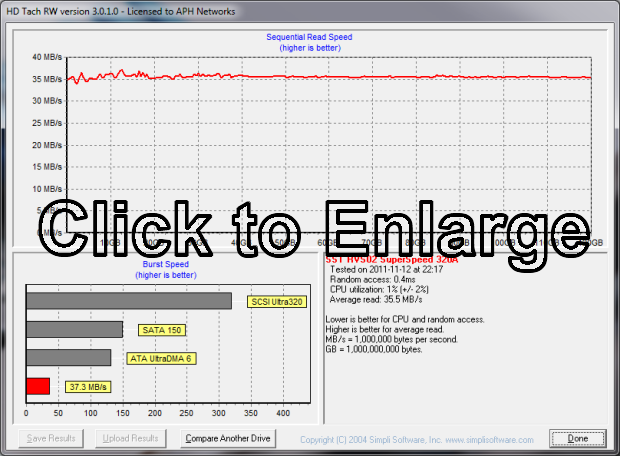 As always, we fired up HD Tach RW 3.0.1.0 for the tests. The image above reflects our results for testing the Raven RVS02's USB 2.0 performance. Taking a quick look at the readings, the Raven RVS02 reached a burst speed of 37.5MB/s and an average read speed of 35.5MB/s. Of course, we cannot expect the controller on the Raven RVS02 to perform well enough to exceed the limitations of the interface itself. However, with the results above, the enclosure is actually quite fast. Other USB 2.0 enclosures previously reviewed like the Zalman ZM-VE200 reached only speeds of around 30MB/s, while the Thermaltake Max 5G hit about 32MB/s over USB 2.0. Of course, the Raven RVS02 is not the fastest. But for USB 2.0, anything over an average of 35MB/s is quite commendable -- good job SilverStone. Now let's take a good look at the USB 3.0 performance.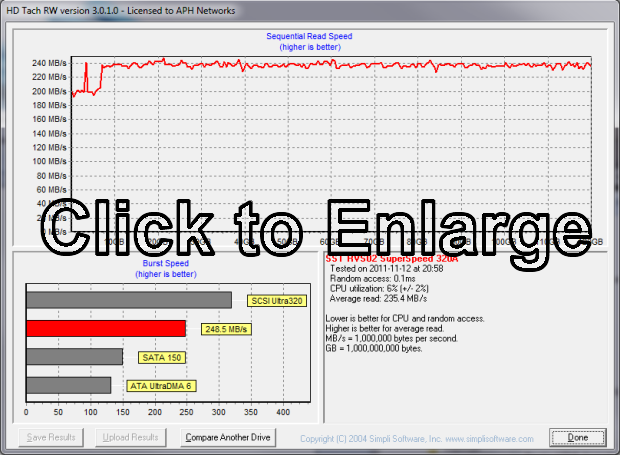 The image above reflects our results over USB 3.0. Again, it is represented by the red line. Looking at our readings, we can see that the RVS02 enclosure reached a burst speed of 248.5MB/s, with an average read speed of 235.4MB/s. Once again, with these readings, I am both surprised and extremely happy. Other enclosures like the Thermaltake Max 5G had an average speed at around 205MB/s. The UEBO M400 network media player that my colleague Jonathan reviewed last week also used the Kingston HyperX 120GB SSD, and only reached an average speed of around 187MB/s. To put into plain words, although the maximum data transfer rate is still controller/interface limited at this point, the SilverStone Raven RVS02 still blew away other USB 3.0 removable storage devices out of the water. The SilverStone Raven RVS02 is simply very fast when it comes to USB 3.0 performance.
---
Page Index
1.
Introduction, Packaging, Specifications
2.
A Closer Look, Installation
3. Test System, Benchmark Results
4.
Conclusion