By: Jeremy To
March 18, 2011
If you had a billion dollars to put in a bank, would you trust a Swede, or a German? If you wanted to invest in a new automobile, would you lean towards a Japanese vehicle, or a Korean made car? Haven't caught on yet? I'll give you one more example, this time a little more obvious. If you were to purchase a bottle of drinking water, would you rather have Canadian H2O, or Iranian water? First of all, I'd like to make it clear in stating that I am not a racist; nor does the point I'm going to make have anything to do with a certain race. Instead, I'm merely stating an observation that as consumers, we have created world-wide-product-stereotypes on what certain countries can and can't do –- or to be less harsh, what countries are good at, and what they aren't. Of course, these few 'cans' could very well be the pride of a nation. The flip side, however, is a little bit more humorous when this country tries another 'thing', and simply put, fails miserably, haha. South Korea also falls into this category. Undoubtedly Korea has its international successes (I.e., music industry, at least in my opinion; oh and who can forget their amazing potatoes), but also has their not so proud moments (Ever seen a true car enthusiast complement a Kia or Hyundai with a genuinely straight face?). What the world doesn't see as much though –- aside from us techni-fatics -- is the rise of electronics seen by Korean companies. Aside from highly respectable companies such as LG and Samsung, what about Zalman? Getting my hands on a unit made by a relatively smaller company competing against the big boys like Thermaltake and Cooler Master definitely gets the blood pumping. So, with my cultural-product-stereotype rant done, my sleeves rolled up, and my new unit beside me, let's get on with review! But wait, I haven't even introduced you to this sleek and innovative product. Today, I will introduce you to the Zalman ZM-VE200. On the surface, this seems like just another HDD enclosure, but it definitely has something up it's sleeve to impress the unimpressed... or does it? Unfortunately Fortunately you'll have to read the rest of this review to find out!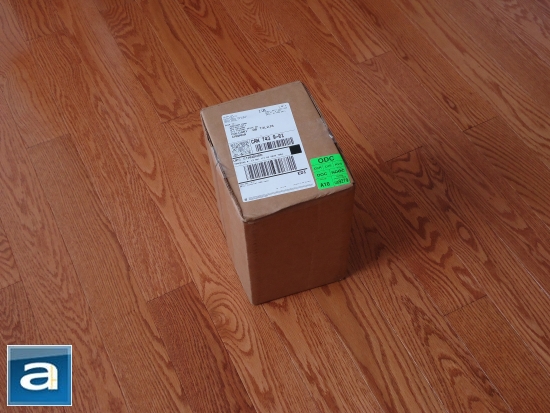 Today's review unit came to us through UPS from Zalman's office down in the popular state of California, USA (We sure get a lot of units from there) -- more specifically, Garden Grove Blvd. Too bad we Canadians wouldn't be able to name our streets "Garden Grove..." since the gardens here are dead most of the year. If you are wondering, the unit made its safe trip north to the APH Networks office here in Calgary, Alberta, Canada.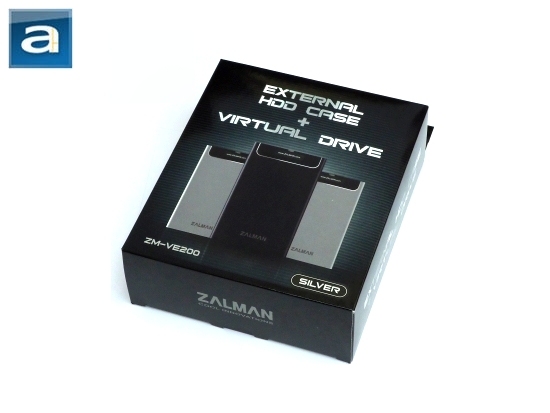 There really is only one word to describe the retail packaging for the ZM-VE200. Cool. This shiny box would definitely grab consumers by the throat, especially when dealing with such a simple peripheral; goes to say that Zalman may not be such a bad contender in the cooling market. However, I'm not making the assumption that an eye-grabbing package has anything to do with the product performance or the company that made it -- it's just like having the cherry on top.
The retail box is relatively small, in which it is safe to assume the ZM-VE200 is also proportionally small. On the front is a printed display of a black ZM-VE200 centered in front of two additional silver ZM-VE200 units. The picture gives the buyer a good sense of what the unit looks like, and also a good idea of which color may seem more fit for their preference. The box seems very well balanced and not revealing too much information by using just simplicity to market the item. The front reads "External HDD Case + Virtual Drive." Wait a second here, virtual drive? Well, not to hold your excitement, but you'll just have to wait a little longer until I dive into those two words.
Let's first briefly look at the product features and specifications, as found on the product packaging as well as the manufacturer's website:
Features
- High Performance USB Controller: The USB 2.0 interface supports quick and reliable data transfer to and from a PC.
- USB Powered: USB Power, eliminates the need for additional adapter cable for convenience.
- Plug & Play: Supports Plug & Play, enabling the device to be removed without turning the computer's power off.
- Fully Compliant with eSATA or Hi-Speed USB 2.0 Conncection: Supports data transfer rates up to 3Gbps through eSATA or 480Mbps through USB 2.0 interface.
- Replaces existing CD/DVD drive or player with the use of any ISO files: Convert current CD/DVDs into ISO files and then load them on ZM-VE200's 'virtual drive'.
- CD/DVD image (ISO files) loading software pre-installed: Does not require any software installation to mount any ISO files for loading on a PC.
-Convenient HDD Installation: 2.5" HDD can be replaced conveniently and securely fastened using screws to prevent accidental opening of case
- Write Protect Key: To prevent accidental deletion the data can be protected by enabling the write protect function.
- Protective Casing: ZM-VE200 comes equipped with a protective casing for scratch prevention and portability.
Specifications
- Dimensions: 135.3(L) x 78.6(W) x 13.1(H) mm
- Weight: 98.5g
- Materials: Aluminum, Acryl, Poly Carbonate
- HDD Type: 2.5" SATA HDD
- Interface: USB2.0 (USB1.1 compatible), eSATA Direct HDD Access
- Data Transfer Rate: USB 480Mbps, eSATA 3Gbps
- Speed: 5400rpm or 7200rpm
- Power: USB Power
- Color: Black/Silver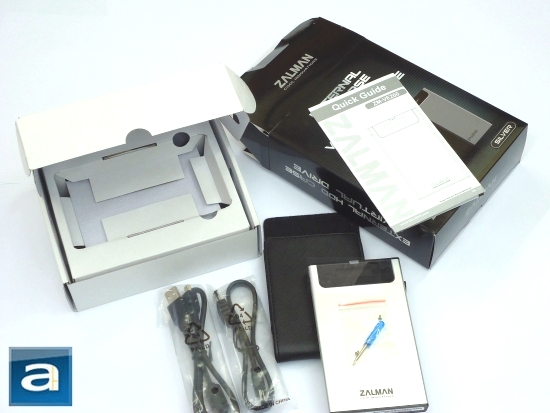 The retail packaging opened through the top via a main flap. The cardboard inner box slides out and opens at the side using a double-flap design; which reveals a removable tray where the unit is placed. The unit carrying case, user's quick guide, and screw driver is found when lifting the tray. Last but not least, the USB cord and eSATA cable is taken out of the support legs of the tray. Of course, this unit doesn't come with a hard drive, but you already knew that. The protective carrying case is a very nice addition to this enclosure, as it not only protects the drive during travels, but allows the user to plug his/her device in with the case still on.
As aforementioned, the unit comes in two colors, black or silver. Today's review unit came is the silver version. Personally, I find this color to be more attractive, as it gives more contrast to the entire unit.
---
Page Index
1. Introduction, Packaging, Specifications
2.
A Closer Look, Installation
3.
Test System, Benchmark Results
4.
Conclusion