Page 2 - A Closer Look, Installation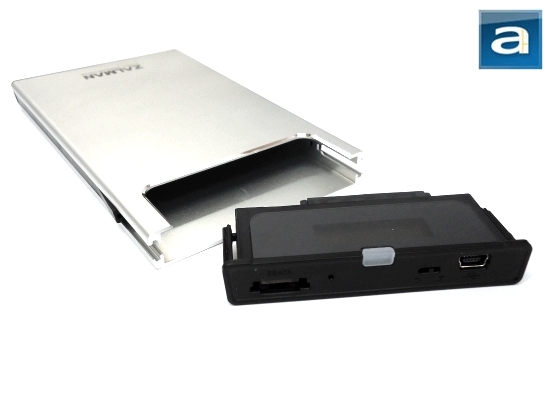 In terms of the connectivity and usage options, the Zalman ZM-VE200 is fairly straightforward. From the right, at the top of the device, lies the commonly used USB connector, write protect switch, access LED, firmware recovery, and eSATA connector. Unlike other 2.5" and 3.5" enclosures, this particular enclosure is limited to USB powered only, which explains why there is no DC power input. In my opinion, I think Zalman should make a DC power input jack available, since powered eSATA ports are not as commonly available; not to mention the one found on this enclosure is not eSATAp compliant.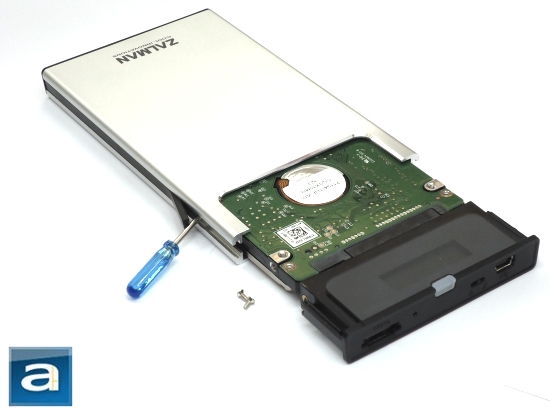 Installation of the hard drive into the Zalman ZM-VE200 is surprisingly easy. All it takes is connecting the drive to the top of the unit, followed by sliding it into the enclosure (Hard drive first of course). Once the top is connected to the enclosure, all that is left for a complete installation is to screw in two screws on the side of the unit, using the screwdriver and screws provided inside the packaging. The rubber band that hides the screw placements is designed to bend slightly during installment. I found this rubber to be a little bit of a problem, since after installation is completed, it will continue to bend. If you would draw your attention to the first picture of this page, you can actually see the bent rubber I'm referring to. Personally, I don't lean towards products with components that could easily wear and tear during usage, especially when used under normal conditions.
After installation is complete, testing the durability and build of the enclosure is a must. Simple shaking and traveling allowed me to come to the conclusion that this enclosure is durable and physically well-designed. While 3.5" enclosures are not designed mainly for travel, the 2.5" ZM-VE200 -- one of the smallest enclosures I've encountered to date -- is designed for the main purpose of being portable.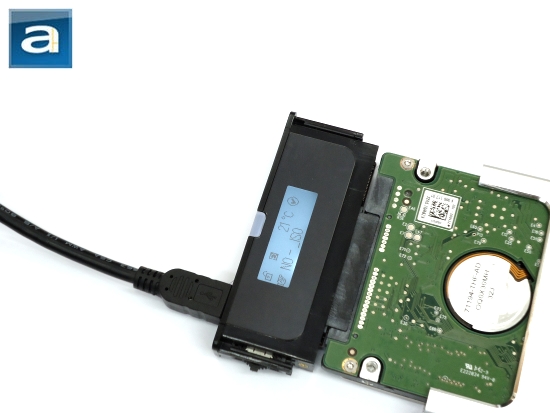 What also makes this enclosure a product to be reckoned with is the LCD display. Not many enclosures have this feature; in fact, this is the first time that I've encountered a HDD case with such an element. Although external hard drives don't normally need a display window -- probably why most don't have one -- the ZM-VE200's display window is crucial. Of course, it monitors fairly unimportant things in this context like the drive temperature (It should provide adequate cooling out of the box anyway, otherwise we got a problem), but it also displays a variety of must-pay-attention-to vitals.
What this enclosure features most is not the fact that it converts an internal hard drive into an external hard drive like all enclosures, but it serves also as a virtual optical disc drive. Cool! The ZM-VE200 is the first of its kind. Not even its predecessor, the ZM-HE100, has this virtual optical drive function. And because of this one function, it adds a world of possibilities to the user.
Now do you know why a display window is so crucial to the enclosure's function? The display not only monitors which mode the enclosure is in -- HDD, ODD, or dual -- but also allows the user to load ISO files on command which in essence, replaces CD-ROM drives, DVD-ROM drives, and yep, you guessed it, BD-ROM drives. (I was not able to test any Blu-Ray ISO files, but the virtual drive shows up as a BD-ROM). You will be able to mount any ISO file as long as it's found in the '_ISO' folder of the drive. You can create subfolders in here, and each subfolder can hold up to 32 images.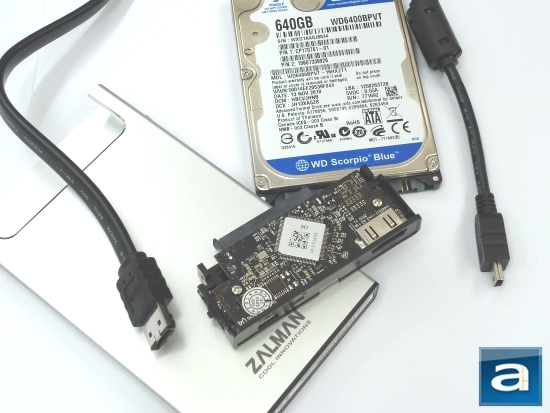 The model of the SATA to USB 2.0 bridge on the Zalman ZM-VE200 took me a while to get. First I had to peel some sort of silver sticker off the chip and read a camouflaged part number; the successful endeavor easily took ten years off my eyesight. The ZM-VE200 uses a PLX Technology Oxford OXU931SF USB 2.0 to SATA controller.
---
Page Index
1.
Introduction, Packaging, Specifications
2. A Closer Look, Installation
3.
Test System, Benchmark Results
4.
Conclusion