By: Devin Chollak
May 20, 2011
Have you ever woken up in the morning and wished for a breakfast in bed? I am certain a few of you individuals have experienced this craving, and let me be the first to tell you that the Thermaltake Max 5G is exactly that craving taunter. Now, many of you are probably wondering what I am trying to get at here, so let me clarify -- bacon. Simply put, this hard drive enclosure smells like bacon in my opinion. Thermaltake must have some kind of telekinesis power, because who would make a HDD enclosure that smells like bacon? Let us not get too carried away with the "bacony" goodness of the Max 5G. Many would have expected this "meaty" enclosure to make a lot of noise, considering it incorporates two fans. With two fans, one would at least expect to hear much of the fan noise. However, after turning it on for quite some time, it was actually not too bad. Continuing on with my daily chores, it almost made me think the fans were not even on, but the stylish blue LEDs convinced me otherwise. I am not sure what is with all the blue LED fans that manufactures keep using on almost all the electronics I use, but it is almost getting to the point where my computer is now a glowing blue monster in the middle of the night. Thermaltake sure seems to be messing around my head when it comes to this enclosure. Read on to find out why!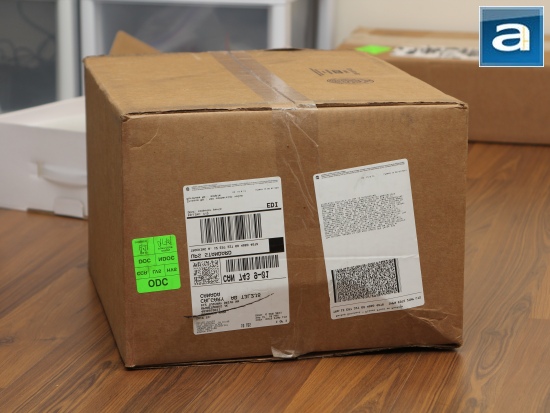 Our review unit of the Thermaltake Max 5G and bacon came in a large, brown corrugated cardboard box from California, USA, all the way to our offices in Calgary, Alberta, Canada. Using UPS Standard, everything arrived in excellent condition. With much anticipation, I am sorry to disappoint you, but unfortunately, there was no actual bacon that came with our Max 5G unit.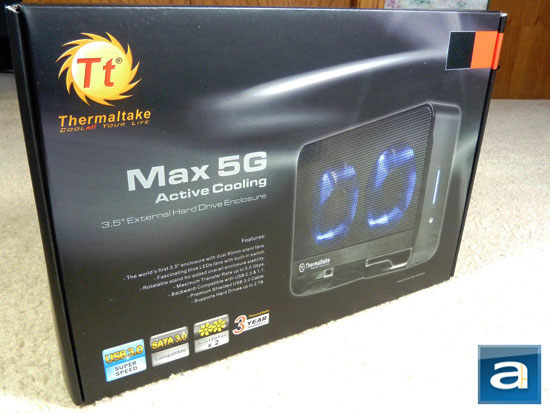 Thermaltake seems to have mastered how to ship products with UPS, because there is absolutely no visible damage on the box for the Max 5G -- but it could also be because the Max 5G is just that beasty. The box itself was in a clean plastic shrink wrap to keep out anything nasty from getting inside the box during transit. I particularly like the design on the box; simple yet stylish, and takes on a dark shade of color. The design itself really brings out the blue in the LED fans on the front.
Before we move on, let us briefly take a look at the product features and specifications, as found on the product packaging as well as the manufacturer's website:
Features
- Dual ultra-silent 80mm fans with blue LEDs ensure data integrity during file transferring between external hard disk and the host computer
- Easily turn off blue LEDs with built-in switch on the back of the enclosure
- Blazing file transfer speed utilizing the world's fastest SuperSpeed USB 3.0 transfer speed of up to 5Gbps
- Backwards compatible with all USB 2.0 (up to 480 Mbps) and USB 1.1 hosts
- Supports for all 3.5" SATA I, II, and 6G Hard Drives up to 2TB
- Includes shielded USB 3.0 cable to ensure maximum transfer speed with minimum distortion
- Integrated stand easily twists out for added overall enclosure stability
Specifications
P/N: ST0020
Material: Metal Mesh & Plastic
Interface: SATA to USB 3.0
SATA Compatibility: SATA 3.0, SATAII, SATAI
Transfer Rate: Up to 5Gbps (USB 3.0)
Accessories: USB 3.0 Cable, Power Adapter, Hexagon tool
Fan Dimension: 80 x 80 x 15mm
Current: 0.15A
Voltage: 12V
Fan Speed: 800 RPM
Noise: 12 dBA
Weight: 405g
Dimension: 145 x 207 x 47 mm
Power Source: Power Adapter; CE, FCC, GOST R Certified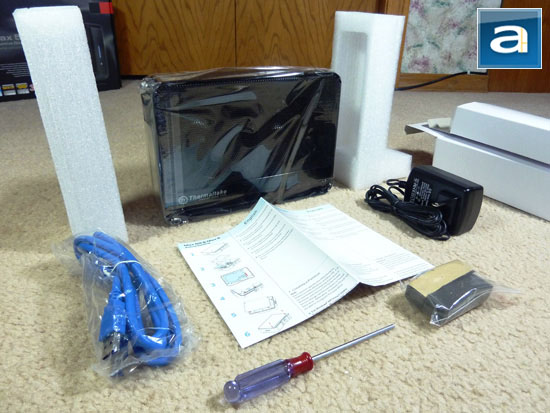 Opening up the retail box, I discovered the enclosure was well protected with two pieces of Styrofoam on either side. The other components were also safely stored inside white cardboard boxes. Pulling everything out of its packaging, you will be presented with the enclosure, a USB 3.0 cable, a power adapter and cable, a screwdriver, an instruction manual, and some padding. I do not suspect that many people will need to use the installation instructions, as the overall process is fairly intuitive. Just in case you get confused, rest assured as it is there for you with additional images. As mentioned in the features list, the Thermaltake Max 5G incorporates an integrated rotatable stand with rubber grommets at the bottom of the unit that adds stability. Unlike other enclosures that have a choice of exterior color, the Max 5G comes only in a black version. Overall, I quite like the look of the enclosure with the dark case and rotatable stand. Some might consider it a bit bulky; however, I would have to disagree, simply because this is not just a typical enclosure -- it uses active cooling. That basically means it should be placed in the open, which rules out the need for crunching it in tight spaces. Next, we take a look at the inside of the Thermaltake Max 5G.
---
Page Index
1. Introduction, Packaging, Specifications
2.
A Closer Look, Installation
3.
Test System, Benchmark Results
4.
Conclusion