By: Jonathan Kwan
November 10, 2011
A few years ago, I was chatting with my buddy Devin after class (Who is now also my colleague here at APH Networks), and somehow we came across the topic of relationships with members of the opposite gender. "Looks are what that gets it started," he said. "But personality is what that keeps it going." What can I say? As a guy, I will admit it is quite literally impossible to completely look past a girl's physical appearance, and go straight for the "inner beauty". Okay, maybe there are exceptions out there, but I am pretty sure we were created with a natural appreciation for good looks; not that I am superficial or anything. At the same time, one thing we must agree on is appearance is not everything. Yes, it gets you attracted to that person in the first place, but have you ever been with anyone that you simply cannot stand? Sure, looks are great, but so is their personality. In other words, what makes an attractive person is not exclusively outer beauty or purely inner beauty, but instead, it is a balanced combination of both. A few weeks ago, my colleagues Devin and Jeremy reviewed the UEBO M50 and UEBO M100, respectively. To finish off our trio of reviews at the climax, what we have here at APH Networks this afternoon is the king of all UEBO products -- the UEBO M400. On the outside, the company's flagship device is probably the best looking digital media player I have ever seen. But does it have the personality to boot? Read on to find out!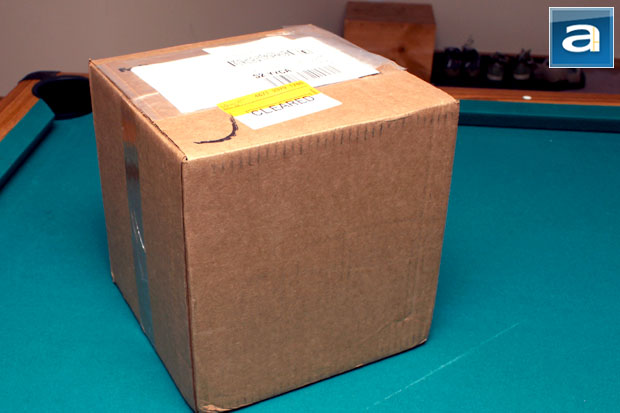 If you have been following our reviews for the last little while, and you recognize the photo above, that is because the UEBO M400 came in the same box as the M50 and M100 as aforementioned. Using FedEx Express from our neighbors down south in California, USA, it took little to no damage during transport, with everything arriving in excellent condition. We cracked open the large brown corrugated cardboard box, divided up the stuff inside, and got straight to work.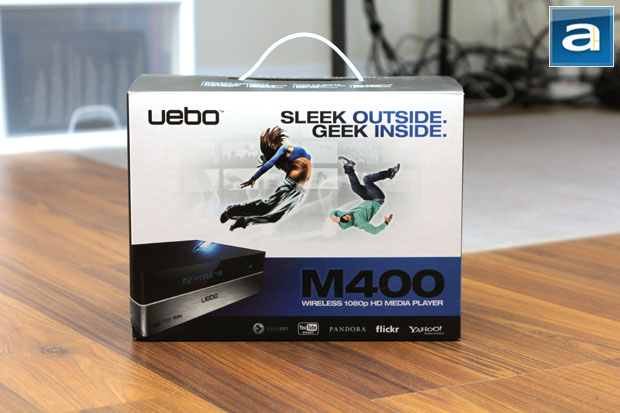 Sleek outside, geek inside. Cool. I totally agree with the "sleek outside" part, because the UEBO M400's physical appearance is truly a class ahead of the competition, and that includes the QNAP NMP-1000. As far as the "geek inside" part is concerned, we will need to see about that later on in this review. The retail box is also very well designed, with a layout that is both clean and informative. The stuff that stands out from the rest includes the company's logo at the top left corner, the product slogan adjacent to it, and the model number near the bottom -- but of course, you probably saw that in our photo above already. An image of the media player itself at 3/4 angle is shown with a girl leaping out of it, but as Devin has mentioned in his M50 review, I am not entirely sure what this is all about -- other than the fact that she is not wearing a skirt, haha. Meanwhile, she is accompanied by a guy doing a back flip in front of a media clip faded into the background. At the bottom is an array of icons indicating support for various things as PlayOn, Youtube, Pandora, Flickr, and Yahoo! Weather & Finance. Awesome. So before we move on, let's take a look at the features and specifications of the M400, as obtained from UEBO's website:
Video Formats: AVI, MPG, DAT, VOB, DIV, MOV, MKV, MPEG, TS, MTS, M2TS, RMVB, WMV, ISO, IFO, MP4, FLV, TP, TRP
Video Codecs: MPEG1, HD MPEG2 (up to MP@HL), HD MPEG4 SP/ASP (1080p), Xvid, H.264 BP@L3, MP@L4.1, HP@L4.1, WMV9/VC-1 AP@L3, RM/RMVB8/9/10 (up to 720@30P), AVS HD (1920x1080)
Video Connections: HDMI 1.3 (1080p), Component (YPbPr) Video, Composite Video
Video Output Resolution: HDMI 1.3: 480p, 576p, 720p@50HZ, 720p@60HZ, 1080i@50HZ, 1080i@60HZ, 1080p@50HZ, 1080p@60HZ, YPbPr Component: 480p, 576p, 720p@50Hz, 720p@60Hz, 1080i@50Hz, 1080i@60Hz, Composite: 576i@PAL, 480i@NTSC
TV System Support: PAL/NTSC
Subtitles Supported: SRT, SSA, SUB, SMI, ASS, SUB+IDX, PGS
Picture Formats: HD JPEG, JPG, BMP, GIF, TIF, PNG
Languages Supported: English, Español, Français, Deutsch, Italiano, Dutch, Pycckий, Simplified Chinese, Polski, Việtnam, Português,Traditional Chinese, Korean, Netherlands, Russian, Cesky, Slovansky, Romania, Hebrew, Magyar, Slovenčina, Thai, Turkish, Arabic, Islenska, Norsk, Dansk, Svensk, Suomi, Indonesia, Japanese
Internal HDD Capacity: 3.5" SATA HDD, up to 3TB
Audio Formats: MP3, OGG, WMA, WAV, AAC, FLAC
Audio Codecs: MP2/3, OGG Vorbis, WMA (DRM, and Advanced Profile not supported)
Dolby Digital/DTS: Dolby Digital True HD / DTS HD-MA / DDP (Pass-thru & Down-mixing)
Audio Connections: HDMI 1.3, Stereo Output, Optical S/PDIF, Coaxial S/PDIF
Audio Output: Stereo L/R, S/PDIF (Optical & Coaxial)
Internet Functions: Internet Radio, BT Download, Web Browser, YouTube, Flickr, Picasa, Yahoo News, Yahoo Finance, Yahoo Weather, and many more
Internet Media w/Playon: NetFlix, ESPN, HULU+, CBS, ABC, NBC, CNN, Golf Channel, NASCAR, Food Network, TBS, MTV + More
Network Connections: 10/100/1000 Mbps Auto-Negotiation Ethernet, 802.11b/g/n Wi-Fi, up to 300Mbps
I/O Interfaces Supported: USB 2.0 HOST port x 2, USB 3.0 DEVICE port x 1
System Compatibility: PC: Windows ME/2000/XP/Vista/7, Mac OS, Linux
File Format Supported: FAT, FAT32, NTFS, EXT3, BD Navigation, DVD Navigation
AC Adapter Voltage: Input 100-240V, 50/60 Hz. Output 12V 2.0A
Accessories: Power Adapter, Remote Control, Batteries, USB 3.0 Cable, AV Cable, User Manual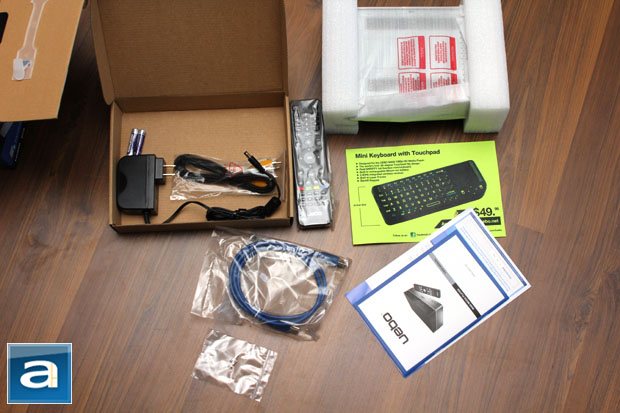 Everything is extremely well packaged inside the retail box, and it definitely leaves a positive impression to the end user. Besides the manual and a promotional flyer for a mini keyboard, the media player and its accessories are separated into separate sections. Clipped between two Styrofoam brackets and a thin layer of foam is the UEBO M400 media player, while four screws, a USB 3.0 cable, remote control, two AAA batteries, power adapter, and a composite A/V cable are placed into a flap top cardboard box on the side. It is rather unfortunate that no HDMI cable is included, but otherwise, everything else you need is here.
---
Page Index
1. Introduction, Packaging, Specifications
2.
A Closer Look - Hardware
3.
A Closer Look - Software
4.
Performance and Conclusion