By: Jeremy To
October 28, 2011
Lately, you may have heard of my recent trip to Hong Kong. I believe Hong Kong is like my second home to me, because every time I visit, I take home something of great value. It was less than five years ago that I came back to Canada happily bringing home a Japanese PlayStation 3 (Japanese PS3s run on the same area code as North American PS3s) I got for a cheaper price, without tax, and of course, the opportunity to evade the immense waiting lines. At the time, the PlayStation 3 was just another gaming system that many parents loathed. For our family however, the gaming system became much more than a prosthetic used for killing Nazi Zombies, if you catch my drift. Surprisingly, my parents fully accepted the console and all its features. Wanted to watch a DVD? Turn on the PlayStation 3. Wanted to listen to music using an external storage device or a CD? Turn on the PlayStation 3. Wanted to watch a movie off an external storage device? Turn on the PlayStation 3. If we were feeling ambitious, we would buy a Blu-ray and guess what? We turned on the PlayStation 3. Heck, we even showed our parents YouTube videos using the PlayStation 3. However, as the saying goes, "All good things come to an end." When my brother moved out, let's just say that at times, my parents missed the PlayStation 3 more than him. It was not long before my parents forced me to go out shopping for another media player alternative. I soon ended up with a Patriot Box Office network media player, which was reviewed by my colleague Jonathan more than a year ago, because it did all that we wanted it to do for a reasonable price. But are there better things in the market today? Today, we have a new portable media player from UEBO. UEBO states that the M100 media player is stylish on the outside, and genius on the inside. Can it do all this and still be priced a reasonable amount? Read on to find out!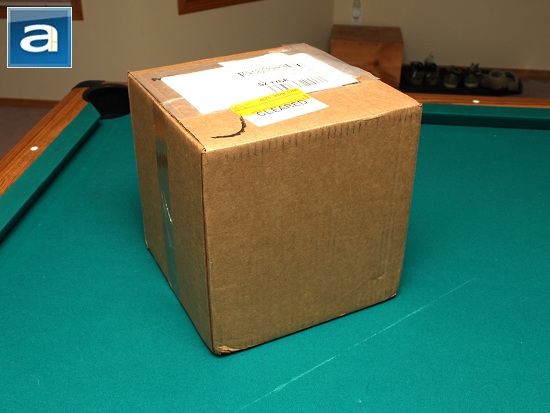 The UEBO M100 arrived here in Calgary among a large box accompanied with its smaller brother, the M50, and its bigger brother, the M400. The UEBO M50 was reviewed by my colleague Devin last week, and the UEBO M400 will be covered by our Editor-in-Chief Jonathan shortly. Like many of our units, the large corrugated box made its trip up north from California via FedEx Express. Thankfully (Thanksgiving reference), the box received little to no damage during its journey.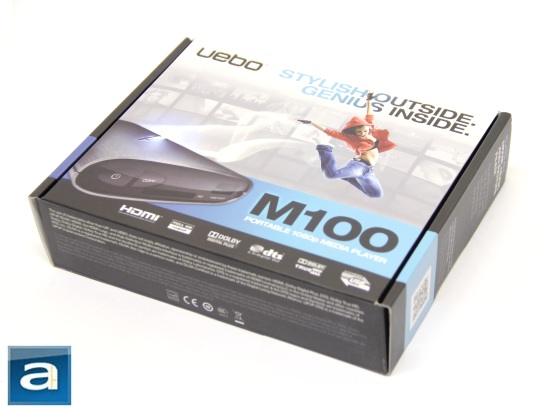 When Preston posted the initial pictures of the arrived units from UEBO, the one thing that probably stood out most was the creative marketing used to promote each product. Every media player by UEBO is accompanied with a few words of ultimate wisdom. In the case of the M100, UEBO puts "STYLISH OUTSIDE. GENIUS INSIDE." across the top of the retail box. The overall box design is splendid to look at; striking the perfect balance between excitement and information. Found around the box is a list of its features and specifications.
Before we move on, let me briefly go over the technical specifications list, as acquired from the manufacturer's website:
Specifications :
Video Formats: AVI, MPG, DAT, VOB, DIV, MOV, MKV, MPEG, TS, MTS, M2TS,
RMVB, WMV, ISO, IFO, MP4, FLV, TP, TRP
Video Codecs: MPEG1, HD MPEG2 (up to MP@HL), HD MPEG4 SP/ASP (1080p), Xvid, H.264, BP@L3,MP@L4.1, HP@L4.1, WMV9/VC-1 AP@L3, RM/RMVB8/9/10 (up to 720@30P), AVS HD (1920x1080)
Video Connections: HDMI 1.3 (1080p), Composite Video
Video Output Resolution: HDMI 1.3: 480p, 576p, 720p@50HZ, 720p@60HZ, 1080i@50HZ, 1080i@60HZ, 1080p@50HZ, 1080p@60HZ, Composite: 576i@PAL, 480i@NTSC
TV System Support: PAL/NTSC
Subtitles Supported: SRT, SSA, SUB, SMI, ASS, SUB+IDX , PGS
Picture Formats: HD JPEG, JPG, BMP, GIF, TIF, PNG
Supported Languages: English, Español, Français, Deutsch, Italiano, Dutch, Pycckий, Simplified Chinese, Polski, Việtnam, Português, Traditional Chinese, Korean, Netherlands, Russian, Cesky, Slovansky, Romania, Hebrew, Magyar, Slovenčina, Thai, Turkish, Arabic, Islenska, Norsk, Dansk, Svensk, Suomi, Indonesia, Japanese
Internal HDD Capacity: 2.5" SATA HDD, up to 2TB
External HDD Capacity: Up to 2TB
Memory Card Slot: SD / SDHC / MMC
Audio Formats: MP3, OGG, WMA, WAV, AAC, FLAC
Audio Codecs: MP2/3, OGG Vorbis, WMA (DRM, and Advanced Profile not supported)
Dolby Digital/DTS: Dolby Digital True HD / DTS HD-MA / DDP (Pass-thru & Down-mixing)
Audio Connections: HDMI 1.3, Stereo Output
Audio Output: Stereo L/R
Internet Functions: Internet Radio, SAMBA Client and Server, and others.
Network Connections: 802.11b/g/n USB Wi-Fi Adapter, up to 300Mbps (USB Wi-Fi Adapter Optional)
I/O Interfaces Supported: USB 3.0 DEVICE port x 1, USB 2.0 HOST port x 1
System Compatibility: PC: Windows ME/2000/XP/Vista/7, Mac OS, Linux
File Format Supported: FAT, FAT32, NTFS, EXT3
AC Adapter Voltage: Input 100-240V, 50/60 Hz. Output 5V 1.5A
Accessories: Power Adapter, Remote Control, Batteries, USB 3.0 Cable, AV Cable, User Manual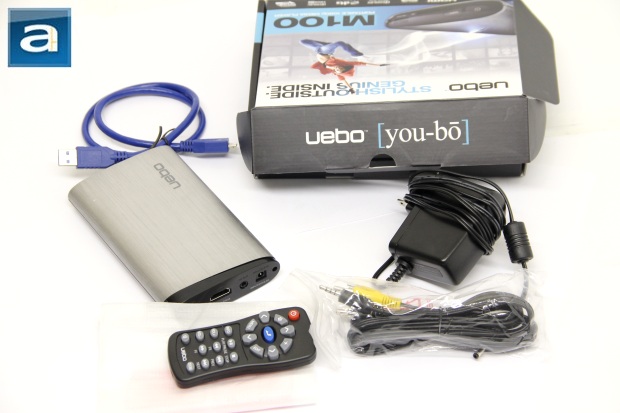 The retail box opens through the top flap seen on many products to date. The unit and all its accessories were tightly and safely packed inside with individual compartments for organization. The M100 itself was protected by being placed inside a foam bag. Inside the box, you will find the following components:
- UEBO M100
- AC Power Adapter
- Remote Control
- Batteries
- Composite AV Cable
- USB 3.0 cable
- User Manual
---
Page Index
1. Introduction, Packaging, Specifications
2.
A Closer Look - Hardware
3.
A Closer Look - Software
4.
Performance and Conclusion