By: Jonathan Kwan
March 12, 2010
When I started to plan the upcoming review schedule for APH Networks early last month, the influx of new network media players onto the market really caught my attention. Providing more digital media integration with your living room audio/video equipment than ever before, long gone are the days when we were restricted to watching certain videos on our computers only, or swapping a bunch of CDs every time you wanted to listen to those songs on the big system. Last month, we reviewed the Patriot Box Office network media player, which delivered excellent media compatibility and a very low price of admission, but failed to provide the kind of experience users would come to expect for a home entertainment device. Inevitably, there are compromises due to its cost. At the same time, I also began testing QNAP's NMP-1000 network media player. QNAP is known for making absolutely brilliant network appliances in both performance and reliability, such as the QNAP TS-439 Pro network attached storage system we examined back in September last year. But here's the thing: The QNAP NMP-1000 retails for $400 at press time -- effectively four times the price of products such as Asus' O!Play and the Patriot Box Office as aforementioned. It's probably no surprise that you are wondering at this point what makes the NMP-1000 so much more expensive than other products that carry out pretty much the same tasks. And you know what? I was asking the same question before I got my hands on these products as well, haha. Is the QNAP NMP-1000 truly the ultimate, no compromise, fully featured high performance network appliance with multimedia features for the home user to justify its price tag, or will it fail to hold its own against the competition? To answer all these questions and address everything else in a detailed and thorough manner, well, let me present to you this week's review!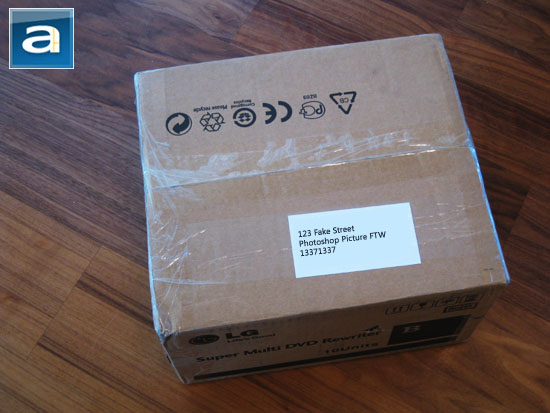 Like last time, QNAP shipped it in a rather interesting package -- which happens to be a reused LG DVD burner wholesale brown corrugated cardboard box this time, haha. Using Purolator Air, everything was handled well and arrived in excellent condition from QNAP's Canadian offices at Toronto, Ontario, Canada. I missed the initial delivery, so I conveniently picked it up on the way home after I finished classes that day.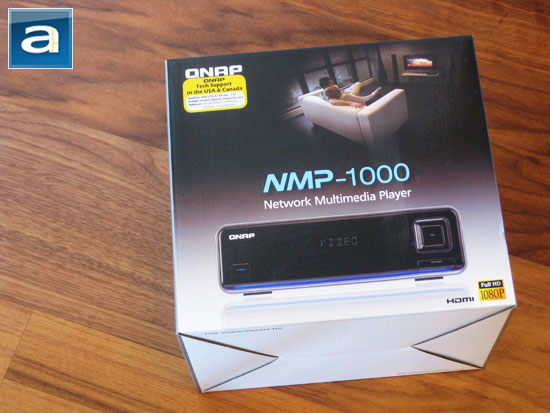 The company's retail packaging designs have always been clean and modern, and the box QNAP's NMP-1000 arrives in is no exception. The background color scheme consists of a sleek black, gray, and white gradient, used consistently and effectively throughout the box. The front of the box has QNAP's logo situated at the upper left corner, its 'NMP-1000' model name in stylized text printed boldly across the center, and the text line "Network Multimedia Player" aligned in width beneath it. A blended living room photo is placed at the upper right quarter, in conjunction with an image of the front face of the NMP-1000 itself at the bottom third of the box's front surface. Small icons indicating its HDMI and 1080P Full HD support can be seen at the bottom right corner. QNAP has demonstrated effective use of text, images, and styling themes, and it should be very clear to the consumer what the NMP-1000 is, and what it does, at first glance.
Furthermore, detailed feature highlights with a colorful 3D pseudo network diagram are printed in English at the back, and short descriptions are written in six other languages on the left side of the box. If the user is still confused about the QNAP NMP-1000, a 'How it works' section in very simple terms can be seen at the bottom of the same side as well. Complete specifications and a hardware diagram are shown on the reciprocal side of the box. Speaking of which, before we move on, let's take a look at the QNAP NMP-1000 network multimedia player's specifications, as obtained from the manufacturer's website:
Hardware
Processor: Sigma Designs SMP8635
Memory: 256MB DDR RAM, 64MB flash
HDD Capacity: 1 x 3.5" SATA I/II HDD, up to 2TB
LAN Port: 1 x Gigabit RJ-45 Ethernet port
VFD Display: 9 alpha-numeric character
LED Indicators: Power/ Status (Player mode: blue; NAS mode: red), Direction key (OK)
USB: 2 x USB 2.0 host (for storage expansion), 1 x USB 2.0 device (to PC, NMP works as a mass storage device), Supports 802.11b/g/n with WEP/WPA-PSK encryption by USB wireless adaptor (optional purchase) - Please check QNAP website for compatibility list
eSATA: 1 x eSATA port (to PC; NMP works as a mass storage device)
A/V Output: HDMI v1.3a, component (Y, Pb, Pr), composite video, S-Video, analog stereo out, S/PDIF optical and coaxial
Buttons: Power button, OK/ play button, four direction buttons, option button
Form Factor: Portable
Dimensions: 204 (H) x 176.4 (W) x 62 (D) mm, 8" (H) x 6.9" (W) x 2.4" (D)
Weight: Net Weight: 0.7Kg/ 1.54 lbs, Gross Weight: 2Kg/ 4.4 lbs
Operation Environment: Temperature: 0~40°C/ 32~104°F, Humidity: 0~90% R.H.
Fan: 40 mm, smart fan
Power Supply: AC Input: AC-DC Adaptor, 110-240 12V, 3A; 5V, 3A
Power Consumption: Standby mode: 11W, In operation: 14W
Sound Level: Standby mode: 34.6 dB, In operation: 34.7 dB
Software
Networking: TCP/ IP, HTTP, CIFS/ SMB, NFS, AFP, FTP, DDNS, DHCP client, BitTorrent P2P
File System: NTFS (system default), FAT32, EXT3
Client Supported: Microsoft Windows 2000/ XP/ 2003/ Vista/ 7, Mac OS X, Linux and Unix
User Management: User account management (max. 128 users), User group management (max. 32 groups)
File System Management: Network share management (max. 128 shares), Unicode support, Web File Manager
System Tools: HDD standby mode setting, System firmware upgrade, System logs
TV System: NTSC/ PAL
Max. Resolution: 1920 x 1080p (Full HD)
Screen Aspect Ratio: 4:3 or 16:9
Audio Formats: FLAC, WAV, WMA, AAC, PCM, AC3, MP3, M4A, DTS, OGG
Video Formats: Codec: MPEG1, MPEG2, MPEG4, XVID, H.264, H.263, WMV9, VC1; Container: AVI, MPEG/MPG, VCD (ISO, MPG, NRG), DVD (VOB, IFO, ISO, NRG), WMV, ASF, TP, TS, TRP, M1V, M2V, M4V, M2P, M2T, M2TS, BDMV, MTS, MOV, MP4, RMP4, MKV, TOD, MOD, 3GP
Image Formats: BMP, JPEG/ JPG, PNG
Playlist: M3U, PLS, WPL, ASX
Subtitle Compatibility: SRT, SUB, SMI, TXT, ASS, SSA, SUB (with idx)
Online Contents: Flickr photos, Apple movie trailers, Internet radio, weather forecast
File Server: Share files across Windows/ Mac/ Linux and UNIX and centralized management
FTP Server: Access file from remote location via FTP server, Supports up to 16 concurrent connections (NAS mode)
Download Station: PC-less BitTorrent download, Unique remote download utility QGet (Windows/ Mac) for remotely drag download task
Content Management: Automatic categorization of local and remote disk data, User rating of video and music files, Photo sorting by date taken, Parental control
User Customization: Home menu style selection, Subtitle size and location settings
Multilingual Support: English, Traditional Chinese, Simplified Chinese, Japanese, Korean, French, German, Italian, Spanish, Russian, Swedish, Norwegian, Finnish, Danish, and Polish
Remote Share: Up to 6 remote shares via SMB/CIFS or NFS, Auto share folder discovery on Microsoft network, Discover and playback from UPnP/DLNA supported storage devices
Unlatching a tab and opening the flaps at the top of the retail box reveal its internal contents. The QNAP NMP-1000 network media player itself is placed inside a clear plastic bag, and clipped between two large Styrofoam brackets for maximum protection during transport. All of its included accessories are stored neatly inside a separate brown corrugated cardboard box placed alongside the NMP-1000 in the retail package. Out of the box, you will receive the following:
- 1x QNAP NMP-1000
- 1x Power cord
- 1x AC adapter
- 1x HDMI cable
- 1x Composite A/V cable
- 1x USB cable
- 1x Ethernet cable
- 1x Screw pack
- 1x Quick installation guide
- 1x CD-ROM
- 1x Remote control
- 2x AAA batteries
---
Page Index
1. Introduction, Packaging, Specifications
2.
A Closer Look - Hardware
3.
A Closer Look - Software
4.
Performance and Conclusion