Page 3 - A Closer Look - Software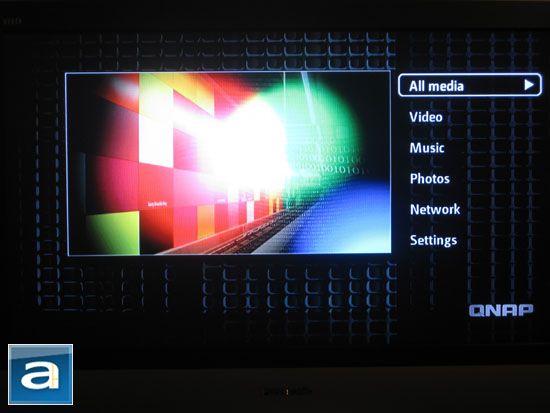 The boot time of QNAP's NMP-1000 is approximately one minute, but it offers a far more visually appealing graphical user interface than the Patriot Box Office. It is clear that its operating system (Firmware version 1.1.4 build 1225N is the latest revision at press time) is much more complex with regards to the front end as well as its available features. The GUI is generally very consistent across the system; and being a home entertainment device, I am happy to say that it is very user friendly, with the ugly standard Linux file browsers and technical diagnostic information tucked away from regular usage on the front end. The main screen has lists six menu options upon initial bootup, as shown in our image above. An extra "Now Playing" link will be added to the bottom of the list to bump the count to seven items when a media file is currently active. Adjacent to the menu items is a large window that displays a picture in relation to the highlighted menu option. Unfortunately these are static images and do not necessarily represent the items actually in the media library. The only exception is when Now Playing is shown, the window will show a thumbnail of the video being played, or the album art of the song, where available.
The main menu options should be fairly straightforward and self explanatory. The All Media option lists all media items with no filtering, whereas selecting Video, Music, and Photos lists only their respective items in the given directory or index. I will go through in detail with regards to Network and Settings in just a moment, but first, let's take a look at the Video tab. Generally speaking, while there are a little fancy visual effects, the usage experience is generally very positive and smooth. Minimal lag is noticed besides an approximately one second delay in loading the home screen from its submenus.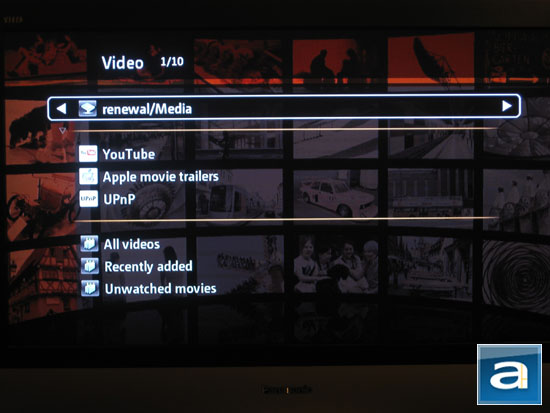 The static image in the large side window as aforementioned becomes the faded background of their respective screen, as seen in our photo above. The Video tab lists the connected disks at the top -- in my case, renewal/Media is my network drive -- followed by YouTube, Apple Movie Trailers, and UPnP after a line break. Under the YouTube option are items including Featured, Most Viewed, Most Recent, Top Rated, History, Search, Downloaded Files, and Log in/My Account. The Apple Movie Trailers screen shows thumbnails of the latest movies available for preview. UPnP streams media from your universal plug and play devices such as Sony's Playstation 3 or Microsoft's Xbox 360. The system actually indexes videos in the specified media libraries, which again I will elaborate in one of the Settings sections in just a moment. I did not find video indexing particularly useful compared to audio indexing, as you are probably better off just navigating through the file browser instead. Indexed video files by default are sorted under categories including All Videos, Recently Added, Unwatched Movies, Favorites, and Rating. The categories can be reduced in device settings. Do note that the browser only lists the files under that folder or index location based on name, and no video preview is available.
The QNAP NMP-1000 supports MPEG1, MPEG2, MPEG4, XVID, H.264, H.263, WMV9, and VC1 codecs in AVI, MPEG/MPG, VCD (ISO, MPG, NRG), DVD (VOB, IFO, ISO, NRG), WMV, ASF, TP, TS, TRP, M1V, M2V, M4V, M2P, M2T, M2TS, BDMV, MTS, MOV, MP4, RMP4, MKV, TOD, MOD, and 3GP containers. It is capable of playing high definition videos with resolutions of up to 1080p, and of course that includes every standard resolution under it as well. The NMP-1000 network media player supports a generally wide array of video formats, and played pretty much everything I've thrown at it, with a few minor exceptions. It also has a resume play function that remembers where you last left off from the video. Overall, video controls are fairly simple, with the usual hardware skip/play/pause/stop functions on the remote control. If you pause the video like I have for the image above, a transparent progress bar will be shown. The progress bar will disappear immediately after you hit 'Play' again.
The menus and screen layout for navigating audio files is identical in style to the video pages. While I didn't find the static background image for the video menus a big problem, it actually gets quite boring after a while in this context, since you are stuck with the same static image in all audio and related screens. That said, here is what the indexing functions really come in handy. Besides the standard file browser, you can find your music based on the indexed All songs, Playlists, Recently Added, Favorites, Artists, and Album Art categories. Again, you can hide any of these menu items in Settings. Each category shows a listing of files in text by a tree structure with the exception of Album Art; which displays a matrix of album arts for the user to select their respective albums. Other options include streaming from UPnP devices as aforementioned, as well as internet radio stations. The QNAP NMP-1000 supports FLAC, WAV, WMA, AAC, PCM, AC3, MP3, M4A, DTS, and OGG audio formats, which is great news to all the audiophiles among us.
The music player screen. It's very well designed in my opinion, having pretty much everything I have hoped for in a good media player interface. On the left is a large album art (Just drop a folder.jpg into the respective folders), followed by an array of ID3 tag listings on the right. The progress bar is situated at the bottom. If you leave this screen, music will continue to play without interruption, with song information shown at the bottom of the screen, which is going to be demonstrated in the following screenshot. You can quickly jump back to this screen in the Now Playing option on the home screen. However, I found a few things wrong with the system. Firstly, you can't stop or skip the song unless you are on the Now Playing screen. Secondly, there's a minor bug where the song counter at the top left corner is wrong even with the latest firmware. If you select the song manually from the index, it will always show the song being 1/n (Where n is the total number of songs in the playlist), regardless of its order of location. The subsequent song will be corrected once you hit the Skip button on your remote control in shuffle mode. However, if you are not using shuffle mode, it will show the total number of songs played over the total number of songs in the playlist. The latter is not a major issue, but I've mentioned just to point it out, haha. Universally, volume control on the QNAP NMP-1000 does not work if you are using any S/PDIF outputs, which I believe should also be fixed on upcoming software updates.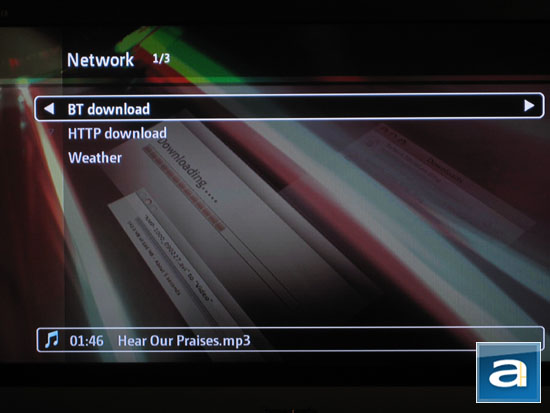 As promised earlier on in this review, information on the song currently playing is displayed at the bottom of the screen if you are out of the Now Playing screen, as shown in our photo above. The bar does not interfere with other onscreen items, but again the weird thing is that you do not have the option to pause or skip songs, despite having hardware buttons right on your remote control. The bar shows the play duration and name of the file. For some reason, the file name along with its extension is displayed rather than the appropriate ID3 tags. I hope this can be fixed in the upcoming firmware release as well.
The image above shows the Network screen, as selected from the main menu. Three subitems can be seen, sorted by BT Download, HTTP Download, and Weather. The former two has options such as Finish List, Run List, and Pause List, whereas BT Download has one more option of Add New Task to start a new torrent download from file. The rest simply monitor the task progress.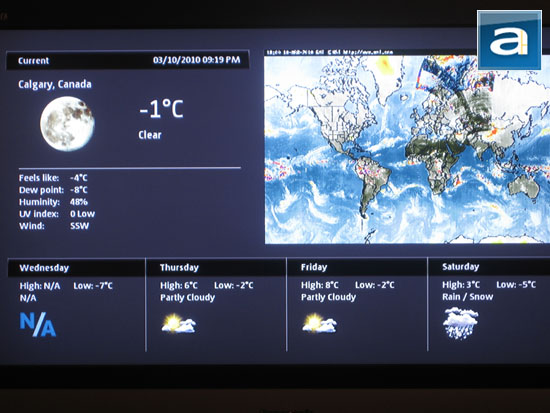 Of which the most interesting is the Weather function under the Network tab. The user has the option of looking up their city sorted by country, or simply search it up by direct text input via the onscreen keyboard. The weather screen does take a couple seconds to load, but it does offer a pretty worldwide weather map in conjunction with current conditions in the upper left corner in large font, followed by the forecast in smaller text across the bottom of the screen. I found this feature a nice touch by QNAP to include in their NMP-1000 network media player.
I am not going to go through every Settings screen, so I'll only highlight the ones that I personally found worthwhile mentioning. The first tab has video output, audio output, and display settings. Regardless of what I select for audio output, the QNAP NMP-1000 will still send audio data over HDMI to my TV, so I have to mute my TV if I want to listen to audio through my audio system.
Shown above is the second tab; most of these options should be self explanatory. The Power Button setting might not be so obvious at first, so here it goes: The QNAP NMP-1000 has two shutdown modes. One is a full shutdown, and the second one is NAS mode -- where it shuts down the multimedia functions of the system, but keeps the network and internal disk online. Since the QNAP NMP-1000 takes a good minute to boot up, I just leave my system on at all times. Entering NAS mode will save you some power, and the system will resume quickly. We will show you the power consumption results on the next page.
The System Update option is also worth mentioning. You can update the NMP-1000's firmware via the web interface as well, but if you don't have an internal hard drive installed, you have no choice but to do it here. The reason is because the system has to store the new image for upgrade, and if an internal hard drive is not installed, the update will fail. Therefore, the user must plug in a USB mass storage device with the new firmware on it and select System Upgrade from the screen above to perform the software update successfully.
The next Settings tab covers network configuration for wired and wireless interfaces, which I will not cover in detail, since there is really nothing much to talk about haha. Subsequently, we have the Remote Disk tab, as shown above, which permits the user to configure up to six network drives for the NMP-1000 to connect to. I configured my system to go with my QNAP TS-439 Pro network attached storage, so I just fired up the QNAP NAS auto search function at the top, and it detected my drive in no time. For password protected folders, the user will have the option to enter and save login credentials on the network media player. Text is inputted via an onscreen alphabetically ordered keyboard controlled by the remote control. My one complaint is that the NMP-1000 will not automatically attempt to reconnect to the network drives upon reboot, so you will have to navigate to this menu to tell the system to reconnect to the network drives manually. This is yet another item to add to the list that I hope QNAP will fix it upcoming system software revisions, haha. But since I leave my QNAP NMP-1000 on at all times anyway, this proves to be less of a significant problem to me. Our tested power consumption idling with no hard drive installed is only 9W, so it is going to affect your electricity bill so negligibly you won't even notice.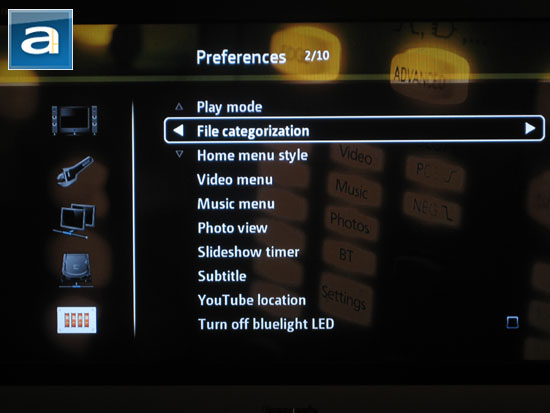 Last but not least is the Preferences tab. Play Mode has options such as normal, shuffle, shuffle repeat, and the like, but the same thing can be adjusted by pulling up a menu when media files are playing as well. File Categorization has options for the user to select which drives to index into the system's library. Video Menu and Photo Menu lets you check off what menu items to display on their respective screens. Meanwhile, if you don't like the QNAP NMP-1000's front blue LED strip, it can be disabled here as well.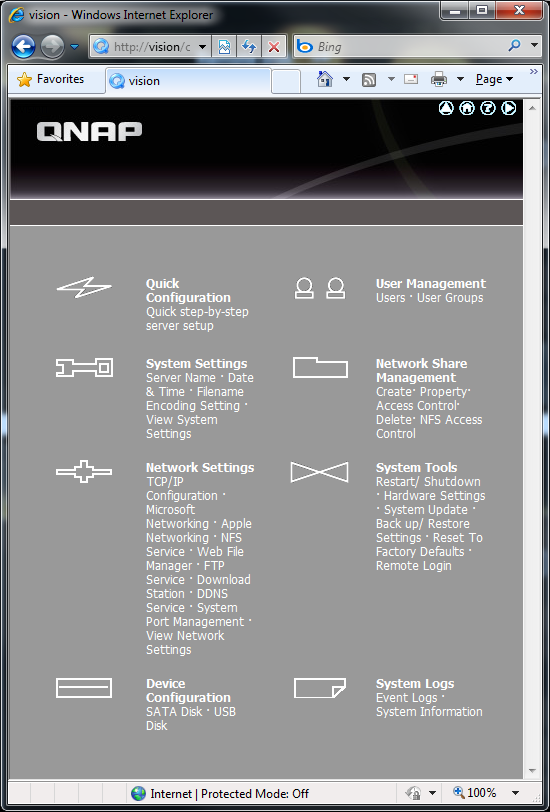 Shown in our screenshot above is the QNAP NMP-1000's web configuration interface. I found it interesting how the company decided to use their legacy user interface in place of their brilliant V3 AJAX web based UI. Most of the standard QNAP NAS functions are available, making the NMP-1000 practically a full featured network attached storage device. What's missing are more advanced features such as web server, remote replication, USB print server, and a handful of other things (You can make a direct comparison to our TS-409 review back written back in September 2008 as a reference to the same interface), but it's really no big deal. QNAP's legacy web interface is relatively easy to navigate and use with a wide array of configuration options, but I don't see why they can't slap on their excellent AJAX based V3 interface since it's already been out for quite a while now.
Generally speaking, the QNAP NMP-1000 offers a very good usage experience as far as the graphical user interface is concerned. It functions very well as a home entertainment device, being closer to my favorite media interface benchmark -- Windows Media Center -- than I initially expected. The design is modern and graphics are implemented in a commendable fashion. There are some design elements that can be further refined to improve the overall experience, as well as a handful of bugs and interface concerns that can be fixed or modified. Overall interface performance can also be optimized a bit more, but as a whole I am still pleased with the way it handles. All in all, it should be clear that refinement is the keyword here, and QNAP certainly has some work here and there to do in future firmware updates!
---
Page Index
1.
Introduction, Packaging, Specifications
2.
A Closer Look - Hardware
3. A Closer Look - Software
4.
Performance and Conclusion