By: Jonathan Kwan
March 8, 2008
It's only been over a month since we've looked at the Spire Dart laptop bag/sleeve, and we definitely can't say we were disappointed! Carrying that around for more than just a couple of weeks now, we've recently obtained another Spire product. Like last time, it's another laptop sleeve. The Spire Edge is not a full featured sleeve though. Unlike the Dart, the Edge carries a level of simplicity in achieving the essentials only of products in its category. This means that it gives the user more or less a higher level of flexibility; the primary purpose of what we use a sleeve for is to allow any backpack or container of choice to accommodate your laptop while retaining a degree of protection. With that it mind, it doesn't mean you can't carry the sleeve by itself if you don't need any accessories such as an AC adapter. We won't put too many spoilers out this early in the review, but let's take a close look at the Spire Edge and see how it can accommodate laptop users wanting a sleeve for protection in that particular market segment.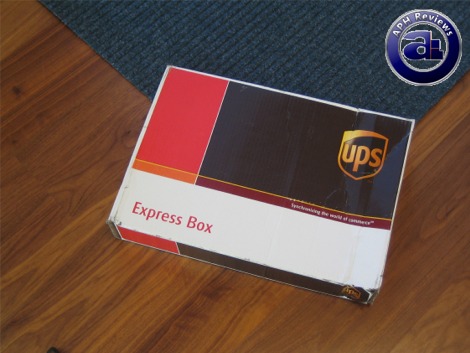 Our review unit came in a large corrugated cardboard shipping box from Spire's offices in the states. Unlike last time, UPS Ground was used this time and arrived significantly faster when compared to delivery times versus shipping date. Again, UPS just dropped it off at my door and rang the doorbell, but I was actually present at the time. Everything arrived in perfect condition -- including the shipping box itself.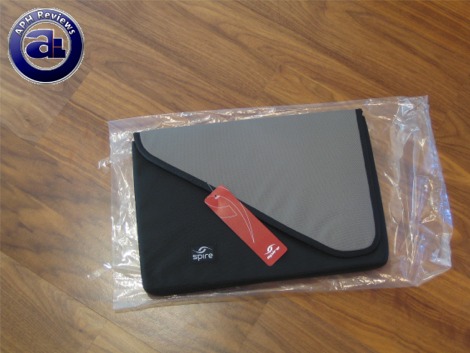 As we've previously examined the Spire Dart, the Edge also arrived in identical packaging -- nothing fancy. Out of the shipping box, the Spire Edge was slipped inside a transparent thin film bag for protection. There's no frills associated with the bag itself either when it comes to packaging -- the only thing on it was a simple brand tag. Less is more, baby.
I would assume (Since no information on the Edge is published on Spire's website at press time) that the Edge will be offered in three distinct sizes -- Edge 13, Edge 15, and Edge 17; for 13.3", 15.4", and 17" widescreen laptops, respectively. Spire has made it clear that the dimensions are for thinner laptops such as Apple MacBooks -- thicker models will require stepping up a size for better accommodation.
Update: Specifications are now published on Spire's website:
- Available in 3 sizes, perfect for Macs and widescreen PCs.
- Exterior: tough 1680D Ballistic nylon
- Interior: smooth, padded 210D nylon
- Unique triangular flap for easy access
- Available in all-black or gray/black
Screen size/weight/dimensions
Edge 13 8 oz. 13.0" x 9.25" x 1.25"
Edge 15 8 oz. 14.5" x 9.75" x 1.25"
Edge 17 8 oz. 15.5" x 10.25" x 1.25"
Our review unit of the Spire Edge is for 17" laptops; since it is recommended by Spire to go a size up for thicker laptops -- these dimensions are more or less specifically tailored for Apple products. The Edge 17 we have is more or less a sleeve specifically for the MacBook Pro 17" -- the internal dimensions are 39.2cm x 24.3cm x 2.59cm. Yes I obtained those numbers off the Apple site, but that's what the Spire Edge measures to for its interior space anyway haha.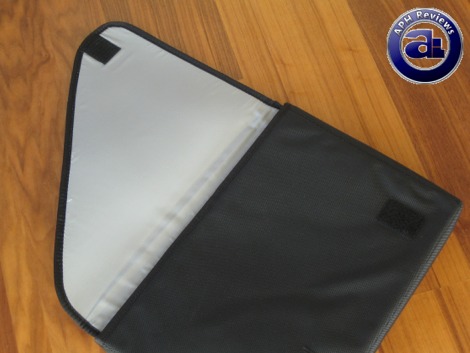 The Spire Edge incorporates a rather simple design in approaching the role of a laptop sleeve. A triangle cut cover flap extends from the top of the bag to the front bottom on one side; which is held together by Velcro attachment. This reveals a full width horizontal opening at the top to allow laptops to be slid in.
Speaking of the flap, the triangular shaped flap is colored differently in comparison to the main section of the bag on the outside -- while our Edge 17 is black, the flap is gray in color. You can see that in the previous photo.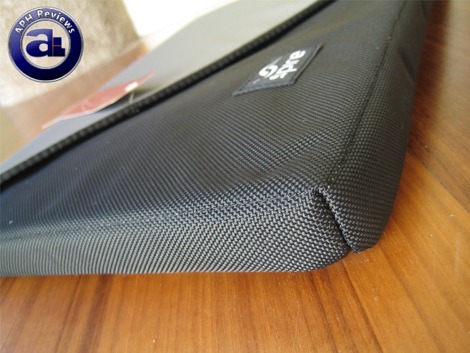 Using tough Ballistic nylon exterior, the Spire Edge utilizes the same outer construction material as the Spire Dart. The edges are nicely sewn with no fraying at the ends and the seams completed in an aesthetically pleasing fashion. After weeks of usage, this exterior proved to be durable and doesn't damage easily like the Spire Dart we've previously reviewed.
The thickness of the Spire Edge on the outside is a little thicker than one inch to accommodate its one inch thickness interior; as the Spire Edge is designed to hold a MacBook Pro.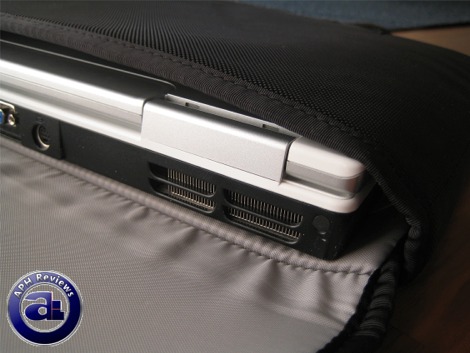 The Spire Edge, like the Spire Dart, again uses identical interior design in terms of materials and construction. The gray nylon interior is tough enough for everyday usage; yet smooth enough to not scratch your laptop. A few millimeters of padding are implemented on all the walls of the laptop sleeve for adequate enough for protection. It can probably handle a few drops too; in addition to the daily bumps and hits.
In terms of fit, I put in my Dell Inspiron 6400 which has a widescreen displayed measured at a diagonal of 15.4" -- it was too thick for perfect accommodation inside. The 17" Spire Edge we have has no problem fitting it in; it's just that the thickness distorted the fit slightly as shown in the photo above. On the other hand, my friend who happens to have a 17" MacBook Pro has no problems in this regard -- it was a tailored fit. It would be nicer if Spire designed the Edge to accommodate more laptops on the market today rather than exclusively Apple, since the market share of Apple laptops -- or laptops that thin -- occupies a very minute amount in the overall mobile computing market.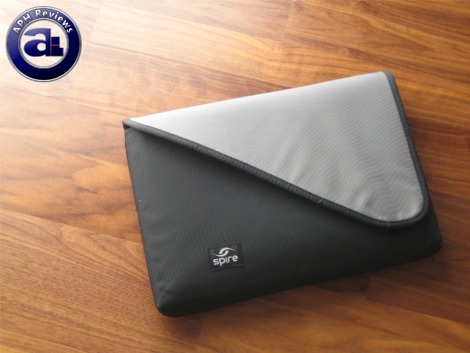 The above image shows the Spire Edge 17 closed with my Dell Inspiron 6400 inside. It's a bit puffed up, that's for sure -- but other than that, it's a simple yet excellent laptop sleeve.
---
Overall speaking, the Spire Edge is one sweet laptop sleeve -- it's simple and it gets the job done. Being simple doesn't mean the Spire Edge isn't a laptop sleeve with a degree of character -- from its excellent exterior material, to the smooth nylon interior and all the padding in between, everything is done very well. The flap closure adds a sense of design to the bag. It would certainly have been nice if the dimensions of the bag were designed to better accommodate a wider (And basically, the majority) variety of laptops out there, the Spire Edge is certainly something you don't want to overlook anytime soon.
Special thanks to Cory over at Spire for making this review possible.
APH Review Focus Summary:
7/10 means Great product with many advantages and certain insignificant drawbacks; but should be considered before purchasing.
8/10 means Definitely a very good product with drawbacks that aren't likely going to matter to the end user.
-- Final APH Numeric Rating is 7.2/10
Please note that the APH Numeric Rating system is based off our proprietary guidelines in the Review Focus, and should not be compared to other sites.
The Spire Edge is a simple laptop sleeve, but with character at the same time. Excellent use of material and design; but dimensions can be modified to better accommodate majority of laptops in the market today.