By: Jonathan Kwan
December 20, 2008
After months of torture in Engineering class, I often find it hard to believe that I am finally done with this term. For the last few days, I 'slept in' until 7:00AM, and tried hard to lose the weird food addictions I had during final exams. I spent a lot of time with friends, watched numerous episodes of The Simpsons, and I even started playing the occasional Counter-Strike: Source (If you don't know me, I have to tell you that I am not a gamer -- that's only because I am too leet for it ;) Just kidding haha) -- when the fun stuff is all over, I figured it was about time to get back to reality. That was when I realized that I had been excusing myself so much, that I delayed my review schedule quite a few times already. Here's the deal though: I gained quite a bit of time for thorough testing in real life. When the Spire Torq arrived at APH Networks, I was so glad that finally there's some physical relief from the stress and strains (No pun intended. Or is it!?) of higher education. The Spire Torq is a large laptop backpack that's designed for practicality, combined with lots of room, infinite amounts of pockets, and comfortable enough for extended periods of usage. I've been dropping my clipboard, occasional textbook, drawing notebook, a couple of calculators, pens and pencils, and of course, my Lenovo ThinkPad T400 notebook computer around for almost a month already. This classroom to that lecture hall, one building to another, library to train station, train station to car, you get the idea. Here's my impression of Spire's Torq laptop backpack, and how it works out for me.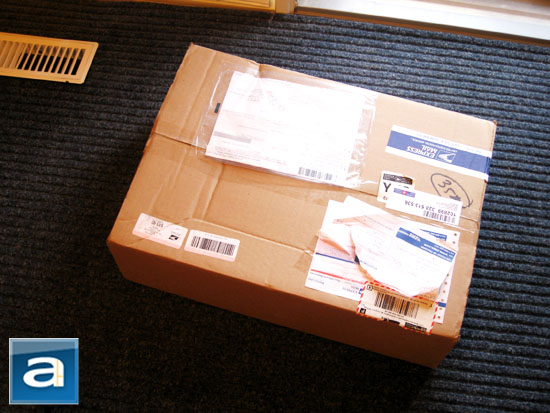 Our review unit of the Stealth Black Spire Torq laptop backpack arrived in a relatively large, but light, brown corrugated cardboard box from Spire's offices in the States. Using USPS Express, it was dropped off at the postal outlet located approximately one minute away from my house. Everything arrived in perfect condition; even the box does not appear to be tortured or mishandled (Besides the ripped shipping document on the side). It seems that according to the postage label, this package was pretty expensive to ship haha. Anywho, I picked it up conveniently on my way home, and excitedly cracked open the box.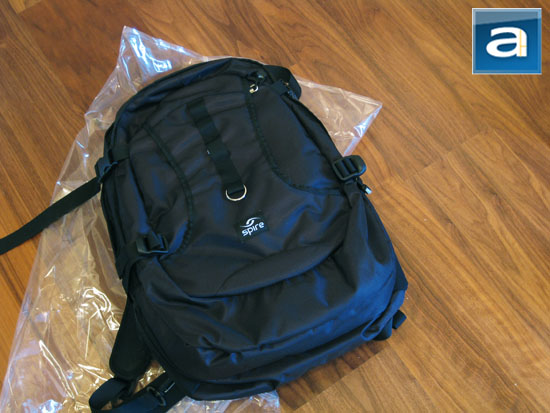 The guys and Spire inserted the Torq laptop backpack into a large clear plastic bag, and carefully packed it into the shipping box. Right off the bat, I was quite surprised at how large the Spire Torq is physically. It's not particularly wide on the X-axis, but it's very tall in the Y-axis, not to mention that it can be real deep with regards to the Z-axis. This is combined for an impressive 2400 cubic inches (1.39 cubic feet, or 0.039 cubic meters) of storage capacity.
Maybe now the question is not how much the backpack can hold, it's about how much you are able to carry over a given distance, haha.
A small, unconventionally shaped compartment is located at the front of the backpack, as shown above. A zipper is located behind the right face seam as shown in the photo above -- more on this later. A black colored strap carries down the center, with a ring on the end; but serves no other purpose than the aesthetics aspect. Two functional depth control straps are located on both sides. Spire's logo patch is sewn onto the surface of the Torq's front face.
Before we move on, let's examine the specifications of the Spire Torq backpack, as obtained from Spire's website:
Features
- Side mesh water bottle pockets. Can also be used for iPod, phone or other small items you need to access quickly.
- Beefy load-bearing padded waistbelt for support. Can be tucked away and hidden when not in use.
- Large exterior pocket with vertical zipper makes access a breeze. Perfect for stashing airline tickets, a paperback book, snacks, etc.
- Multiple interior pockets for accessories and peripherals. We optimized the pockets to hold a cell phone, PDA, pens, and other stuff. Two pockets have zippers -- great for holding power cords, mouse, and other unruly items.
Specifications
Product Code: TQ7
Price: $170.00 (With Boot)
Boot Sizes: AA - E
External Dims: 19.5" x 14.0" x 9.0"
Capacity: 2400 Cubic Inches
Weight: 3.00 lbs
External Fabric: 1680 Denier Ballistic Nylon
Internal Fabric: 210 Denier Nylon
Bottom Padding: Yes
External Pockets: 3 (inc. water bottle pockets)
Internal Pockets: 6
Waist Strap: Padded Foam/Mesh
Compression Straps: Yes
Sternum Strap: Yes
Carrying Strap: Yes
Hideaway Harness: Yes
Top Handle: Yes
Side Handle: No
Framesheet: No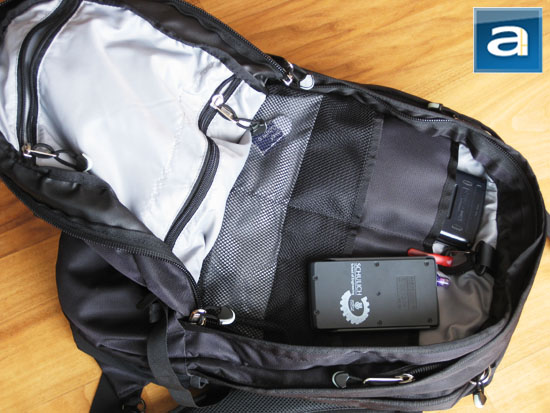 The Spire Torq is separated into three distinct main compartments. By "main", I refer to full height and width compartments, while "distinct" means that they are fully separate from its neighbors as a secure partition. The front main compartment holds miscellaneous items, as shown in the photo above. Two large zippered pockets are placed on the back of the front dividing wall for holding items such as AC adapters, mice, and all the fun stuff; while a large array of open pockets opposes the face aforementioned. A non-detachable key clip hangs from the top. From that point down is a large open pocket, which conveniently swallows my TI-84 graphic calculator. Two pens can be placed in its adjacent vertical pockets; as a smaller open pocket similar to the first one fills in the rest of the gap. Located directly below them are two equal sized mesh pockets to hold the rest of your traveling collection.
As seen here, a lot of subdividing compartments are conveniently integrated into the Spire Torq to efficiently hold small items -- excellent touches such as the two back zippered pockets permits virtually endless potential for holding various items of choice, while the designated units on the opposite side are specialized yet standard to accommodate the requirements of a very large portion of consumers.
By the way, if you are wondering -- as an engineering student, I actually carry two calculators on me. The TI-84 is to "cheat" on the homework (Hehe), while the school designated scientific calculator is used for quizzes and exams. Speaking of which, it is by far one of the worst calculators I've ever used. This is why I appreciate the University of Calgary -- or should I say, the "Schulich School of Engineering", as it is proudly imprinted at the back of the Casio calculator, every day. ;)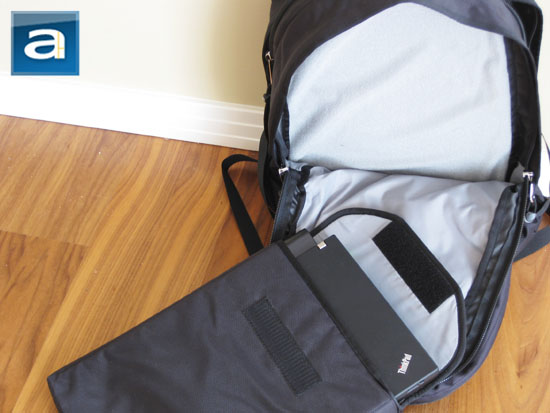 Right behind the front partition is another full size compartment. This middle distinct storage in the Spire Torq backpack is completely plain and empty; unlike the partition that precedes it. The back dividing wall of this compartment acts with the Velcro strip at the back of the Boot, so it stays in its place. Inside this partition, by default, is the included Spire Boot laptop sleeve -- which is the essential to gain the Torq a "laptop backpack" classification. I found it extremely convenient as well that the Boot can be detached from the Torq and act independently as a vanilla laptop bag (No AC adapter, mice, and other accessories, but I rarely do so with my Lenovo T400 anyways -- a charge literally lasts 9 hours eh).
The Spire Boot sleeves comes in the following sizes that can be configured with the Torq, as obtained from Spire's website:
AA: 13.00 x 9.25 x 1.00 - MacBook Air
A: 13.00 x 9.25 x 1.25 - 13" MacBook or 12" PC
B: 13.25 x 9.75 x 1.50 - 13" 14" Widescreen PC
C: 14.50 x 10.00 x 1.00 - 15" MacBook Pro Unibody
D: 14.25 x 10.75 x 1.50 - 15.4" Widescreen PC
E: 15.25 x 10.50 x 1.25 - 17" MacBook Pro
F: 15.50 x 11.50 x 2.00 - 17" Widescreen PC
(I wonder where they got inspired for the size rating/letter system? AA, A, B, etc. They should make a DD size for those weird 16" 16:9 laptops as well haha -- lol jokess man.)
ANYWAYS, our particular unit is size "D" designed for standard 15.4" laptop computers -- it's intended for use my with Dell Inspiron 6400. However, things changed, and I ended up buying the Lenovo T400. With the extended 9-cell battery sticking out the back, this 14.1" widescreen laptop made an absolute perfect fit inside the Boot with about 2cm to spare at the top. On the other hand, the Inspiron 6400 fits as well, but it's a bit thick and ends up sticking out half a centimeter out -- which impedes the closing of the flap at the top.
What I don't understand is why the laptop compartment is located in the middle of the backpack, rather than the back. Typically, solid and flat components closer to the person's back will increase comfort (As compared to inconsistent shapes of various material that may be placed inside the back partition) -- I would much prefer the laptop compartment to be located in the compartment that succeeds this one. Additionally, it should provide better weight distribution for the user as well.
Speaking of the Boot sleeve, the above photo demonstrates the back of the unit. A Velcro strip is conveniently located behind another flap, which can be opened and stuck to the corresponding rear wall of the compartment mentioned moments ago. It also acts as a closing flap for a thin pocket behind the Boot's laptop compartment for storing small amounts of paper and other documents.
Meanwhile, the relatively smaller and unconventionally spaced compartment located at the front of the backpack as mentioned earlier can be used in more than a couple ways. What I use it for is to drop my lunch in there. A small mesh pocket is placed inside, although I never got around to really use it. Additional cell phone/water bottle pockets are placed on both sides of the exterior of the backpack -- but personally I am not quite used to having my water bottle placed in those locations.
The exterior of the backpack is built with 1680 Denier Ballistic Nylon for durability, and it not only feels tough, but it physically is through our weeks of rough usage.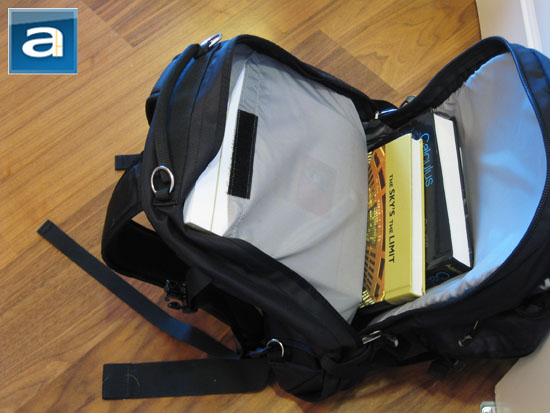 Under the carrying handle at the top is the back compartment; again another full sized partition. As with the rest of the Spire Torq backpack, the openings are sealed with quality and tough zippers. All main compartments opens three-quarters way down on both sides, creating a very adequate amount of loading room. While I would much prefer to have this compartment designed to hold my laptop rather than the middle one, there are unique aspects. The 210 Denier Nylon made interior is durable, smooth, and can literally swallow anything you throw at it. With its deep storage and very generous amounts of room, it made my large calculus and linear algebra textbooks seems small, as shown in the photo above. Let me remind you though: You will be tempted to make the Spire Torq really heavy, haha.
A somewhat hidden compartment is located on the very back wall, where encased by a layer of thin nylon is sealed by a Velcro seal at the top. It can secure stuff such as paper and magazines without any issues -- my paperback "Guide to Writing as an Engineer" textbook fits convenient inside (Not that I actually took the time to read the book lol).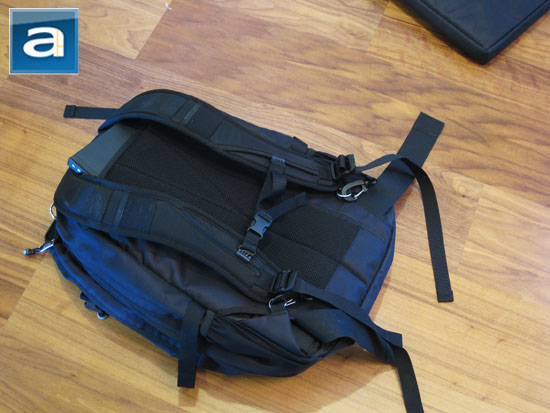 Like all high end, modern backpacks, the Spire Torq comes with roughly fifteen dozen of straps hanging symmetrically on the sides, each with some purpose -- while no one really pay attention to it. Ehhh just kidding!! I'll go over each one, no worries.
Beginning with the shoulder straps, they are intelligently shaped and curved to accommodate the wearing position of most people. With pockets on each shoulder strap for items such as cell phones, and thick padding combined with soft mesh covering the entire body-facing side of the straps, it makes the Spire Torq quite a comfortable backpack to carry. Length adjustable straps are located at the bottom, which clips onto the backpack itself via a pair of rings. I have to complain that the length adjustments don't work very well at all, as it is functional only when the normal force is offset to a very low degree compared to the force of gravity. This means that you might have to end up adjusting the length of your Spire Torq every time you use it.
Meanwhile, another compartment is located behind the padding -- it extends almost the entire of the backpack, which swallows thin items without complaints. I placed my physics lab book in there for demonstration purposes. I wouldn't put anything in there other than a magazine or similar though, because it would significantly affect the comfort of your back. Otherwise, the mesh covered thick padding is very comfortable; as identical to the back padding of the shoulder straps.
There are both waist and chest straps featured on the Spire Torq laptop backpack.
-----------------------------------------
Built with 1680 Denier Ballistic Nylon outside, and 210 Denier Nylon interior, the Spire Torq backpack is not only tough on the outside; but also combined with a sweet non-static generating smooth interior. Thick padding in parts that makes contact with the user's body, as well as standard chest and waist straps, the Spire Torq lacks nothing of what anyone would expect in a modern, quality backpack. My biggest complaint is the poor design of the shoulder strap length adjustments, as aforementioned. If the laptop sleeve is designed to be placed in the inner compartment rather than the middle, it would be excellent -- but the user can easily move it, thanks to the removable Boot sleeve. The only thing one will lose out is the Boot's ability to stick to the backpack for stability. At 3.00 pounds, the Spire Torq backpack is certainly not lightweight -- but considering its impressive storage capacity that swallows practically anything anyone throws at it, infinite amounts of practical pockets (Especially inside), and the excellent removable Boot sleeve, the Spire Torq laptop backpack is one that is quite hard to beat. Let me make the correction: It's not just a laptop backpack, it's an awesome backpack that does everything and holds everything, which, in turn, includes the job of carrying your laptop. Quality build, flexible purpose, and practical interior are just some of the excellent attributes of the Torq. A few things to fix up on Spire's side will make the Torq the ultimate laptop backpack! What you should be concerned about is the temptation to carry way too much inside this backpack. Spire MSRPs it for $170, but I have found it justified in many ways.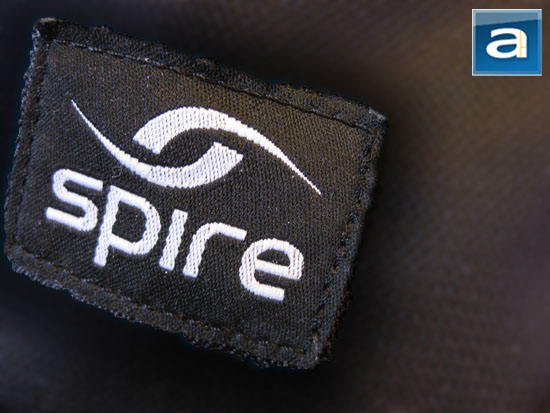 Special thanks to Cory over at Spire USA for making this review possible.

APH equal.balance Award | APH Review Focus Summary:
7/10 means Great product with many advantages and certain insignificant drawbacks; but should be considered before purchasing.
8/10 means Definitely a very good product with drawbacks that aren't likely going to matter to the end user.
-- Final APH Numeric Rating is 7.2/10
Please note that the APH Numeric Rating system is based off our proprietary guidelines in the Review Focus, and should not be compared to other sites.
The Spire Torq is an impressive backpack that swallows everything you put in it, and does it very elegantly.