By: Jonathan Kwan
November 3, 2017
If you have been in the computer scene long enough, you will probably recall when the AMD Athlon 64 was the envy of all gamers and enthusiasts. In the times long before Facebook, Instagram, and Snapchat became mainstream, we used to tread computer forums (To be fair, I still do here at APH Networks) and discuss recommendations with the community for our next PC builds. One of the interesting things back then was memory bandwidth actually made a meaningful impact on your computer's performance. Instead of running your RAM on a multiplier, we had to make sure our DDR sticks matched the bus speed of the CPU for optimum performance, because our memory simply was not that fast in 2004. For example, an AMD Athlon 64 with a 200MHz bus speed matched to a set of DDR-400 kit would be referred to as running at a 1:1 ratio. You can buy faster RAM for overclocking when you start raising the bus speed and want to retain the 1:1 ratio, or you can set a divider in your BIOS settings to slow down your RAM at the expense of performance. Nowadays, memory speed is mostly trivial, and overclocking on the Intel platform is not much more than changing an unlocked multiplier on a K-series CPU. But what has not changed is the 1:1 ratio is still alive and kicking... in your mouse. The SteelSeries Rival 310 features the company's latest PixArt PMW3360 based TrueMove3; heavily advertised as "the world's first true 1 to 1 esports sensor". Will the 1:1 ratio in 2017 be as big of a deal in your Rival 310 as it was on your AMD system back in 2004? Read on to find out!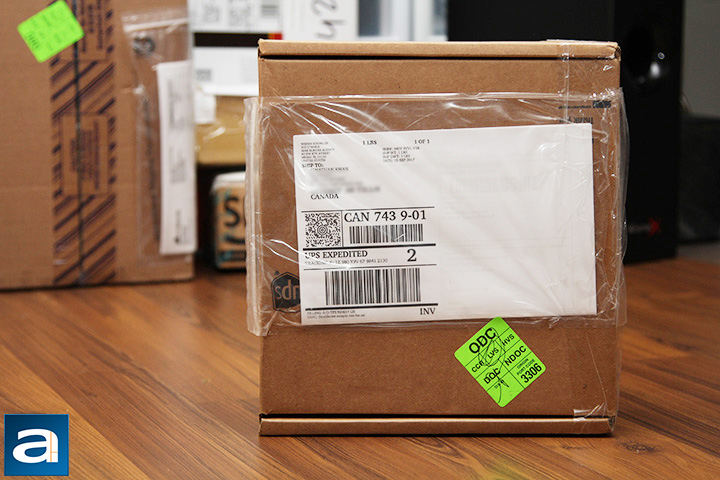 As always, our review unit of the SteelSeries Rival 310 came in a medium sized, brown corrugated cardboard box from the company's public relations firm in Miami, Florida. Its travel buddy was the SteelSeries Sensei 310, which my colleague Aaron Lai took a look at last week. Both mice are practically identical under the hood; the differences boil down to its external shells. Using UPS Expedited, everything arrived in excellent condition for us here in Calgary, Alberta, Canada for our review today.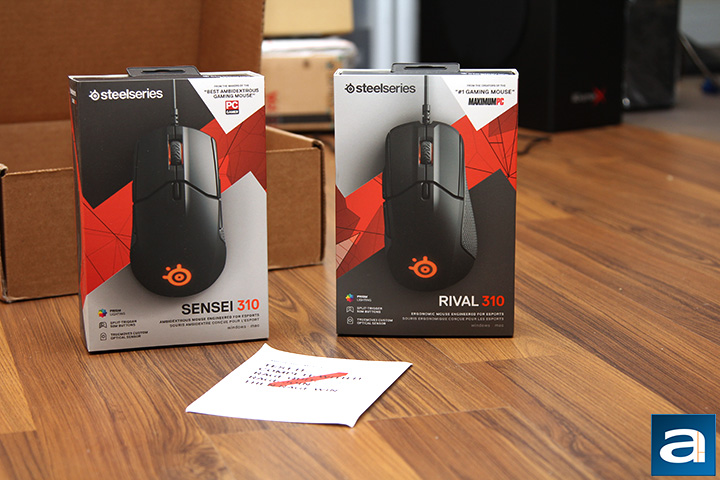 The retail box design for the Rival 310 carries forward the company's latest design theme seen in many of their latest products with a few minor revisions. The color scheme is a little lighter; featuring more grey and white to the palette. I found the layout and format to be stylish and modern -- the black, grey, and white background is accentuated by a sharp textured orange band crossing at an angle, complete with predominantly white text printed on the box. A photo of the mouse itself can be seen occupying the majority of the front. There is one slogan that describes the SteelSeries Rival 310 in front, and that is "Ergonomic Mouse Engineered for Esports" in two different languages. Three icons at the bottom left corner highlights its Prism lighting, split-trigger buttons, and TrueMove3 optical sensor. More detailed descriptions are at the back. If I were to see the SteelSeries Rival 310 in a retail store, I would not mistake it for any other brand.
Before we move on, let us take a look at the specifications of the SteelSeries Rival 310, as obtained from the manufacturer's website:
Sensor
Sensor Type: Optical
CPI: 100-12000, 100 CPI Increments
IPS: 350+, on SteelSeries QcK surfaces
Acceleration: 50G
Polling Rate: 1ms
Hardware Acceleration: None (Zero Hardware Acceleration)
Design
Top Material: Finger Print Resistant Semi-Rough Matte
Core Construction: Fiber-Reinforced Plastic
Shape: Ergonomic, Right-Handed
Grip Style: Palm or Claw
Number of Buttons: 6
Switch Type: Omron Mechanical Rated For 50 Million Clicks
Illumination: 2 RGB Zones, Independently Controlled
Weight: 88.3g
Length: 127.6mm
Width: 57.16mm (front), 62.07mm (middle), 70.1mm (back)
Height: 41.98mm
Cable Length: 2m, 6.5ft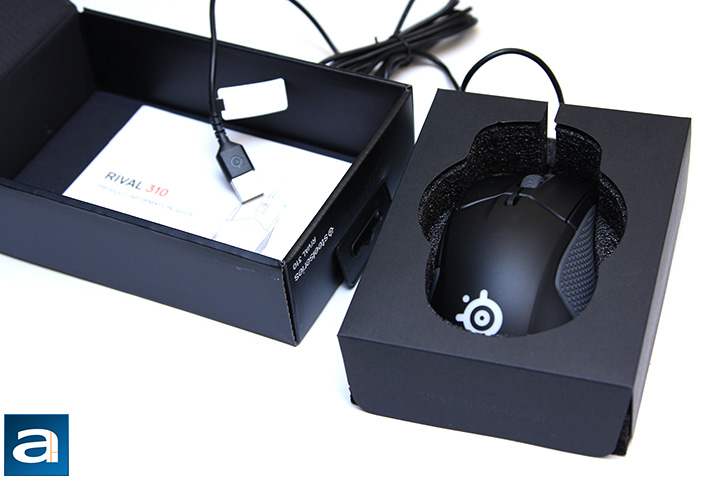 Out of the box, you will receive the SteelSeries Rival 310 mouse along with a quick start guide, and that is about it. The software can be downloaded from SteelSeries' website. The file size of SteelSeries Engine 3.11.5 (The latest version at press time) is 105MB, but I am willing to bet a clear majority of the users who are interested in this mouse will have a reasonably fast internet connection at home. The file size for the software suite is quite reasonable, and it is compatible with every product across the SteelSeries product lineup.
---
Page Index
1. Introduction, Packaging, Specifications
2.
A Closer Look - Hardware and Software
3.
Subjective Performance Tests
4.
Conclusion