Page 4 - Conclusion
If you are unfamiliar with the MOBA/MMO scene and has not seen a mouse with a grid layout, look up something like the Corsair Scimitar. In my opinion, having something that looks like an old phone's dial pad on the side of your mouse is interesting to say the least, and obnoxious to be totally honest. To throw this obnoxious design out the window, SteelSeries tried to rearrange the layout by producing what is essentially a wide body Rival 700, and calling it the Rival 500. Were they successful in the end? I definitely think so. Equipped with fifteen buttons for MOBA/MMO users and keeping them well placed for easy reach of your fingers, the SteelSeries Rival 500 comes with all the buttons you demand, all without the hassle it typically comes with. It is comfortable enough for everyday use, and even feasible for MOBA/MMO players who want to fire up an occasional game of Counter-Strike, thanks to its relatively light weight and high performance PixArt PMW3360 sensor. The PMW3360 found under the hood of the Rival 500 is known for its sharp response, lag free experience, and low jitter tracking. Our Rival 500 tracked with precision on all tested surfaces, and combined with quality button switches, innovative Tactile Alerts, and double injected rubber anti-sweat finish on the sides, this is quite a mouse to behold. The dual zone RGB lighting system is really the icing on the cake. My only complaint is this $80 mouse does not come with a braided cable. Also, it does not seem to me the Rival 500 has any onboard memory like the website says. At the end of the day, the SteelSeries Rival 500 is a niche mouse, and it is not designed to fit everybody. But if you are in the niche, there is no doubt in my mind the Rival 500 is a very competent candidate that fits the bill.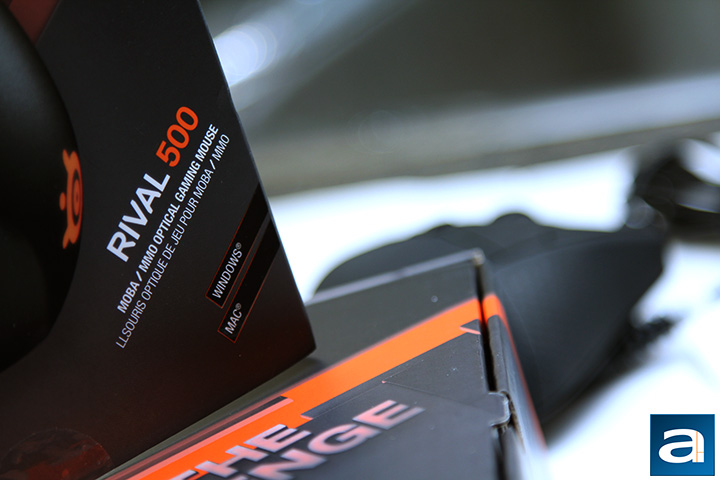 SteelSeries provided this product to APH Networks for the purpose of evaluation.

APH:Renewal Award | APH Review Focus Summary:
8/10 means Definitely a very good product with drawbacks that are not likely going to matter to the end user.
7/10 means Great product with many advantages and certain insignificant drawbacks; but should be considered before purchasing.
-- Final APH Numeric Rating is 7.6/10
Please note that the APH Numeric Rating system is based off our proprietary guidelines in the Review Focus, and should not be compared to other sites.
The SteelSeries Rival 500 shows it is possible for hardcore MOBA/MMO players to find a good mouse with a lot of buttons on the side that does not look like it has a phone dial pad stuck to it.
Do you have any comments or questions about the SteelSeries Rival 500? Drop by our Forums. Registration is free, and it only takes a minute!
---
Page Index
1.
Introduction, Packaging, Specifications
2.
A Closer Look - Hardware and Software
3.
Subjective Performance Tests
4. Conclusion