By: Jonathan Kwan
August 26, 2016
A few weeks ago, I was hanging out with some of my friends, when suddenly someone I did not know jumped into a conversation with me. About ten minutes later, I realize the guy just would not stop talking, even though I was clearly not interested in carrying on the discussion. When he started to go on about how the FBI wanted him because he knows some secret the American government does not want out (Seems legit -- I mean, we are in Canada), there was only one thing going through my head: How do I get out of there in a respectful manner? I texted my friend, who was sitting no more than two meters away from me watching Korean dramas on her phone, for advice. Much to my dismay, she told me there is nothing I can do based on her experience. As a last ditch attempt, I asked her to give me a phone call, so I could at least provide a plausible reason to walk away, to which she happily obliged. Within ten seconds, I was out of there. As you can see here, effective communication is important to get you out of critical situations. While we may not get into situations like these too often in the real world, I will not be too surprised if it happens quite frequently in the virtual world. Information delivered on time and acted on accordingly will always give you an upper hand, and SteelSeries understand this. To take it beyond the usual means of information delivery, such as using your headphones or computer monitor, the renowned manufacturer of computer peripherals thinks they can do so with what is traditionally an input device as well: Your mouse. Featuring an OLED display and customizable tactile alerts for real-time information and notifications to aid you in critical decision making, the Rival 700 is simply not your ordinary mouse. Excited? We are as well.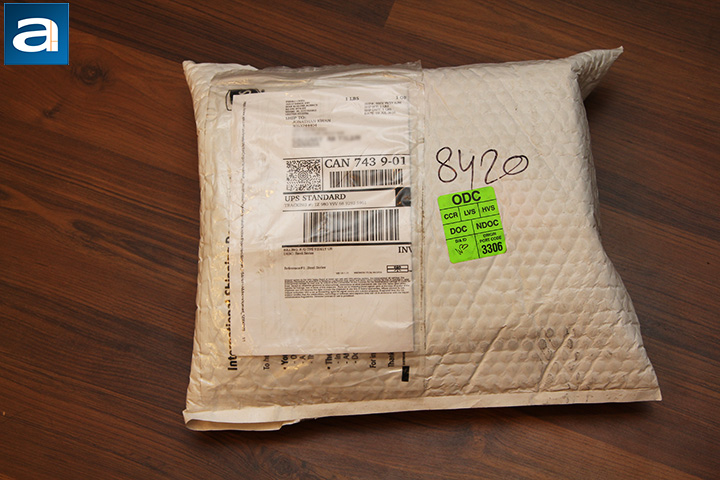 Our review unit of the SteelSeries Rival 700 came in a medium sized, padded white envelope from the company's public relations firm in Miami, Florida. I find it often interesting how SteelSeries' products arrives to us here in Calgary, Alberta, Canada from all over the USA, but Miami is definitely a first for us. Using UPS Standard, everything appeared to have been handled well through its trip from the Sunshine State to us where igloos and polar bears are, and with the mouse arriving safely and securely for our review today, I got straight to work.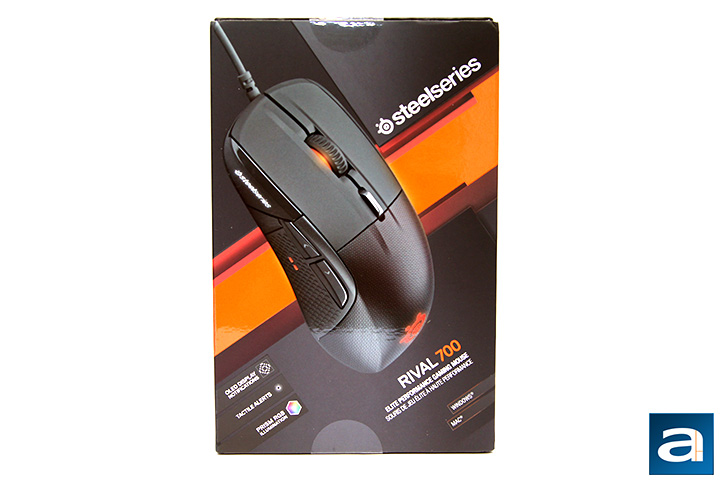 The retail box design for the Rival 700 carries forward the company's latest design theme first seen in the Rival 100. The revised layout and format is more stylish and modern; the black and dark grey background is accentuated by a sharp orange band crossing at an angle, complete with predominantly white text printed on the box all oriented at the same 45-degree angle. A photo of the mouse itself can be seen occupying the majority of the box. There is one slogan that describes the SteelSeries Rival 700 in front, and that is "Elite Performance Gaming Mouse" in two different languages. More detailed descriptions are at the back. If I were to see the SteelSeries Rival 700 in a retail store, I would not mistake it for any other brand.
Before we move on, let us take a look at the specifications of the SteelSeries Rival 700, as obtained from the manufacturer's website:
Material: Matte Top Cover
Ergonomic, Right-Handed
Grip Style: Palm, Claw, and Fingertip
Number of Buttons: 7
SteelSeries Switches: Rated for 30 Million Clicks
Reinforced Left and Right Clicks
Weight: 135g, 0.3lbs
Height: 124.85mm, 4.92in
Width: 68.46mm, 2.70 in
Depth: 41.97mm, 1.65in
Short cable length (non-braided): 1m, 3.28 ft
Long cable length (braided): 2m, 6.5 ft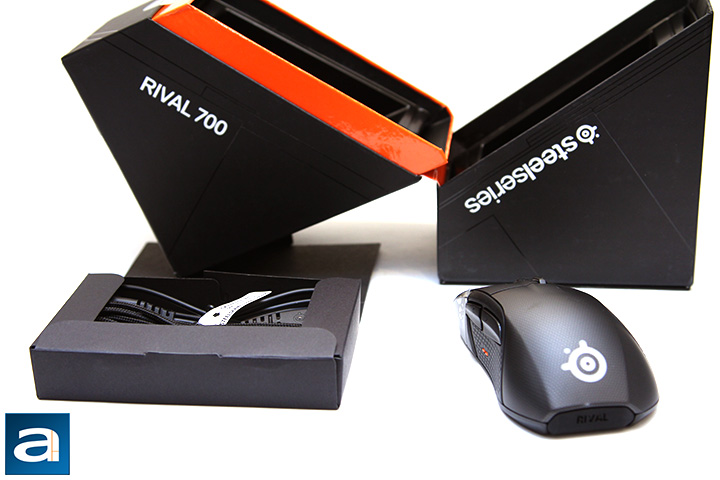 The retail box opens up in quite a stylish manner; somewhat reminding me of V-MODA's exquisite designs. Inside, you will receive the SteelSeries Rival 700 mouse and two cables, and that is about it -- more on the cables later. The software can be downloaded from SteelSeries' website. The file size of SteelSeries Engine 3.8.3 (The latest version at press time) is 106MB, but I am willing to bet a vast majority of the users who are interested in this mouse will have a reasonably fast internet connection at home. It has sure grown in file size -- it was only 40MB a couple of years ago -- but it should not take more than a minute or so in download time nowadays.
---
Page Index
1. Introduction, Packaging, Specifications
2.
A Closer Look - Hardware and Software
3.
Subjective Performance Tests
4.
Conclusion