By: Jonathan Kwan
March 11, 2016
"I do not need a high end smartphone," my dad said, as he was shopping around for a new handset to replace his aging Nexus 4. "All I want is something with a performance camera, large high resolution screen, long battery life, and more storage capacity." I do not know about you, but I am pretty sure my dad pretty much just described a high end smartphone, despite saying he is not looking for a high end smartphone. Therefore, I jokingly replied, "I do not need a high end car. All I want is something with at least 500hp, premium leather, panoramic sunroof, heated and cooled seats, adaptive LED headlights, and navigation." I think his point of not looking for a "high end smartphone" was not related to the features, but rather, the price. We all crave for cutting edge performance and top end features, and hence why these things are desirable. However, there is always a limitation of how much more money people are willing to spend in order to get them. If one can get a product that meets all their requirements for less money than they expect, then we got a sale. Today, we will take a look at the SteelSeries Rival 100. The latest in the gaming company's lineup promises to deliver best in class performance. Featuring an optimized PixArt SDNS-3059-SS optical sensor with up to 4000 DPI sensitivity, Prism lighting engine, full customization via SteelSeries' excellent Engine 3 software, and a well-designed shell promising a great universal grip for all users, will you be taking this mouse home anytime soon for all it promises to deliver without a normally high end price tag? We took one in to see what $40 can buy you.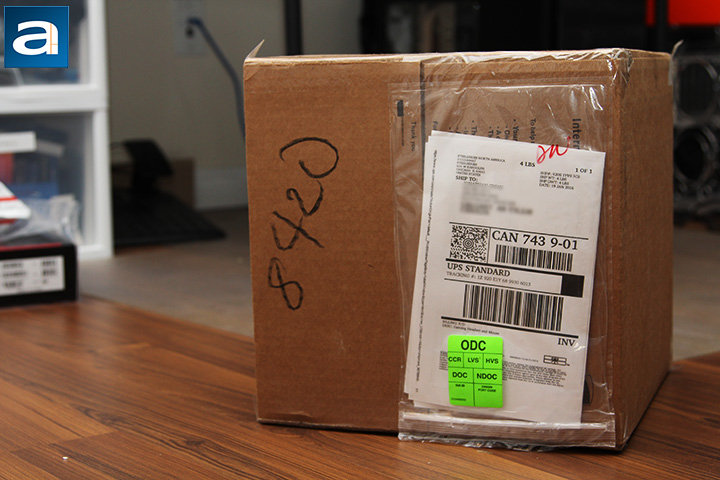 Our review unit of the SteelSeries Rival 100 came in a medium sized, relatively cubic brown corrugated cardboard box from the company's American offices in Chicago, Illinois. If you are wondering why a box of this size was used to transport such a compact peripheral, like many shipments we receive here at APH Networks, a Siberia 200 was also in the package. My colleague Ben Joubert will review that headset in the coming weeks. Using UPS Standard, everything arrived in perfect condition for our review today. We cut apart the packing tape, took out my dSLR camera, and got straight to work.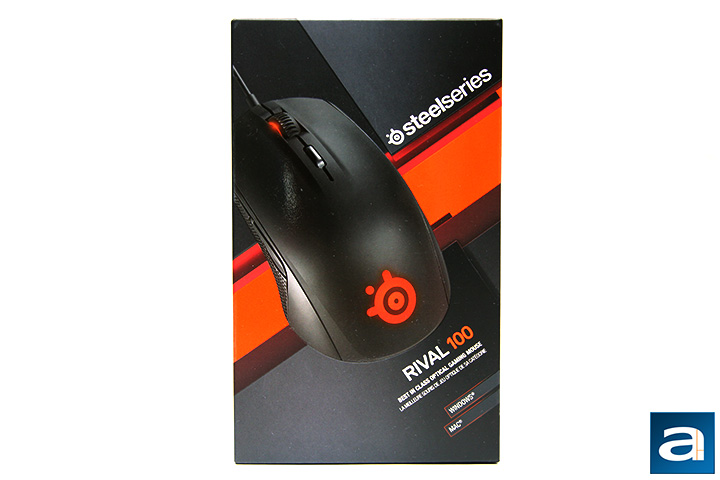 The retail box design for the Rival 100 has been updated since the last SteelSeries product we reviewed; namely, the Apex M800. The revised layout and format is a little more modern; the black and dark grey background is accentuated by a sharp orange band in the middle, complete with predominantly white text printed on the box all oriented at a 45 degree angle. A photo of the mouse itself can be seen occupying the majority of the box. There is one slogan that describes the SteelSeries Rival 100 in front, and that is "Best in Class Optical Gaming Mouse" in two different languages. More detailed descriptions are at the back. If I were to see the SteelSeries Rival 100 in a retail store, I would not mistake it for any other brand.
Before we move on, let us take a look at the specifications of the SteelSeries Rival 100, as obtained from the manufacturer's website:
Material: Soft Touch black, Glossy Colors
Ergonomic, Right-Handed
Grip Style: Claw or Finger-tip
Number of Buttons: 6
SteelSeries Switches: Rated for 30 Million Clicks
Weight: 120 g, 0.264 lbs
Height: 120.6 mm, 4.75 in
Width: 67.13 mm, 2.64 in
Cable Length: 1.8 m, 6 ft
Sensor Name: SDNS-3059-SS
Sensor Type: Optical
CPI: Increments from 1 to 4000
IPS: 140
Acceleration: 20 gs
Polling Rate: 1 ms
Zero Hardware Acceleration
Tracking Accuracy: 1:1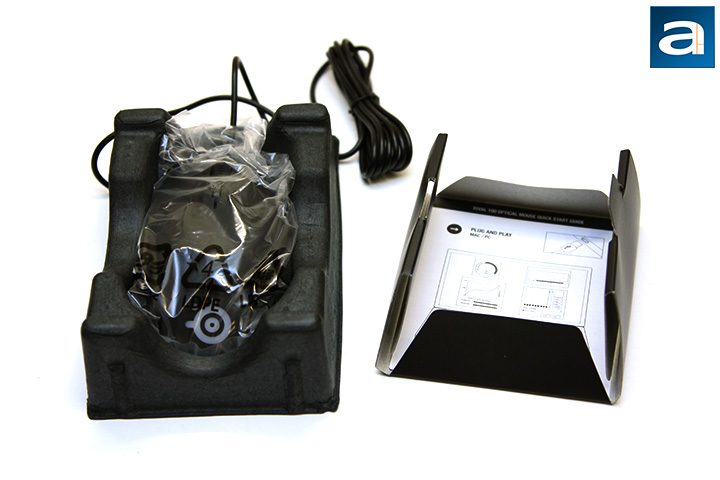 Out of the box, you will receive the SteelSeries Rival 100 mouse, along with a quick start guide, and that is about it. The software can be downloaded from SteelSeries' website. The file size of SteelSeries Engine 3.6.6 (The latest version at press time) is 82MB, but I am willing to bet a vast majority of the users who are interested in this mouse will have a reasonably fast internet connection at home. It has sure grown in file size -- it was only 40MB a couple of years ago -- but it should not take more than a minute or so in download time nowadays.
---
Page Index
1. Introduction, Packaging, Specifications
2.
A Closer Look - Hardware and Software
3.
Subjective Performance Tests
4.
Conclusion