By: Aaron Lai
December 23, 2022
One thing that is interesting to me is to see the shift in home design, at least in terms of its layout. The first home I lived in was a split level with a large living room that lead to our outer dining room. The kitchen was separated off with walls but accessible through two arched doorways. Our family would often eat inside the kitchen, as there was a smaller table, while the dining area was reserved for guests. The second home we lived in was a standard home made in the 2000s era, with a large open place for the kitchen and watching television. Another living and dining area was divided away, which we again used solely when entertaining guests. This allowed for more open space, although there was still some separation. My current place is a townhome with two distinct areas, one for the living room and another for kitchen and dining. Unfortunately, this means that my television is once again out of sight when I am cooking. One thing that does make my home feel a bit more open is the taller ceiling on the main floor. A few of my friends have moved into newly built houses in the past year, and their homes have both open areas on the main floor as well as high ceilings. Obviously, what you prefer is subjective, with pros and cons to partitioning in the home. On the other hand, the move to openness is a common trend in computer cases. We have clearly seen the removal of separation in computer cases to the point where most chassis are just a single area to hold everything. However, what happens when you take out even more? Today, we have the Thermaltake Core P3 TG Pro Snow, a fully open case with barely any walls. What is the use case, no pun intended, for this design and what does this openness enable? Let us read on to find out!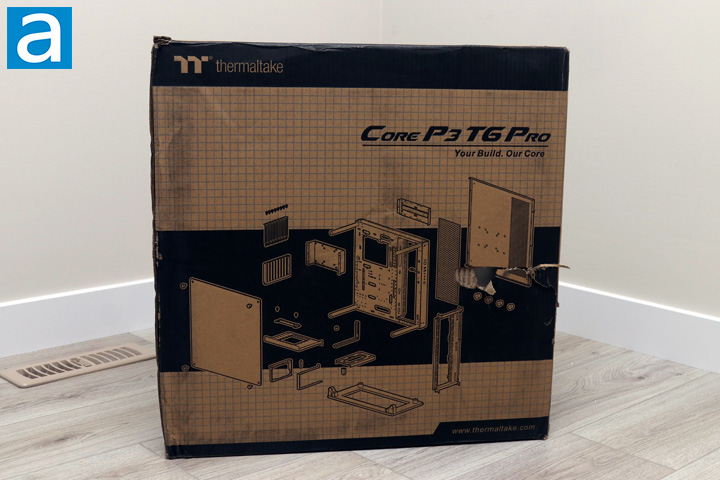 Today's review unit of the Core P3 TG Pro Snow arrived from Thermaltake's offices in City of Industry, California. Traveling with UPS and their Standard ground service, this box arrived in average condition with some bumps and bruises along the corners and a large hole in the middle of the box. It seems like this box arrived in a bit worse for wear, but thankfully everything inside is intact. One thing that is interesting is the fact this box is much slimmer than what we received when we got the Core P6 TG Snow. However, this is because everything comes in pieces for you to assemble, as you can see on the box image itself. Around the box, we have more specifications and features of the Core P3 TG Pro Snow printed on the panels.
Below are the specifications from the manufacturer's website for your viewing pleasure:
CASE TYPE: Mid Tower
DIMENSION (H X W X D): 535 x 268 x 500 mm (21.06 x 10.55 x 19.69 inch)
NET WEIGHT: 12.5 kg / 27.6 lbs.
SIDE PANEL: 4mm Tempered Glass x 1
COLOR: White
MATERIAL: SPCC
EXPANSION SLOTS: 8
MOTHERBOARDS: 6.7" x 6.7" (Mini ITX), 9.6" x 9.6" (Micro ATX), 12" x 9.6" (ATX), 12" x 10.5" (E-ATX)
I/O PORT: USB 3.2 (Gen 2) Type-C x 1, USB 3.0 x 2, HD Audio x 1
PSU: Standard PS2 PSU (optional)
FAN SUPPORT:
Right (M/B Side):
- 3 x 120mm, 2 x 120mm, 1 x 120mm
- 3 x 140mm, 2 x 140mm, 1 x 140mm
Bracket (front or top):
- 3 x 120mm, 2 x 120mm, 1 x 120mm
- 3 x 140mm, 2 x 140mm, 1 x 140mm
RADIATOR SUPPORT:
Right (M/B Side):
- 1 x 360mm, 1 x 240mm, 1 x 120mm
- 1 x 420mm, 1 x 280mm, 1 x 140mm
Bracket (front or top):
- 1 x 360mm, 1 x 240mm, 1 x 120mm
- 1 x 420mm, 1 x 280mm, 1 x 140mm
CLEARANCE:
CPU cooler height limitation:
- 180mm
VGA length limitation:
- 330mm(With reservoir)
- 450mm(Without reservoir)
PSU length limitation:
- 200mm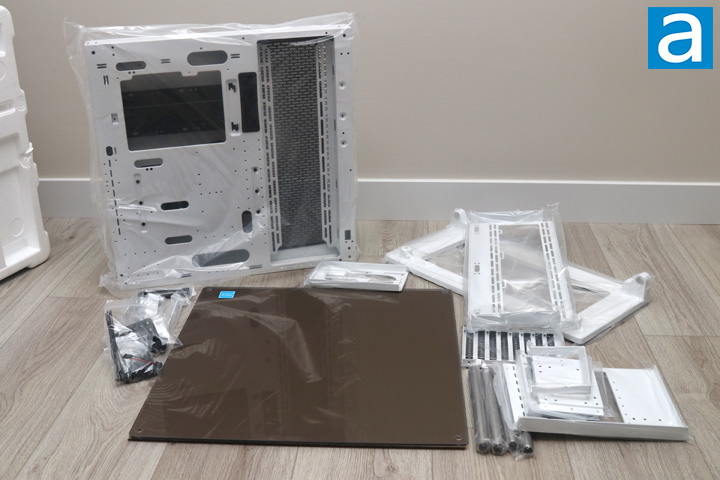 As aforementioned, the Thermaltake Core P3 TG Pro Snow comes disassembled, and each distinct part is packaged in clear plastic bags. They slot into large Styrofoam brackets so everything is cushioned from any blows during shipment. The large tempered glass is sandwiched between two pieces of corrugated cardboard for further protection. I am quite impressed with how they are able to fit everything into such a slim package, as everything slots nicely into the brackets. Otherwise, we also have many small bags for different accessories and screws for the installation process. There are some manuals to help with the assembly process, although this documentation is limited in its instructions. We will explore this procedure later on.
---
Page Index
1. Introduction, Packaging, Specifications
2.
Physical Look
3.
Assembly
4.
Installation and Conclusion