By: Aaron Lai
November 5, 2021
Over the past year, I decided I should do something about my teeth and its alignment. I had always grown up with crowded teeth and an underbite. It never affected my eating and I used to see it as just an appearance thing. When I was younger, I went to see an orthodontist but all I remembered was their given procedure, which included literally breaking my jaw, realigning it, and hoping it would grow back properly. My least favorite part of this procedure was the fact that there was a chance this would not work. The thought of going through this, as a 10-year-old, was something I was not too keen to do. However, my colleague Jonathan Kwan told me about his own experience with his orthodontist, so I decided to check it out. After getting more information and assurance that they could fix everything without any invasive procedure, I decided to do it. At first, I was slightly concerned about the cost of the dental appliances. However, I also knew the benefits of having straight teeth in both maintaining oral health and helping with my self-confidence would be worth it. I still have a few more months to go with the aligners, but I can easily say the benefits have already been realized, as I have felt more comfortable with my smile. While the cost is truly there, I do not think I would go back on this decision. In a similar line of thought, today we have the Thermaltake Core P6 TG Snow, a large mid-tower case that comes in at a hefty price. What sort of benefits does it bring for the price we pay, and is it worth the cost? Let us read on to find out!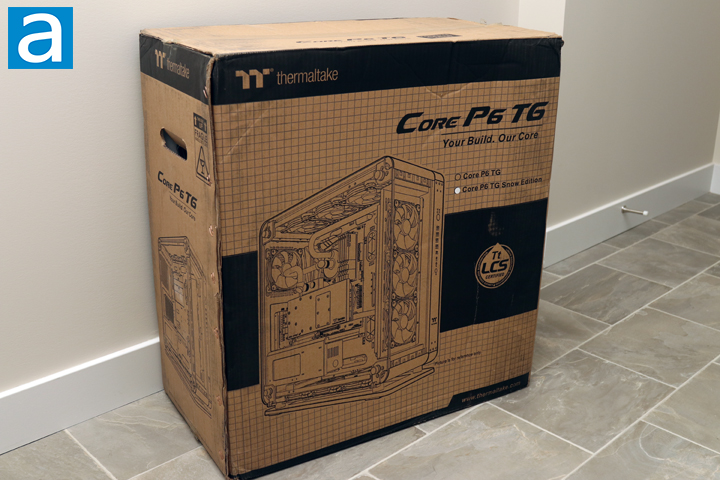 Today's review unit of the Core P6 TG Snow arrived from Thermaltake's offices in City of Industry, California. Traveling with UPS and their Standard ground service, this box arrived in a bit of a strange condition. Its exterior was generally clean, although there are a few scuff marks and bumps around the sides and corners. However, the most interesting thing is that the box was opened at the top. Nothing was missing and the inner contents arrived in a good condition, but it was a bit strange to receive an open container. The shipping container also doubles as the retail container, which is a standard brown corrugated cardboard box. Around the box is Thermaltake's logo at the top and the product name on the right side. Down the side, you can see the Core P6 TG is available in a standard black and the Snow edition we have today. In the middle we have an outline of the case inside, with a few pipes to possibly indicate its potential use for custom water loop builds. Around the edge, we have a few specifications and features for your information.
Before continuing on, I have grabbed the specifications from the manufacturer's website for your reading pleasure:
MODEL: Core P6 TG Snow
CASE TYPE: Mid Tower
DIMENSION (H X W X D): 565 x 255 x 530mm; (22.2 x 10 x 20.9 inch)
NET WEIGHT: 17.84 kg / 39.33 lbs.
SIDE PANEL: 4mm Tempered Glass x 3
COLOR: White
MATERIAL: SPCC
DRIVE BAYS: 4 x 3.5" or 8 x 2.5"
EXPANSION SLOTS: 7 (Rotatable Patented Design)
MOTHERBOARDS: 6.7" x 6.7" (Mini ITX), 9.6" x 9.6" (Micro ATX), 12" x 9.6" (ATX), 12" x 10.5"(CEB)
I/O PORT: USB 3.2 (Gen 2) Type-C x 1, USB 3.0 x 2, USB 2.0 x 2, HD Audio x 1
PSU: Standard PS2 PSU (optional)
FAN SUPPORT:
- Front: 3 x 120mm, 2 x 120mm, 1 x 120mm, 2 x 140mm, 1 x 140mm
- Top: 3 x 120mm, 2 x 120mm, 1 x 120mm, 2 x 140mm, 1 x 140mm
- Rear: 1 x 120mm
- Right (M/B Side): 3 x 120mm, 2 x 120mm, 1 x 120mm, 2 x 140mm, 1 x 140mm
- Bottom: 3 x 120mm, 2 x 120mm or 1 x 120mm, 2 x 140mm, 1 x 140mm
RADIATOR SUPPORT:
- Front: 1 x 360mm, 1 x 240mm, 1 x 120mm, 1 x 280mm, 1 x 140mm
- Top: 1 x 360mm, 1 x 240mm, 1 x 120mm, 1 x 280mm, 1 x 140mm
- Rear: 1 x 120mm
- Right (M/B Side):1 x 360mm, 1 x 240mm, 1 x 120mm, 1 x 280mm, 1 x 140mm
- Bottom: 1 x 240mm, 1 x 120mm
CLEARANCE:
- CPU cooler height limitation: 180mm
- VGA length limitation: 300mm (With Reservoir), 400mm (Without Reservoir), 430mm (With Radiator), 458mm (Without Radiator)
- PSU length limitation: 200mm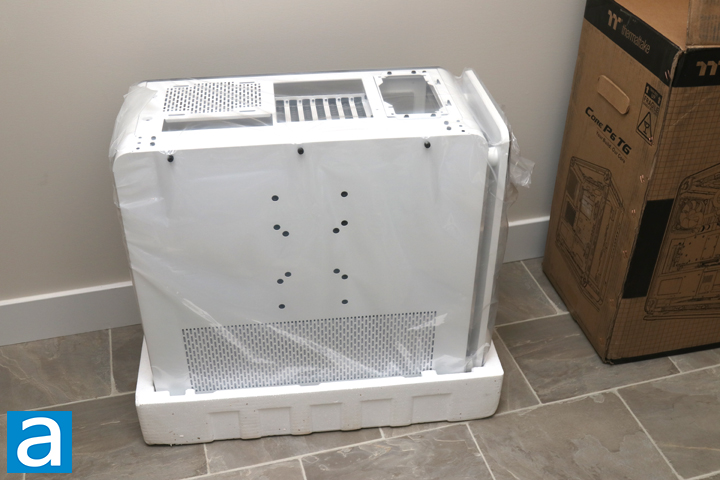 The Thermaltake Core P6 TG Snow was packaged in a decently thick plastic bag and sat between two thick white foam brackets. This foam did take the brunt of the damage during shipping, as some parts of the foam were a bit broken, but everything was still holding together. As this is a tempered glass case, there are plastic wraps found on both sides of each glass panel for extra protection. One thing I noted immediately as I took this case out of the box was how heavy it was, although we will explore the reasons for this as we move on in our inspections.
---
Page Index
1. Introduction, Packaging, Specifications
2.
Physical Look - Outside
3.
Physical Look - Inside
4.
Installation and Conclusion