By: Aaron Lai
September 9, 2022
Last month, I decided it was time to get air conditioning for my home. I know the decision to do so is pretty split, as my colleague Jonathan Kwan pointed out in his 1MORE True Wireless ANC review introduction in 2020. Some cannot live without it, while others think this is an unnecessary splurge in a city that will really only need relief from the heat for about two weeks in a year. While it is true that Calgary may be known more for its frigid winters than its hot summers, I have to say each year it seems like we have been getting more hot days that are hotter than the year before. As such, I went through the process of getting a consultation and an estimate for the cost. I tried not to look too shocked as I signed the line at the bottom. A few weeks later, the workers came in, installed the unit, and left. As I sat in my cool home for the first time, I took a photo and sent it to my family to reveal my excitement of coolness. Their first response was to ask about the cost, and then tell me the unit looked massive. I will say it is indeed quite big, but I could not really complain at that moment, especially with how chill I was feeling. After a month of use, my only wish is that I purchased this earlier. I am now a lot more comfortable in both my waking hours and while sleeping. I know some may turn away from the initial cost or the large physical size, but the benefits are present. In a similar vein, Thermaltake sent us The Tower 500, and the first thing that really shocked me was how large the enclosure is. It too comes with a pretty hefty price, but how does this translate into the building experience, compatibility, and final looks? Is this chassis a worthwhile purchase for prospective users? Let us read on to find out!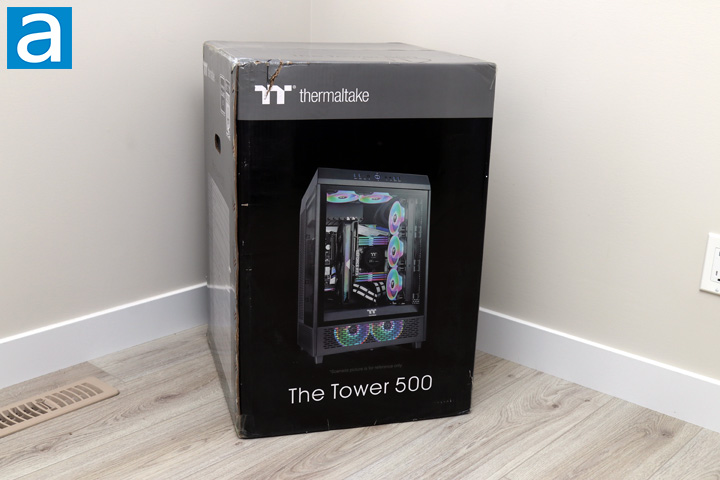 Today's review unit of the Thermaltake The Tower 500 arrived from Thermaltake's offices in City of Industry, California. Traveling with DHL and their Express Worldwide service, this box arrived in average condition with some notable scrapes at the top edge and bruising around the corners. This is not too surprising for a box this large. In fact, both my colleague Jonathan Kwan and I could not fit this box into the trunk of our cars, so I had to throw it over my backseat. It was shipped to our APH Networks location here in Calgary, Alberta, Canada. From the full-color panels, you can easily see the case printed on the front with a fully illuminated build inside. Obviously, The Tower 500 does not come with a full system inside, but one can only dream. Around the box, we have Thermaltake branding in several locations as well as the specifications and features on one panel. The product name can be found at the bottom of the front panel as well. While we received the black version, there is also a white The Tower 500 available.
Before we continue, I have grabbed the specifications from the manufacturer's website for your perusal:
SERIES: The Tower
CASE TYPE: Mid Tower
DIMENSION (H X W X D): 608 x 388 x 398 mm (23.9 x 15.3 x 15.7 inches)
NET WEIGHT: 14.8 kg / 32.6 lbs.
SIDE PANEL: 4mm Tempered Glass x 3
COLOR: Black
MATERIAL: SPCC
COOLING SYSTEM:
- Rear(exhaust): 120 x 120 x 25 mm Standard fan (1500rpm, 35.8 dBA) x 2
EXPANSION SLOTS: 9
MOTHERBOARDS: 6.7" x 6.7" (Mini ITX), 9.6" x 9.6" (Micro ATX), 12" x 9.6" (ATX), 12" x 12" (E-ATX)
I/O PORT: USB 3.2 (Gen 2) Type-C x 1, USB 3.0 x 4, HD Audio x 1
PSU: Standard PS2 PSU (optional)
FAN SUPPORT
- Top: 2 x 120mm, 1 x 120mm, 2 x 140mm, 1 x 140mm
- Right Side: 3 x 120mm, 2 x 120mm, 1 x 120mm
- Rear: 2 x 120mm, 1 x 120mm, 2 x 140mm, 1 x 140mm
- Power Cover: 2 x 120mm, 1 x 120mm, 2 x 140mm, 1 x 140mm
- Bottom (Vertical/Horizontal): 2 x 120mm, 1 x 120mm
RADIATOR SUPPORT
- Top:1 x 240mm, 1 x 120mm, 1 x 280mm, 1 x 140mm
- Right Side: 1 x 360mm or 1 x 360mm Custom LCS radiator (max length 399mm), 1 x 240mm, 1 x 120mm
- Bottom(Vertical/Horizontal): 1 x 240mm, 1 x 120mm
CLEARANCE
- CPU cooler height limitation: 275mm
- VGA length limitation: 325mm(With power cover), 355mm(Without power cover)
- PSU length limitation: 200mm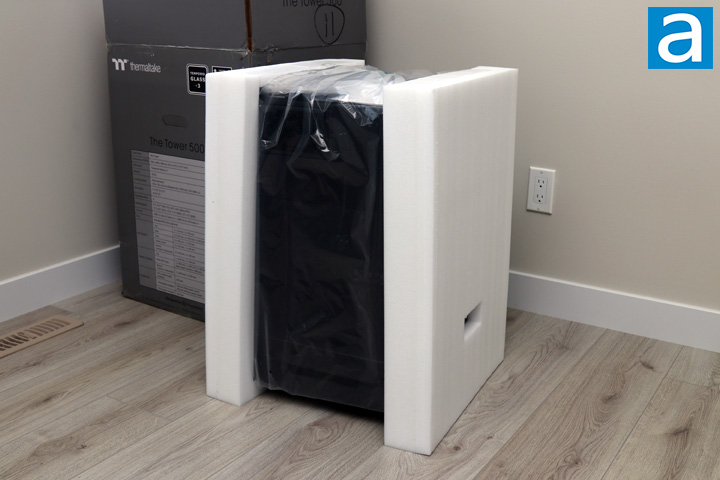 I know it is a bit difficult to see the scale of how large the Thermaltake The Tower 500 is, but you can see how tall it is over the electrical outlet on the wall. Due to this size, Thermaltake has packaged this enclosure a bit differently with two large and thick foam panels on each side to cushion any blows this might take while in transit. The case is also wrapped in a clear plastic bag that is thick to prevent any surface scratches. All of the glass panels are covered in clear wrap on both sides to ensure there is no scratches on the glass.
---
Page Index
1. Introduction, Packaging, Specifications
2.
Physical Look - Outside
3.
Physical Look - Inside
4.
Installation and Conclusion