By: Aaron Tam (Guest Writer)
September 6, 2013
Hello, this is and will be my very first review I have ever done related to computers in general. Let me start with a little history of myself, just so you know what sort of perspective you can expect as the audience. The first time I ever sat down and used a computer was sometime in the late 90's, where I would be the happiest kid in the world playing 3D Pinball Space Cadet. But it wasn't until 2006 when I received my very first personal computer. This very first computer of mine turned out to be my companion for the next six years before retiring in 2012, and I still have it, although it doesn't run anymore. So where does my experience with computers come from? My dad was the one who would update his components here and there one by one, and like any son, I wanted in on whatever he was doing -- "like father, like son", right? As the years went by, I started to insist on what needed to be upgraded, and took the role of managing his computer rather than being the apprentice. Fast forward to today, here I find myself writing a review about Thermaltake's Armor Revo Gene, a ballin' mid-tower gaming chassis that will set you back an astounding $189.99. Regardless of what the price is, the real question is: Is it worth the cash? Be a real bang for the buck? Or will you be better off steering towards another direction? Read on to find out!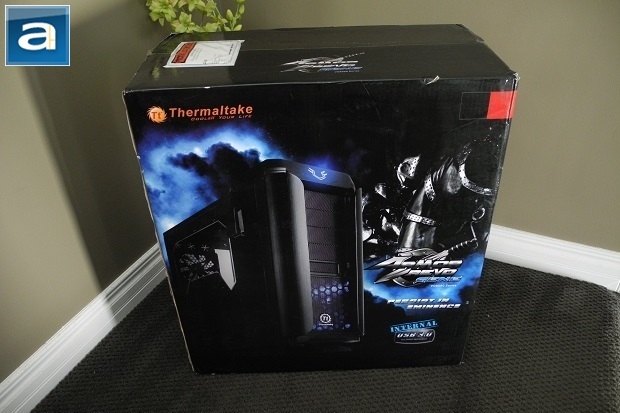 So you might be wondering to yourself how a computer case ended up in my living room, waiting to be reviewed by someone like me. Well, to make a long-story short, I dropped by the APH Networks HQ in Calgary that is built on a foundation of not concrete, but computer cases. The Thermaltake Armor Revo Gene was originally shipped safe and sound using UPS Standard to Cowtown, and I hauled it back here to Edmonton three hundred kilometers north in my trunk after Editor-in-Chief Jonathan Kwan offered me the opportunity for review.
The retail box of the Armor Revo Gene is in the unmistakable blue-black color pattern that distinctively reminds you of the standard Thermaltake design. On the packaging, we have a preview of the chassis taking up the left portion of the box, standing prominently on feet, showing off the wing shape aluminum front bezel. Next to it is a figure emerging from the blue fog: A knight in shining armor on his steed that is also covered in a matching outfit. "Persist in Eminence" is the slogan and is captured within the design. In comparison with my beloved knight, we have the winged bezel representing the medieval helmet, and the elevated profile that is given to the chassis by the foot stands at each corner as the steed. Turn the box around, and there is an upper profile of the case. Somehow, I thought there would be a set of features to educate us on what we could expect. Instead, it is crammed on the side in thirteen different languages without any thumbnails. Maybe that is the reasoning behind the two different profiles on the box; so we could end up searching for them ourselves. For all I know, in an amateur's point of view, I would love some thumbnails.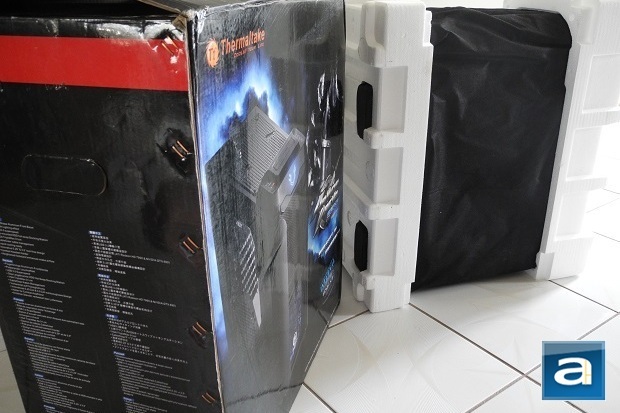 Upon opening the box and removing the knight from his estate, we find the Thermaltake Armor Revo Gene packed in between two giant pieces of Styrofoam to keep it from any rough journeys along the way to the designated consumer location. To preserve the integrity of the chassis and protect it from any harm that may have entered the box, Thermaltake covered the case within a black fabric bag.
Before we head on with our review, let us take a look at the specifications of the Armor Revo Gene, as obtained from Thermaltake's website:
- Case Type: Mid Tower
- Dimension: (HxWxD) 510 x 252 x 550 mm (20 x 9.9 x 21.6 inch)
- Net Weight: 7.8 kg/17.2 lb
- Side Panel: Transparent Window
- Color Exterior & Interior: Black
- Material: SECC
- Cooling System: 200 x 200 x 20 mm Blue LED fan x 1 (600rpm, 13dBA, front intake), 120 x 120 x 25 mm Turbo fan (1000rpm, 16dBA, rear exhaust), 200 x 200 x 30 mm fan x 1 (600rpm, 13dBA, top exhaust), 200 x 200 x 30 mm fan or 140 x 140 x 25 mm fan x 1 (optional, side intake), 120 x 120 x 25 mm fan (optional, bottom intake)
- Drive Bays - 4 x 5.25'', 1 x 3.5'' (accessible), 5 x 3.5'' or 2.5'' (hidden), 1 x 3.5'' or 2.5''(HDD Docking)
- Expansion Slots: 7
- Motherboards: 9.6" x 9.6" (Micro ATX), 12" x 9.6" (ATX)
- I/O Ports: USB 3.0 x 2, USB 2.0 x 2, HD Audio x 1
- PSU: Standard PS2 PSU
- LCS Upgradable: Supports 1/2"、3/8"、1/4" water tube
- CPU cooler height limitation: 175mm
- VGA length limitation: 315mm
---
Page Index
1. Introduction, Packaging, Specifications
2.
Physical Look - Outside
3.
Physical Look - Inside
4.
Installation and Conclusion