By: Jonathan Kwan
April 7, 2007
Personally, I have to admit, I am not a big fan of notebook coolers. With regards to the fact that laptops do often generate their own share of heat, from my experience the energy exerted from the computer is within my tolerance level. However, laptop heat dissipator manufacturers are in a big business -- and you'll find a large variety of them on the market today. The most common are plastic or aluminum constructed rectangular prisms with a couple of fans to move heat -- this moving air -- away from the heat source. However, while they may be effective, they are not very portable; and for on-the-go users you'll want the most out of your battery. To use the chemical retained energy to both generate heat and dissipate heat may not be the best idea yet. Thermaltake, one of the largest computer cooling and related manufacturers in the world, recently released their Thermaltake iXoft notebook cooling pad. Without the use of mechanical means to artificially remove heat, the designers have implemented chemical means instead. Today, we'll investigate into how it works, and most importantly, how important it works. Trust me, this may prove to be very interesting, and possibly educational (Editor's note: Definitely educational)!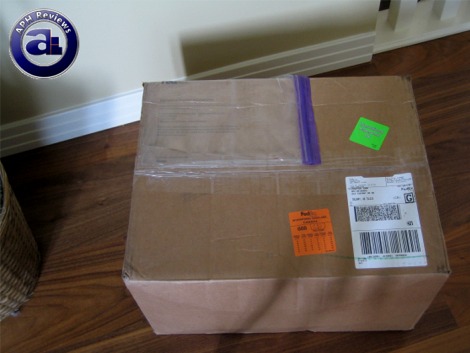 Our package containing the Thermaltake iXoft came in an unusually large and light box using FedEx Ground. It was literally very light, and definitely caught my attention with such a large box. It's a way to make us excited enough to open it up to see what's taking up so much room, haha.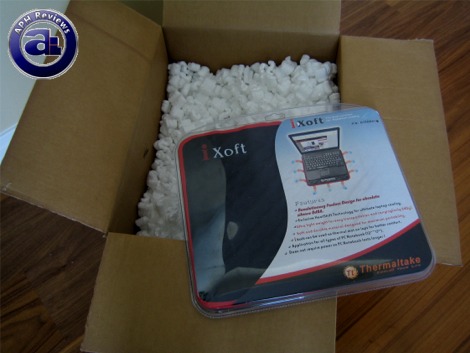 I was extremely surprised at the amount of styrofoam packing peanuts utilized to protect the Thermaltake iXoft. Our evaluation unit arrived in retail packaging -- after all, there's nothing really to possibly damage regardless of how rough shipping torture may be -- but it's always nice to see manufacturers taking very good care of the products so it arrives in more than excellent condition. And the Thermaltake iXoft's retail packaging itself did not experience any damage either. Woot!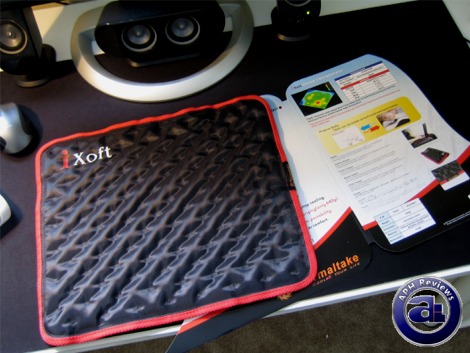 Out of the blister pack, you will get a unit of the Thermaltake iXoft. The Thermaltake iXoft, at time of reviewing, was available in either black or white. Our unit is the black version. There's nothing else included besides the wraparound cardboard feature sheet that's designed to be viewable from the outside of the clear plastic packaging.
Knowing how much I hate opening blister packs (I assume the same goes with you as well), I just grabbed a boxcutter and cut it open. I am not too inspired by any other ideas.
The design of the Thermaltake iXoft is quite simple; our black unit has a red border with "iXoft" written on the top left corner, and a Thermaltake tag on the right edge. Because the Thermaltake iXoft contains a salt inside (More on this on Page 2 of this review), it can be folded even when it's in a solid state. This creates very convenient and easy transportation. There's nothing to worry about besides ripping the whole thing apart. And you're going to have to be very rough to do that!
Before we move on, let's take a look at the specifications of the Thermaltake iXoft, as obtained from Thermaltake's site:
Weight: 640g
Dimension: 353x305x12mm
Material: Sodium Sulfate Decahydrate Na2SO4.10H2O
Noise Level: 0 dBA
The weight is 640g. Not bad at all for a laptop cooling pad!
---
Page Index
1. Introduction, Packaging, Specification
2.
A Closer Look, Usage
3.
Testing and Conclusion