By: Jonathan Kwan
March 9, 2007
Although there is a great assortment of hard disk enclosures in the market today, the major issue that exists between the different models from various manufacturers is not necessarily just limited to performance and price -- the excessive competition already regulates this well enough. However, one very prominent problem that we've seen so far is compatibility. IDE enclosure? No SATA compatibility. USB or eSATA? Loud fan? Whoa... slow down, we'll need to solve all that one by one. Or do we? Let's check out Thermaltake's new Silver River DUO enclosure today -- the enclosure that supports both PATA and SATA for internal interfaces, with eSATA and USB for the external connection.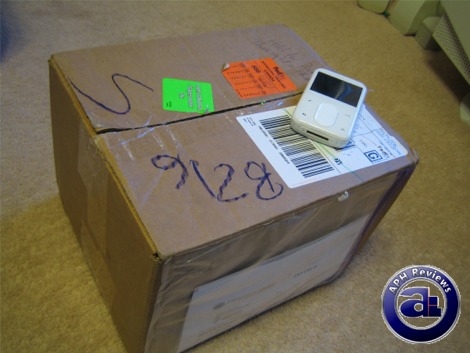 Our review unit came in a pretty large box filled with styrofoam packing peanuts using FedEx Ground. Unfortunately, as I've recently moved, it got sent to my old house -- but the positive thing is that I was in town that week, so I had a chance to pick it up from FedEx Ground's warehouse. It's located in quite an odd place, in a semi-out-of-town area where a lot of light industrial/warehouses are located. I never knew that the FedEx Ground and FedEx Express had different locations...and, I digress.
On the positive side, after I picked it up, I realized Peter from Thermaltake said that he sent me another unit to my new address. We'll be getting two of these, and wouldn't it be so great if this could constitute our next contest!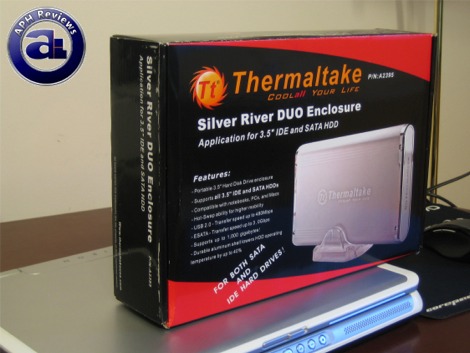 Out of our large FedEx box is Thermaltake's retail packaging for their Silver River DUO enclosure. Features are listed in front of the box; while caption-ized images as well as specifications are located at the back. The Thermaltake Silver River DUO comes with 3-year warranty as well, according to the box. Cool.
Let's take a look at the specifications before we move on, as obtained from Thermaltake's site:
Features
- Portable 3.5" Hard Disk Drive enclosure
- Supports all 3.5" IDE and SATA HDDs
- Compatible with notebooks, PCs, and Macs
- Hot-Swap ability for higher mobility
- USB 2.0 - Transfer speed up to 480Mbps
- ESATA - Transfer speed up to 3.0Gbps
- Supports up to 1,000 gigabytes!
- Durable aluminum shell lowers HDD operating temperature by up to 40%
Specifications
Model: A2395
Size: 3.5"
Interface: ESATA or USB2.0
ATA Compatibility: ATA6 and SATA
Supported HDD: 3.5" IDE and SATA
Material: Aluminum
Power LED Indicator: Red
Maximum Supported Capacity: 1,000GB
Data Transfer Rate: Up to 480MBps for USB; Up to 3.0GBps for ESATA
Operating System: Win 98SE / 2000 / XP; Mac OS 8.6 up
Unit Size: 217 x 124 x 33 mm
Net Weight: 400 g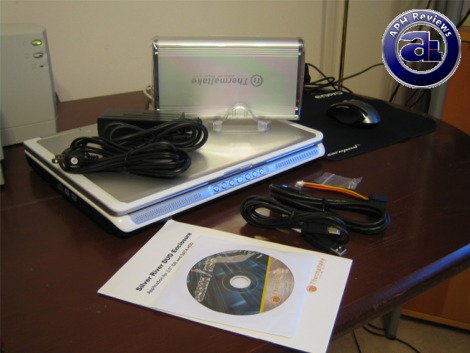 Out of the box, you will receive the Thermaltake Silver River DUO itself, stand, a USB cable, an eSATA cable, power cable for connection with power brick (Included), manual and driver CD for legacy operating systems, internal IDE and SATA adapters (With power adapters), four screws, and most interestingly, a screwdriver. Now that's really usable out of the box -- you don't even need to worry about the screwdriver. How useful!
The only thing missing will be the hard drive, haha.
The weird thing about the packaging is the drive stand is at the top of the enclosure by default, and you'll have to manually relocate it to the bottom. Initially, I thought it was just an isolated thing, but after opening two packages of the Thermaltake Silver River DUO, I can confirm this is true; however, it's just worth a mention, nothing important.
Anyway, the Thermaltake Silver River DUO is available in both silver and black. I have both; and personally I like silver better as it seems to be more sleek and clean in my opinion.
---
Page Index
Page 1 - Introduction, Packaging, Specifications
Page 2 - A Closer Look, Installation
Page 3 - Test System, Benchmark Results
Page 4 - Conclusion