Page 3 - Physical Look - Inside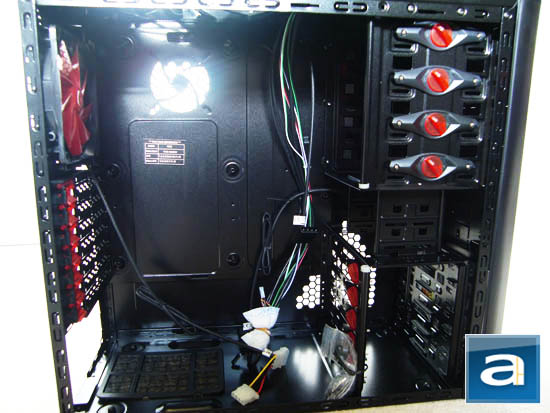 With the left side panel removed, the interior workings of the V9 Black are revealed. For a smaller mid tower case, the V9 Black has quite a bit of room on the inside to work with your components. However, what I find lacking immediately are holes for cables to be routed behind the motherboard tray. As we move on towards motherboard mounting mechanisms, you can see that there are six integrated ATX motherboard stand offs. If you are using an ATX motherboard, you will not need to install any motherboard standoffs as those are integrated into the chassis itself already. As a side note, the motherboard tray on this particular case is not removable -- just to note, as this is not out of our expectations. The V9 Black has support for up to and including 10.5" video cards. Any cards longer than that, such as the recently released ATI HD 5870, may not fit. At the very bottom, as stated on the previous page, is the power supply bay. Thermaltake has included a bottom dust filter to filter out any dust that may be on your desk, and could potentially be drawn into your system. We can also see that all of the fan cables are sleeved, save for the front panel connector wires. It is kind of strange that they would go through the trouble to sleeve the fan cables, but neglect to sleeve the front panel connector and USB connector cables. All in all, it;s quite a standard ATX case layout.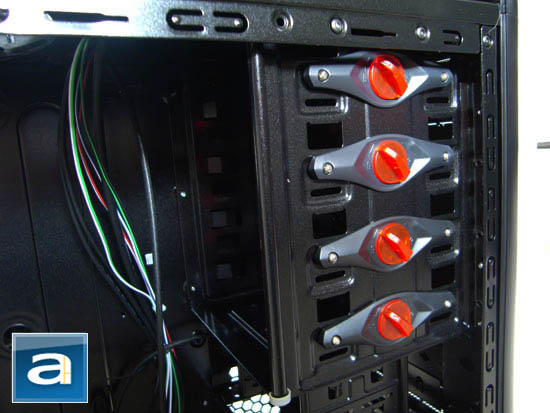 At the top right of the V9 Black is a 5.25" drive mounting mechanism. It is apparent that it is a 100% tool-free installation system. All you have to do is turn that knob 180 degrees, insert your 5.25" drive, insert the locking mechanism, and turn the knob 180 degrees in the opposite direction to lock it again. Despite my dislike for some tool-free installation systems, as often times it isn't quite secure enough, Thermaltake has done a very good job here in designing a mechanism that mounts my DVD writer very securely. Below that, we have the external 3.5" drive bays. Unlike the 5.25" drive bay, this does not feature tool-free installation mechanisms.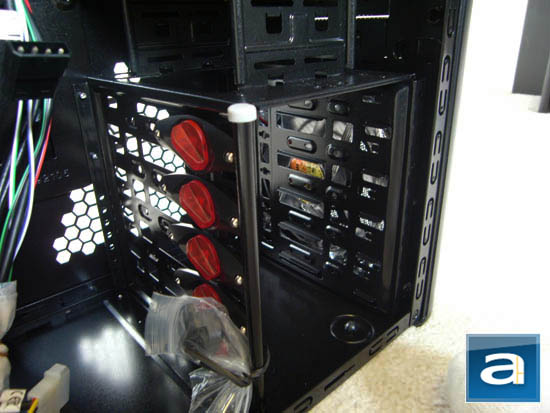 At the very bottom right behind the front 120mm intake LED fan is the internal 3.5" drive bay. The V9 Black allows you to be able to install up to five 3.5" internal drives, which for me is more than enough. But keeping those with more than five internal 3.5" drives in mind, what I think would have been a better setup would be, instead of having two external 3.5" drive bays, extend the internal 3.5" drive bays up, and increase support one more internal drive. Like the 5.25" drive bays, the 3.5" internal drive bays features a tool-free mechanism, with essentially is the same design as the above. Although secure enough, I found that the hard drives are only secured on one side with this mounting mechanism. It would have been nice for Thermaltake to somehow design it so that the drives are secured from both sides. As well, there is no support for any 2.5" drives. So if you happen to have a 2.5" HDD or SSD, you will need to purchase a 2.5" to 3.5" drive adapter.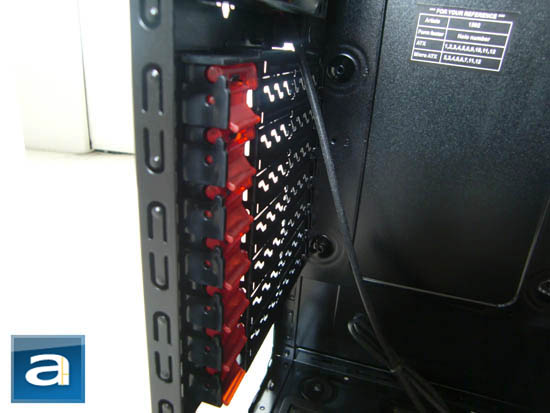 At the very rear of the case, below the I/O panel, we have the seven expansion slots that again features tool-free installation. Unlike the 3.5"/5.25" drive tool-free locking system, I find that the expansion slot locking mechanism is not quite strong enough to hold a video card in place. There is quite a bit of a wiggle with my ATI Radeon HD 4870. I would have gladly sacrificed a tool free installation in exchange for a more secure mounting system for my video card, and any other expansion cards.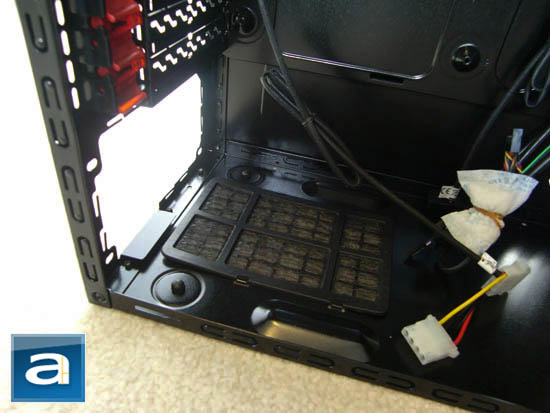 As mentioned before many times, the V9 Black features a bottom power supply bay location. Thermaltake has included a bottom mounted dust filter to prevent dust from being drawn into the case from the bottom. I noticed that they also have risers at the bottom to give the power supply some clearance between the bottom panel. What that allows is just a bit of space for the fan to intake air, instead of having the power supplies with bottom mounted 140mm fans to flush with the lower dust filter.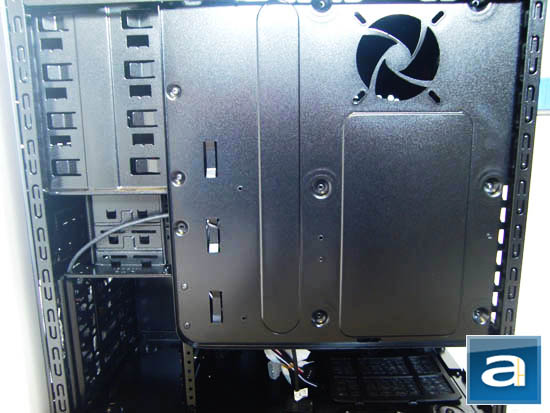 As we turn the case around and take a look behind the motherboard tray, what we find lacking immediately are two things. Firstly, holes for cable management are not present, as aforementioned. This means that when your bottom mounted power supply needs to reach the 4-pin ATX/8-pin EPS connector -- usually at the top left of the motherboard -- what you will need to do is run the CPU power connector from the bottom of the case, over your video card and maybe even over your heatsink. Secondly, what we see at the top right, where the back of the CPU socket is supposed to be, is a hole for a 70mm fan to be mounted. In order for your back side panel to be able to close, this 70mm fan will need be a low profile one. As Thermaltake has opted for the 70mm fan mounting spot, there is no cutout on the motherboard tray for any CPU heatsink back plate installation. If you need to add/change your CPU heatsink backplate, you will need to remove your motherboard altogether.
---
Page Index
1.
Introduction, Packaging
2.
Physical Look - Outside
3. Physical Look - Inside
4.
Installation and Conclusion