By: Anthony Kwan
December 12, 2009
Whether we like taking part in it or not, gaming is a huge part of the PC industry. So huge, in fact, that millions are spent each year for research and development into the latest games. And even more R&D is spent each year on improving hardware in a way that gaming experience is improved. Gaming hardware requirements are advancing at a pace like never before, with games like Crysis constantly pushing the latest hardware to its limits. The chassis market must also keep up with the ever changing demands of even the most casual gamer, as well as satisfying the needs of the hardcore enthusiast. Like most gaming cases already available on the market, a gaming case must have two things. Firstly, adequate cooling -- which is required to provide good airflow to hot running, and maybe even overclocked, computer parts. Secondly, it must be aesthetically pleasing, because let's face it -- no one wants to have the most expensive hardware available put in a case that they're embarrassed to show on their desk. This is where Thermaltake comes in. Today, we'll be looking at the Thermaltake V9 Black Edition. As the name suggests, this is an all black version of the Thermaltake V9. Will this case provide the cooling and aesthetic balance that gamers need, or will it be too pricey to appeal to even the casual gamer? Will Thermaltake succeed or fail in winning the hearts of casual and hardcore gamers alike? Read on to find out!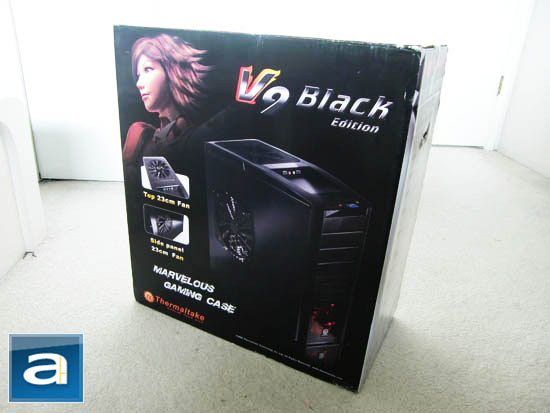 Reminiscent of the Thermaltake Element G that I reviewed back in July, our V9 Black Edition came in a retail box shipped via UPS Standard from City of Industry, California; Thermaltake's American headquarters. At around 18 pounds, our package came in pretty good condition with only a few nicks and scratches on the box. This is to be expected from a shipped parcel haha. As standard with Thermaltake chassis packaging, the box also came with punch out handles for easy carrying. Not only does this greatly reduce the damage inflicted from shipping and handling, but in a retail sense it also enables those buying this case from a retail store to be able to carry it out to their cars easily. Good on Thermaltake for not only protecting their own product during delivery, but also keeping the consumer in mind and giving them an easy-to-carry retail packaged box. The retail box is colored black on all sides with the words "V9 Black Edition" on the side. Thermaltake has decided to advertise the addition of a side 23cm fan; just one of the improvements that the Black Edition has over the V9. Along with the pictures of the two large fans that comes with the case, there are the words "Marvelous Gaming Case" in italicized font at the bottom left, as well as the Thermaltake logo.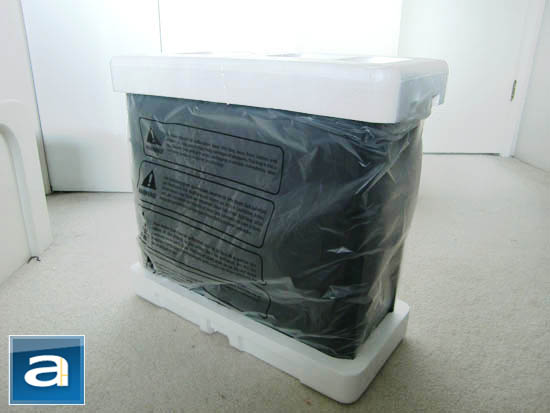 After removing it from the retail packaging, we are met with the Thermaltake V9 Black Edition; sandwiched between two large pieces of Styrofoam. These two Styrofoam brackets enable the case to be held snug inside the retail box until it is delivered to the customer. Surrounding the chassis, we can see that Thermaltake has smartly wrapped the case in a large plastic bag prior placing it into the box for additional protection. Although not as glamorous as the blue cloth material used in our Element G review, plastic does its job just fine in preventing the case from sustaining any scratches or dents during the shipping process.
As usual, before we continue on with the review, we are going to take a look at the specifications of the V9 Black Edition, as obtained from Thermaltake's website:
Case Type: Middle Tower
Material: SECC
Front Bezel Material: Plastic
Color: Black
Side Panel: Solid w/ 23cm side fan
Motherboard Support: ATX, M-ATX
Motherboard Tray: No
5.25" Drive Bay: 4
Int. 3.5" Drive Bay: 5
Int. 2.5" Drive Bay: None
Ext. 3.5" Drive Bay: 2
Expansion Slots: 7
Front I/O Ports: USB 2.0 x 2, HD Audio
Fans:
- Front (intake): 120 x 120 x 25mm Red LED fan, 1300rpm, 17dBA
- Front (intake): 140 x 140mm fan (optional)
- Rear (exhaust): 120 x 120 x 25mm TurboFan, 1300rpm, 17dBA
- Top (exhaust): 230 x 230 x 20mm Silent fan, 800rpm, 15dBA
- Side (intake): 230 x 230 x 20mm silent fan, 800rpm, 15dBA
- Motherboard tray (intake): 70 x 70 x 10mm fan (optional)
Liquid Cooling Capable: Yes
Liquid Cooling Embedded: No
Power Supply Supported: Standard ATX PS2
Power Supply Included: No
Dimensions (H*W*D): 18.19 x 8.19 x 19.10 in / 462.0 x 208.0 x 485.0 mm
Net Weight: 6.76 kg / 14.90 lb
Security Lock: No
Application: Gaming
Warranty: 3 years
---
Page Index
1. Introduction, Packaging
2.
Physical Look - Outside
3.
Physical Look - Inside
4.
Installation and Conclusion