By: Jonathan Kwan (Hardware/Software) and Aaron Lai (Software/Testing)
April 9, 2021
How hard is it to find a job nowadays? I think the answer to this question will depend on who you talk to, but the way I see it, no matter how challenging the economy is, there is always a demand for top talent. The difference, of course, comes down to how competitive each position is. I firmly believe if you have the right skill set, excellent social skills, and a well-written resume, it is likely you will land a job no matter what it is like outside. However, if you fall short in at least one of the areas listed, then you are going to be in for a hard time. Recently, some of my friends asked me why a common friend of ours was unable to land anything despite allegedly handing out hundreds of applications for several months now. After a short investigation, the answer was obvious. By "handing out applications", what he really meant was hitting the LinkedIn "Easy Apply" button on quite literally everything that comes up no matter the relevance to his degree. This is not to mention his LinkedIn profile is probably one of the worst profiles I have seen in a long time -- with profile and cover photos that are better off on Facebook, irrelevant job experiences with only titles and no details, and an unclear educational background. Simply put, I would actually be surprised if he found a job. The way I have always done it, and how I always teach people, is to write a resume that clearly quantifies your relevant achievements and specifically target only a handful of jobs. Staying laser-focused on your target audience will let you score the best prospects, and this also applies to product marketing. The TP-Link Archer GX90 is a AX6600 Tri-Band Wi-Fi 6 router aimed at the gaming crowd with specific features like Game Band, Game Accelerator, Game Statistics, and Game Protector. Sure, you can argue these are a rebrand of standard features, but you cannot deny having 8 antennas, 2.5 Gbps port, and a 1.5 GHz quad core CPU is indeed quite an impressive hardware resume for performance-demanding gamers. Having an impressive resume is one thing though. Will the Archer GX90 live up to its resume when you bring one in for the job? Read on to find out!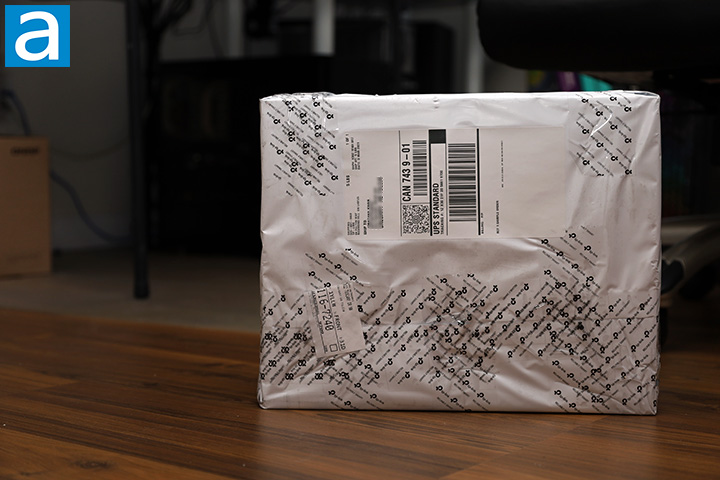 Our review unit of the TP-Link Archer GX90 Wi-Fi router came in a plastic-wrapped box from the company's Canadian headquarters in Richmond Hill, Ontario, Canada. It is quite rare we get things shipped from within Canada, but we can always expect something local from the company. Everything arrived in excellent condition to us here in Calgary, Alberta for our review today using the UPS Standard service.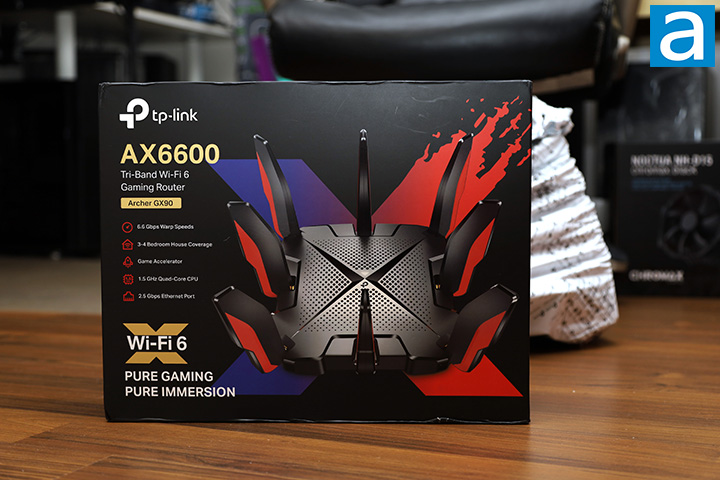 Like the overwhelming majority of products we get here at APH Networks for review, TP-Link sent us their router in its retail packaging. The predominantly black box accentuates the gaming theme, which you can see in our photo above. In the middle, you will find a top three-quarters view of the TP-Link Archer GX90 router occupying some prime real estate. The product description, "AX6600 Tri-Band Wi-Fi 6 Gaming Router", is printed above the Archer GX90 model tag. Underneath is an array of five icons providing some highlights of this product, which is its 6.6 Gbps warp speeds, 3 to 4 bedroom house coverage, Game Accelerator, 1.5GHz quad core CPU, and 2.5 Gbps Ethernet port. TP-Link's logo is placed at the top left corner, while the slogan "Pure Gaming / Pure Immersion" fills in the remainder of the space at the bottom. The remaining sides of the box has more feature highlights and specifications.
Before we move on, let us take a look at the specifications of the TP-Link Archer GX90, as obtained from the manufacturer's website:
WIRELESS
Standards: Wi-Fi 6
- IEEE 802.11ax/ac/n/a 5 GHz
- IEEE 802.11ax/n/b/g 2.4 GHz
WiFi Speeds: AX6600
- 5 GHz: 4804 Mbps (802.11ax, HE160)
- 5 GHz: 1201 Mbps (802.11ax)
- 2.4 GHz: 574 Mbps (802.11ax)
WiFi Range: 4 Bedroom Houses
- 8× Detachable High-Performance Antennas: Multiple antennas form a signal-boosting array to cover more directions and large areas
- Beamforming: Concentrates wireless signal strength towards clients to expand WiFi range
- High-Power FEM: Improves transmission power to strengthen signal coverage
- 4T4R: Multiple streams in the same band strengthen the fault tolerance in transmission
WiFi Capacity: Very High
- Tri-Band: Allocate devices to different bands for optimal performance
- 4×4 MU-MIMO: Simultaneously communicates with multiple MU-MIMO clients
- OFDMA: Simultaneously communicates with multiple Wi-Fi 6 clients
- Airtime Fairness: Improves network efficiency by limiting excessive occupation
- DFS: Access an extra band to reduce congestion
- 8 Streams: Connect your devices to more bandwidth
Working Modes:
- Router Mode
- Access Point Mode
HARDWARE
Processor: 1.5 GHz Quad-Core CPU
Ethernet Ports:
- 1× 2.5 Gbps WAN/LAN Port
- 1× Gigabit WAN/LAN Port
- 3× Gigabit LAN Ports
USB Support:
- 1× USB 3.0 Port
- 1× USB 2.0 Port
- Supported Partition Formats: NTFS, exFAT, HFS+, FAT32
- Supported Functions: Apple Time Machine, FTP Server, Media Server, Samba Server
Buttons:
- Wi-Fi On/Off Button
- Power On/Off Button
- LED On/Off Button
- WPS Button
- Reset Button
- Power: 12 V ⎓ 5 A
SECURITY
WiFi Encryption:
- WPA
- WPA2
- WPA3
- WPA/WPA2-Enterprise (802.1x)
Network Security:
- SPI Firewall
- Access Control
- IP & MAC Binding
- Application Layer Gateway
- HomeCare Antivirus Malicious Site Checker: Port Intrusion Prevention, Infected Device Isolation, Notification and Log
Guest Network:
- 2× 5 GHz Guest Network
- 1× 2.4 GHz Guest Network
VPN Server:
- OpenVPN
- PPTP
SOFTWARE
Protocols:
- IPv4
- IPv6
Game Center:
- Game Accelerator: Detects and optimizes gaming streams to keep latency as low as possible
- Game Statistics: Check real-time latency, system utilization, and game duration on a redesigned dashboard to tweak every detail
- Game Protector: Keep your accounts and system safe with HomeCare antivirus protection
Service Kits: HomeCare
OneMesh:
- OneMesh Supported: Without replacing your existing devices or buying a whole new WiFi ecosystem, OneMesh helps you create a more flexible network that covers your entire home with TP-Link OneMesh products.
Parental Controls:
- HomeCare Parental ControlsCustom Profiles: Content Filtering, App Block, URL Filtering, Time Limit, Time Schedule (Bedtime), Log Insight
WAN Types:
- Dynamic IP
- Static IP
- PPPoE
- PPTP
- L2TP
Quality of Service:
- Game Accelerator QoS
- QoS by Device
- HomeCare QoS: QoS by Application
Cloud Service:
- Auto Firmware Upgrade
- OTA Firmware Upgrade
- TP-Link ID
- DDNS
NAT Forwarding:
- Port Forwarding
- Port Triggering
- DMZ
- UPnP
IPTV:
- IGMP Proxy
- IGMP Snooping
- Bridge
- Tag VLAN
DHCP:
- Address Reservation
- DHCP Client List
- Server
DDNS:
- TP-Link
- NO-IP
- DynDNS
Management:
- Tether App
- Webpage
PHYSICAL
Dimensions (W×D×H): 8.3 × 8.3 × 2.0 in (212 × 212 × 51.8 mm)
Package Contents:
- Wi-Fi Router Archer GX90
- Power Adapter
- RJ45 Ethernet Cable
- Quick Installation Guide
OTHER
System Requirements:
- Internet Explorer 11+, Firefox 12.0+, Chrome 20.0+, Safari 4.0+, or other JavaScript-enabled browser
- Cable or DSL Modem (if needed)
- Subscription with an internet service provider (for internet access)
Certifications: FCC, CE, RoHS
Environment:
- Operating Temperature: 0℃~40℃ (32℉ ~104℉)
- Storage Temperature: -40℃~70℃ (-40℉ ~158℉)
- Operating Humidity: 10%~90% non-condensing
- Storage Humidity: 5%~90% non-condensing
TEST DATA
WiFi Transmission Power:
CE:
- <20dBm(2.4GHz)
- <23dBm(5.15GHz~5.35GHz)
- <30dBm(5.47GHz~5.725GHz)
FCC:
- <30dBm(2.4GHz & 5.15GHz~5.25GHz & 5.725GHz~5.825GHz)
-<24dBm(5.25GHz-5.35GHz & 5.47GHz-5.725 GHz)
WiFi Reception Sensitivity:
5 GHz-1:
- 11a 6Mbps:-93dBm, 11a 54Mbps:-76dBm
- 11ac VHT20 MCS0:-92dBm, 11ac VHT20 MCS8:-69dBm
- 11ac VHT40 MCS0:-90dBm, 11ac VHT40 MCS9:-65dBm
- 11ac VHT80 MCS0:-87dBm, 11ac VHT80 MCS9:-62dBm
- 11ax HE20 MCS0:-93dBm,11ax HE20 MCS11:-62dBm
- 11ax HE40 MCS0:-90dBm,11ax HE40 MCS11:-59dBm
- 11ax HE80 MCS0:-87dBm,11ax HE80 MCS11:-56dBm
5 GHz-2 (Gaming Band):
- 11a 6Mbps:-96dBm, 11a 54Mbps:-77dBm
- 11ac VHT20 MCS0:-95dBm, 11ac VHT20 MCS11:-64dBm
- 11ac VHT40 MCS0:-93dBm, 11ac VHT40 MCS11:-62dBm
- 11ac VHT80 MCS0:-90dBm, 11ac VHT80 MCS11:-59dBm
- 11ac VHT160 MCS0:-84dBm, 11ac VHT160 MCS11:-53dBm
- 11ax HE20 MCS0:-93dBm,11ax HE20 MCS11:-62dBm
- 11ax HE40 MCS0:-90dBm,11ax HE40 MCS11:-59dBm
- 11ax HE80 MCS0:-87dBm,11ax HE80 MCS11:-57dBm
- 11ax HE160 MCS0:-84dBm,11ax HE160 MCS11:-54dBm
2.4 GHz:
- 11g 6Mbps:-96dBm, 11g 54Mbps:-77dBm
- 11n HT20 MCS0:-95dBm, 11n HT20 MCS7:-76dBm
- 11n HT40 MCS0:-93dBm, 11n HT40 MCS7:-73dBm
- 11ac VHT20 MCS0:-95dBm, 11ac VHT20 MCS8:-73dBm
- 11ac VHT40 MCS0:-92dBm, 11ac VHT40 MCS9:-68dBm
- 11ax HE20 MCS0:-95dBm,11ax HE20 MCS11:-64dBm
- 11ax HE40 MCS0:-95dBm,11ax HE40 MCS11:-62dBm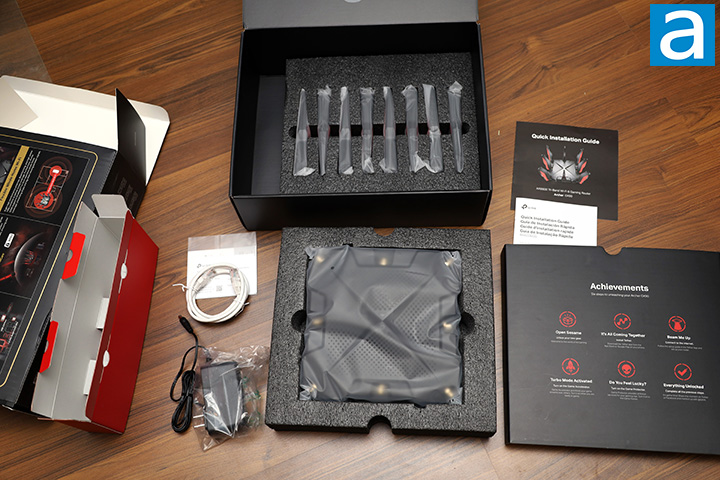 A cardboard box slides out of the side of the thin cardboard cover of the TP-Link Archer GX90's retail package. Opening the flap-top box is a cardboard insert titled "Achievements" with a matrix of feature highlights. I find that a great idea to encourage users to explore some key functionalities in a classy manner. The router and antennas are securely and neatly placed inside foam trays. Meanwhile, accessories are inside an auxiliary box.
Out of the box, you will receive the following:
- Wi-Fi Router Archer GX90
- Power Adapter
- Ethernet Cable
- Color Quick Installation Guide
- Multi-Language Quick Installation Guide
- GNU General Public License Notice
---
Page Index
1. Introduction, Packaging, Specifications
2.
Physical Look - Hardware
3.
Configuration and User Interface
4.
Performance Tests
5.
Conclusion