By: Aaron Lai
January 27, 2017
In last week's article of the Cooler Master MasterKeys Pro L, Editor-in-Chief Jonathan Kwan showed to us the importance of hearing clearly and contextually. Listening in general is an important part of communicating with others, but if what you hear is actually not what is said, this can lead to unexpected results, or misunderstandings to say the least. Of course, these types of mistakes happen to everyone, including Yours Truly. A few weeks ago, I was having hot pot, when one of my friends asked a couple how long they had been together for. "Five minutes," we all heard from the guy, leaving us to stop and stare hard at him. Even the significant other looked over and gave him a look, despite them sitting next to each other. "That hot pot must have been really hot?" I thought to myself. It was not until we all actually questioned him when he responded laughingly, "Five months, not minutes". As you can see, listening plays an important role in our lives, and if it is not clear, misinformation can be spread. Today's review unit, the TUNAI CLIP, is a Bluetooth wireless receiver, allowing you to transform wired headsets into wireless ones. With the number of mobile devices dropping support of the 3.5mm audio jack, this makes a lot of sense. However, despite going to wireless, I still fully expect the audio, whether music or voice, to be transmitted clearly. Can the TUNAI CLIP can hold true to this fact, or will we have another misunderstanding in the making? Read on to find out!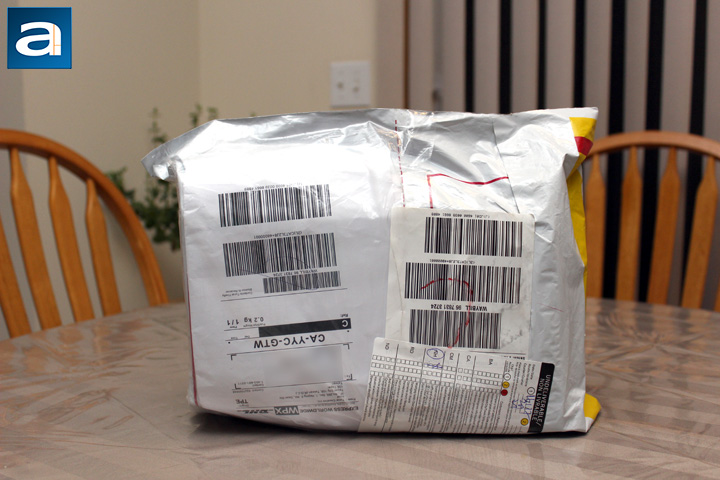 Today's review unit of the TUNAI CLIP arrived from Taipei City, Taiwan to our APH Networks location in Calgary, Alberta. Traveling with a shipper we have not seen for a while now, DHL Express Worldwide, this shipment arrived in pretty good condition. The DHL reputation at APH Networks has not always been a great one since 2005, but thankfully, this item arrived swiftly. Inside this shipping bag is a corrugated brown cardboard box, which was actually dented, but thankfully there was no problem about the CLIP inside. The retail container was found inside this box, sealed in a plastic bag.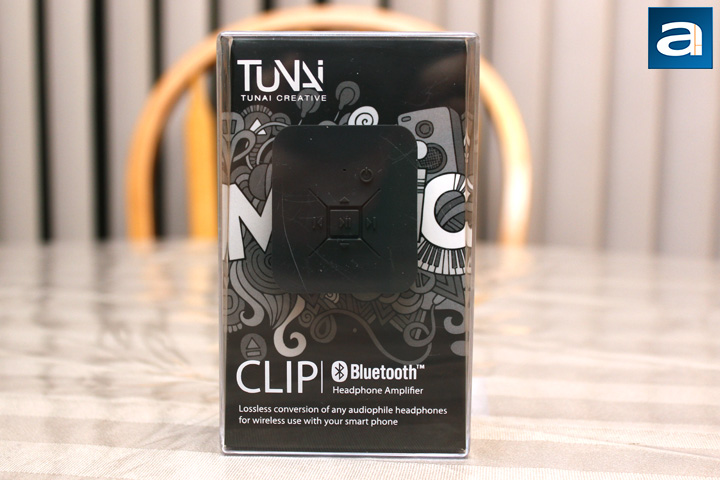 This is the first TUNAI product we have reviewed as they are a relatively young company. TUNAI is a Taiwanese company, and their full name is TUNAI Creative. Taking a look at their website, you can see their two products they have released, at press time, are both Bluetooth audio products. This seems to be where they are currently focusing their efforts into. To me it is always great to see new companies, even if they start with a small market, and hopefully we will see even more from them in the future. As for the retail container, the TUNAI CLIP arrived in a snazzy looking container, with a clear plastic shell to show off the product inside. The CLIP is in the middle of the box, with the manufacturer's logo on the top left corner, and the product name on the bottom. At the very bottom of the container we have a tagline saying "Lossless conversion of any audiophile headphones for wireless use with your smart phone". Otherwise, the box is black and white in color, and actually looks quite fancy to say the least. On the back of the box are more specifications and information about the product.
Before we move on, I have grabbed the specifications from the manufacturer's website for the more curious readers:
Specifications
Bluetooth 4.0
High definition microphone (61dB SNR, -26dBFS)
Microphone mute button
Noise reduction & acoustic echo cancellation technology
Voice assistant trigger button (SiRi, S-Voice, Google Now)
8 hours continuous playback
Build-in cable management
IPX4 compatible splash proof
75m or 250ft Bluetooth range (Open Air)
Support AAC, MP3, SBC
Support A2DP v1.2, AVRCP v1.4, HFP v1.6
Size : 50mm x 45mm x 12mm or 1.97in x 1.77in x 0.47in
Storage temperature : -20oC ~80oC or -4oF~176oF
Patent pending sound revitalization technology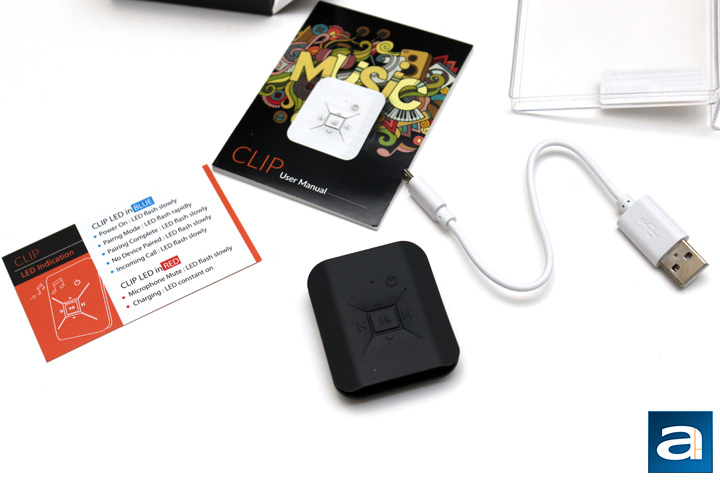 As the retail container is quite small, there are not too many things out of the box. First is the TUNAI CLIP, which is in a matte black color. For your information, a white version is also available at press time. Otherwise, a short white micro USB to USB cable is provided to charge the CLIP. Two small pieces of documentation are also included, with one being a card informing users about the meaning of the LED color and blink patterns, while the other is a book with other usage information. In addition, there is some warranty and contact information inside the book. A one year warranty is included with the TUNAI CLIP.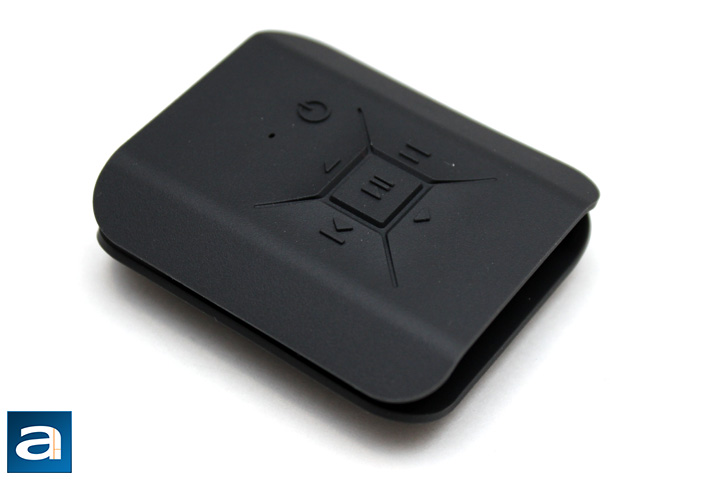 When I first pulled out the TUNAI CLIP, the first thing surprising me was actually the material. The outer shell is not actually plastic, but feels rubbery-like. The rubber flexes where it overhangs the inner plastic shell, and this creates a valley for you to wrap your cable around the CLIP for some wire management. The two sides also separate between the front and the back, which also helps with the cable management, as you will see soon enough. Otherwise, even though this is advertised as the black CLIP, this is actually more like a medium dark grey, which is still pretty nice looking. As you can see, the TUNAI CLIP has sharper edges on the top and bottom, with tapered edges on the left and right side. The buttons to control the CLIP are all located on the top as shown here. They are raised with their logos and can easily be felt for blind operation. Overall, the TUNAI CLIP feels like quite an upgrade over another Bluetooth receiver I have reviewed, the Inateck BR1001, though this is not surprising considering this costs about four times more. Even so, the TUNAI CLIP feels solid, and I really like the material choices here. In terms of dimensions, the TUNAI CLIP is a small 5cm in length, 4.5cm in width, and about 1.2cm in thickness. At a weight of less than fifteen grams, this receiver is light enough to be used on the go, which is the intention of this device.
As mentioned previously, the top is where all of the buttons are located. The power button is seen at the top right. Underneath are five buttons, with the Previous and Next buttons on the left and right sides, while the Volume Up and Volume Down are on the top and bottom. Flanked by the four aforementioned buttons is the Play/Pause button right in the middle. All of these buttons have a nice feedback overall, and the slightly raised middle button means the middle button is easier to identify compared to the others. This is quite important, as it serves other functions including picking up and hanging up calls and for activating your voice assistant. As you might have noticed, there is a small hole in the middle beside the power button, and this is actually the microphone. Another more hidden hole is located between the Volume Up and Next button, and this hides an LED indicator. If there is one thing I am really glad, it is just the fact there are more buttons here compared to the Inateck BR1001, which makes for an easier time operating the device.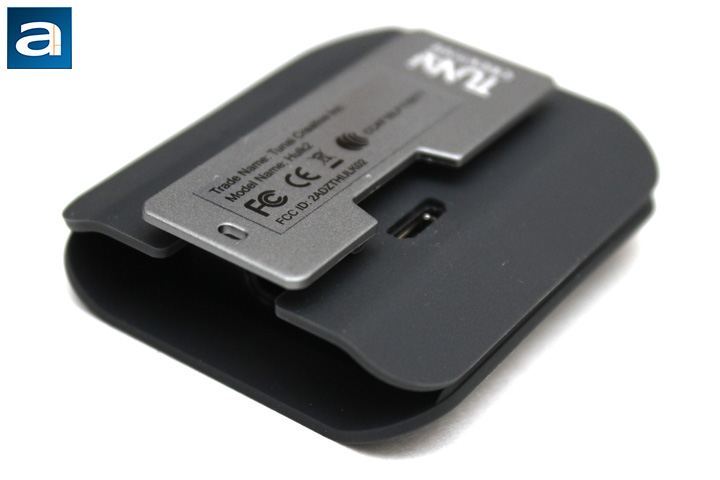 Flipping to the back reveals another thing that I like so much more compared to the Inateck BR1001, and this is the metal clip. As indicated by the name, the TUNAI CLIP has a metal clip on the back to attach this small Bluetooth audio receiver to your shirt or other things. I will say it is quite nice to see this feature, as it is small enough to warrant the need to secure it somewhere. This should also make it easier to access, as it can be kept out of your pockets and clipped to somewhere accessible. In addition to the clip, you can see a micro USB port, used for charging the TUNAI CLIP. According to TUNAI, playback is rated around eight hours, with recharging taking about two hours. I would have liked to see a larger battery, but eight hours is not too bad either, assuming it can reach this mark.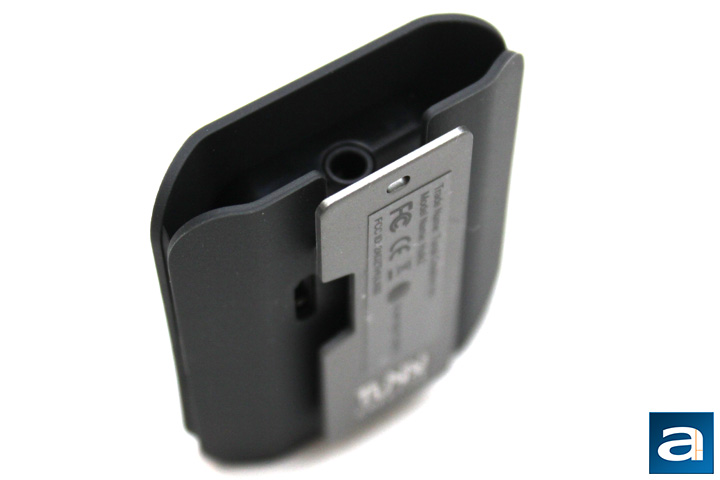 Finally, taking a look from the top, you can see a recessed 3.5mm audio jack, where you can plug in your headphones. From this photo and previous ones, you might be wondering why there is a valley around the entire CLIP, and as I have mentioned, this allows users to wrap their cord around the small device. In conjunction with the rubber sides that flap up to secure the cable inside, this solution works quite well, and I am quite pleased with it. Even if it is a convenience thing, it definitely helps clean up the extra cable on the earphones. If you have super thick cables, they may not fit wrapped around the CLIP, but for the general in-ear monitors or even some larger headsets, it is more than usable.
Internally, the TUNAI CLIP uses Bluetooth v4.0, and offers modes of A2DP, AVRCP, and HFP. In short, these profiles mean the CLIP can stream music, control your device remotely, and be used for calls. The specified range given by TUNAI states the CLIP should work within ten meters of the transmitting device, and up to seventy-five meters in open air. While I do not have seventy-five meters of open space to test with, I will say the ten meters claim definitely stands true, as I was able to move around my house away from my phone without experiencing any interference or dropped connections. As this is Bluetooth, it should work with any modern operating system, including Android, iOS, and Windows. (The modernness of the last one is debatable though.)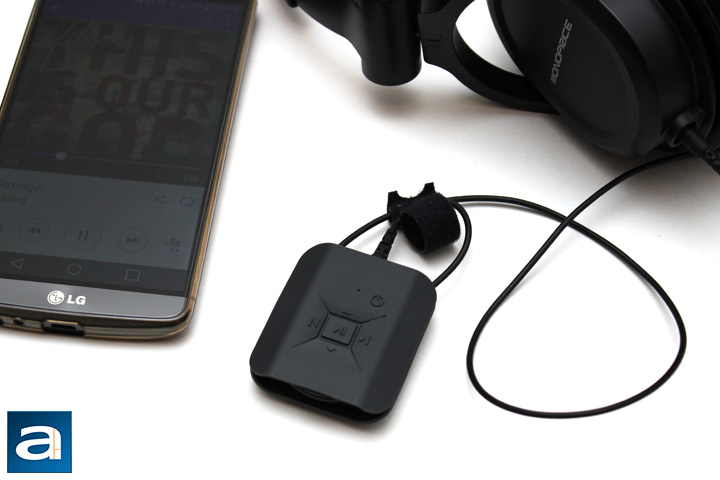 To get started, pairing the TUNAI CLIP is about the same process compared to other Bluetooth products. For the CLIP, power on the device, and hold the power button again for a few more seconds until the LED flashes blue. This indicates pairing mode. Using your device, you will be able to search and find the CLIP to pair the two together. Unlike the BR1001, the CLIP does not suffer from too few buttons, and executing multiple functions does not leave me guessing if I accidentally pressed too short or too long. Using the TUNAI CLIP with voice calls or to activate Google Now was decent, and the microphone easily picked up my voice with clarity. It did make my voice sound a bit dryer and more nasal, but this was not too surprising. TUNAI also says you can use the CLIP for recording, though this requires their app, which can be found on the iOS App Store and the Google Play Store. One thing I also found useful while using the TUNAI CLIP was the fact I was able to use this as a remote, even without the headset connected to the CLIP. This allowed me to use functions like Play/Pause, Previous, or Next track, while having my headphones plugged directly into my phone, something the Inateck BR1001 was not able to do.
Before I get to the performance tests, I want to give a bit of a PSA. First of all, Bluetooth audio streaming will undoubtedly require some sort of digital compression. Compared to a wired connection, the quality is reduced, but the difference is not generally noticeable by most users. Newer versions of Bluetooth has made improvements, so it is much better than it used to be. Our recent wireless speakers and headsets have not displayed too much of a sacrifice in quality, which is why we do not generally mention the reduction in performance. Even still, Bluetooth is not generally seen as the best way to transmit audio in terms of sound quality, though it thrives due to the wide compatibility, low cost, and low power necessary to implement the protocol.
With this out of the way, TUNAI actually makes quite a few big claims about the playback. In fact, they advertised the CLIP not as an audio receiver, but a wireless amplifier. In addition, TUNAI has some sort of "Patent pending sound revitalization technology". Besides the marketing vocabulary, I tested out the TUNAI CLIP with several headsets and multiple devices in various environments. In real life, the TUNAI definitely did a lot of things well. The characteristics of the music and the headset stayed the almost the same whether I was plugged in or with the CLIP, and the overall quality of the transmitted signal was pretty good. The audio quality degrade I expected to hear from all Bluetooth audio devices was not noticeable in the CLIP, which is a good thing. I cannot say it revitalized the sound as advertised, but the CLIP definitely produced a much louder sound than expected. I was quite surprised to see how loud they could get -- not implying this has anything to do with sound quality, of course. In addition, all the functions worked as expected. The only thing I found to be a bit problematic was the actual battery life. Compared to the actual rated battery life, I found the TUNAI CLIP needing a recharge after about five or six hours of playback. While this is an improvement over the BR1001, I think both of these products need to be better in terms of battery longevity.
-----------------------------------------
At the end of the day, after using the TUNAI CLIP and putting it through the paces, I am quite pleased with the result. Taking a look first at the physical build, the TUNAI CLIP is built quite well, despite still having a mostly plastic build. The shell on the outside with the rubber finish looks good, and stands out from its competition. In fact, a lot of the small details such as the multiple buttons, metal clip, and the integrated built-in cable management are all useful convenience features, which is great. To me, it really looks like TUNAI put some effort and thought into making a good looking and functionally capable design. The buttons are also quite good in terms of feel and just the fact there is more than just one. Day to day use of the CLIP proved to be a positive experience, as I did not find any connectivity issues or interruptions. When it came to audio performance, the CLIP again was pretty good, and while it may not have been as amazing as an actual headphone amplifier, it definitely did not degrade the audio quality by a noticeable amount. In addition, the loud volume output it was able to produce was nice. Really, if there is anything I would improve with the CLIP, it would be the actual battery life, as I found it unable to reach the full eight hour claim. I would much rather manufacturers sacrifice a bit of size to stuff a larger battery in their devices. At a retail price of $60 USD, the CLIP is not exactly cheap, but I think with the feature set and build quality, this is a great choice. As mobile device manufacturers are now removing the audio jack altogether, this is an excellent way to make old wired headphones great again.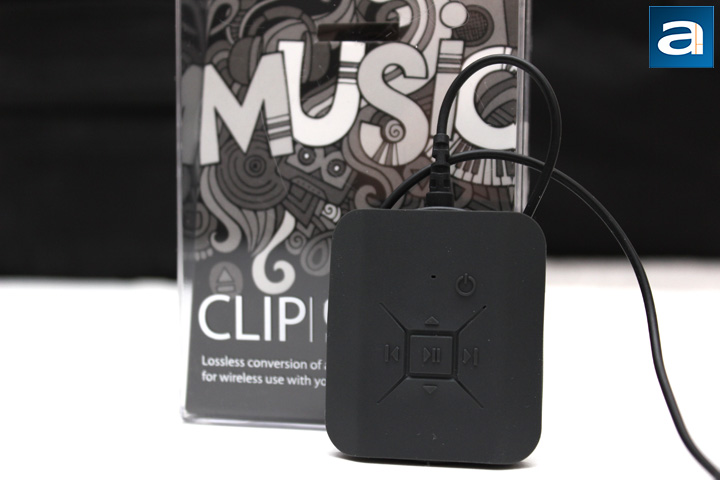 TUNAI provided this product to APH Networks for the purpose of evaluation.
APH Review Focus Summary:
7/10 means Great product with many advantages and certain insignificant drawbacks; but should be considered before purchasing.
-- Final APH Numeric Rating is 7.0/10
Please note that the APH Numeric Rating system is based off our proprietary guidelines in the Review Focus, and should not be compared to other sites.
The TUNAI CLIP is an excellent way to make wired audio products wireless.
Do you have any comments or questions about the TUNAI CLIP? Drop by our Forums. Registration is free, and it only takes a minute!