Page 2 - Physical Look - Hardware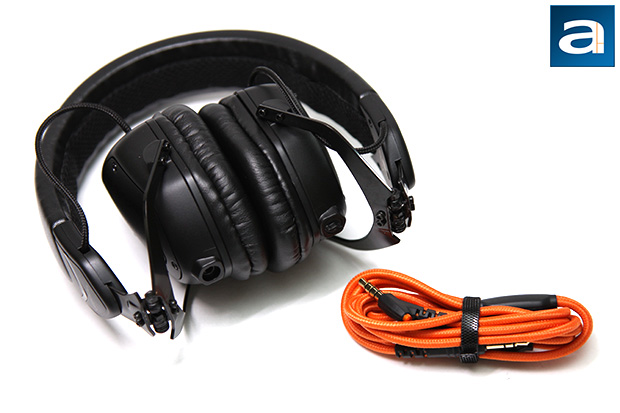 As I have mentioned on the previous page, V-MODA has always been a company that is heavy on both fashion and passion. And who says these two elements have to be mutually exclusive? Starting straight from the design of the XS, I have to say these headphones is an excellent combination of subtle elegance and modern touches. The all-black design is complemented by a pair of replaceable side metal plates for some degree of customization, and needless to say -- whatever your taste takes you -- it looks great both on and off your head. From a practical perspective, the V-MODA XS has to be one of the most well-built headphones I have ever encountered. It feels absolutely solid in the hand, but this is not just my personal opinion. The SteelFlex Headband is designed to support ten-plus flat bends. The ear cups are attached to the headband by a pair of solid metal brackets, each reinforced with multiple screws at every end to ensure a secure assembly. The company also claims they have done tests with more than seventy drops from 1.5m onto concrete, and survives "severe high/low temperatures, humidity, salt spray and UV rays". Now, I have done none of these tests on my particular pair, but these claims are quite believable to say the least.
Our photo above shows the V-MODA XS in its collapsed state. It is actually very convenient to fold these on-ear headphones, and I am quite impressed how portable they can be compared to its configuration in its expanded state. Now, obviously they will not be as convenient as having in ear monitors, but they are two completely different classes of products. To fold it in, simply push and pivot the ear cups into the headband. With a satisfying "click" to indicate its fully closed and fully open state (V-MODA calls it the CliqFold Hinge; they have a name for practically everything on the XS) the impression of quality in refinement is further reinforced to the end user.
The audio cable can be fully detached from the V-MODA XS, as you can see in our photo above. We will dig into the details of the cable in just a moment, but for now, it is interesting to point out it can actually be plugged into the left side or the right side of the headphones, depending on your preference. By default, it goes in on the left side, but I prefer the right, because I usually have my phone in my right pocket. When one side is set to the input, the other side can be set as a passthrough, so you can plug in another pair of headphones to share your music with your friends. I do not believe I have ever seen anyone walking down the street daisy chained for music, but you really never know nowadays. After all, the concept of having the photographer also being the subject of the photo is almost unheard of until quite recently. That said, if you do not plan to do anything weird, the side you are not using can be plugged to prevent dirt from entering, and your fashionable XS headphones from looking ugly.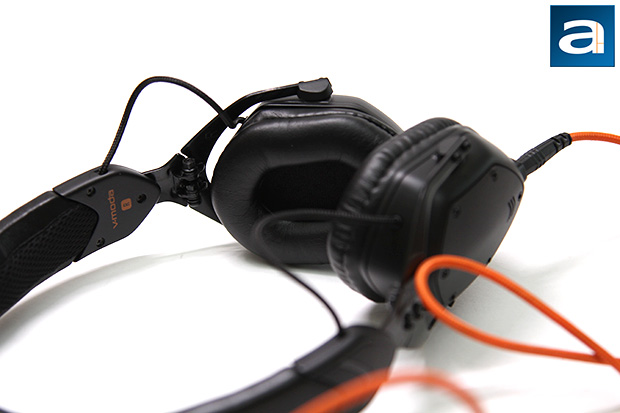 One of the biggest items that V-MODA talks about with the XS headphones is ABC+P, or "anything but circles + plastic". The first part of this theory is heads are not circular, and neither should the headphones that go over it. I did not quite understand the merits of this theory, until I actually started using the V-MODA XS. I do not have a particularly big head, despite the fact I am doing my thesis based Master of Science in Electrical Engineering here in the University of Calgary. That said, even with every sliding increment set to the smallest scale, these headphones fit me perfectly with minimal gaps anywhere. Yes, I did look in the mirror. On the other hand, my colleague Aaron Lai, who has a much bigger head than me, and consequently carries a grade point average I can only be jealous of in the same faculty, tried these headphones on and -- impressively -- fits his head like a custom made hat as well. He did expand it a few notches out, but needless to say, I am impressed. The SteelFlex Headband is nicely padded on the inside, and wrapped with leather on the outside.
These supra-aural headphones are specified with a weight of 195g without the cable, which is pretty light to behold. The drivers are 40mm M-Class dual diaphragm, high fidelity units with a rated frequency response of an impressive 5Hz to 30kHz. These specifications are, quite frankly, quite a bit beyond the hearing range of any normal human being of around 20Hz to 20kHz. The rated sensitivity is 105dB @ 1kHz 1mW with an impedance of 28.5 ohms. It will work quite well with unamplified sources such as your smartphone, but amping it does have its benefits, and I have evaluated in my SilverStone EB01-E and EB03 review a couple of weeks ago.
Memory foam cushions wrapped in soft leather surrounds the M-Class drivers on the V-MODA XS. Not only are they very comfortable, but they also exhibit excellent noise sealing properties. To demonstrate, I tried playing some music through these headphones at regular volumes. Next, I pressed the cups together. At this point, most of the sound that was clearly audible just a moment ago sudden became cut out. This is not black magic; just good design. They will not block out noise like in ear monitors, but they are decent enough for use on the train. With all these in combination, I will have to say the V-MODA XS not only looks good in the mirror, but is also very comfortable in everyday use.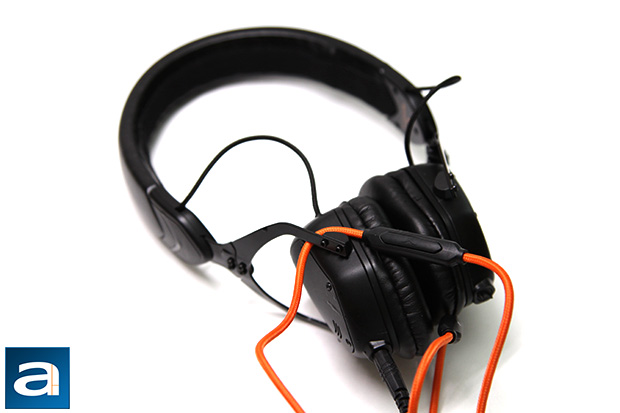 Back to the full view, here is the V-MODA XS in its full expanded configuration, and the cable attached. The orange Kevlar reinforced "SpeakEasy" 24k gold plated 3.5mm cable is rated for over a million bends. The way I see it, even if it becomes damaged, you can easily replace it without replacing your entire headphone, which is cool. It goes into your XS via a straight plug on one end, and via a forty five degree strain relief on the other end for the input source, such as your amplifier or smartphone. The cable has a special name, because it has a microphone and integrated controls compatible with Apple, Android, Kindle, Windows, and Blackberry devices. The microphone is rated at -42dB @ 1kHz. One thing I did not like about the cable is the fact it is prone to microphonics. I would not consider this a big problem, but it is certainly present.
With excellent build quality, impressive attention to detail, and remarkable comfort, here is the most important question of them all: Does the V-MODA XS sound as good as it looks? We have the entire Page 3 dedicated to presenting our auditioning results.
---
Page Index
1.
Introduction, Packaging, Specifications
2. Physical Look - Hardware
3.
Subjective Audio Analysis
4.
Conclusion