By: Kenneth Kwok
Edited by Jonathan Kwan and Herbert Lui
November 1, 2008
It has been over half a year since we last reviewed a keyboard, the last time being the APH Recommended Logitech MX5500 Revolution by Jonathan. During the past six months, things in the technology world have changed quite a bit -- for example, the introduction of the dual core Intel Atom 330, increasingly common usage of Mini ITX boards, and in general, low(er) cost computing products. Such products have lead to the creation of Nettop computers; a range of computers that are not only value oriented, but also features a low running cost. Products built around Atom processors are also propagating the market quickly -- from the Asus Eee Box to the Shuttle X27. Such computers are great for home theater PC setups if you're not after something like 1080p Blu-ray decoding. Speaking of HTPCs, it's interesting how computers are becoming more and more popular in the living room. Combined with such features built right into various editions of common operating systems, affordable computing hardware (Even if it's not a Nettop unit, excellent performing parts are readily available at very reasonable prices), and a large collection of peripherals to go with it in the market today, making it your weekend DIY project shouldn't be much of a luxury or challenge anymore. Okay, let's get to the point. Today, we'll be reviewing the VidaBox Premium Wireless HTPC Media Center Keyboard. To be honest, I have never heard of VidaBox prior to this review. A quick visit to their website indicates that they have a ton of interesting home theater product, this keyboard is only one of many. Let's see how this keyboard that's made primarily for home theater computers works out. And not to mention that it has the uber hardcore good ol' trackball.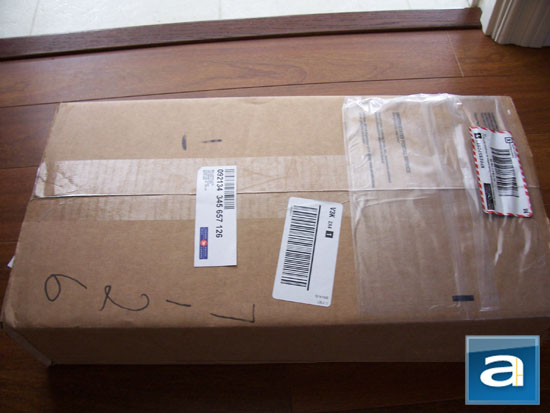 Our review unit arrived in a standard corrugated cardboard box from VidaBox's office in Westbury, New York. The carrier used is United States Parcel Service, which, when arrives in Canada, gets transferred to Canada Post. The box arrived in pristine condition and everything seemed to be in perfect order. The only problem I encountered was the "misplacement" of the package when I went to pick it up at the post office -- it took over twenty minutes for the person at the desk to find it in the back room. Apparently, someone had "misplaced" it, but it sounded like someone was jealous and hid it in the back so they can pick it up after work ;)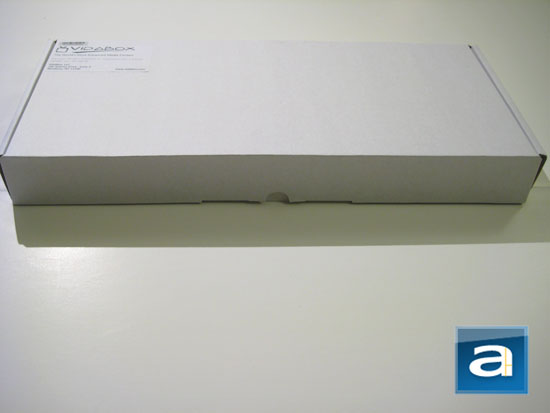 The internal packaging kept the contents safe from any damage. They used an army of packing peanuts, which completely engulfed the Vidabox keyboard box in between. It was almost impossible to remove the internal box from the shipping box without the packing peanuts pouring out uncontrollably. I had to admit that it was a minor inconvenience, as it was a time consuming process to clean the pieces off the floor.
Anyways, the VidaBox Premium HTPC keyboard arrived in what appears to be OEM packaging. The only thing on the box was a label at the top left corner. The label has a big Vidabox logo, the model number, and Vidabox's office address. Generally, the box could be easily improved for retail purposes.
Before we move on, let's take a look at the specifications of the Premium Wireless HTPC Media Center Keyboard from Vidabox's website:
- 30-foot (10m) wireless range
- Compact form factor with integrated 2000 dpi laser trackball pointing device and mouse buttons
- Auto-shutoff feature preserves battery life
- Requires 3 AA batteries (alkaline or rechargeable - included)
- Battery Life: Six (6) month stand-by time
- High performance, high frequency wireless allows minimal dropped
signals/dead zones
- Premium anti-dust keyboard pouch included
- Dimensions: 12.83" x 5.04" x .97" (326mm x 128mm x 24.72mm)
- Weight: 1.13lbs (512 grams)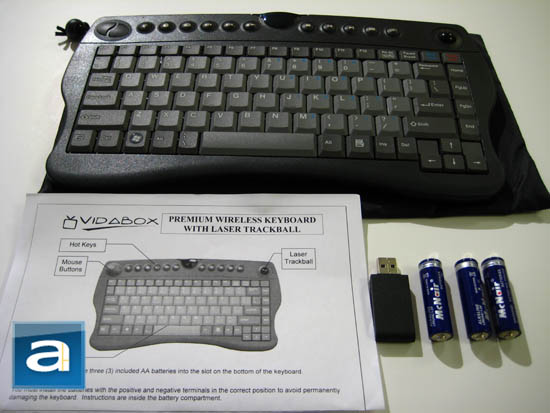 Upon opening the box, you will be able to see the keyboard (NO WAI!!!!! -- From the editor). A small cardboard cutout is located on the side to keep the keyboard in place, as well as to store the batteries and the receiver as its second function. Everything is enclosed in different bubble wrap bags, except for the pouch for the keyboard. Overall, the contents were placed fairly neatly inside, and keeps the items together in a simple fashion for the consumer quickly get it up and runnin'.
Out of the box, you will find the following contents:
- VidaBox Premium Wireless HTPC Media Center Keyboard
- USB receiver
- 3x AA batteries
- Instructional manual
- Keyboard pouch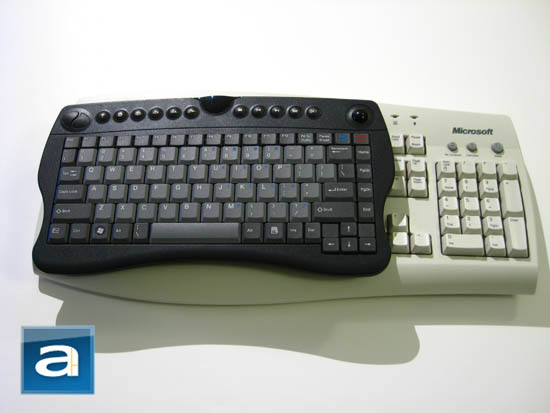 The Vidabox Premium HTPC Keyboard is substantially smaller than a standard office keyboard. Of course, this is to be expected, since it is to be used without being on a conventional desktop setup. Physically, some of the most important things in a HTPC keyboard is the size, weight, and general comfort in usage. The Vidabox Premium HTPC Keyboard's dimensions are perfect for someone that needs to use it in such a fashion in their living room, or wherever their home theater may be. As shown in the photo above, it is about two-thirds the size of a standard office keyboard. Three of the four edges has a wave-shape cut, which generally allows the unit to reside on a person's lap more comfortably. The keyboard runs off three AA batteries, and the VidaBox claims that it will last you around six months. One thing to note is that there is no power button, but apparently it automatically shuts off. From what I've observed, there are absolutely no LEDs on the entire keyboard, so the key lock status and the power status won't be obvious at first glance -- seeing it on your screen is essential.
The Vidabox Premium HTPC Keyboard does not have a separate number pad. There is a Numlock key, which effectively changes 7, 8, 9 keys all the way down to m, ,, and . into a numpad-like function. It's awkward at times, because the keys are not perfectly aligned as juxtaposed to a standard number pad. But we will have to acknowledge that it's a media center PC keyboard, so I don't think you'll be doing accounting work on it.
Connection is also fairly simple -- just plug the USB receiver, and you are good to go. On the odd chance that it doesn't connect the keyboard auto-magically, just hold down the "connect" button on your VidaBox keyboard along with the "connect" button on the backside of the receiver. Interestingly, there is no indication of a successful connection -- other than the popup for Windows detecting a new device, or that 'device connected' sound. The best thing though, is probably the lack of software to install. The VidaBox Premium Wireless HTPC Media Center Keyboard simply works out of the box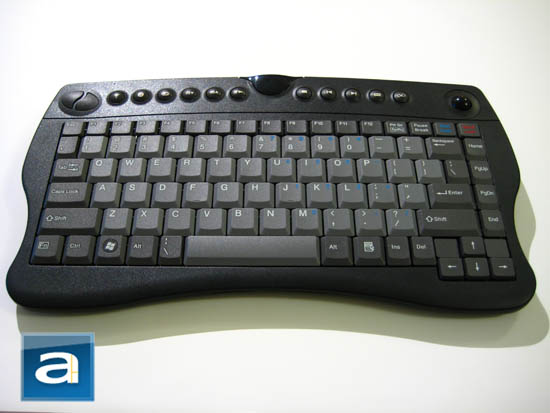 The VidaBox HTPC keyboard feels solid with a well designed exterior. The tray is black, while the keys are colored in a different shade of grey. A red Scroll Lock key is placed near the top right, and a blue Numlock key is located to the left of it. These are placed in an easy to find location, but cleverly located to prevent accidental usage while typing. While the construction of the keyboard is fully plastic, it's solid as aforementioned -- the keyboard very light and convenient to type on, even keep on your lap.
The Home, Page Up, Page Down and End key are placed at the far right of the keyboard. I found them to be arranged in a rather awkward fashion, as it does on certain laptops due to size limitations. I ended up avoiding the usage of those keys, as they caused more hassle then for me to use than to simply use trackball to scroll.
Additionally, there are two more awkwardly placed keys -- first one is the "delete" button, which is placed at the bottom next to the "insert" key. Next up is the Function key at the lower left corner. In my opinion, it will be better if the "delete" button is placed somewhere closer to the top right corner, and shift the lesser used keys elsewhere for a more optimized design. It is quite similar to how it's commonly used on some laptops -- but this key has only one function; that is to change the Print Screen Key to the Systems Requirements key. I found it to be quite pointless to have the Function key that works with only one other key.
Finally the arrow keys are tiny, they are much smaller than the standard arrow keys. They're designed to fit within the small footprint of the keyboard (Again, space constraints) -- but you might hit a couple keys at once if you have large fingers.
Although there are some troubles with key placement, the keyboard still has decent tactile response. Generally speaking, it's not a conventional layout, which is reasonable simply due to size limitations. It will take a while to get used to, Meanwhile, the keys are nice and thin and has relatively decent travel and feedback. The key design and scissor cut system makes it feel more or less like a laptop keyboard, except better than your average unit.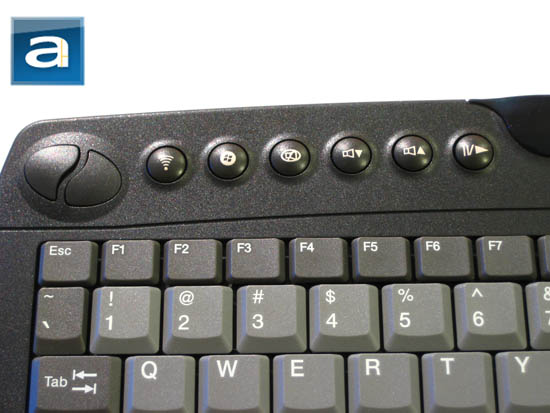 The top left of the keyboard has two separate wave shaped buttons, combined to resemble an oval shape. Six individual circular buttons are to the right of it. The former acts as left and right mouse buttons, respectively. The next six buttons from left to right is arranged in the following order: Connect, Launch Windows Media Center, Mute, Volume Up, Volume Down, and Play/Pause. These keys all carries these default function without the need of proprietary drivers. The keys are far enough from each other, so multiple buttons won't be pressed simultaneously accidentally, and lives up to what the user would expect from a decent HTPC keyboard.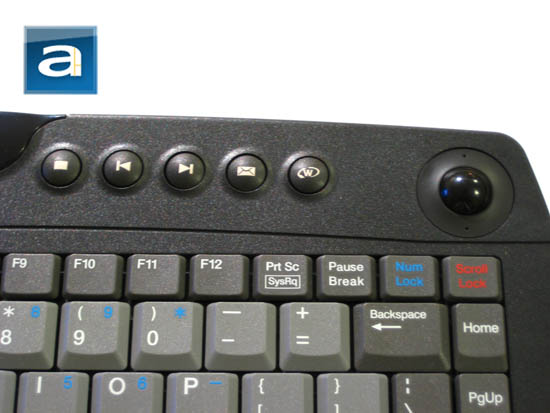 On the right side, there are five more dome shaped circular buttons, and the trackball at the corner -- the one I mentioned at the beginning of this review haha. The buttons, from left to right, is arranged in the following order: Stop, Previous, Next, Email, and Internet. Again, these all work without the need of additional drivers or software -- they simply launch your default Email and Internet programs. The buttons at the top could be better in my opinion -- simply by aligning them by putting all the media keys together, and keeping the shortcuts keys on the other side.
The funny thing is that I have not seen or used a trackball for a very long time, because the old ones were too hard to use for me haha. The VidaBox HTPC keybpard is different though. Unlike old trackballs, this keyboard uses a laser sensor behind the scenes, making it very sensitive to motion, and is marketed as a 2000dpi unit. It's also easier to use, but I will have to admit that it does take a while to get used to it. I can tell you one thing though -- it's much better than using a wireless mouse on the sofa or something. One piece unit to control the HTPC is always a good thing!
When used in combination with the mouse buttons located on the left side of the keyboard, it seems like a perfect match to me by using one hand to control mouse buttons on the left, and scroll with the trackball with your other hand on the right.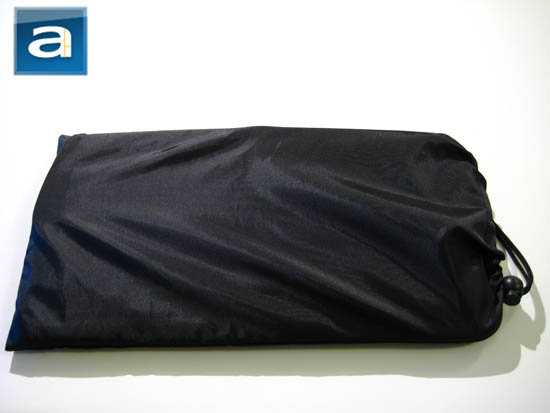 An added bonus is the keyboard pouch which is supposed to keep dust out, it is fairly useful when you need to transport the keyboard and the receiver. The pouch seems to be made of a synthetic water resistant cloth and has a drawstring to close it. The pouch can be used to avoid dust but chances are you will only use it when you take the keyboard somewhere else.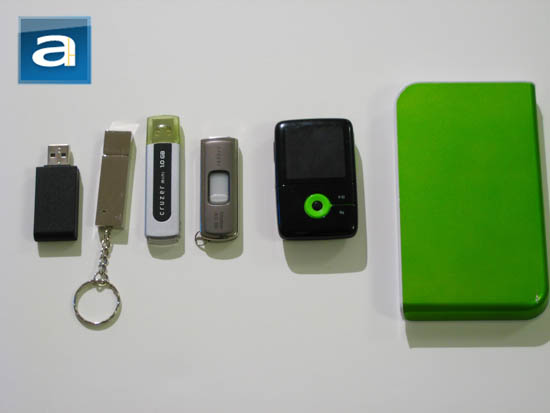 To take a look at the receiver, I compared it to the following items, from left to right: The Vidabox receiver, 4GB USB flash drive, 1GB Sandisk Cruzer Mini, 4GB Sandisk Cruzer Titanium, Creative Zen V Plus, and Western Digital 120GB 2.5" Passport. While many USB receivers for wireless keyboards are now the size of something like the Cruzer Titanium, comparatively speaking the VidaBox receiver is much larger and pretty much every dimension. The thickness of the receiver will physically interfere with the adjacent USB port it's plugged into.
Overall, I noticed no keyboard lag or connection problems. This all worked perfectly without drivers, nor any other third party software for the keyboard. The connectivity was great, and I tried using it through two walls, six meters away. It worked!
-----------------------------------------
The VidaBox Premium Wireless HTPC Media Center Keyboard is a pretty decent keyboard designed for HTPC purposes. I wouldn't say it's without faults though, mainly being some issues with regards to odd key placements. I understand that the keyboard has physical limitations, but some of these odd placements can simply be rearranged to make it better. There's also a lack of LEDs to indicate status of locks and power -- I definitely felt a bit odd using the keyboard without such functions. The USB receiver is too think and may interfere with other ports beside the one it's plugged into. What's awesome comes down to the excellent laser trackball, the weight (Or lack thereof), the thoughtful size and shape, no observed input lag, great connectivity, as well as no requirement for additional drivers -- these are all great inclusions. The pouch is also a nice bonus to the overall package. I would definitely appreciate it if they decreased the size of the receiver, include status LED or icons for locks and power, improving placement of certain keys, and increasing the size of the arrow keys for ease of use. Compared to other media keyboards out there, VidaBox's MSRP of $69.99 is fairly reasonable for this product. If you need a light almost fully featured keyboard for your HTPC, with a slim profile, decent physical design, and a good laser trackball, the VidaBox Premium Wireless HTPC Media Center Keyboard is right for you.
Update: VidaBox is also pleased to present a 10% off coupon when this keyboard purchased directly from them -- coupon code is aphnetworks!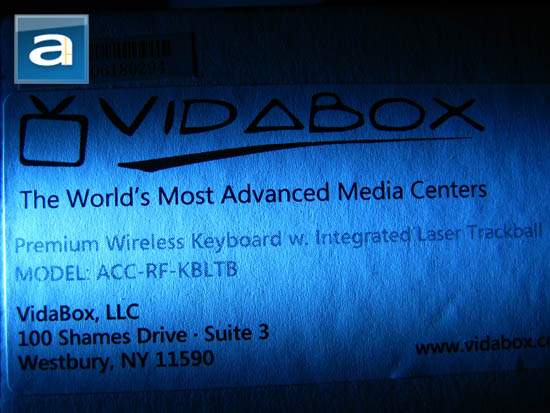 Special thanks to Steven over at Vidabox for making this review possible.
APH Review Focus Summary:
7/10 means Great product with many advantages and certain insignificant drawbacks; but should be considered before purchasing.
-- Final APH Numeric Rating is 7.0/10
Please note that the APH Numeric Rating system is based off our proprietary guidelines in the Review Focus, and should not be compared to other sites.
The VidaBox Premium Wireless HTPC Media Center Keyboard is a decent HTPC keyboard with a much better than expected laser trackball.