By: Jonathan Kwan
March 25, 2022
"It is not my fault I am so pretty and every guy likes me," my friend told me. If you think that sounds pretentious and ridiculous, it kind of is. Why would anyone with any level of modesty and self-awareness say such a thing? Is she really that pretty and is it true every guy likes her? While all of these things are debatable, what is not debatable is the fact this quote was falsely attributed to my friend -- she actually never said that. The reason why this quote was falsely attributed to her and even believable to an extent, however, is because it carries some degree of truth. Recently, we got our hands on Western Digital's latest NVMe solid state drive, the WD_BLACK SN770 1TB. Traditionally, the WD_BLACK brand represents the company's cutting-edge storage performance products like the SN850 1TB I reviewed last year. However, the SN770 is a simple DRAM-less SSD that has no more than two major components on the board. The rated sequential read speed is only 5150 MB/s, which is closer than that of a budget PCIe 4.0-based NVMe drive than a performance unit. This brings to our question, is this a true performance SSD like the WD_BLACK brand would suggest, or is the WD_BLACK brand falsely attributed to the product like how the quote was falsely attributed to my friend? We put it through our extensive tests to find out.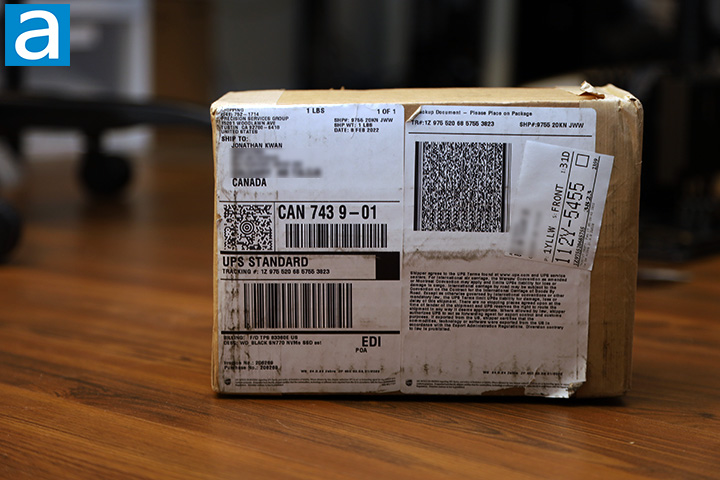 Our review unit of the Western Digital WD_BLACK SN8770 NVMe SSD 1TB arrived in a medium-sized brown corrugated cardboard shipping box from a local print shop in Tustin, California, USA. Tustin is a city in the Los Angeles metropolitan area. Using UPS Standard, the package arrived on our doorstep here in Calgary, Alberta, Canada in excellent condition for our review today.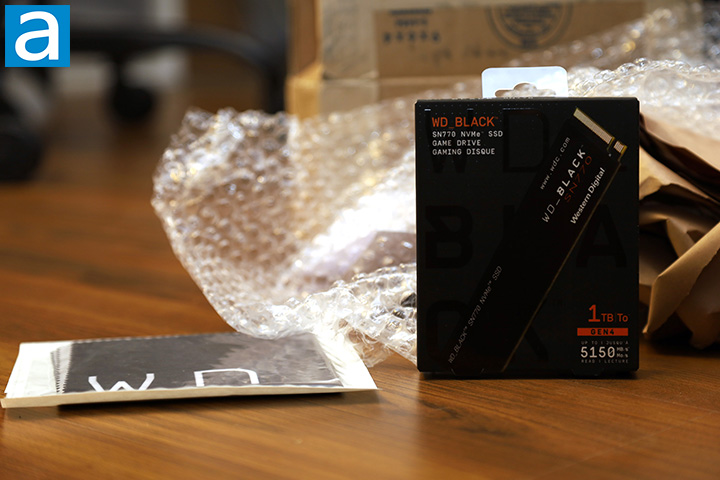 Similar to other WD_BLACK series SSDs I have reviewed from the company like the WD_BLACK SN850 NVMe SSD 1TB, the SN770 1TB came in retail packaging. Its retail box comes in a name-appropriate black and white color scheme. The company's branding can be seen subtly displayed in courier font in the background. In the foreground, you will find the product name and description at the top left corner in a more traditional font. It looks quite edgy for a traditional and conservative company like Western Digital, which is a great thing in my opinion. On top of it, you can see a 3/4 shot of the SSD itself. You can see its 1TB capacity specification, Gen 4 interface, and up to 5150MB/s rate read speed near the bottom right corner. Feature highlights and a list of contents can be found at the back of the box.
Before we move on, let us take a look at the specifications of the WD_BLACK SN770 NVMe SSD 1TB, as obtained from the manufacturer's website:
INTERFACE:
PCIe Gen4 16GT/s, up to 4 Lanes
DIMENSIONS:
LENGTH: 80 ± 0.15mm
WIDTH: 22 ± 0.15mm
HEIGHT: 2.38mm
WEIGHT: 5.5g ± 0.5g
ENDURANCE (TBW):
600
PERFORMANCE:
Sequential Read (up to): 5,150MB/s
Sequential Write (up to): 4,900MB/s
Random Read: 740K IOPS
Random Write: 800K IOPS
OPERATING SPECIFICATIONS:
Operating Temperature: 32ºF to 185ºF (0ºC to 85ºC)
Non-operating Temperature: -40ºF to 185ºF (-40ºC to 85ºC)
SYSTEM COMPATIBILITY:
- Backward-Compatible with PCIe Gen3 x4, PCIe® Gen3 x2, PCIe Gen3 x1, PCIe® Gen2 x4, PCIe Gen2 x2 and PCIe Gen2 x1
- Windows 8.1, 10
LIMITED WARRANTY:
5 Years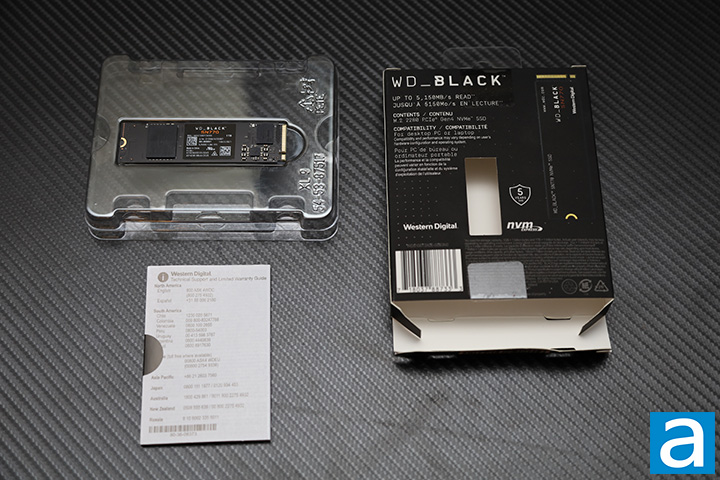 Opening the box reveals the Western Digital WD_BLACK SN770 NVMe SSD 1TB itself placed on a transparent plastic tray behind a clear plastic shell and a warranty guide. This is it -- out of the box, you will get the absolutely bare minimum. Not that we need anything else, of course.
---
Page Index
1. Introduction, Packaging, Specifications
2.
A Closer Look, Test System
3.
Benchmark: AIDA64 Disk Benchmark
4.
Benchmark: ATTO Disk Benchmark
5.
Benchmark: Crystal Disk Mark 8.0
6.
Benchmark: HD Tune Pro 5.70
7.
Benchmark: PassMark PerformanceTest 10
8.
Benchmark: PCMark 10
9.
Benchmark: 3DMark
10.
Conclusion