By: Hai Wang
July 1, 2022
One of the most important events for Grade 12 students is probably their graduation ceremonies. Recently, I drove by some communities and saw several posters in peoples' front yards to celebrate graduations, presumably for their children. For most students, graduation time is exciting because it means a conclusion of hard work they have completed in the past few years and the start of another journey of learning. However, I have also seen some of them who are not really eager to go to universities or colleges after their graduation. They would prefer to spend time outside of school to figure out the area they really want to move forward in for a career. I think this actually makes sense, since going from high school to undergraduate studies is not only about going to another school. Instead, it is probably the first large life choice a student has to make that will spawn and affect following decisions. Sometimes, when you are facing such a major intersection in your life, it is important to slow down and think carefully. On the other hand, this is probably not the case when buying a gaming mouse. What is the worst thing that could happen if you choose the wrong mouse for you? The answer is that you probably just need to save up a bit more and buy another one. Today's review unit, the Alpha Wireless, is a wireless gaming mouse from XPG. Will it be something you can hold onto for a long time, or is it something that you might want more time to think about? Let us read on and find out!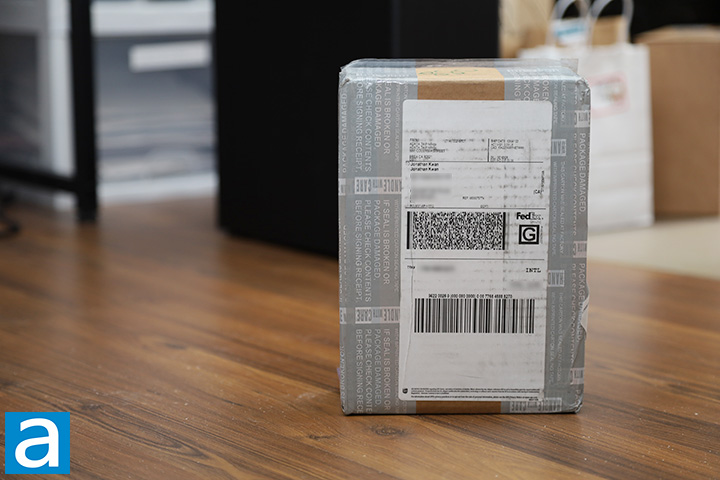 Today's review unit was shipped from Brea, California, USA to our APH Networks offices here in Calgary, Alberta, Canada via FedEx Ground. The shipping box was in mostly good condition. All corners of the shipping box were well-protected with tape. Tape does not necessarily increase the structural integrity of the shipping box, but it definitely ensures no one else got their hands on it either.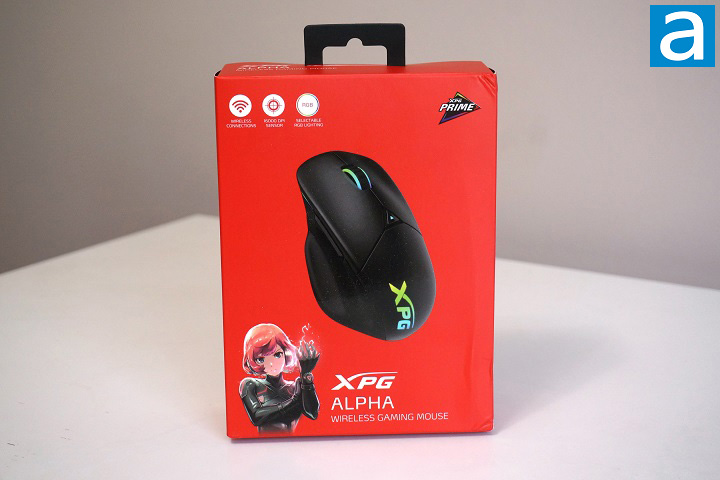 I always believe a good retail box design is essential to allow the product to be commercially successful. A particular product category is probably covered by dozens of other products of the same kind, all located on a single shelf or hanging rack at a brick-and-mortar store. As such, the retail box must be attractive enough to lure in potential customers. A good retail box design should convey the information of the design language, or the uniqueness, of the actual product, so to attract the customer's attention quickly. For the XPG Alpha Wireless, I think the retail package does a very good job in terms of attracting customers. For one, the bright red color of the box stands out like a red Ferrari parked in a local Walmart's parking lot with gray or white minivans around. On the front cover of the retail box, we can see a nice photo of the mouse itself. The wireless feature of this product is implicitly displayed by not showing any cable connected to the mouse. Other than that, we have a wireless connection icon printed on the top left corner of the box to remove any ambiguity -- other than it being in the name, of course. A picture of an anime character further emphasizes the gaming focus of XPG Alpha Wireless. The detailed information of this mouse such as the sensor and switches used are not printed in the front. To know more about this product, we need to see the flip side of the retail box. In general, this retail box is nice and simple.
Before digging into details, let us take a look at the specifications of the XPG Alpha Wireless, as copied from the manufacturer's website:
Specifications
Interface: USB Type-C
Connection: Wireless 2.4G / Bluetooth 5.1 / Wired
Battery Life: Up to 60 hours
Sensor: PAW 3335
Resolution: 100-16,000 (via PRIME)
IPS: 400
Max. Acceleration: 40 G
Polling Rate: 250 / 500 / 1000 Hz (via PRIME)
Switch: OMRON with 60-million clicks rating
Lighting Effect: RGB (PRIME Support)
Voltage: 5 V
Current: 410 mA
Material: PC + ABS
Buttons: 6
Dimension: 128 x 78 x 40mm (5.04 x 3.07 x 1.57 in)
Weight: 98 ±5g (without cable)
Cable Length: 1.8 m (5.9 ft)
Certification: CE/FCCIC/BSMI/NCC/VCCI/TELEC
OS Compatibility: Windows
PRIME Support: v
Warranty: 2 Years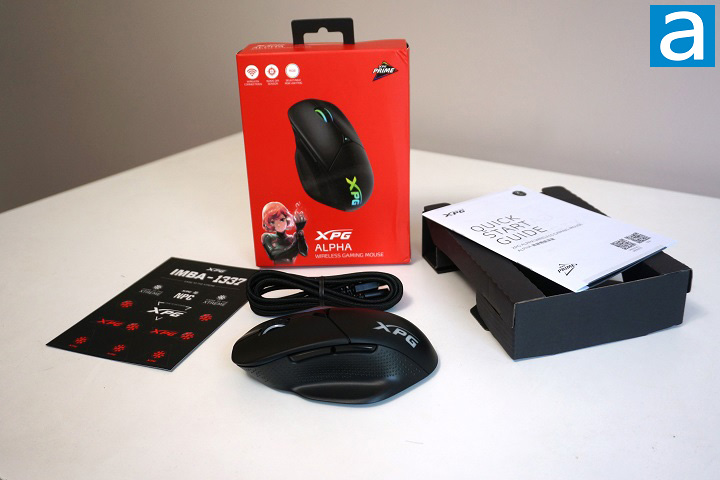 After opening the retail box from the top, another black cardboard container can be found inside. The XPG Alpha Wireless is held inside of this container. There is quite a lot of stuff in here, including the mouse itself, USB cable, some stickers, and an installation guide. The wireless dongle is contained in a storage chamber inside the mouse. The guide indicates the proper steps of how to use the mouse, which I think will not necessary. Unsurprisingly, a driver disc is not provided, since it is 2022 after all.
---
Page Index
1. Introduction, Packaging, Specifications
2.
A Closer Look - Hardware and Software
3.
Subjective Performance Tests
4.
Conclusion