By: Mitchell Kehler (Guest Writer)
April 30, 2021
I mentioned in my last review for the Cooler Master ControlPad how I had been looking around for a new place to live. In our search, we looked all over the city, from places in the deep south to apartments that were located towards the city center. After plenty of searching and some rejected offers, we have finally found somewhere to live. Now home decor and furniture came into question. The biggest thing for my fiancée and I is keeping the place clean to maximize the amount of space we have in our house. This means not having too much stuff hanging on the walls, having very few decorations sitting on shelves, getting rid of all clutter, and have tidy workspaces. All in all, we like having space to move around and having a nice, clean, and minimalist aesthetic to our surroundings. This is why I was excited when I received the XPG Starker for review. Additionally, the case, being a white color, adds a bit of brightness to our room, which is exactly what we wanted. It also matches my keyboard and desk. During this COVID-19 pandemic especially, it is important to have a great home workstation that provides a clean look to decrease stress. For me, having a computer case to neatly hold all my computer parts can really help me feel better while working. I had high hopes for this case before starting this review, but will it stand up to them all? Keep reading to find out!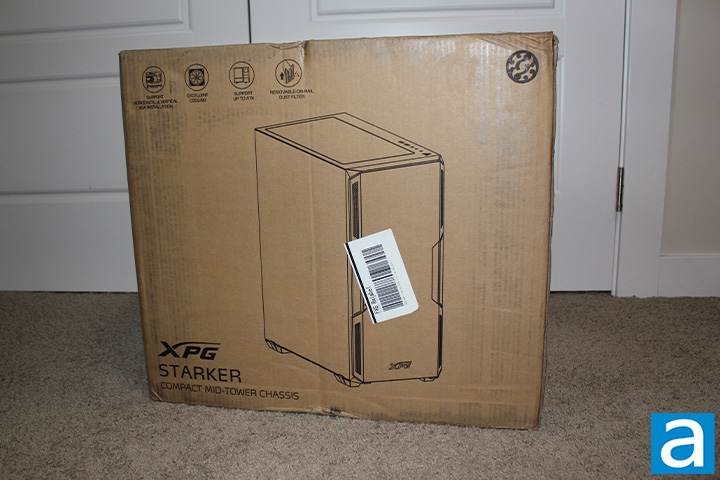 The review unit of the XPG Starker arrived from the ADATA Technology's offices in Brea, California. The package was delivered using FedEx's International Ground service. The box arrived in good condition with just a slightly squashed corner and a small dent on the top of the box. The back of the box had some dirt on it. Similar to other cases we have reviewed, the shipping box is the same as the retail box. XPG uses a regular brown corrugated cardboard box likewise to many other case manufacturers. On the front of the box, there is an illustration of the general case design. The image does not make it evident this case does have a tempered glass side panel, which we will be able to look at later on in this review. We have XPG's logo at the bottom left, accompanied by the product name "Starker". On the top left, we have some additional features this case provides. On the back of the box is an illustration of the case showing all of the components detached.
Before we continue, here are the specifications from the manufacturer's website for your viewing pleasure:
General Specifications
Dimension (H*W*D): 465 x 215 x 400mm (18.3 x 8.46 x 15.75 inch)
Color: Exterior & Interior: Black / White
Material: SPCC
Side Panels: 4mm Tempered Glass*1 (Left Side)
Form Factor: Mini-ITX, Micro-ATX, ATX
3.5" HDD/HDD Tray: 2+1 (Combo 3.5" + 2.5")
2.5" HDD/SSD Tray: 2+2 (Combo 3.5"/2.5")
I/O Port: x2 USB 3.0, x1 Hybrid Audio Port, x1 LED Control Button
Fan Included:
- Front: 1 x XPG VENTO 120
- Rear: 1 x XPG VENTO 120 ARGB
Fan Support:
- Front : 120mm x3 , 140mm x2
- Top : 120mm x2 , 140mm x2
- Rear : 120mm x1
Radiator Support:
- Front : 360 / 280 / 240mm x1
- Top : 280 / 240 / 120mm x1
- Rear : 120mm x1
Clearance:
- CPU Cooler Height Limitation: 165mm
- Graphic Card Length Limitation: 350mm
- PSU Length Limitation: 160mm
Warranty: 2 years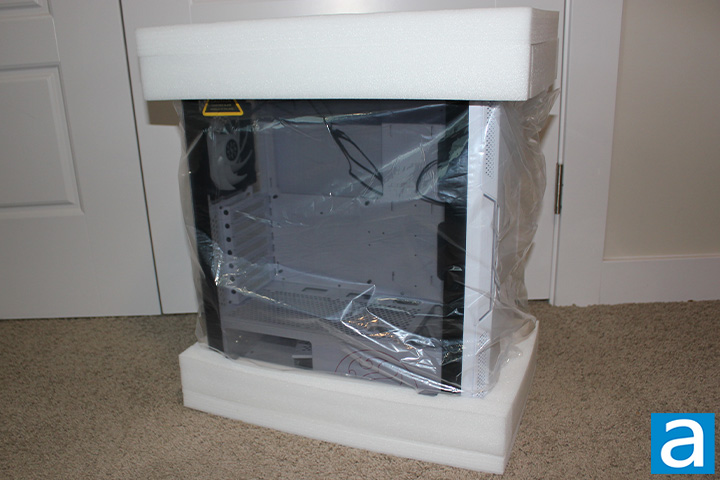 Out of the box, the Starker comes packed between two thick pieces of white foam and wrapped inside a clear plastic bag. The clear plastic bag is present to help protect the surface from any scratches during transportation and unpacking. There are two large Styrofoam pieces sandwiching the case to keep the case in place and minimize any movement within the box. The thickness of the Styrofoam was sufficient as I had no worries about any damages. Given the side of the case is tempered glass, it is important for the Styrofoam to be thick, as glass could shatter without proper protection. In my opinion, the case was well protected. The foam was snug against all eight corners of the case and I feel that if the shipping box was to be dropped, the contents will remain safe. Enclosed inside the shipping box, we find a small paper manual for the case as well.
---
Page Index
1. Introduction, Packaging, Specifications
2.
Physical Look - Outside
3.
Physical Look - Inside
4.
Installation and Conclusion