Page 4 - Installation and Conclusion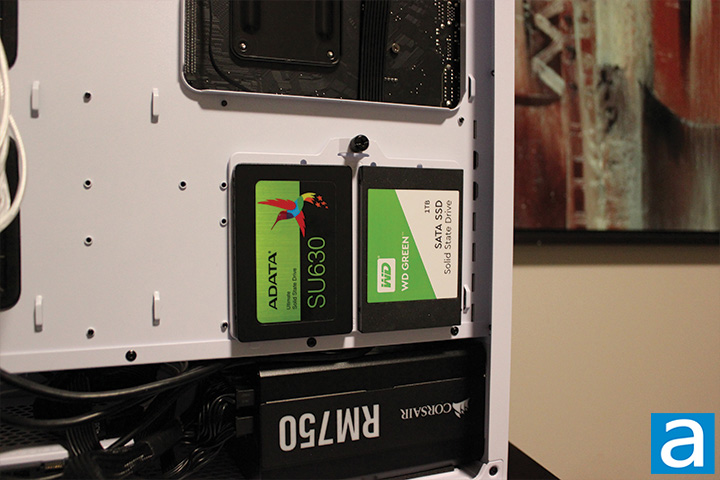 I started the build off by installing my power supply into the XPG Starker. I use a modular power supply, but even if you have a non-modular or a semi-modular unit, there is plenty of room underneath the shroud to hide your extra cables. When installing the power supply, I found it quite an average experience with fitting it into the allocated position. XPG does not make it very clear about which screws to use as all of them are mixed into one bag and multiple types of screws fit, but PSU manufacturers usually provide their own screws, not to mention most experienced PC builders know which one to use.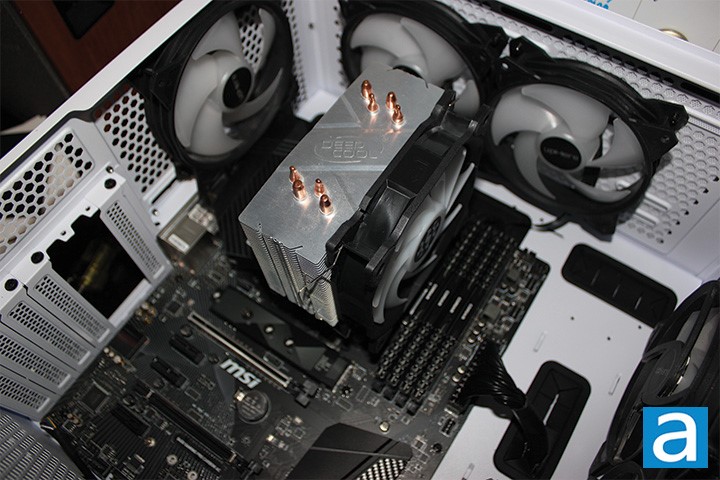 Next up, I installed my MSI B450 Gaming Pro Carbon AC ATX motherboard with an AMD Ryzen 5 3600 processor mounted under a Deepcool Gammaxx 400 CPU cooler. The Deepcool Gammaxx is a 120mm cooler, but the XPG Starker can support CPU fans up to 165mm in height. Four sticks of Corsair Vengeance 8GB DDR4 memory were installed on the board. As stated before, there were already some standoffs installed in the case, but you need to put in more for an ATX motherboard. Most of the standoffs went in smoothly, but a couple had some trouble screwing in from my experience. You could feel the roughness of the threads in the standoff holes from the machining. XPG should definitely work on this aspect of the build quality. At this point, I also plugged in the power and I/O connections. In addition to the I/O connections, there was also a SATA connection that powers the LEDs in the front of the case. While this is a mid-tower case, I found that I had plenty of space for my hands to plug everything in and had no issues with the connections. The installation process was very standard compared. Most cases usually do have preinstalled ATX mounting points and are not as rough, but this is minor and can be fixed in newer revisions.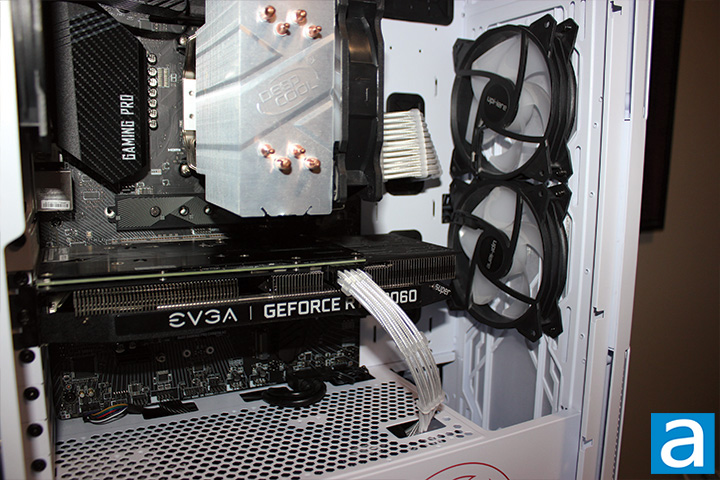 Finally, with everything installed and plugged in, I installed my storage drives. My storage solution includes an ADATA 250GB SSD for my operating system, WD Green 1TB SSD for programs and applications, and a Western Digital 1TB HDD for additional files. I do a lot of video editing, so I require a considerably large amount of storage for when I am editing video files that are upwards of 60GB in size. I screwed in the two SSDs onto the sled and attached that into the back of the motherboard tray. I then fastened the HDD to the rail provided and installed it into the basement of the case. I then did the cable management, which turned out to be a little trickier than I had hoped. While this case has plenty of space for cables to run to the back, there are not a lot of options when it comes to using zip ties. I found I was actually unable to use zip ties for some of the cable routing as the spacing of the tie-down points is too far from where the cables would actually run. Something else that I had to work around was near the front fans, the cable routing was exposed to the main compartment, meaning I had to find ways to route my cables around this large opening so they could not be seen.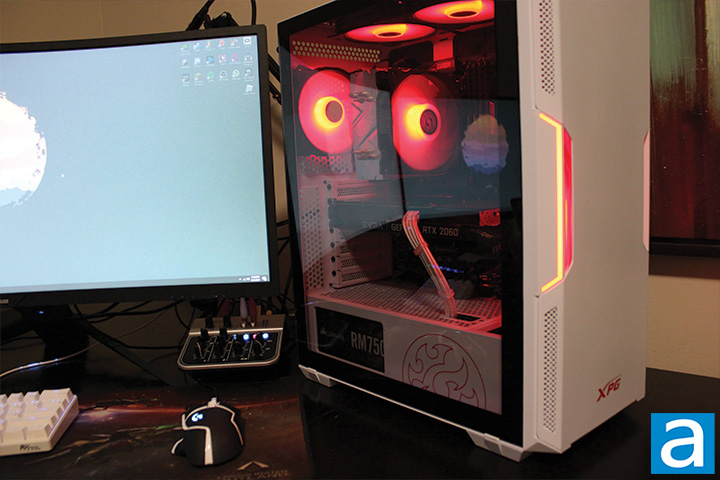 Once everything was plugged in, it was time to press the power button. The lighting on the case turned out to be much brighter than I was expecting and even had some nice color cycling patterns. I decided to keep the lights on solid red to match the theme of red, white, and black. I am not typically a huge fan of gamer-style cases with the jagged and pointy logos, but I actually really like the look of the Starker. The XPG logo printed on the bottom of the case looks really good and LEDs on the front give off more of a TRON-vibe, which I am a huge fan of. All in all, I am very happy with the look of this case and how clean the build turned out.
With the PC turned on, we can hear the sound produced by this case. The standard APH Networks sound scale ranges from 0 to 10, where 0 is silence and 10 is loud. When the PC is running under regular loads, it was fairly quiet. However, when it is under load, the case does not suppress much of the noise. This is due to the fact that this case has larger vents to accommodate larger fan sizes. Because of this, if your fans increase in speed or your GPU is prone to coil whine, you will hear all of it. Running at daily use, I would rate the noise level to be at 2. Under load, my subjective noise level rating is 4. This higher sound level was partially expected as XPG seemed to want to optimize the cooling for this case rather than focus on noise emissions.
-----------------------------------------
All in all, I was pleased by the XPG Starker. It arrived in good quality foam, which did well in protecting the case from whatever caused the small dents in the cardboard box. The metal construction of the case felt very sturdy and well-made. This, along with the tempered glass side panel, really makes this feel like a high-quality product for the most part. The non-tinted tempered glass panel looks great, giving you an unimpeded view of the inside of your PC. The coating of the white paint on the case was very nice and even as well. I could not find a single inconsistency or scuff anywhere on the case itself, inside or out. There is plenty of flexibility throughout the case for both storage and cooling options. Speaking of storage, it would have been nice to have an additional level added to the hard drive rack as there would be plenty of space in the basement of the case, but there is still a good amount of mounting solutions. The rubber grommets were a huge plus; almost making up for the lack of routing options as they can hide your cables rather nicely. The cable management features of this case are rather good, as you have plenty of space to hide your cables. However, for 2021, it feels like it is missing some features in terms of routing, as I felt there were insufficient places to secure down the provided zip ties. Additionally, the included fans are 3-pin voltage rather than 4-pin PWM, decreasing fan speed control ability. The build quality could be improved upon with regards to smoothening out the motherboard mounts. For about $80 at press time, I would say that the XPG Starker is worth the price for what you get.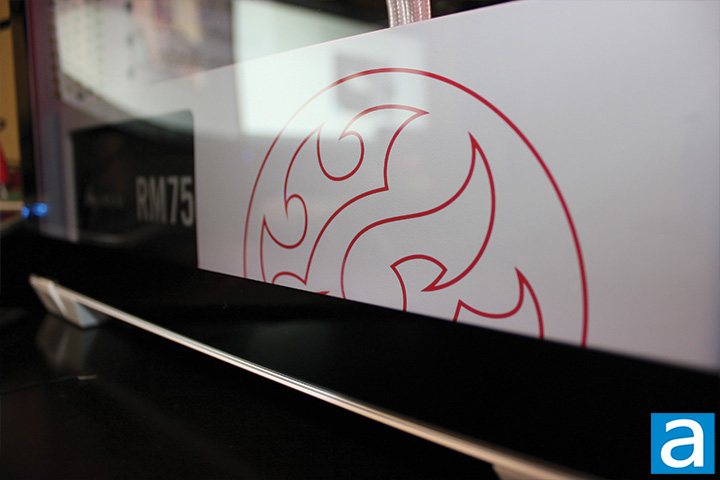 XPG provided this product to APH Networks for the purpose of evaluation.
APH Networks Review Focus Summary:
8/10 means Definitely a very good product with drawbacks that are not likely going to matter to the end user.
7/10 means Great product with many advantages and certain insignificant drawbacks, but should be considered before purchasing.
-- Final APH Networks Numeric Rating is 7.5/10
Please note that the APH Networks Numeric Rating system is based off our proprietary guidelines in the Review Focus, and should not be compared to other publications.
The XPG Starker is a versatile, high-quality case that gives you a huge variety of options for any configuration you are looking to throw at it.
---
Page Index
1.
Introduction, Packaging, Specifications
2.
Physical Look - Outside
3.
Physical Look - Inside
4. Installation and Conclusion